I hear people complain about Prague's crowds and how they had to leave the city center to see the "real" Prague.  I agree that the city center is packed with tourists, but this area has been the "real Prague" for centuries, and it would be a pity to miss any of its grandeur.  One of my favorite parts of Prague is the area between Old Town Square and Václavské náměstí (Wenceslas Square) because it is an outdoor museum of great architecture.  Here are some highlights of a fantastic walk in Prague's center: 
1.  A walk down Celetná.  This heavily-touristed pedestrian lane goes from Old Town Square to the Gothic Powder Tower, which was part of the old gateway to the city.  Next to the Powder Tower is the art nouveau treasure Obecní dům, or the Municipal House.  Go inside for a look around at a true art nouveau interior, and stop in its gorgeous cafe for a treat. 
Despite the throngs of tourists, it's worth a slow stroll down Celetná because of the details of the buildings, the shops, and the Powder Tower and Municipal House.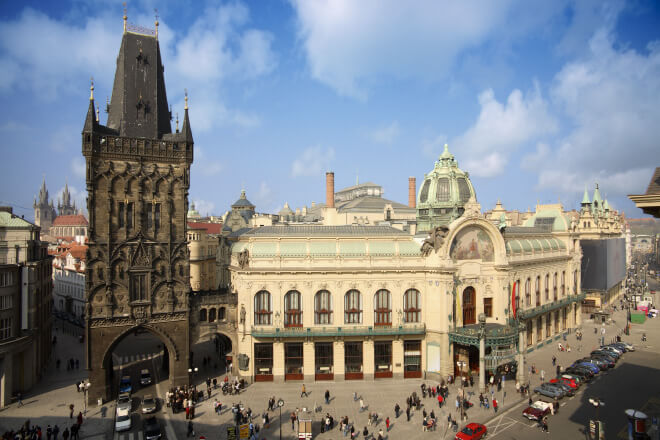 2.  Make your way over to Václavské náměstí (Wenceslas Square)– (the easiest way there is down Na Příkopě). Walk up and down the busy boulevard-like square– its top is at the large National Museum.  The square is bustling with cars and people and lots of commercialism, including a McDonalds and Dunkin' Donuts, but as you walk through it, you will see a metropolitan slice of life for Prague's Czechs, plus a lot of great architecture– but look up or else you will miss it!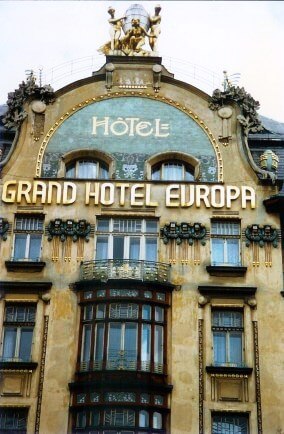 This square has been a kind of stage at the center of many of  the country's most important historical events. This is where the proclamation of Czech independence was read in 1918, Nazi demonstrations were held and buildings damaged during the Prague Uprising of 1945, and huge but peaceful demonstrations calling for an end to Soviet dominance led to freedom for Czechoslovakia during the Velvet Revolution of 1989.
3.  Once you get to the bottom of Wenceslas Square, make your way back toward Old Town Square through some of Prague's most beautiful and surprising back streets.  Be sure to pass Stavovské divadlo (the Estates Theater), the beautiful and historic Baroque theater where Mozart conducted the world-premiere of Don Giovanni in 1787.
Then let yourself wander the maze of nearby streets and take in the splendor of old Prague.
Feel free to leave a comment to share your ideas, questions, or experiences.  What is your favorite area to walk in Prague?