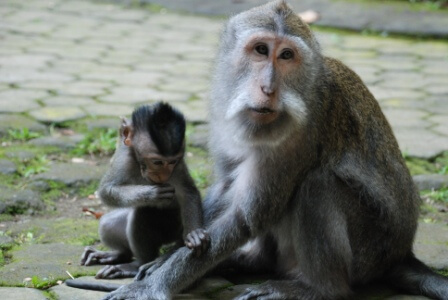 In 2009 my husband, son, and I spent two weeks at my father's house in Sanur, Bali.  We had some wonderful experiences, but my favorite day of this trip was the one we spent at the Bali Bird Park and the Sangeh Monkey Forest near Ubud.  I guess I have a soft spot for animals.
There are a few monkey forests on the island of Bali.  This one is a forest of nutmeg trees and is considered a holy place.  It houses a Hindu temple from the 17th century and is home to several hundred monkeys.
As we approached the entrance to the forest, a smiling guide introduced himself and helped us buy our tickets.  He explained a few rules, like not to touch or aggravate the monkeys, and then led us on a tour of the forest, which took about 45 minutes.
In typical Balinese fashion, there is an imposing statue at the entrance: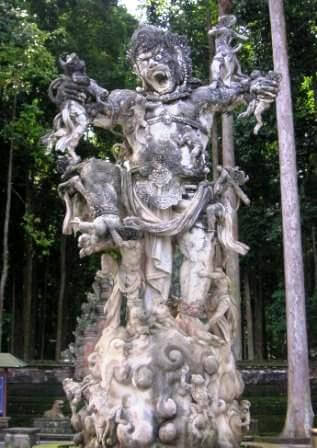 The split entrance gates guarded by an animal on each side are like those found all over Bali.
And then we walked down a beautiful walkway that ended with the temple: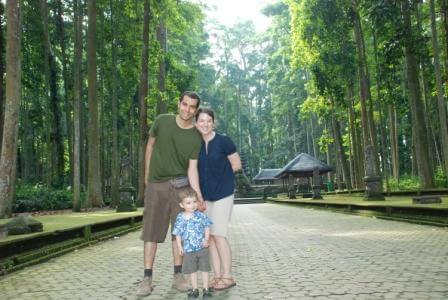 The walkway is filled with statues that represent Balinese Hindu figures:
The guide explained that, unlike the famously unpredictable monkeys at Ulu-watu, these monkeys are friendly and are considered sacred.  He then called one of the large males over, which hopped on my husband's back.  The monkey was indeed friendly but also stinky!
But we didn't want to interact like that with the monkeys.  We were more interested in seeing how and where they live.  As we walked through the forest, we saw countless monkeys, most of them in groups, some of the big males alone, and many mothers with their babies.
Including some babies nursing:
And plenty of grooming:
You can see the moss that grows everywhere due to the high humidity and thick vegetation:
There were lots of males (note the mustaches) perched high above, seemingly keeping an eye on things down below.
Have you seen monkeys in the wild before? Would you like to visit this unusual place?