Everyone knows that a road trip through California is a bucket-list worthy travel experience, but where exactly should that road trip be? Most people think of the coast, and right so, but every part of California has its own unique beauty. Last week we spent a few days on the Monterey Peninsula and were surprised by the beautiful nature scenes we passed during our drive from Sacramento through the Central Valley and west to Monterey. We went by car ("we" meaning me, my husband, my almost-4-year-old son, my 5-month-old son, and my 2 dogs!), and the drive was 3 hours from our home in Sacramento.
Taking road trips is not as fun now that we travel with kids because we never know when one of them will go into crisis mode…but this time, armed with a good book and relaxed by my kids' long naps, I sat back and took in the strange beauty of  central California from the passenger window.
I love California. While this part may not be as spectacular as most of California, it brought back the wonder I've experienced exploring this state's incredible nature over the past 9 years here.
I had made the drive several times before, so I was familiar with the terrain, but this time it surprised me as though I were seeing it for the first time. After about 90 minutes driving south on I-5, passing flat expanses of farm land and vineyards, we suddenly came upon these creamy hills, charred by the ubiquitous summer sun. They went on and on, softly undulating as we drove by, and I couldn't help but imagine that they covered in velvet.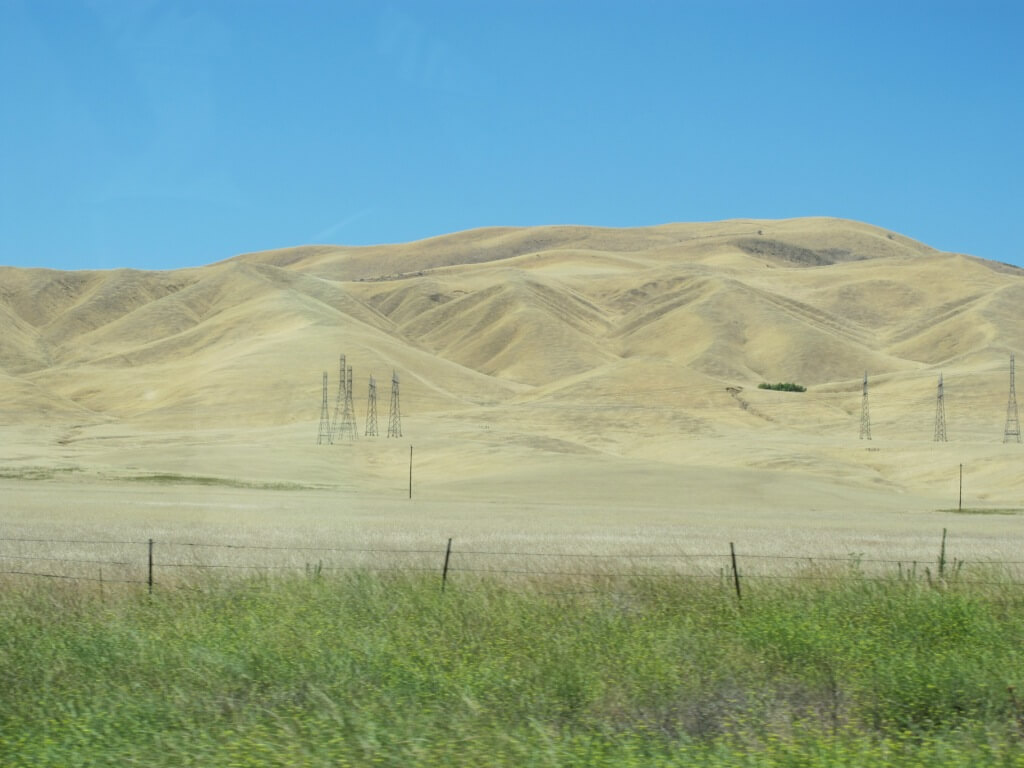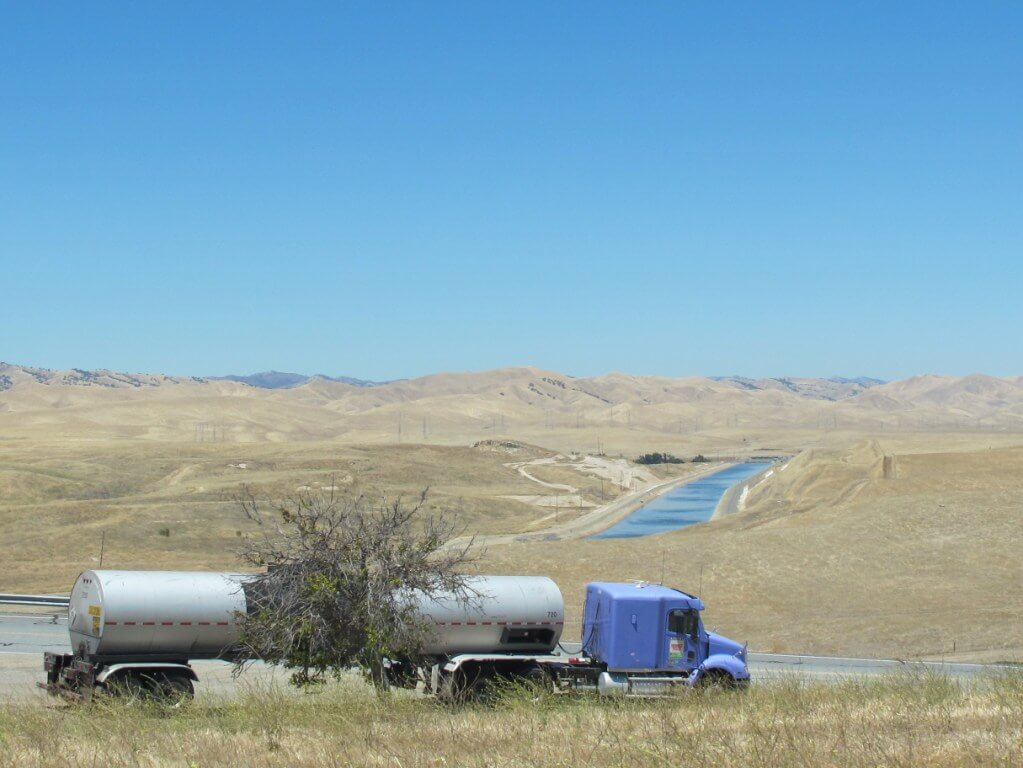 We passed fields of all sorts. I'm not sure what these oranges fields were– the plants appeared to have gone to seed with an occasional sunflower thrown in.
And because the entire mid-section of California is agricultural, orchards of fruit and nut trees appeared out of nowhere.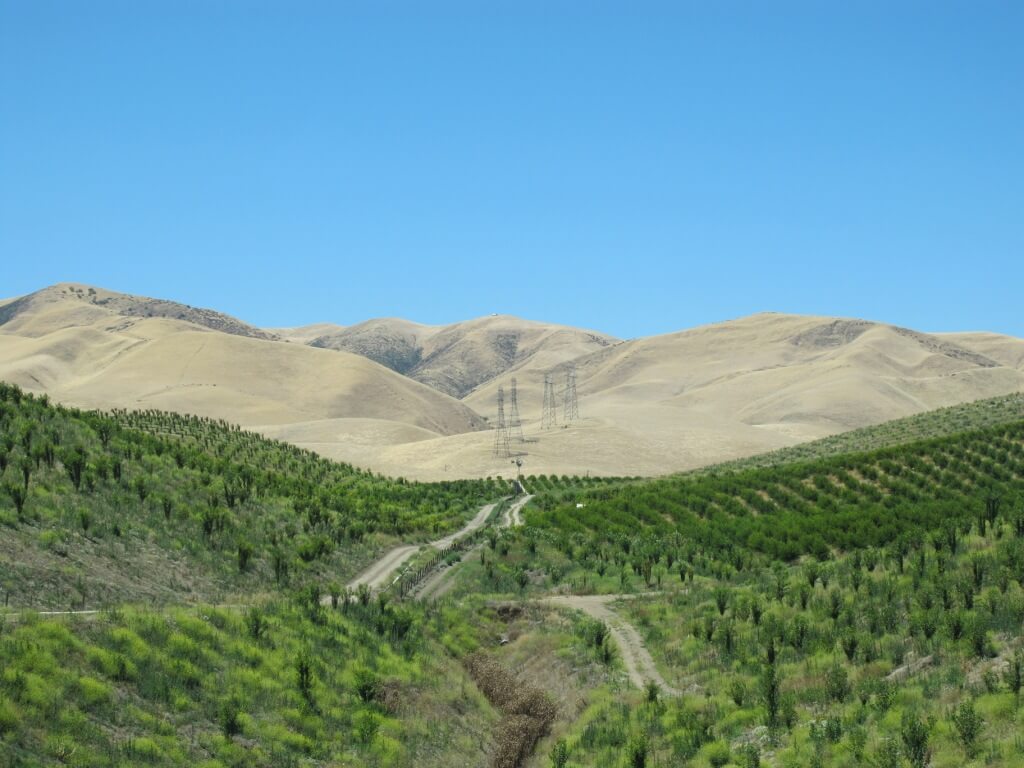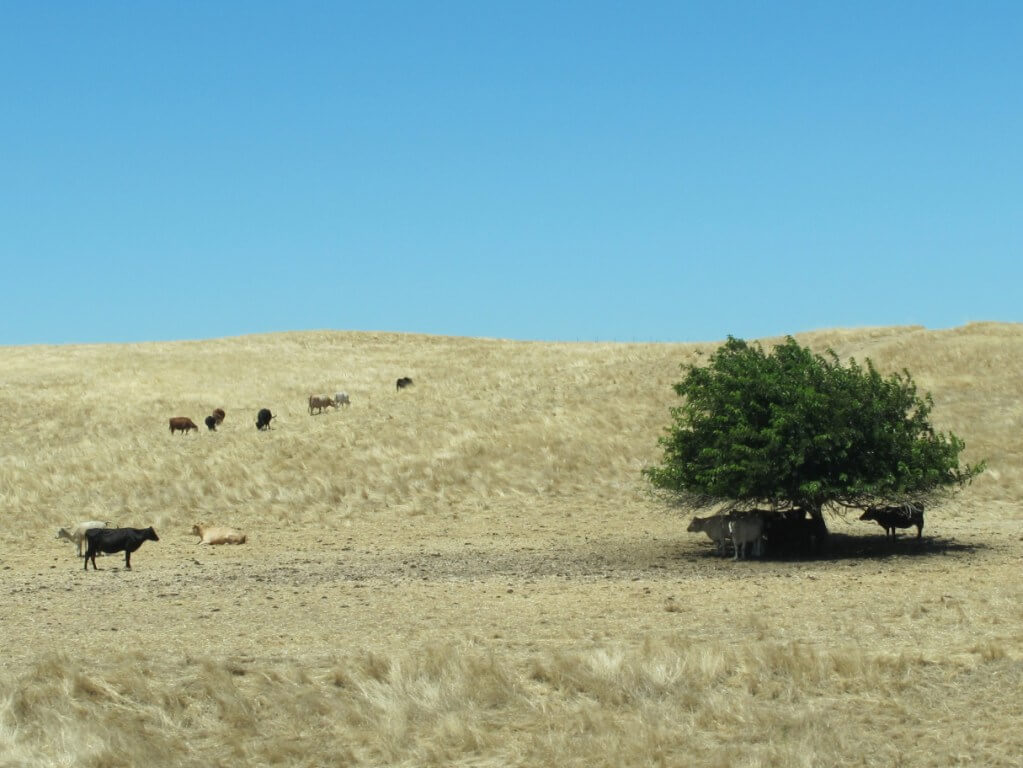 As we headed west toward the coast, we passed the San Luis Reservoir.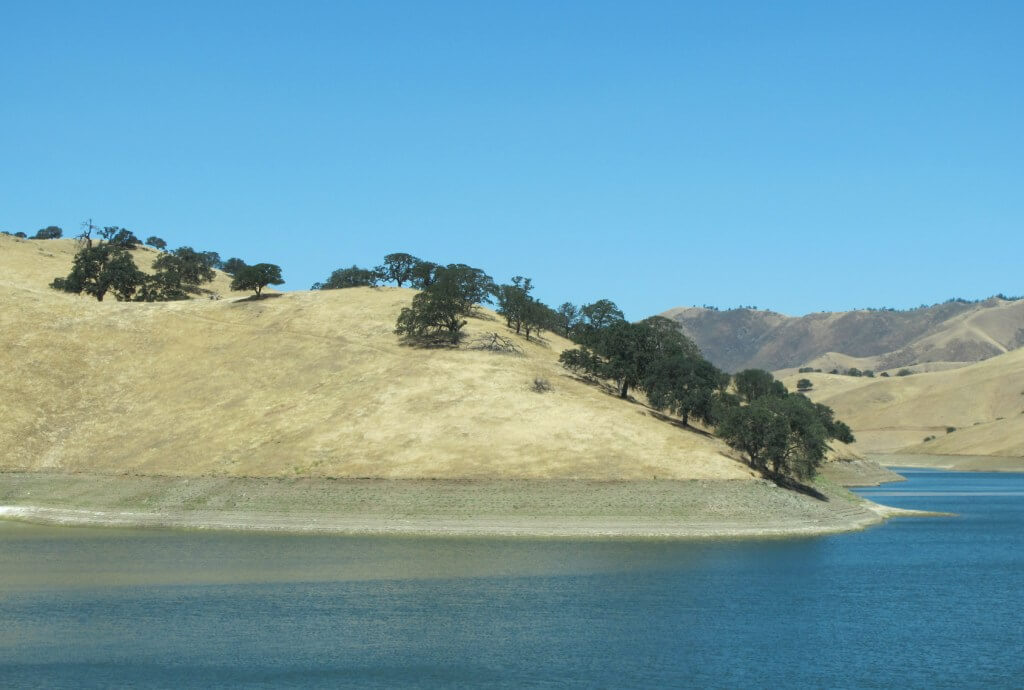 It seemed to go on and on.
We made our way through the Pacheco Pass…
…the hills became more rugged and filled with funky oak trees like this one.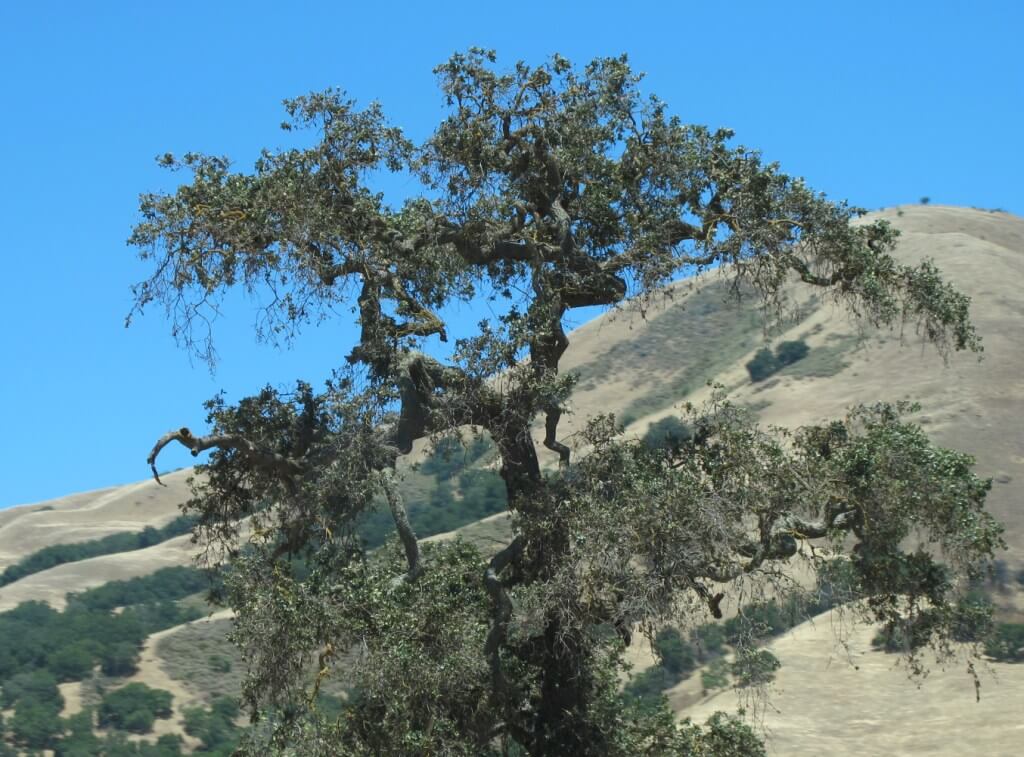 The native oak trees of California are a favorite of mine.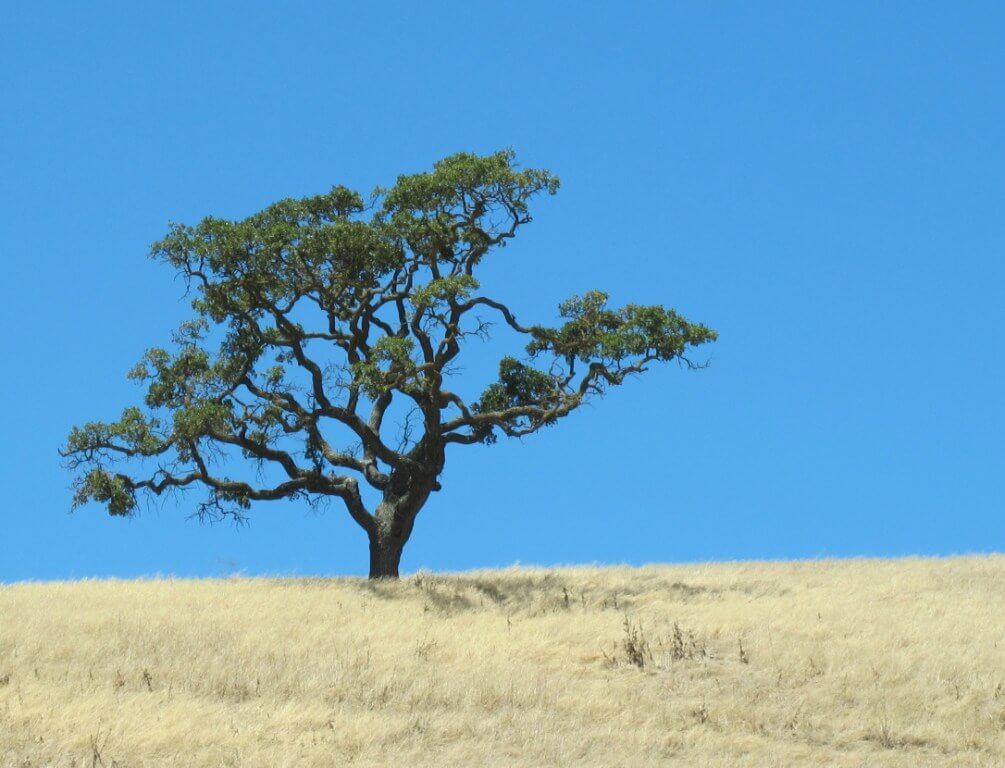 After descending the hills as we got closer to the ocean, there were farms all around.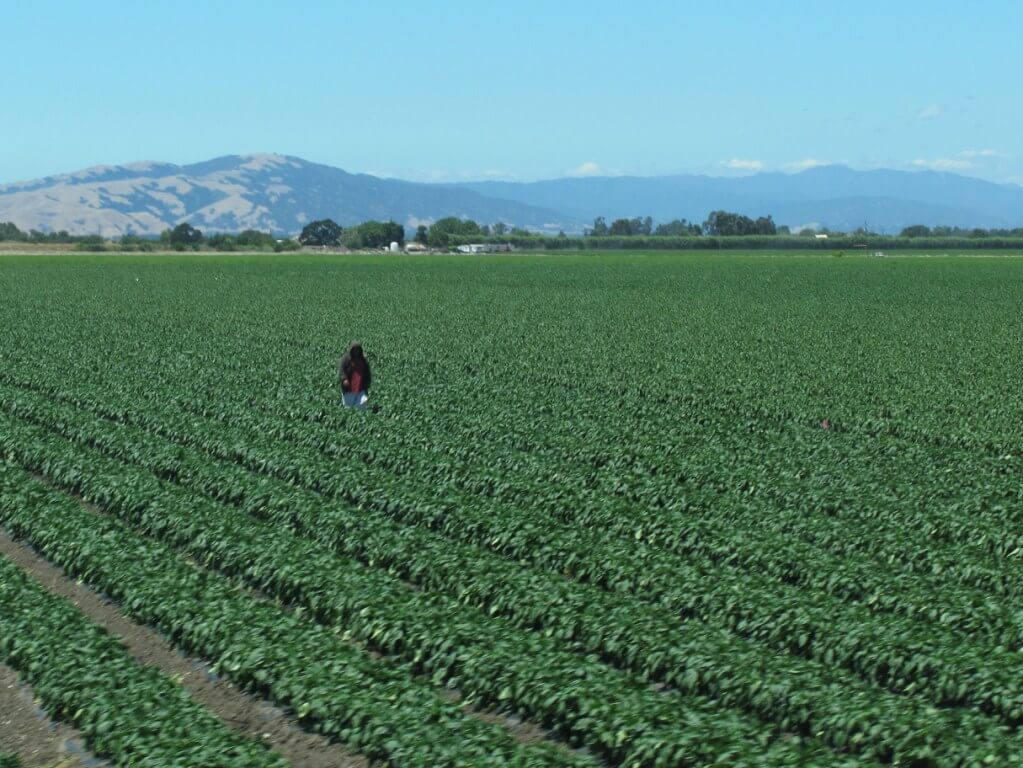 I wish I knew what these fields of purple and green were. We passed several of them.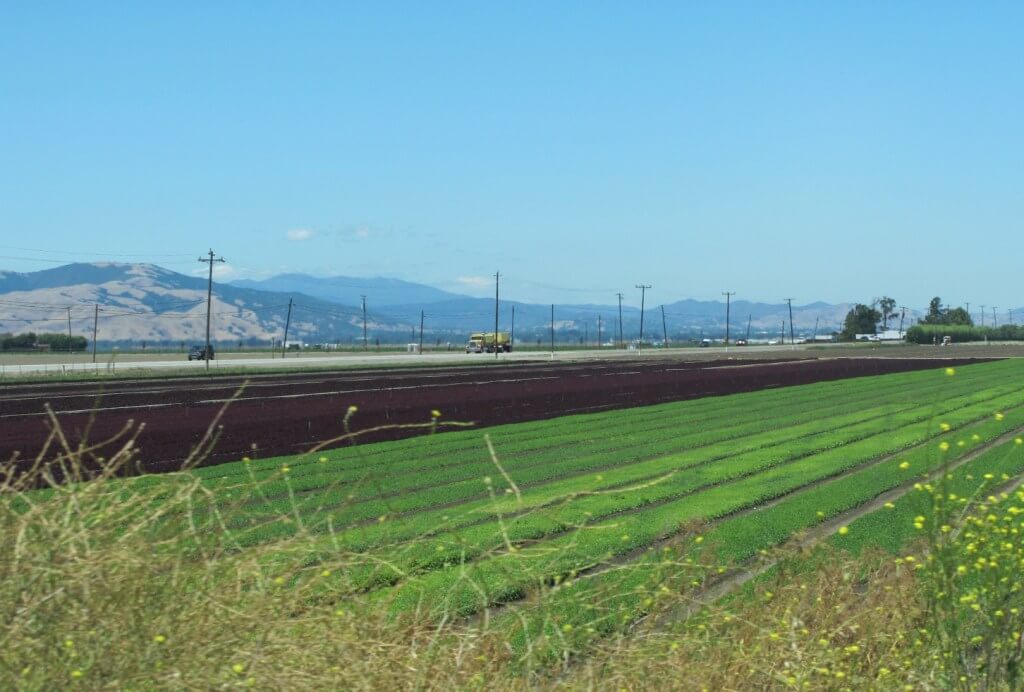 Soon enough, we caught glimpses of the Pacific Ocean, and the landscape changed to sand dunes covered in purple and green ice plant. We opened the windows and felt how the air had gone from hot and dry to cool and moist.
The oak trees were replaced by eucalyptus and cypress, which meant that we were about to arrive at our destination, a vacation rental 2 blocks from the ocean (it's the second one, the little yellow house):
This beautiful trip through the heart of California reminded me of other road trips in which the journey was almost as great as the destination. What are some of your favorite drives and why?