I may not be totally in love with Sacramento, where I've lived the last 9 years, but I love everything that surrounds this valley city. The day-trip opportunities are almost endless. One of my favorite quick getaways is Napa Valley. I've been there several times, and though it is beautiful at any time of the year, the best time to visit is fall. Here are my suggestions for a perfect day trip to Napa Valley.
Some people prefer Napa Valley's neighbor, Sonoma County, because it's slightly less pretentious, less crowded, and less expensive, but in a way I actually like the pretension of Napa Valley. The castles, vine-covered hills, and over-the-top beauty make me feel like I'm somewhere special, far away from home. At the same time, I have always found the people to be friendly and helpful, offering for us to share tastings and happily answering questions.
The Silverado Trail
For a more authentic and peaceful experience, get to the Silverado Trail as quickly as you can. It is a small highway on the eastern side of Napa Valley. Not only is it more beautiful than Highway 29, it's also less crowded. It is also the best place to bike in the area. We connected to it just outside of Napa. Here it is, with few cars despite being a warm, beautiful Saturday in November:
The Visitors Center in Napa provides a great map of all the wineries along the Silverado Trail and adjacent roads. We used it as a guide and made our first stop at the quiet Signorello Estate Winery just because it looked pretty. As you drive north, it's on the right side several minutes past Napa.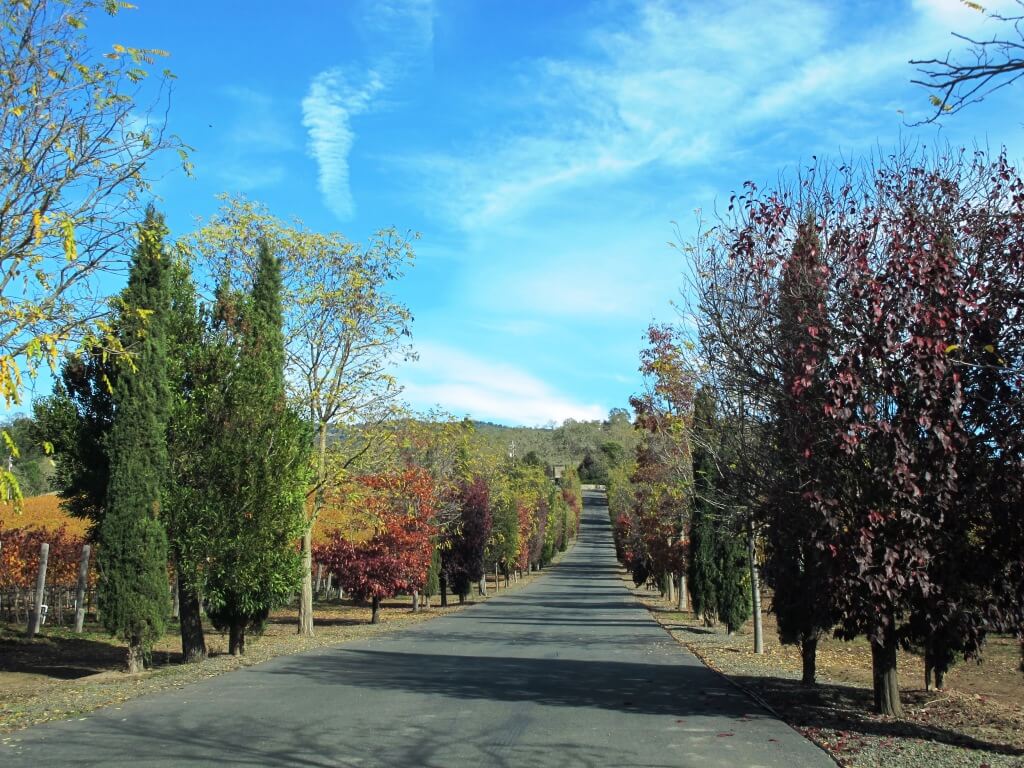 We weren't disappointed. The small hilltop winery is beautiful and includes a lovely area for sitting outside. Like most wineries in Napa Valley, tastings were $15.
From the parking lot, go through the little opening in the shrubs to walk around the vines and take in views like this: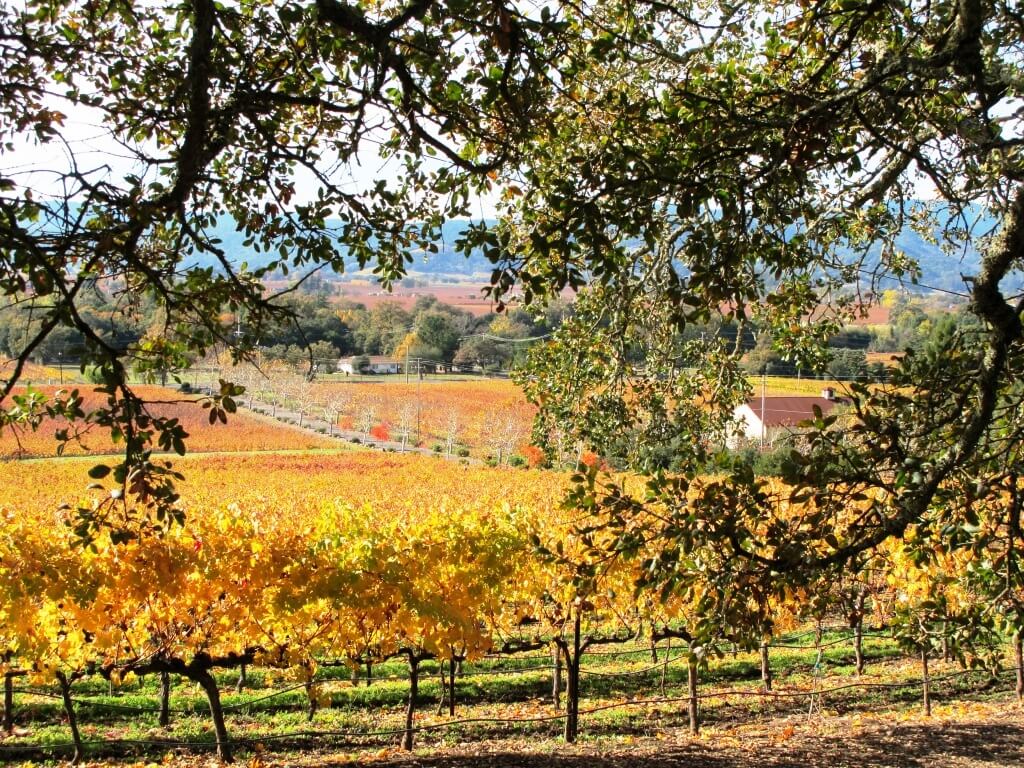 Back on the Silverado Trail, we drove just a bit more and stopped at the Silverado Winery. This friendly winery is crowded and more touristy than I usually like, but it's worth it for the views.
Stick your head in this storage room– the smell of the barrels is amazing!
We continued north on the Silverado Trail and cut west across Zinfandel Road towards the busy Highway 29.  You can stop and buy fresh local produce on the side of the road. Stands like these are common around rural California– take what you like and put your money in the box.
After just a few minutes on Zinfandel Road, we turned north onto Highway 29, the main highway that runs through Napa Valley, and pulled into V. Sattui, which is famous for its wine and outstanding deli.
Despite the crowds, visiting the deli was worth it. There were cheeses available to taste. We bought picnic supplies and enjoyed a delicious lunch. Gourmet sandwiches are also for sale, but if you want a sit-down meal, there are nice restaurants just down the road.
We wanted to  continue north on Highway 29, but we soon gave up because there was too much traffic; it was a weekend, after all. We went back to the Silverado Trail and headed toward home but made one last stop at the unique Cliff Lede Winery.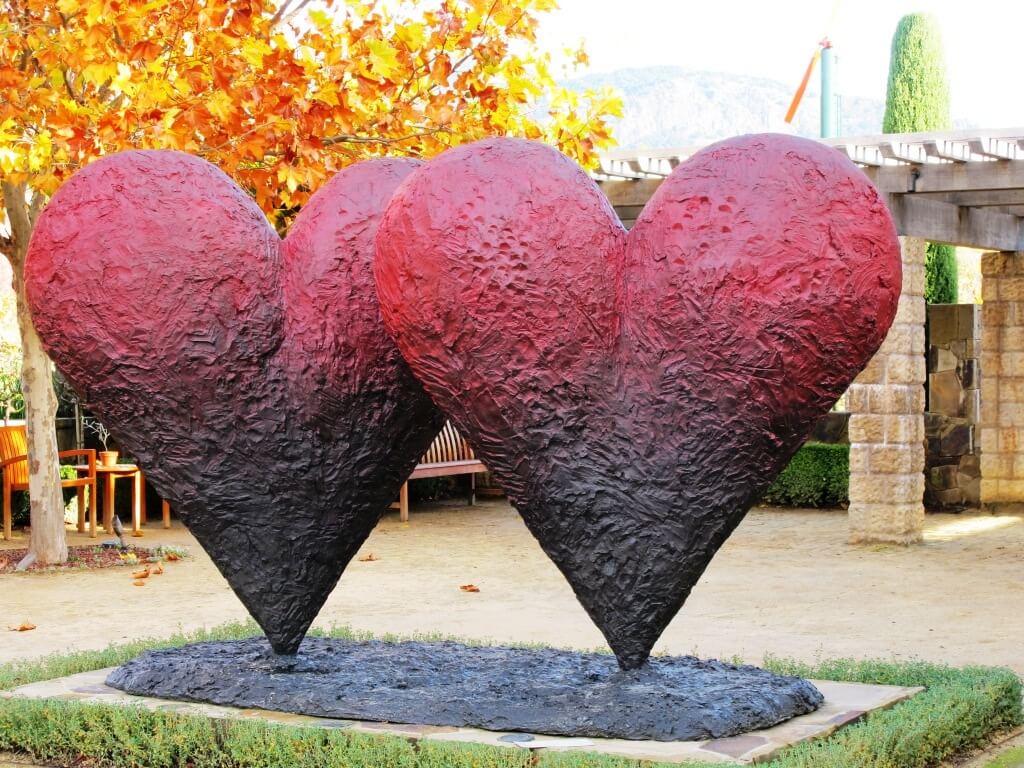 The winery has sculptures scattered in its gardens, including work by the famous 20th-century artist Jim Dine.
So, there you have it, a perfect day-trip in Napa Valley. Add more wineries to your day, including Stags Leap (on the Silverado Trail), Sterling Vineyards (near Calistoga and known for its views), Beringer (for its great reds), Clos Pegase (for its art), or one of the lovely smaller wineries.
Have you been to Napa Valley? There are many more posts about Napa Valley on this site, so please have a look around!
This post is part of this week's photo series hosted at Budget Travelers Sandbox and R We There Yet Mom.