I think about living abroad a lot. Like every day. I will tell you why and what it means for my life in an upcoming post, but for now, I am thrilled to bring you this interview with Monique. We met online, but she lives just about 30 minutes from me, in Davis, California. I had a lot of questions for her after noticing that she lived what used to be my dream: she lived in Italy. If you've wondered what it would be like to move to another country, both the good and bad, then read on, and visit her blog because I know you'll love her.
1.  Tell us about your site and why you started blogging.
Bringing Travel Home brings together what has inspired me from living abroad and other "global goodies" for fellow travelers, expats, ex-expats, world citizens and culturati. My posts range from subjects like living, working and having a child abroad to the benefits of bilingualism, as well as the arts, favorite trips, book reviews and international design and fashion.
With a background in journalism, I love to write and knew I would someday want to capture my  experiences of living abroad on paper (or computer). I brought back with me an old shoebox of notes I kept during my time there, which was, by the way, pre-blogging. For many years the shoebox was stuffed in my closet – I guess I needed time to let the time away settle in me. I also wasn't sure what form I wanted the writing to take. One year ago, I took a "How to start a blog" online course offered by NY Times bloggers via the NY Times Knowledge Network. It walked me through the wordpress platform, offered tips and tools and gave me the kick start I needed. Bringing Travel Home was born and I haven't stopped writing since. The blog has become a wonderful creative outlet and introduced me to a vibrant community of travel and culture bloggers. I can't help think – if blogging was around when I lived abroad – how supportive this community would have been during my lonely times abroad. At the same time, I might have spent too much time blogging instead of just experiencing!
2.  I have long dreamed of living in Italy, so I am very curious about your decision to live there.  Why did you move to Italy?  Where did you live?
My mother is German and moved to the States in her 20s so I grew up visiting family in Europe and very aware of my European ties.  I probably inherited her wanderlust. In my 20s I spent every vacation or extended study opportunity in France or Italy. I was drawn to both countries for their beauty, climate, history, culture and proximity to the Mediterranean. Just shy of 30, discontent with life in San Francisco, and after much thought and planning, I traded a corporate PR career stateside to make a go of a new life abroad. I chose Northern Italy because I had family friend who lived there and offered me a place to stay while I looked for work.  I ended up living in both the city of Brescia and in a small village on stunning Lago di Garda in the Lombardy region of Italy.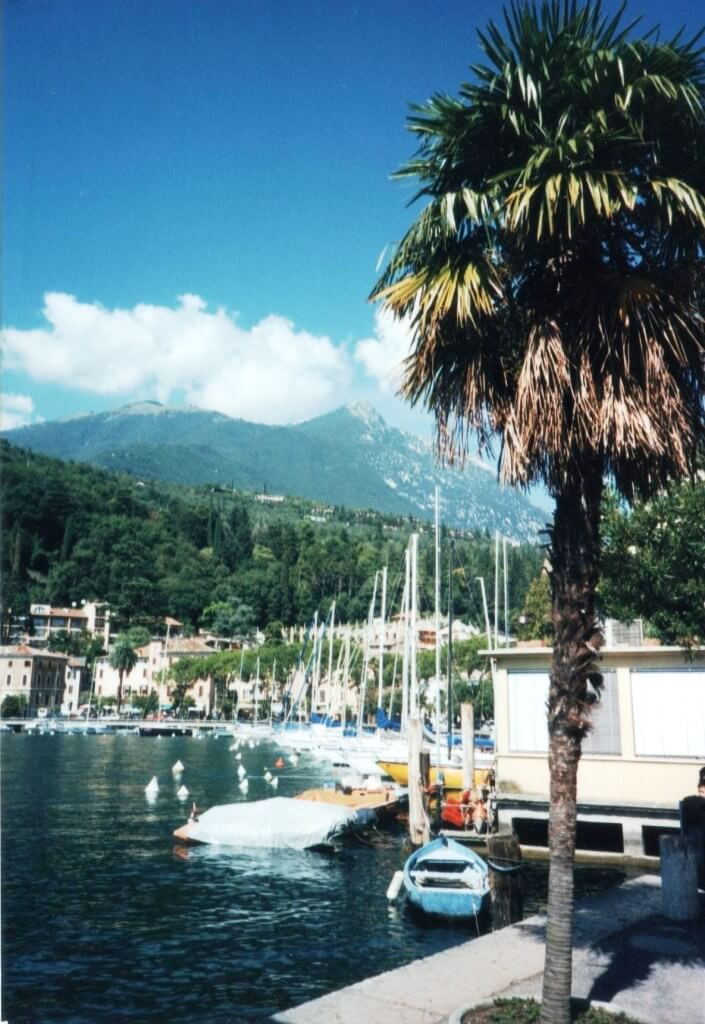 3.  Certainly you had expectations of what life would be like in Italy before you moved there.  What were some of them, and which ones ended up being very different from the reality?
Yes, it was absolutely different to live there than visit, as with all places.  You've got the honeymoon phase, the everything-is-horrible phase and then settle into a nice in-between of reality.  The biggest reality check was that I imagined myself transferring a successful PR career from SF to Milan, even if it took teaching English for a while to get me there. It didn't happen. I was naïve and possibly unrealistic about this.  Despite studying Italian before arrival, my capacity with the language was not sufficient to land a job with a Milan-based PR firm or a private corporation. Although my connections landed me many interviews (some that remind me of a Mad Men episode) – including one with a famous fashion design house – I initially received no solid job offers and few promises of consulting. In a crazy sequence of events, I met my now American husband and moved to the city where he worked and lived, and began tutoring English to businesses, executives and children first with a private school and later on my own (and loved it!). I also did some translation/special event work for visiting Coca Cola Company executives, served as a runway show emcee for an Italian luxury jeweler and provided voice over for a disco! But at the end, my time abroad was about meeting my husband (who, coincidentally lived in and escaped SF for an experience abroad also) and starting our family –the most important thing in my life now. I went looking for an experience abroad and came back with so much more.
4.  What did you learn about yourself and about your home country (the U.S.) from living in Italy?
Growing up with a European mother (and a Mexican American father), I always felt an outsider to the average American family, so many of the ideas I have now I had before I left. For example, I always had the sensitivity to cultural differences and adopted my mom's critical eye to some aspects of American culture. But one of the biggest lessons that hit home is that there are many ways to live life. Prior to leaving, I had bought into the work-focused, money making, fast-paced city career path. I had a great apartment, a nice salary, an important title and a new car. While I liked the work, the lack of balance wasn't making me happy and the busy schedule and work obsession probably had a lot to do with my ego. My time in Italy, much of it in a beautiful, scenic area of Lago di Garda, gave me a lot of time for quiet and reflection. I believe I came back quite different – content with a lot less materially than I was before I left – and making choices that bring me happiness and tranquility. (I often call my time there a sort of retirement – but at the wrong age!). I now also believe that the idea that we reward those who keep up a frantic schedule – supermoms, workaholics, and overscheduled overachievers –  is curious, with downtime and leisure something some people are uncomfortable with or feel guilty about. Scheduling a weekend afternoon lunch with friends just isn't easy anymore. While this isn't just in America, it's a difference I notice between here and there.
5.  What advice would you give others about working abroad?
In Italy, it's not easy to get a visa if you are planning to work autonomously. And if you don't get your permission to stay papers, you have three months to live there legally on a tourist visa. Working for an international company that will transfer you is likely the easiest and least expensive route. Teaching English – privately or with an American or international school – are both excellent ways to live abroad. I posted on this subject which gives more information and online resources.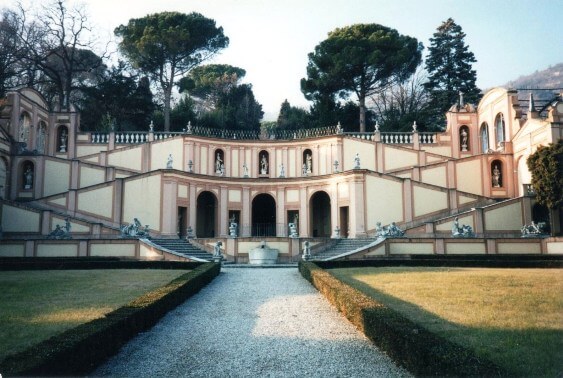 6.  What were some of the challenges of living in Italy?  Were you able to find ways to overcome them?
We were often exasperated by Italian life and culture practices that seemed old fashioned or from outer space and another time, as well as the difficulty we experienced getting anything done (Italy is a small country but pack full of people and lines with a confusing system of no rules and very important rules at the same time). But we would remind ourselves that our lifestyle was the reward for the hardships. And every August, we usually escaped the country to catch our breath and regain some perspective . If we stayed, we would have moved to a more international city to have some contact with other Americans or foreign residents. Although I wouldn't suggest making fellow expats your entire community (you will be living in a "mini America" as many expats do), I do believe long-term, it's helpful to have a community like this for support. And as an American family we would probably always feel a little outside of the culture. But we know North American families who have made it work. I suspect having children helps with integration. For us, it was an amazing experience to have in our 30s and pre-kids. Once our baby was born there, we wanted to be closer to grandparents and have increased job security.
7.  How did you deal with making friends abroad?
My husband already had friends through his work, many of whom I adopted. I also made friends through attending an Italian language school in nearby Verona.  A  benefit of living in a place with few Americans is that the majority of our friends were Italian. I know many expats living in big cities like Paris, London or Rome, who end up spending all their time with other American expats and speaking English. It's much harder for them to integrate, due to the large numbers of Americans living there and English more widely spoken. Although it was more challenging, I am fortunate that wasn't the case for us and we experienced much of daily life as a local Italian would.
8.  What do you miss the most about living in Italy?
The beauty – the old architecture, the art, the piazzas and churches. I also miss being so close to other places to travel, like the south of France, Spain, and even the Red Sea. It takes much longer to get to the places we'd like to go, now that we are back in California. Life was also more interesting every day – even the mundane parts– by nature of being in another culture and speaking another language. As Americans, you feel you have a special pass to live apart from the social norms or laws and it's very  liberating. Here, we are the same as everyone else!
9.  You met your husband and had a baby in Italy.  What was it like being pregnant and having a baby there?
Amazing and challenging, all in one. I felt like the Madonna pregnant, but had to experience one of a woman's most significant passages in another language and far from home, family and customs. It taught me to abandon my American parenting books and trust in the Italian way of doing things. Often hilarious, but not always easy. And I think what is most surprising to Americans is that the free healthcare and facilities there were superior to what I experienced here the second time around. I wrote more about this in a post about having a baby abroad...
10.  You are returning to Italy with your husband and two children next month.  Will you tell us about traveling in Italy with children after you get back?
Yes, absolutely! We look forward to returning as a family. In fact, our "baby" born in Italy will celebrate her 9th birthday there.