Who could guess that a winery in the heart of Napa Valley would display a variety of sculpture ranging almost 400 years? I had heard about the Clos Pegase winery many times, mostly because of its art collection, but did not expect to find art so completely at the center of the winery's existence. I was pleasantly surprised when I came upon this array of sculpture at the winery's entrance. The playful mix of shapes and colors on the grass reminded me of the power of sculpture–its ability to change a mood and transform a space.
The vision of Jan Shrem, the owner of Clos Pegase, seems bold, and I love it. Placing valuable modern art like this all over the winery's grounds seems to reflect a true love of art and belief that it should be shared with the public. In fact, he recently made a $10 million donation to the nearby University of California at Davis for its new art museum (wow!).
To me the highlight of the winery's entrance was the colorful Jean Dubuffet sculpture above. However, the simple silver lines of this kinetic sculpture below provided an interesting addition to the organic quality of the olive tree and grape vines.
The winery itself makes a statement–its design is by Michael Graves, the winner of a competition instigated by the San Francisco Museum of Modern Art. Its bright colors and strong use of line are unique among the nearby wineries which often evoke Tuscan villas and European castles.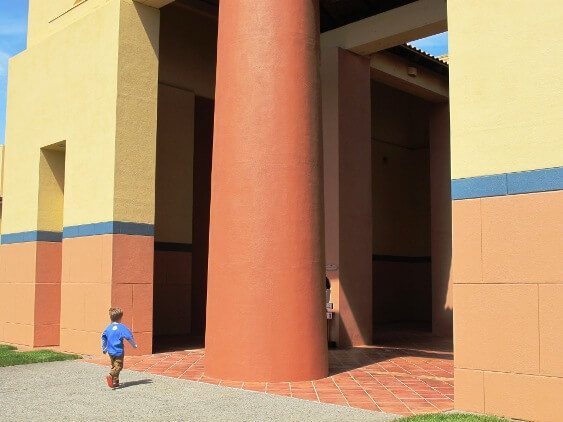 In the courtyard just past the entrance sits a beautiful work by one of modern art's best known artists, Henry Moore.
Sculpture is fun. It interacts with you, playing off its environment and demanding that you walk around it and take it all in. This thumb is a wonderful example of how sculpture can change the dynamic of its surroundings.
Clos Pegase shows its appreciation for modern art most vividly, but there are a few older pieces as well, including these two Italian fountains.
Near the entrance to the tasting room stands this unusual piece whose shape perfectly complements the lines of the building.
Art is just about in every corner of Clos Pegase. This room of impressive wine barrels even includes some unexpected pieces.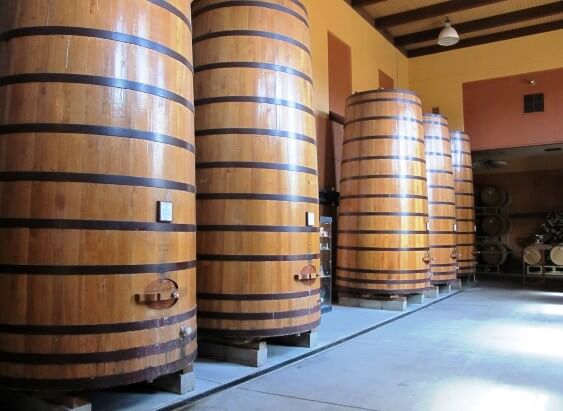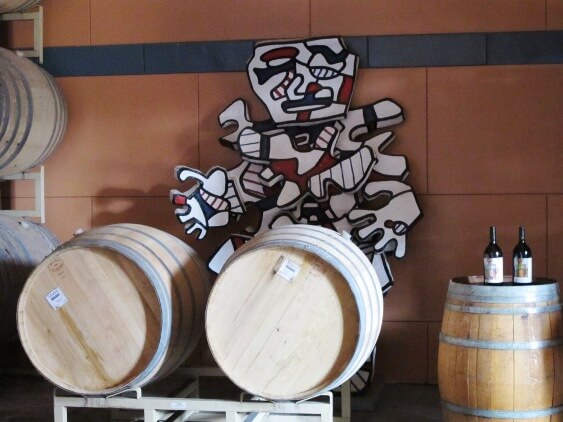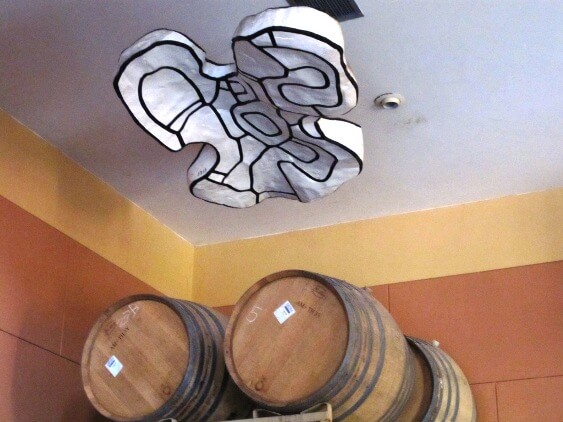 Besides sculpture, the winery displays many paintings in its tasting room, adjacent gallery, and offices.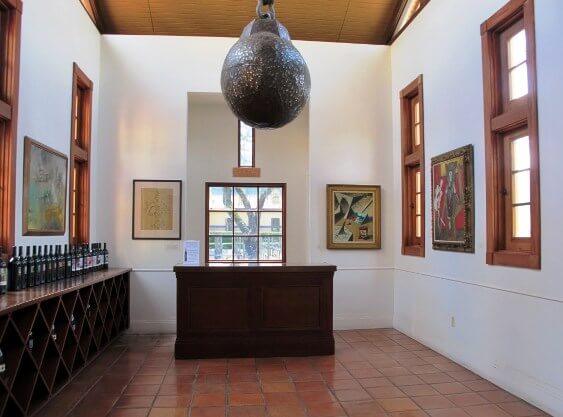 I didn't mind tasting wine with a Francis Bacon painting behind me and a Odilon Redon work in front of me. Amazing!
Art is the centerpiece of this unique winery. The wines are great, too, and the staff are friendly. I plan to bring my children back here again and again to experience art displayed in the beautiful surroundings of colorful architecture, vineyards, and Calistoga's hills.
Where have you found art in unexpected places? Why do you love sculpture?
For more ArtSmart greatness, check out this month's other posts on sculpture:
Rodin in San Francisco from No Onions Extra Pickles
Roy Lichtenstein's Sculptures from A Sense of Place
A Study of the Apollo Belvedere at the Vatican Museum in Rome from Eurotravelogue
Forgetting the Sculpture of Patrick Dougherty from Travellious