Berkeley, California is a city known for its innovative food, love of upsetting the status quo, and of course outstanding academics. I still can't believe that it took me so long to visit Berkeley, but when I finally did, what a perfect day trip it ended up being.  Here is my idea of the perfect day in Berkeley. I hope the next time you are in the San Francisco or Sacramento area, you will take a day to experience this vibrant university city.
First stop: Fourth Street
This strip of beautiful shops and fun restaurants was the perfect way to begin our day there. The doors of many shops were left open, inviting us to stroll in and out. This one had so many unique things for sale, including gorgeous paper from Italy.
We had our two small children with us, so this fun toy store, The Ark, was a welcome sight. If you have kids or just enjoy hand-crafted or unusual toys, I would highly recommend it.
A traveling parent always needs a stash of things to keep kids busy: these erasable cards we bought at the toy store were a hit.
Right in the heart of 4th Street is Zut! Bar and Bistro. The friendly atmosphere, reasonable prices, and excellent food made it a wonderful place to have lunch.  The Middle Eastern sampler was fantastic.
Peet's Coffee is just down the street from Zut! and The Ark. The patio was crowded with volunteers for Greenpeace, professionals, and students, and we relaxed over some of the best coffee around.
Next stop: the University of California at Berkeley
We drove up the hill and around the campus, but I look forward to returning to Berkeley to do a walking tour. On this visit, we had the botanical garden in our sights.
Last stop: the botanical garden
The UC Berkeley Botanical Garden was the main reason for our visit, and it didn't disappoint. The garden is spread over 34 acres and houses more than 13,000 plants, including rare and endangered species.
The Botanical Garden is situated in the Berkeley hills, with beautiful views to take in as you wander the paths.
There is so much to love at the Botanical Garden.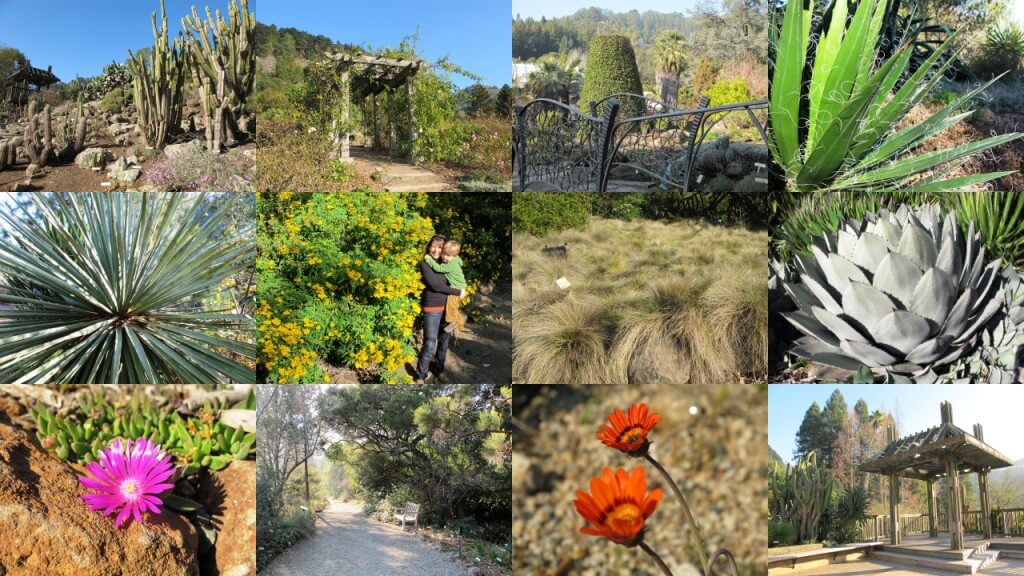 The combination of fun on Fourth Street, views of the campus, and amazing nature at the botanical garden made for the perfect day in Berkeley. There is much more to see and do in Berkeley, and I hope to get back there very soon.
Have you been to Berkeley? What suggestions do you have for a day in Berkeley?
Pin It