The theme for this month's ArtSmart Roundtable is paintings. In July I will be in São Paulo, Brazil, visiting family for a few weeks. Every time we go there, I make a list of things I want to do in São Paulo because it is an enormous city with lots of cultural attractions and  world-class museums. The city's nicest collection is at the Museum of Art in São Paulo (or Museu de Arte de São Paulo–MASP). In fact, it's known as the best collection of  Western art in Latin America.
The museum's permanent collection is arranged in rooms by theme. For example, when I was there last, there were rooms devoted to portraits, myths, and realism. This kind of arrangement, instead of the usual chronological order, added an interesting twist to the display.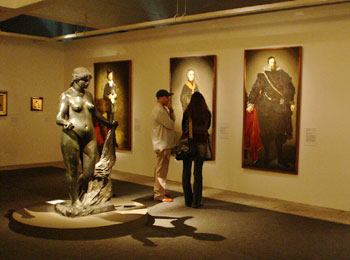 Though MASP doesn't have the best pieces by great artists, it does include enough works by important artists, in addition to hosting excellent temporary exhibits, that anyone in São Paulo should make time to visit. The following are some, but definitely not all, of the highlights.
The collection includes paintings by Italian masters like Botticelli, Titan, Tintoretto, and Giovanni Bellini.
There are also impressive paintings by El Greco and Diego Velasquez. The Velasquez work is one of a few large portraits, also seen above in the second photo.
Like other works by Rembrandt, the brushstrokes and human emotion of this self-portrait pulled me in.
MASP has many works by great 19th and 20th century artists.
For more information about MASP, click here. (All photos are from Wikipedia Commons except the first, which is mine.)
For more about paintings, check out the other ArtSmart posts:
Botticelli's 'Birth of Venus'  at the Uffizi Gallery in Florence from Eurotravelogue
Klimt Spotting in 2012 from Travellious
The Garden of Earthly Delights from A Sense of Place
Midnight in Paris in La Belle Époque from CG Travels
What Happens When You Piss Off Whistler from No Onions Extra Pickles
Have you been to MASP? Are there any art museums that you were pleasantly surprised by?
Join the other ArtSmart bloggers for more on paintings:
Pin It