I love to go wine tasting but am by no means a wine snob. In fact, despite the fact that I drink a glass of wine every day, I rarely spend more than $12-20 on a bottle and am always learning new things about wine. In fact, I am still learning wine tasting tips every time I visit California wine country.
I've been spending a lot of time in Napa Valley, Lodi, and other areas of California wine country lately, which left me thinking about all the mystery that surrounds wine tasting. I say mystery because there are a lot of things that people wonder about wine tasting, like "should I 'chew' and spit the wine?" Most people who go wine tasting aren't wine snobs either, and many don't have the courage to ask what they might think are dumb questions.
Well, don't worry because I'll do the asking about wine tasting tips.
1. How much do wine tastings cost?
Wine tasting varies a lot. In California, lesser-known wine areas like Lodi and Mendocino County have $5 or even complimentary tastings! When the tasting is free, I usually buy a bottle. In contrast, Napa Valley is the most expensive area–most tastings are $20-25 per person and some are even $50 or more. However, there are some ways to get around those steep tasting fees, including visiting lesser known wineries and regions and buying a wine tasting card. Check out my tips for saving money in Napa Valley.
2. How will I know where to go?
Plan your tastings based on what types of wineries you would like to visit and how much their tastings are. If you choose carefully, you may not need to visit more than a couple. Decide what types of wineries you would like to visit: small and homey, large and decadent, with formal gardens, with art, with a tour, specializing in whites or red…?
After you've narrowed it down, ask at the tourism office–they always have detailed maps and plenty of suggestions. Then ask the locals. When you stop in for a tasting, ask the tasting room managers (the people pouring your wine).
3. What should I do? Swirl? Chew? Spit?

Wine tasting is a personal thing. Everyone has his or her own preferences, and what you smell, taste, and think about a wine is different from the next person. The people working at the winery know that. They also know that the way people taste wine differs, too.
The most common techniques to get the most out of your wine tasting experience are the following:
Swirl the wine in the glass for a few seconds to let it open. This allows oxygen to enter the wine, which lets the "nose" of the wine come alive. Hold the glass by the stem and either pick up the glass and swirl it, or leave it on the counter and swirl it.
Stick your nose in the glass and consider the aromas.
Take a sip. Let it sit in your mouth for a second to absorb the flavor. Try to bring a little air in: open your lips and suck in some air, which allows you to taste the wine better. Swirl the wine around a bit. Some people like to "chew" the wine, which enhances the flavors.
You can choose to swallow it or spit into the dump bucket on the counter. Both ways have their advantages. Spitting the wine allows you to drink more without it going to your head. Swallowing the wine allows you to feel what the wine is like going down. I personally like to experience how the wine goes down, and if I don't want to finish it, I dump the remainder of the glass in the bucket.
Take at least a couple more sips. My friend Sherrie, a.k.a. Big Nose Wino, suggests 3 sips–the first to get the previous wine off the palate, and the next 2 sips to find out if you like it. If you don't like the wine after 2-3 sips, pour the remainder in the bucket.
If you feel like you've had enough, pour the remainder of your glass into the bucket (also called a spittoon). It is not considered rude! That's what those containers are there for!
4. What are all those grape names they keep rattling off?
The names you hear can get overwhelming. In California, there are so many kinds of grapes (varietals) grown, but you should keep in mind a few important ones: sauvignon blanc, chardonnay, pinot noir, zinfandel, and the Bordeaux varietals of malbec, merlot, cabernet sauvignon, cabernet franc, and petit verdot. Many European varietals are hot these days, such as the Spanish varietals tempranillo and albariño.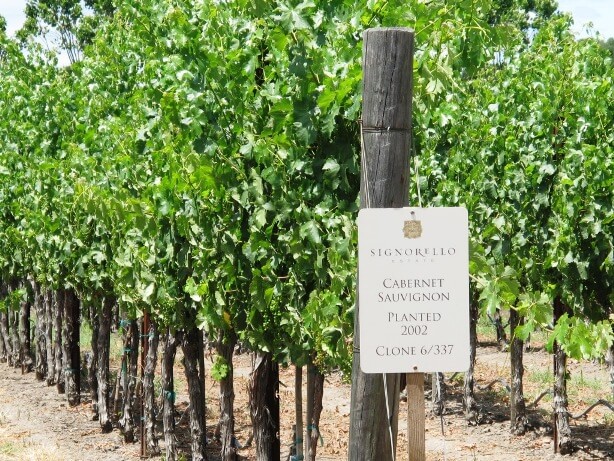 The grapes depend on the region, including the terrain and the weather. Before you visit each region, you should find out what it's known for. Napa Valley is known for its rich soil and cabernet is the star; in hotter Lodi, zinfandel reigns; the cooler, foggy hills of the Sonoma and Mendocino coasts are known for Pinot Noir; and Livermore Valley is famous for its old Chardonnay vines.
Wines must consist of 75% of one grape to be called by that grape. For instance, if you are drinking a cabernet sauvignon, it may be 100% cabernet sauvignon, or it may be a blend of 2 or more grapes, but at least 75% of it is cabernet sauvignon. When tasting you will be told what the make up is.
 5. Should I buy anything?
Not necessarily. As I mentioned above, if the tasting is free, it is a courtesy to buy a bottle. If you find a wine you particularly like, buy a bottle. It makes a perfect souvenir of your trip or a great gift for someone you know who loves wine!
6. What is the best time of day to taste wine?
This depends on you. Many tasting rooms open at 10:00 because the earlier in the day, the fresher your palate is. If you taste later in the day, keep in mind that everything you have eaten and drunk affects your palate. However, if wine makes you sleepy, you may feel more comfortable avoiding daytime tasting.
7. What other tips should I keep in mind?
Drink lots of water. Those small tastings really add up, and you can quickly get dehydrated, leading to a headache and dry mouth.
If the tasting room offers a cheese or charcuterie plate, order one and have fun considering wine and cheese pairing.
Ask questions. The person pouring your wine is a resource of information about wine and the area. Take advantage of that.
Tasting Notes (a paper with information about each wine) and a map of the area: if you are not shown these, ask. They will help you understand more about the wines you are tasting and get more out of the experience.
What do you think about the mystery of wine tasting? What questions or tips do you have?
You'll probably enjoy these related posts:
30 Things to Do in Napa Valley
Budget Travel Tips for Napa Valley
The Perfect Day Trip to Napa Valley
California Wine Country Find: Lodi
Off-the-Beaten-Path Wine Country: Murietta's Well 
Join me on Pinterest and Instagram for more travel and design inspiration.
Pin It