If you love to travel to other countries, you may have thought about teaching English abroad. Maybe you've worked as a volunteer helping people learn English, or maybe you've taught English abroad as a way to fund your travels or get to know the local people better. I have done this, too; I started teaching English in the Czech Republic in 1996 as a way to pay for life as an expat. Even though I was terribly unprepared for the job, I realized that I loved teaching and analyzing language, and that precarious beginning ended up being a long-time career that I find very rewarding.
Despite the fact that I can teach abroad, I have chosen to teach in the United States, for now at least. As someone who has helped people learn English for 13 years, I would like to share tips and tidbits for anyone who might be considering teaching English as a second language, abroad or in the U.S.
Let me begin by saying that I love my job. In fact, I think I have one of the best jobs out there! I teach ESL at Cosumnes River College, a progressive community college of about 15,000 students in Sacramento, California. My students need to learn English to live well in the U.S., and most of them are highly motivated and plan to study at the university. I taught ESL at University of Iowa and Ohio University, but I enjoy teaching at a community college much more. Like the other professors, I am respected as a valuable member of the teaching community and am given a lot of flexibility in my work. I can choose among about 24 different courses to teach. I can apply for sabbaticals when I want to mix things up. I can serve as department chair or work on innovative projects in technology or curriculum. I collaborate with professors from other departments. I am tenured. I get 4 months off a year. Most of all, I am fortunate enough to work with a wonderful, appreciative group of students every semester.
1) What are EFL and ESL? And TEFL and TESOL?

EFL = English as a Foreign Language. This applies to teaching English in a place where another language is the primary language. For example, if you teach English in Brazil, you teach EFL.
ESL = English as a Second Language. This is teaching English to people who are learning in an English-speaking environment and who will use both their native language and English in their daily lives. If you teach English to immigrants in England, you teach ESL.
TEFL and TESL are just the above acronyms with "Teaching" added to the beginning. e.g. TEFL = Teaching English as a Foreign Language
TESOL = Teaching English to Speakers of Other Languages. This applies to the profession. For example, there is the TESOL professional organization that has conferences for ESL and EFL instructors. You can also get a degree in TESOL.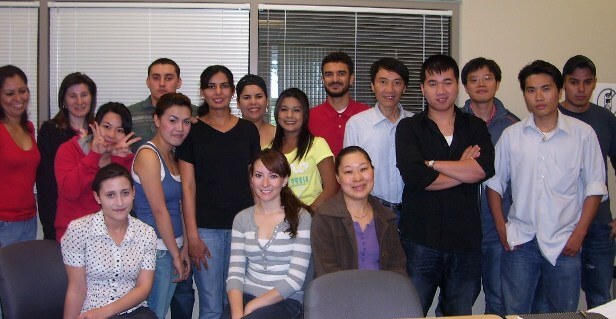 2) Who are the students?
If you are teaching in the U.S., there are two main groups of students. The largest group is immigrants, most of whom are starting their lives over and learn English soon after arriving. As you can see in the above photo, many of them are young; their parents decided to immigrate and so the children are here, too, and are usually eager to go to school and get educated in the U.S.
The other main group is made up of "international students," meaning students who have come to the U.S. temporarily, usually to learn English for a year or two before returning to their home countries. They usually study English at universities, but some study at community colleges because they are less expensive.
3) Where can you teach English as a Second Language?
When I was 23, I taught English in the Czech Republic at a variety of places: at a high school, at a language school, and for private groups. Some people who teach abroad also tutor and teach at elementary schools or colleges/universities.
In the U.S., you can teach in the K-12 public school system, at adult schools, at community colleges, and at universities. Universities usually offer both intensive language programs, where students of all levels come to learn English quickly, usually for several hours a day, and classes for international graduate students who need to improve their writing or speaking skills. Also, there is a small number of language schools in the U.S.
4) What kind of education do I need to teach ESL/EFL?
If you are planning to teach abroad, you usually need at least a TESOL certificate and a B.A. (the B.A. degree can be in any field).
In the U.S., the level of education required differs according to where you want to teach. If you hope to teach in the K-12 system, a teaching degree with a TESOL credential is usually the requirement. If you hope to teach at an adult school (these are common in California but are the first to go on the chopping block when funds are low), you usually need a B.A. in TESOL or a related field + a TESOL certificate. If you hope to teach at a community college or university, you need an M.A. in TESOL, Applied Linguistics, or a related field (my M.A. is in linguistics).
5) What makes a good ESL teacher?
ESL instructors are a diverse bunch, but all ESL teachers need to be sensitive to other cultures, understanding of students' vulnerability, encouraging, patient, and organized. They need to know that teaching is not about them; it's about the students, so the class should be focused on the students' learning and producing, not on the teacher jabbering away. They also should be good at building community and empathizing with all kinds of people. Teaching language is not easy, so you should feel comfortable with English grammar and analyzing language to uncover its rules and patterns.
Have you taught English abroad or in the U.S.? Do you have any questions about teaching ESL/EFL?