A few months ago, I interviewed Monique of Bringing Travel Home about her experience living, falling in love, and being pregnant in Italy. She moved back to the U.S. eight years ago but recently returned to Italy. Now I am happy to bring you another interview with her, this time about her trip back with her husband and two children. I hope you enjoy reading her tips for traveling in Italy with kids and her experience reuniting with the country she loved as an expat.
Give us a little background of your trip: why did you go, where did you go, & how long were you there?
My husband, two children and I went to Lago di Garda in Northern Italy earlier this summer. Lago di Garda is the largest lake in Italy and located in Italy's Lombardia region. There we stayed in a small port village called San Felice del Benaco, which is located not far from where we used to live. We also took side trips to nearby Brescia (where we also used to live), Venice, and Tuscany, just outside Florence.
This was our first trip back since we moved back to the States, and we looked forward to reconnecting with the area and good friends after a long eight years away, as well as seeing my German relatives who drove down for a visit. Our daughter was born in this part of Italy so it was very special to finally share with her the place she has heard so much about. We were in Italy for two and a half weeks.
I hope to take my kids to Europe soon but wonder about some of the logistics. What advice do you have for families traveling to Europe and Italy in particular?
Don't succumb to the pressure to see it all and pack in a lot of the sightseeing and guide book attractions, even if it is your first trip to Europe. Because we traveled so much in Italy pre-kids, we were fortunate to not feel compelled to visit the main attractions. In fact, we walked right by Florence's Piazza Signoria because we were too busy chatting with old friends and walking to lunch. The lines were too long to go into the Duomo in Venice and Florence, so we didn't go in. In fact, we rarely stayed in lines. True to the concept of slow travel and travel with children (ours are 5 and 9); we spent much of our time wandering through villages or cities without an itinerary, visiting with friends or, when at the lake, playing at the beach.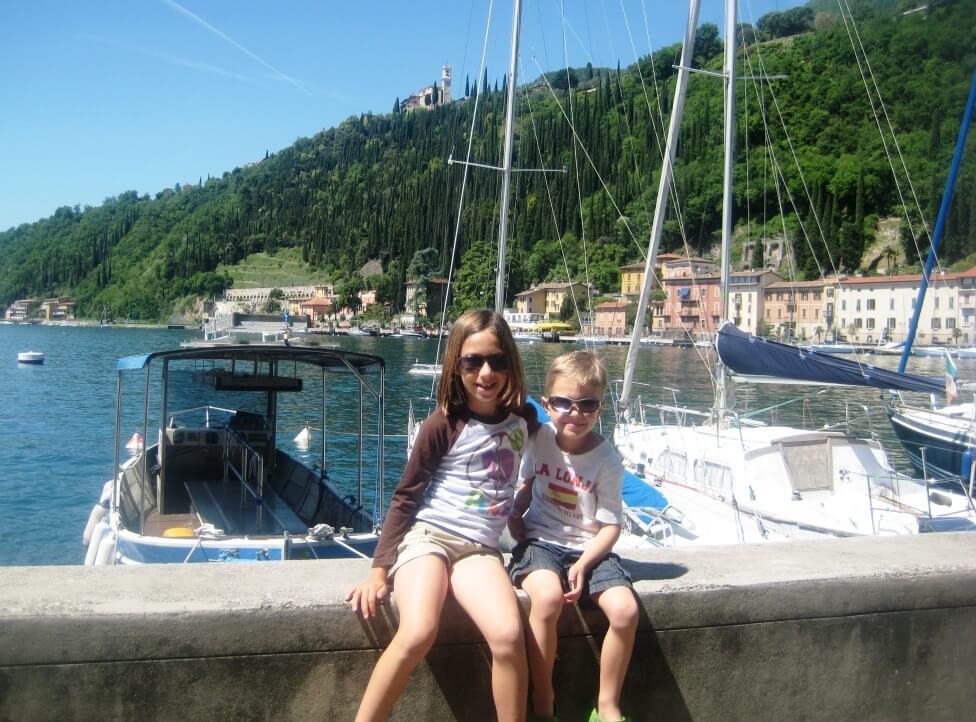 If you have young children and can (hopefully) save some of the major attractions for another trip when they are older, you can still soak up the culture and sights in a "slower" way. At Lago di Garda, you can't go very far without stumbling upon Roman ruins or old castles which are just as beautiful as the famous ones. The city of Brescia, for example, has a gorgeous old center, but little publicized in the tourist guides. Take the vaporetta and feed the pigeons in Venice (our kids would have stayed all day at Piazza San Marco feeding the pigeons), throw rocks on an Italian beach, sample gelato everywhere you can, and when the kids are tired of walking, sit at the nearest bar in a beautiful piazza for an aperitivo while the kids eat patatine. Visit  a museum that isn't as crowded – for example, I took my daughter into the breathtaking Palazzo Grassi in Venice to see a modern Urs Fischer exhibit we happened to walk by. What a surprise when we got to see Koons' monumental pink "Balloon Dog" on the bottom floor – and there was no one in the museum but us!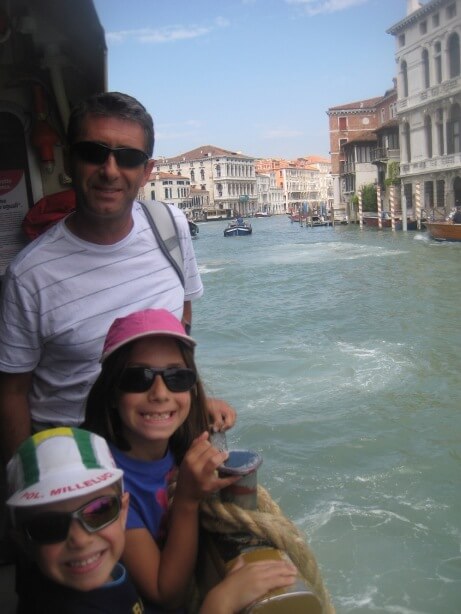 I'd also suggest planning the busy travel days with several mellow, no-schedule days in between. That means you will want to get away for a substantial amount of time where you can do this and not feel rushed.
Traveling to Europe from North America, I would suggest at least two weeks. We also visited Italy just prior to the busy season in late May. I pulled my oldest daughter from school early which presented no problem, especially if you sign up for independent study with the school district. Although this means the Italian water (both lakes and sea) will be too cold to swim for any length of time, you benefit from less heat and crowds. We also stayed in mainly one location, with the exception of a long weekend in Tuscany, which meant less moving around.
Finally, flexibility is key. Expect things to take longer. It may be more stressful to drive on the roads, find parking, go grocery shopping, and find a location even with GPS. A train may be delayed. Remember Italy–like many parts of southern European countries–feels small and more packed with people compared to North America. Expect unexpected changes in weather too if you are near the mountains!
How did your kids do on the flights, and do you have any special advice for long flights with kids?
Our kids were amazing on the flights, which totaled more than 12 hours with total travel time much more. It is the one part of the trip that I was dreading, particularly because of my five-year-old active boy. (He was an angel!). Flying with as few plane changes as possible worked well for us, as was paying a little extra for a quality airline we have used and trusted – Lufthansa. We flew the longer portion of travel – San Francisco to Frankfurt – on a giant plane and then hopped a small plane for a short one hour and exhilarating flight over the Dolomite Alps to land in Verona, Italy.
Although I resisted at first, my mother, who has flown through the very large and busy Frankfurt airport nearly missing her connection several times, convinced us to hire a Lufthansa family services guide to help make our tight connection to Italy in time. Money well spent! Our guide navigated our sleepy family through the huge airport and sped us through all the security and passport lines.
While on the plane, healthy eating and changing kids into pajamas for "sleep time" – if even a few hours –  went a long way. Lufthansa's personal screens for each passenger on international flights kept them entertained with the many different channels and kid movies available to them. In fact, their backpacks were filled with activity books and games but were barely touched although my daughter did enjoy writing in her journal at the start of the trip. Their favorite stuffed animals were a bring-along must as well. They still can't stop talking about the flight – I think it was one of their favorite parts of going to Europe. My son is obsessed with planes now!
What was the best thing about being back in Italy?
Without a doubt, reconnecting with our old life there – spending time with our very good friends over long dinners, speaking Italian, and visiting our favorite locales. And the beauty and architecture! And, of course, sharing it with our children.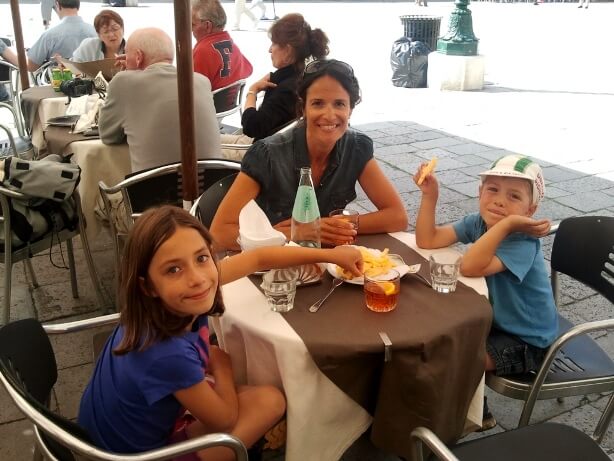 What were some of the challenges of traveling in Italy with your kids? How did you deal with them?
For our trip, it wasn't the must-sees that made for a busy schedule, but the many friends and colleagues we wanted to see and meet up with from our life lived there. So we made sure the kids got to choose what they wanted to do often, since we felt we were constantly taking them to coffees, dinners and meet ups with people they didn't know. We knew this was going to an unavoidable situation, so we made sure we were flexible with our plans – changing them as needed. Flexibility again was key. For example, although promised, I canceled a trip to Verona to see a group of expat friends that were very dear to us. It was hard to do, but the kids had had enough driving that particular day. So instead I had a nice conversation via phone with a friend there and promised that next time we would plan to see them.
In our case, under booking, setting realistic expectations and keeping to a light itinerary were essentials to a good trip. Even if it means you won't get to see something you really want to (for me, it was visiting new Punta della Dogana museum in Venice. Oh well, next time….).
What did you and your kids especially enjoy?
The kids loved our lake house where we stayed, the daily visits to the beach right in front of the house, the bar by the house where they enjoyed patatine (and we enjoyed our aperitivo) almost nightly, trips for gelato, our day trip by train to Venice and the airplane rides.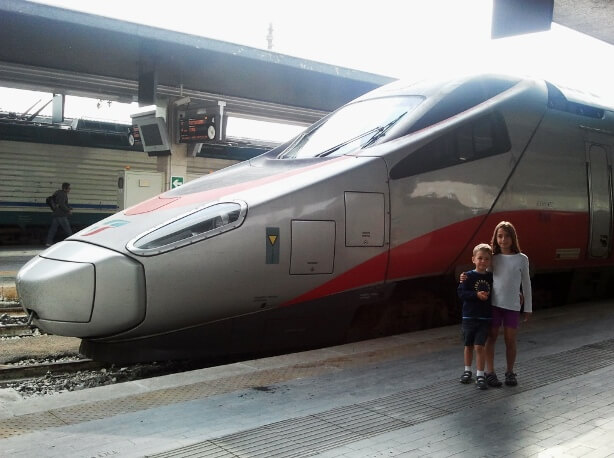 We also rented a boat on the lake – something we never did when we lived there because it was more than we'd normally spend for that sort of thing. It was wonderful to be out on the lake and experience the views from a small boat as a family. The kids loved it also.
My husband and I cherished the time spent with some very special friends – where it felt as time had not passed. Speaking Italian and sliding easily back to our "Italian selves", having the kids be part of that, and watching them communicate and interact with Italians there.
Experiencing another part of the world and culture has made a lasting impression on our children, as well as visiting iconic places like Venice and the many old and beautiful churches. For me, it was surreal and special to walk down the same streets I walked my newborn baby in her carriage many years ago, and visit the house we lived in– now with that baby grown up and accompanied by her younger brother.
This trip has allowed me to connect both places  – the life and home we once had in Italy and our life and home back in the States. That very special period of our lives spent living in Italy feels real again. Becoming 'ex-residents" rather than tourists, knowing the people and the places there, speaking the language and understanding the culture gives us a unique privilege when visiting Italy. I believe no matter how much time passes before our next trip there, Italy will always feel like another home to us.
Thank you to Monique for this interview! Please be sure to check out her blog–I love seeing her posts about books, Italy, and lifestyle in my email, and I'm sure you'll enjoy them, too.