When I travel, I like to take my time, getting to know the destination and its people so that I can get a sense of what the place is really about. I've been fortunate to have those experiences time and again in Brazil, where my husband's entire family lives. We stay with them for a few weeks every year, in two very different locales: the megacity of São Paulo and the rural town of Bragança Paulista. What I've come away with is a good sense of what it really means to be Brazilian. But for the average traveler who doesn't stay with locals, such access to authentic culture is not so easy, so I ask myself, "How can visitors to Brazil experience this? What about Brazil tourism development?"
Brazil is in a unique position because it recently hosted both the World Cup and Olympic Games, providing two important benefits for tourism potential: infrastructure will be greatly improved, and Brazil will be noticed in television sets around the world. I have already discussed how tourism can benefit the economy of developing countries and looked at Brazil as an example of a country that can and should develop tourism more, with suggestions for promoting culture in Brazil's largest city, São Paulo. Now I'd like to take a look at other ways in which Brazil can promote its cultural heritage to grow tourism.
Tourism in Brazil certainly does exist, as anyone who goes to Rio or some of the eco-tourist destinations knows first hand, but outside of those hot spots, tourism seems geared toward Brazilians who travel (and especially love the beach), not international tourists. I believe that the potential for tourism to grow in other areas is huge, especially as tourism to developing countries around the world has been steadily growing and is expected to continue over the next decades. However, to be successful in the long term, tourism development should emphasize culture, which is of great interest to most international travelers. During my recent month-long stay in Brazil, I asked myself, "What aspects of cultural heritage exist which could be built upon, and what would be of interest to international tourists?"
Let's take a look at two very different possibilities.
Santos: a historic city not worth visiting?! 
I recently visited Santos with no idea what to expect except that everybody told me that it really wasn't worth visiting. I couldn't believe that for a host of good reasons: Santos is one of Brazil's earliest cities, founded in 1546. It played an important role in Brazil's history as the main trading post of coffee. It is near São Paulo and the last stop on the beautiful Rio-Santos coastal highway. It's the largest port in South America. It is home to the Santos soccer team, one of the world's best soccer clubs where famous players such as Pelé and today's superstar Neymar played. After all, with colonial cities and the coffee trade being such important aspects of Brazil's rich history, and soccer being so intrinsic to modern-day Brazil, there must be plenty of worthwhile things to do there. On a day-trip to the city's center, I was simultaneously impressed and disappointed.
Santos has a dense historical center near the city's enormous port. It was the heart of the city as Santos became the world's leading trading center for coffee. It was also home to the large Italian and Japanese populations that immigrated here to work the coffee fields. The historical center has a lot going for it:
Signs indicating the direction of main attractions
A touristic cable car ride
The beautifully restored coffee exchange building (Museu do Café, or Coffee Museum)
Cobblestone streets
Historic buildings reflecting the city's former wealth, mostly from the early 20th century
Efforts have been made to develop tourism there, but the area lacks charm and focus.
What Santos should do: build upon the city's history by making the historical center tourist-friendly
1) Make the historic center into a pedestrian area, especially the streets around the Museu do Café (Coffee Museum).  The narrow cobbled streets would make for perfect city-center strolling but now are so tightly packed with cars that walking the streets is not pleasant.
2) Encourage tourist-friendly development in the historic center. Bakeries, juice bars, cafés, fruit vendors, and shops selling Brazilian handicrafts and art would reflect Brazilian culture and encourage visitors to spend money in the area. Although there are some nice restaurants and cafés, it is full of small, unattractive shops selling various products like electronics and other home items, not items that promote tourism.
3) Make major changes to the Monte Serrat funicular ride that takes visitors above the city to the former casino. This attraction has a lot of potential but in its current state is barely worth the $11 ticket. The funicular goes to the city's highest point and offers panoramic views of Santos and the ocean on three sides.
It is the former site of a grand casino, a by-product of the wealth generated by the coffee trade in Santos. Its walls have old photographs of beautiful people in the once ornate interior, but no other signs of the former casino exist. Outside there is a historical walk (not marked), a very old church (also not marked), and an outdoor garden area (littered with trash). What a shame, but with restoration, more historical photos, signs marking historical sights, and the garden being cleaned up, this would be a real attraction connecting visitors to the city's history.
Tourism brings in a lot of money and jobs, and our short time in Santos showed that on a small scale. The Coffee Museum and its café are well staffed by friendly young people who acted professionally. Without the building's renovation, the jobs of the cashiers, security guards, receptionists, servers, coffee roasters, baristas, and other employees would not exist.
In fact, without the renovation, we might not have come to Santos at all. But we did, and we spent money: (all amounts have been converted to U.S. dollars)
$8 for the car ferry to and from Guarujá
$14 for parking in the historical center
$14 for entrance to the Coffee Museum
$120 in freshly roasted gourmet coffee from the museum's café
about $100 for lunch at the museum's café, plus a generous tip
$15 in souvenirs
$53 for tickets to ride the funicular to Monte Serrat
Total = almost $400 on a half-day trip
If this is what we spent in just a few hours, imagine if tourism in Santos were developed enough for us to stay for a couple of nights. Keep in mind that the above number is just us; of course, the potential economic benefit for Santos is exponentially greater. Many other cities in Brazil could follow suit.
Agritourism and terroir in rural Brazil
Growing in popularity lately is agritourism in places like Italy, where rural ways of life, slow food, and slow travel are celebrated. Visitors love the opportunity to get to know locals and experience the both the food, from learning about local produce to preparing traditional meals and what makes the land in that place special.
California has cashed in on various forms agritourism as well. For example, the enormous success of California's wine country is dependent partly on the wineries' willingness to promote themselves through tastings, tours, and stays, and the nearby towns' participation in making the whole area worthy of tourism. What visitors receive is an education in wine making, a chance to explore the gorgeous scenery, and a real sense of the terroir and what is unique about Napa County, or Sonoma County, or whichever area it is. The friendly tasting room employees chat with you, telling stories about the history and character of the area, and visitors tour the wineries and learn about the process of wine making, including growing, harvesting, blending, and more. All this brings the area to life and makes visiting the wine country a special travel experience.
Brazil could do the same. Its people are extraordinarily friendly and hospitable. The towns, with cobbled streets, cute shops, and old churches, are inviting. The countryside is beautiful. Its rolling green hills scattered with cows and horses next to dense forests of eucalyptus and other native trees are the perfect setting for agritourism.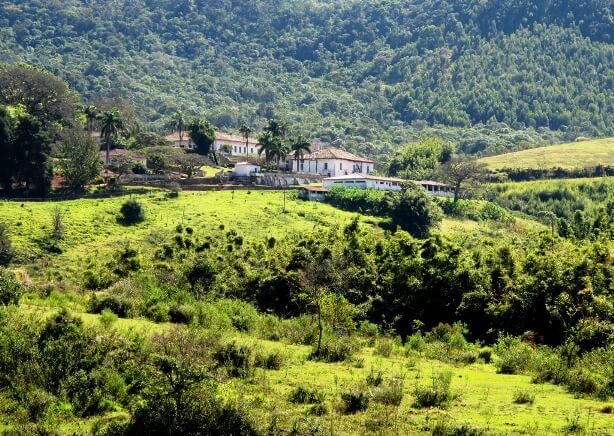 What rural Brazil can sell is coffee. Like in California where visitors from around the world come to experience the history and culture of wine, Brazil can promote itself as the center of coffee production. Coffee is part of Brazil's terroir. After all, it has long been by far the largest producer of coffee in the world, and the beautiful countryside of its southern states is full of coffee plantations. Coffee is linked to the land and the history of Brazil, going back to 1727, and to the modern-day culture of this coffee-loving people.
Some coffee plantations in Brazil already offer stays, but what I imagine is something more organized. For instance, the town where I spend most of my time in Brazil is located in the heart of coffee farming. The area's status as producing high-quality coffee is touted through selling gourmet regional coffee in shops and using the region's "terrior" label on café coffee cups. My in-laws drove me just a couple of miles outside of town to see the coffee fields. Like the vineyards that cover the hills of California's wine country, coffee trees are everywhere in this part of Brazil. They made a beautiful backdrop as we drove the country roads, yet there were no plantations open to visitors.
As we passed this one with its old colonial-style house, I thought that it would make a great agriturismo.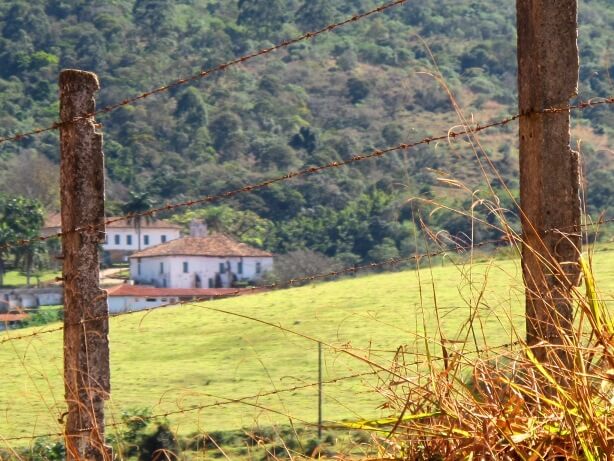 Staying at an old plantation like this one would give visitors a unique opportunity to experience the culture of Brazil through the life of its people, and to learn first-hand about growing coffee and its role in the history of the area. Besides offering visitors the chance to stay at the farm, plantation owners could also offer tours and tastings that would teach visitors about different coffee varietals and how coffee is grown, harvested, roasted, etc.
If coffee tourism were developed starting with the plantations opening themselves to visitors, opportunities for related tourism development would follow. The old railroad lines that were used to transport coffee from the farms to the cities and then to the ports could be reused for touristic train rides. (The Napa Wine Train does just this and is a very popular attraction in Napa Valley, California.) The nearby towns that now receive no tourism could also benefit from coffee tourism. Tasting rooms that would showcase coffee from different regions of Brazil could be opened in the nearby towns. Brochures for self-guided historic walking tours of the town centers could be available at very little cost to the town, and guided tours of the nearby plantations could be offered to visitors. And so on.
As a frequent visitor to Brazil, I can't help but imagine how the country could welcome visitors more. I know that, for a variety of reasons, not every region should try to attract tourism; however, places like historic Santos and the coffee plantations appear to be an opportunity to promote the rich culture and history of Brazil to international tourists for the benefit of the local people and economy.
I welcome your feedback! Have you noticed similar places on your travels? If you went to Brazil, what kind of places would interest you?