If you haven't heard of Oscar Niemeyer, you probably won't forget him after this post, and you might even start making plans to visit some of his buildings. The architecture of Oscar Niemeyer is unforgettable. Fortunately for you, you can see some of his work in places around the world (France, Italy, Spain, Algeria, Malaysia), but for the real experience, you have to go to Brazil.
Niemeyer was born in 1907 (he is still living and working at the age of 104!) in Rio de Janeiro. He later became one of the greatest designers of modern architecture in the 20th century. He worked with Le Corbusier, helped design the United Nations Headquarters in New York, and was twice offered positions at Harvard and Yale but was unable to get a visa to enter the U.S. because of his communist leanings. Because he lived so long and designed many large projects in Brazil (including the new capital, Brasilia), there are many opportunities to see his architecture. His work is best known for its curving shapes and its innovative use of reinforced concrete that allows his buildings to stand with little visible support.
On my last trip to Brazil, one of my goals was to see more of Niemeyer's work. My husband took me two locations in São Paulo. The first is a complex of buildings called the Latin American Memorial, and the second is the Copan apartment building, one of São Paulo's iconic images.
The Latin American Memorial is all white and black; sadly it was an overcast day, and I had a hard time photographing the white concrete against that dull white sky.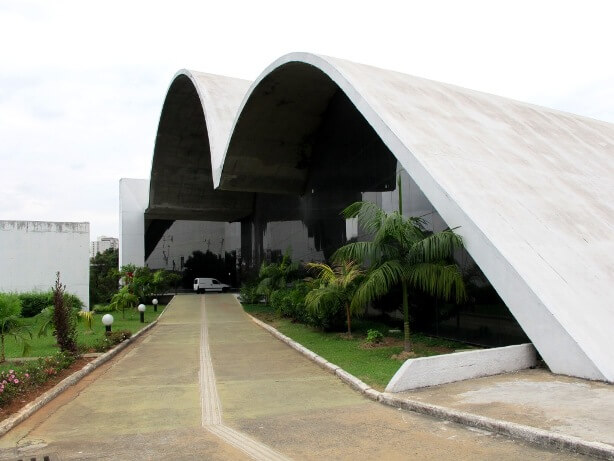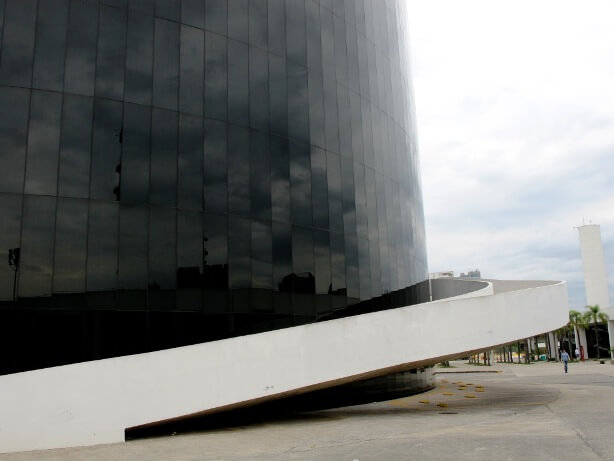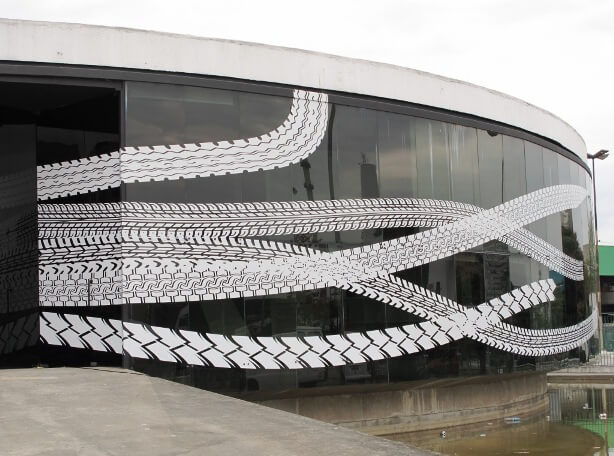 Niemeyer's buildings are often accompanied by his sculptures: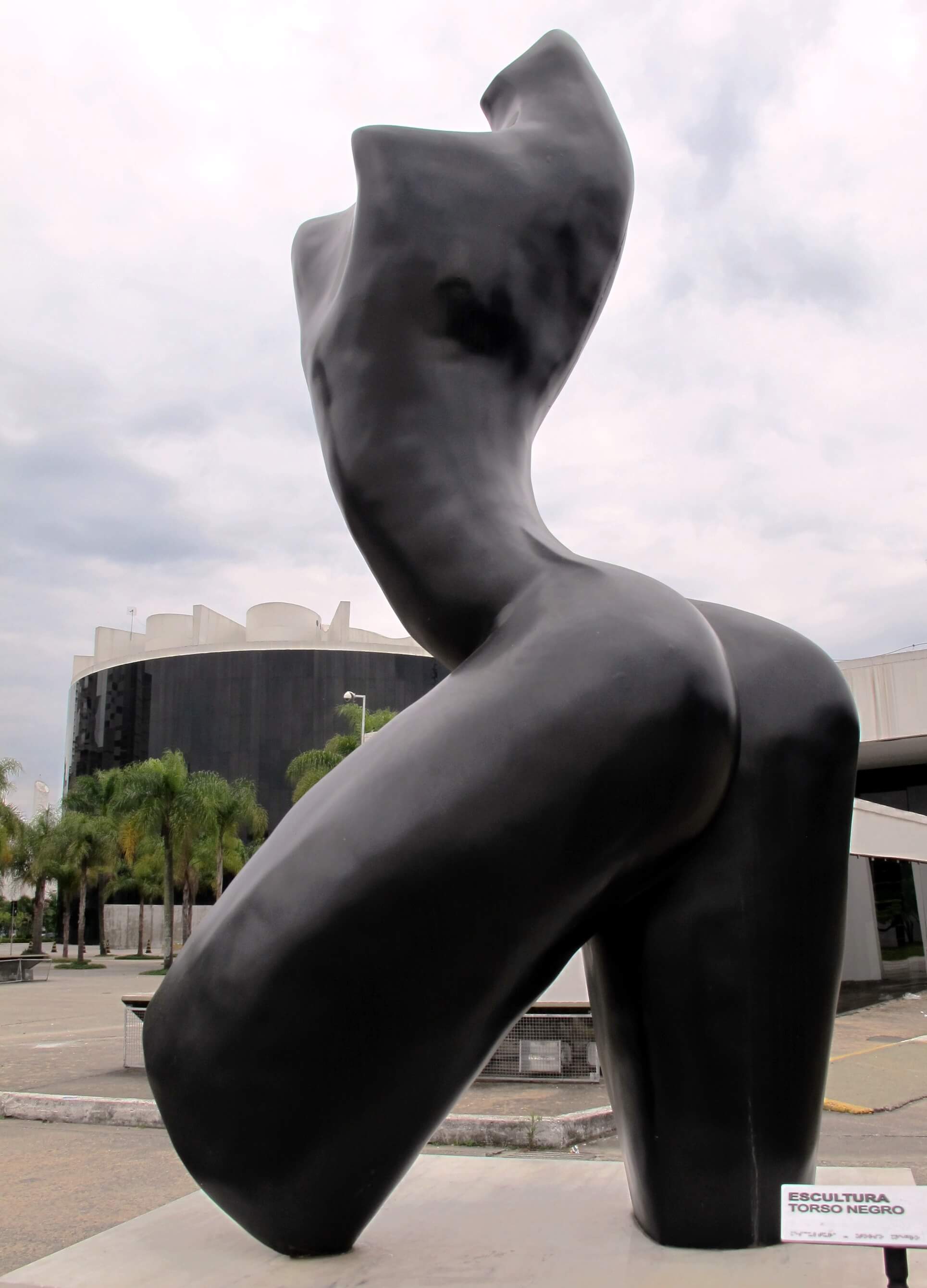 The Latin America Memorial is a public space often used for large events. On the day we visited, Bolivians living in Brazil gathered to celebrate the Bolivian Independence Day.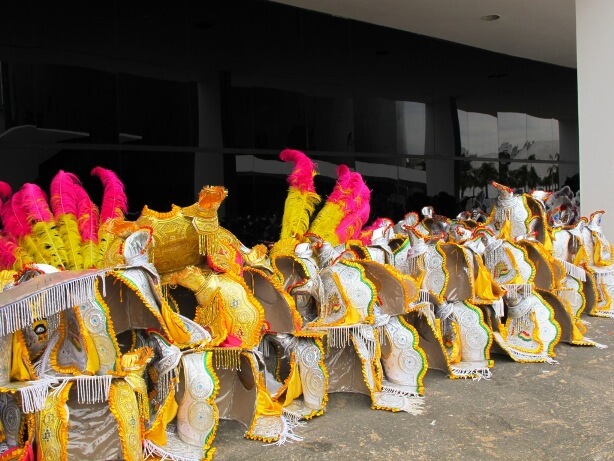 Their colorful costumes contrasted with the black and white of the buildings–the only exception to the color scheme is the collection of Latin American flags on one building's doorway, the complex's palm trees, and the red that symbolizes blood, which I explain below: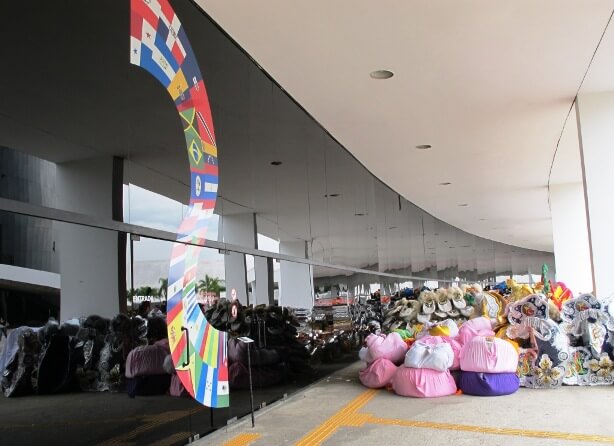 Niemeyer's hand sculpture at the Memorial da América Latina includes a map of Latin America dripping red blood, symbolizing the oppression and sacrifices of the Latin American people.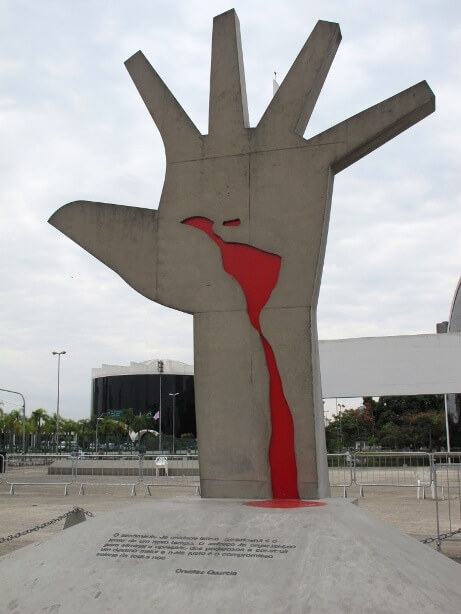 The second location I visited was Copan, a 38-story apartment building in downtown São Paulo. Tt was finished in 1966. It has the largest floor area of any residential building in the world. Its curving shape snakes around and behind the building next to it, creating an unusual shape that is one of the city's best-known images.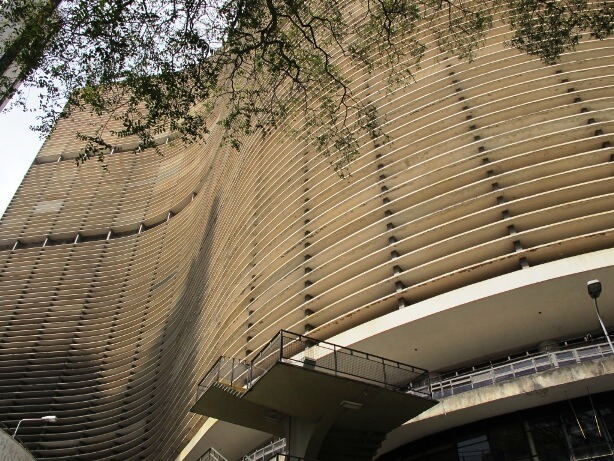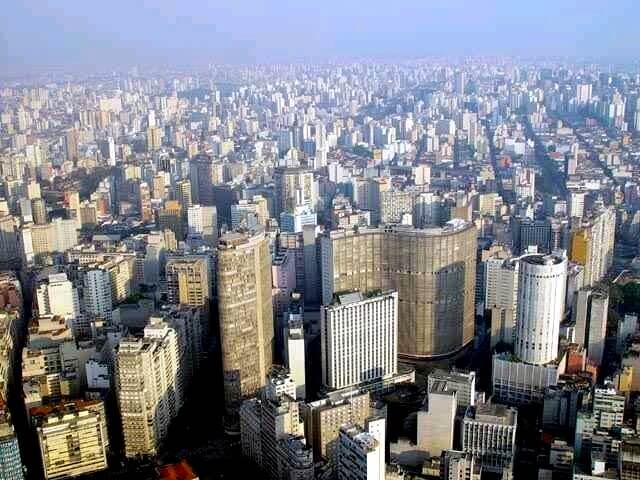 Besides Copan and the Latin American Memorial in São Paulo, Niemeyer also designed buildings and museums in São Paulo's huge Ibirapuera Park.
Possibly his most important commission was the architecture for the country's new capital city, Brasilia, starting in 1956. This project meant Niemeyer and his colleague, Lúcio Costa, a city planner, designed a kind of utopian city, built from scratch in the middle of nowhere. What resulted is a highly-planned, futuristic city center full of Niemeyer's shapes. It became a UNESCO World Heritage Site in 1987, just 27 years after it was completed.
Here are more images of Oscar Niemeyer's unforgettable work:
I hope to see much more of Niemeyer's architecture in Brazil and, after seeing many exteriors, am curious what his buildings are like from the inside. I plan to at least see the interiors of his buildings in São Paulo during my next visit in 2013 and am making plans to go to Brasilia in the next couple of years.
Have you seen the architecture of Niemeyer before? Would you like to visit Brazil to see his work?
Learn more about art around the world with the other ArtSmart posts from this month:
The Emergence of Gothic Architecture from Eurotravelogue
Miami Art Deco Architecture from Culture Tripper
Appreciating Less with Mies van der Rohe from Travellious
Monticello–America's First Great Mansion from Daydream Tourist
Modernist Architecture at MIT? from A Sense of Place
Photos are mine and from Wikipedia Commons.