The topic for this month's ArtSmart Blogging Roundtable is "best museum you've never heard of." Fortunately for me, I came upon a very cool museum in Florence when I was there in November. I also had the chance to listen to a couple of talks about museums at Florens2012 and learned about how museums are (and aren't!) responding to people's needs and using technology to improve the museum experience. Palazzo Strozzi in Florence does both, and in a city where things seem to change very slowly, this museum is a leader in museum innovation because of its programs that enhance the museum experience and bring together the community.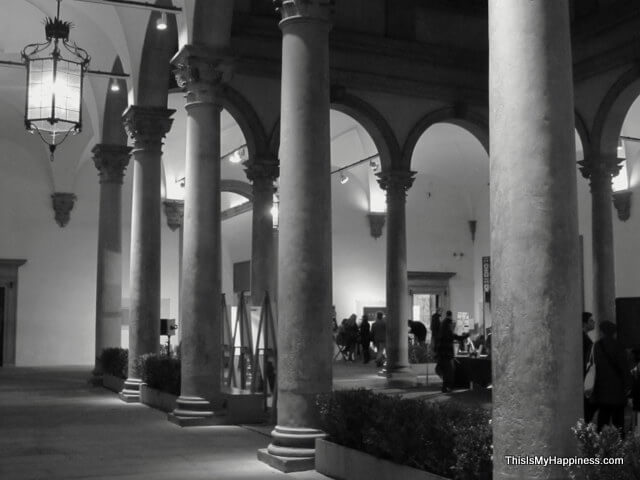 Let me first mention that the fact that most people who visit Florence haven't heard of Palazzo Strozzi is not a reflection of the museum's quality. Exhibitions of very high quality and importance are housed here, including some of the most-visited exhibitions in all of Italy. Also, the palazzo itself has great historical importance. It is an excellent example of Renaissance architecture and was built for the Strozzi family, a rich banking family that had an on-going rivalry with the Medici, who ruled Florence for much of the Renaissance.
A good museum doesn't just house great art; it helps educate the community about art and makes people want to visit. While museums with family events and community evenings are common in the U.S., some museums in Europe have not succeeded in making (or not tried to make?) themselves more accessible, more approachable to the general community. However, Palazzo Strozzi has been successful at getting the community connected with art, making it accessible to all, and making it very fun and chic. Here are just a few examples of what they are doing:
The Courtyard is the center of the palazzo with grand doors opening to three of central Florence's streets. The courtyard remains open year round from morning to late evening as a dynamic place for people to enjoy cultural activities including movie nights and free concerts. There are also interactive touch screens and a permanent exhibit of the history of the palazzo.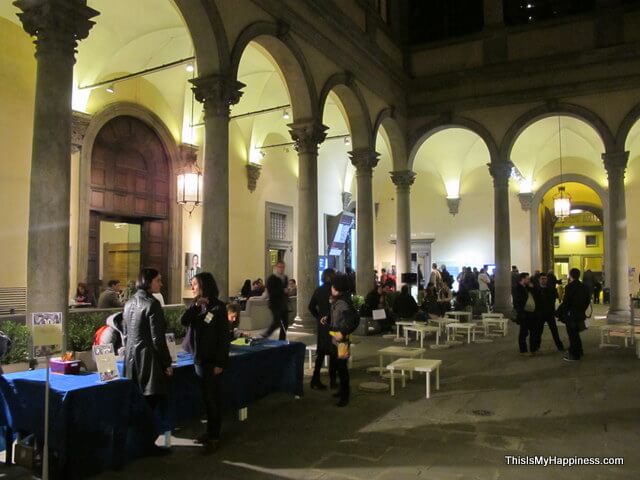 "Let's Talk about Art" is a series of evening get-togethers where Italian and foreign students can meet, hang out, and chat about art. Participants pay for their entrance to the exhibitions and are given a theme to explore while viewing the art; they then have the chance to practice their Italian and English skills together while discussing their impressions of the exhibition. For an art and language lover like me, this sounds like SO much fun!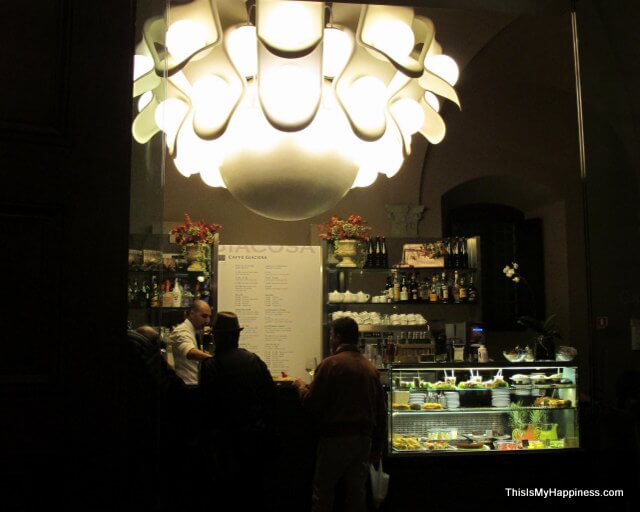 Thursday evenings at Palazzo Strozzi are all about the general public coming and hanging out. When I was there, it was the place to be with people lounging on the outdoor couches, hanging out in the courtyard, getting drinks and delicious plates of antipasti at Café Giacosa, and even tweeting with a twist: typing tweets on a typewriter and then posting them on a physical "tweet board."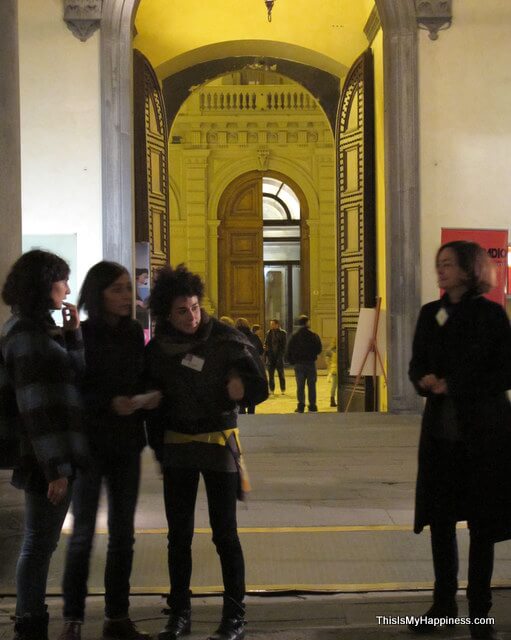 Attendees can view the downstairs exhibition for free. This idea of promoting the museum as a place for the city to gather and view art for free apparently works because it was packed!
The local radio station is there on Thursdays playing music and, when we were there, interviewing my blogger colleagues, Simone of Archeologia 2.0 and Valentina of Too Much Tuscany.
What about families? Palazzo Strozzi has plenty to offer them, too. First, families can purchase the "family ticket," which allows the entire family to visit the exhibitions for 20€. The museum has family activities including workshops, sketching in the galleries, storytelling, and "stroller tours." Some of us tried out the storytelling telephone–it's an old-fashioned telephone that you can record a children's story into–a creative idea, for sure.
Exhibitions are created with families in mind; for example, at the exhibition "The Thirties: The Arts in Italy during Fascism," there were descriptions of daily life from people who were children during that time. The stories brought to life what it was like to be a child in Italy in the 1930s and added interest and perspective for all visitors, not just children.
Last but not least, "With Many Voices" is a free project for people with Alzheimer's and their caregivers. The project encourages them to create art using their imagination and inventiveness. It also aims to provide a place for them to socialize and an opportunity for everyone to look at art differently.
What do you think? Do you know of other museums with innovative programs like these? What's your favorite museum that no one has heard of?
More information: If you are fortunate enough to be in Florence over the next year, you can visit Palazzo Strozzi for the following exhibitions: The Springtime in the Renaissance: Sculpture and the Arts in Florence 1400-1460 (wow!) and Fire and Ice: The Russian Avant-Garde, Siberia, and the East.
For more about Palazzo Strozzi, visit their website.
For more about great museums you've never heard of, check out my fellow ArtSmart bloggers' posts for January:
The Copley Library Galleries from Christina at Daydream Tourist
The Stibbert Museum in Florence, Italy from Jeff at Eurotravelogue
Bata Shoe Museum, Toronto from Lesley at Culture Tripper
University Art Galleries from Kelly at Travellious
Museum of London from Leslie at CG Travels
And for more artsy goodness, check out my previous ArtSmart posts.