A recent conversation about art beginnings immediately brought me to the beginning of the Renaissance, which is, many would argue, also the beginning of modern Western art. Travelers to Italy can gain a better appreciation of the wonder of Michelangelo's David or Raphael's delicate paintings when understanding a bit about what they came out of.
The Renaissance was born in Florence, but instead of talking about places to visit in Florence again, I'm taking a different angle. In my interest in promoting less popular sights and places where travelers can have a more authentic travel experience, I'm taking you across the hills beyond Florence, to two cities that are completely worth a visit and, though not off the tourists' path by any means, are not nearly as bombarded with tourists as Florence.
Let me quickly mention that the beginning of the Renaissance is a complicated topic, one that art historians write books about. This post is just meant to introduce people to the most important artist of that period and two places in Italy where they can travel to see his work.
The beginning of the Renaissance, particularly when considering painting, lies with Giotto. I could try to put into words how important Giotto was for the Renaissance, but I'll leave it to the experts. This is what Frederick Hartt, holder numerous impressive titles, including Professor Emeritus of the History of Art at the University of Virginia, had to say in his comprehensive History of Italian Renaissance Art:
"Giotto di Bondone (1277-1337)…, in an astonishingly short time, revolutionized the art of Florence, of Tuscany, and in fact of most of Italy and eventually the entire Western world. The first Italian master to achieve universal importance, Giotto is unquestionably one of the most powerful artists who ever lived."
Why? In a nutshell, "The virtue of Giotto's style for his contemporaries and successors lay in its fidelity to the human, natural, and Italian world they knew," and that despite being religious in theme, his work conveyed a focus on the human by showing emotion, by placing Biblical figures in places (e.g. Tuscan landscapes) that viewers would have been familiar with, and by making progress toward showing the human body realistically, one of the main goals of Renaissance art.
I have to admit that as a student of art history, I became a bit bored with Giotto. After all, the paintings of later Renaissance artists Leonardo or Botticelli or Filippo Lippi were nicer to look at, and it seemed like my professor talked about him for one or two hours too many. Then I went to Italy and saw his frescoes in person. That's when you can really appreciate the subtle beauty of this gifted artist. Although one can see Giotto's work in Florence, Padua and Assisi are the places to see better preserved frescoes and what I consider his most beautiful work.
1) The Scrovegni Chapel in Padua
Padua (Padova) is a historic city in the Veneto, not far from Venice, and is home to the enormous Basilica of St. Anthony, Roman ruins, and the small Scrovegni Chapel.
One of Giotto's earliest commissions and his largest collection of work in one place, the Scrovegni Chapel in Padua, near Venice, is an unimposing chapel whose exterior gives no clue of the beauty inside.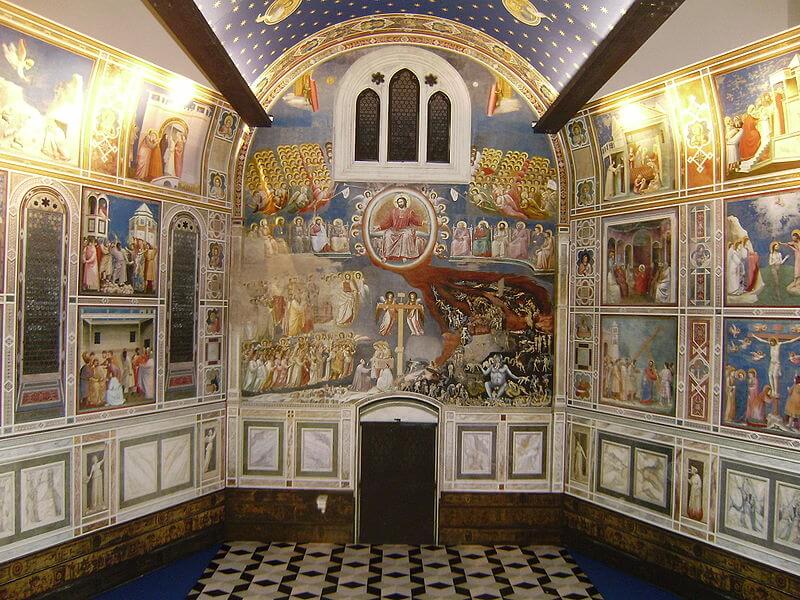 The chapel is small as it was designed just for the Scrovegni family to use for worship. The frescoes date from about 1306 and are in remarkable condition considering that they are 700 years old!
The ceiling is painted as a sky, with gold stars and the same deep blue that is used as the background for all the scenes. The thirty-eight scenes that cover the walls comprise two series, one of the life of Mary and the other the life of Christ. Each scene is bordered by decorative panels, as seen below: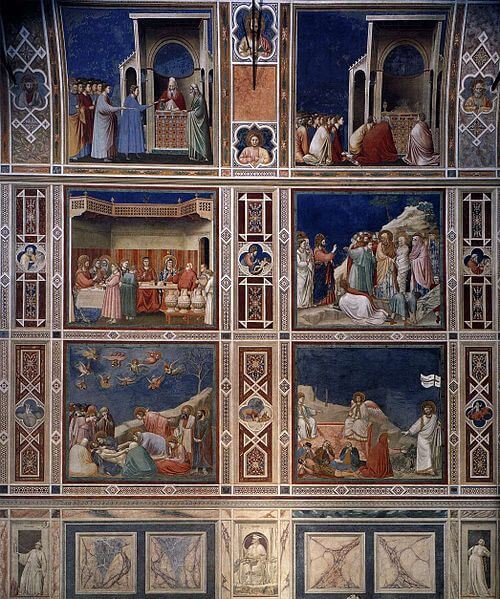 One of the best examples of the power of Giotto's style is Lamentation, or the scene of mourning Christ's death.
Christ's dead body lies across his mother's lap, and Mary Magdalene holds his feet. Various expressions of sadness can be seen in all the faces and body language. Christ's disciple, St. John, stands with his arms outstretched. Grief is obvious in the expressions of both Marys. The tense bodies of the angels reflect the grief of the humans below.
Showing emotion like this was something new, and in doing so, Giotto began the push toward humanism that would drive the development of Renaissance art in Italy.
2) The Basilica of St. Francis, Assisi
One of my fondest memories from my study-abroad course in the Italian Renaissance was our day-trip to Assisi. The town itself is beautiful, and the cathedral of St. Francis is unforgettable, not just for its significance regarding St. Francis, but also for the extraordinary decoration inside. In fact, the church is a UNESCO World Heritage Site.
The basilica is separated into the Upper Church and the Lower Church. The Lower Church houses frescoes by several important Early Renaissance artists, including Giotto. Giotto's cycle of the life of Christ was completed a few years after the Scrovegni Chapel in Padua but shows the evolution of his style.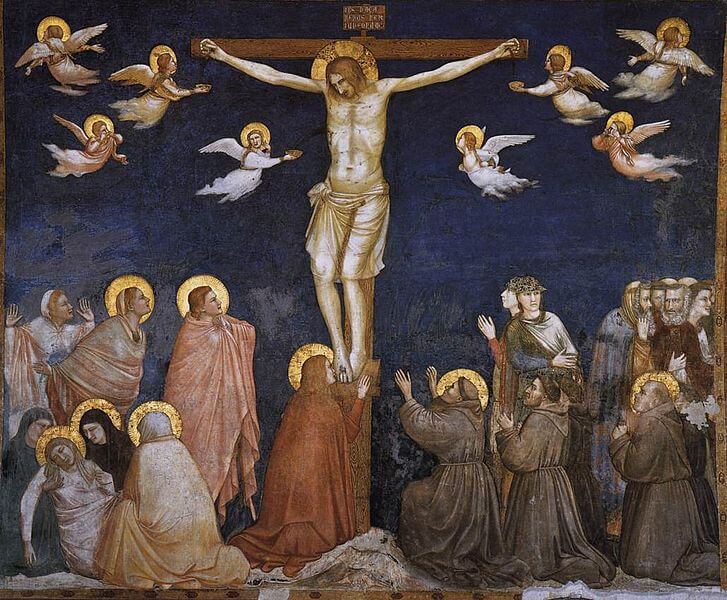 In this image, emotions of sadness, disbelief, and horror are even more apparent. The bodies under the robes seem to take up more space, a step forward in depicting humans realistically.
This crucifixion scene is just one in the fresco cycle. The scenes show the life of Christ in order, so as you stand there, you can follow the story scene by scene. Seeing these large, colorful frescoes together is a powerful experience for us today despite the fact that they have deteriorated and that we've already been exposed to so many striking images of all kinds. Imagine the people who lived during the early 14th century–what kind of impact would these frescoes have had on them?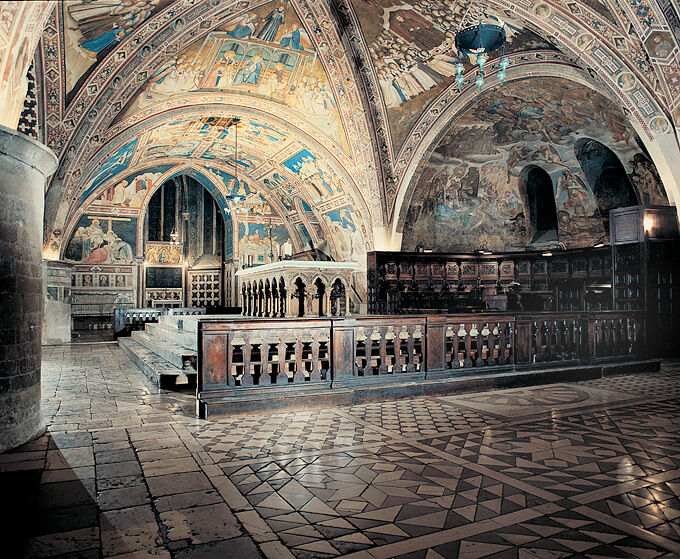 When traveling in Italy, it is always worthwhile to get away from the hustle and bustle of the main sights and discover more…after all, Italy holds more World Heritage Sites than any other country. Visiting Padua and Assisi to see the beginning of the Renaissance is just one way to get to know more of Italy; as one of the speakers at Florens2012 said during his discussion of the economic impact of tourism, "We don't need to attract more tourists to Florence. We need to attract more tourists to less known places in Italy."
Source: Hartt, Frederick. History of Italian Renaissance Art (3rd ed.). Prentice Hall: Englewood Cliffs, NJ. 1987.
More on art and life in Italy:
Tips to Understanding Renaissance Paintings
What's It Really Like to Live in Florence?