We have a short winter here in this part of Northern California, generally about 2 months from December to late January before an often stormy spring begins. In Napa Valley winter offers the benefit of many fewer tourists, better service, and the beautiful color of mustard plants as winter changes to very early spring. That's why I always recommend visiting Napa Valley in winter.
Calistoga, the northernmost town in Napa Valley, has been promoting winter in the wine country for the last few years, offering visitors a "passport" for tasting at 17 different wineries for just $60. That is a steal! And thanks to the town's accommodations, restaurants, shopping and wine tasting, it's the perfect place to base yourself while visiting Napa Valley in the winter.
I have been to Napa Valley many times but had never spent time in Calistoga; fortunately, I had the opportunity to rectify that situation. My husband and I took a much-needed overnight, without the kids. From the food and wine to the hot springs and beautiful views, we LOVED everything and can't wait to go back. Calistoga will be a favorite place to sneak off to when we need an escape.
Where to taste wine in Calistoga:
There are many wineries in the area, but Bennett Lane, Clos Pegase, and Chateau Montelana are three wineries near Calistoga that you must put on your list. Envy Wines is a boutique winery in Calistoga, a good choice for a more friendly, personalized experience. Castello di Amorosa is a big, beautiful castle, and winter is the best time to avoid the big crowds that often gather there.
Where to stay in Calistoga:
We stayed at the Craftsman Inn and loved the cozy luxury of our room and the excellent food. It's conveniently located next to the town's main street, so restaurants, shops and wine tasting are within walking distance.
Here are 9 other recommended B&Bs in Calistoga.
The town of Calistoga is also famous for its hot springs, and several hotels and spas are located there. For the ultimate experience, try Solage Calistoga.
And you? Have you ever spent a winter in the wine country? What do you think of Calistoga?
Pin it for later: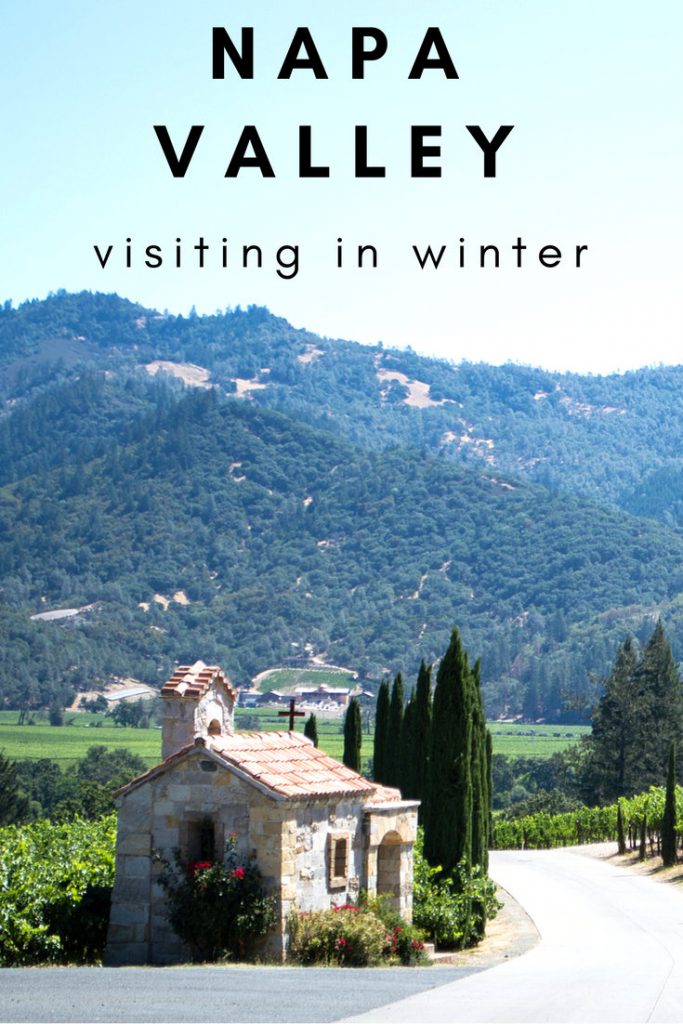 More on visiting Napa Valley:
A 3-Day Itinerary for Napa Valley, now available on Amazon
30 Things to Do in Napa Valley
The Perfect Day Trip to Napa Valley
and all my Napa blog posts here.
This trip was made possible by Calistoga Visitors, but, as always, I choose to write my real opinions–my love for this place is my own!