A romantic getaway in Calistoga in Napa Valley? It's about time…we've been together for 13+ years and married for almost 12. We've been through a lot together, roughed the transitions expected of a cross-cultural couple, and are now supporting each other on the joint mission of raising our two children. Like other hard-working couples, we deserve a romantic wine country getaway once in a while!
We appreciated every moment of it because we rarely have the chance to get away without our kids. With Valentine's Day here, I decided to share it with you–maybe our getaway will inspire you to come to Calistoga or to escape with your loved one wherever you are.
As you probably know, I am a big fan of California's gorgeous Napa Valley, but I honestly had not experienced it all until now–I had never been to Calistoga. Calistoga is the northernmost town in the valley, where the valley is very narrow (just 1.5 miles wide), so the town is literally bordered by mountains. It is known for its hot springs and for being a somewhat quirky resort town. Actually, I found that it has much more than that.
Day 1:
We arrived for our romantic getaway in Calistoga after driving up Napa Valley and enjoying the views of the winter vineyards decorated with yellow mustard blooms.
1:30: Lunch at Calistoga Kitchen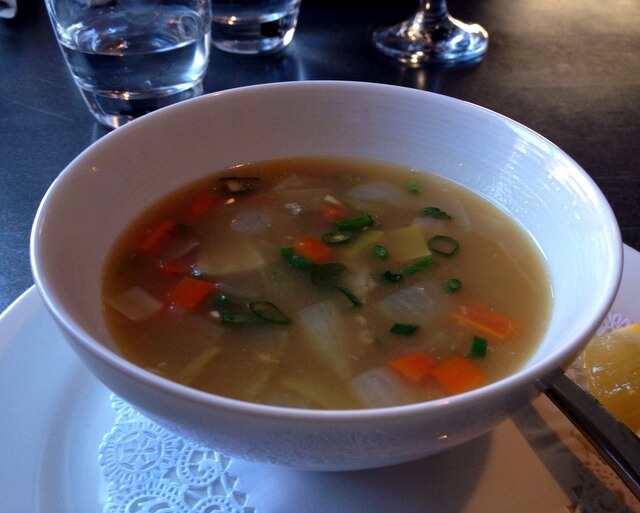 The restaurant has a modern interior and small menu that changes depending on what the season offers. We ordered the Iron Man juice (made with red vegetables), a salad with smoked trout, and the quinoa veggie burger. Everything was great, but the best item was the duck soup that they brought for us to try. I'm not much of a meat eater, but the flavors were perfect.
3:00: Small Wineries
We drove just a couple of miles north of Calistoga to Bennett Lane Winery and Envy Wines.
Bennett Lane is a fairly new winery but has been getting a lot of attention for its 34 wines that have received 90+ point scores. They claim to be best known for their Cabernets and Maximus, a hearty red blend, and I have to agree. My favorite was the Robert Whitley 2006 Cabernet Sauvignon. Impressive wines but down-to-earth atmosphere. The tasting fee is $15–a good deal in Napa Valley!
Have you wanted to visit a small winery in Napa Valley? Envy Wines is a great pick!
Envy Wines is a boutique winery, meaning that it produces small amounts of its wines (just 1500-1700 cases), which are available only at the winery. It is also an estate winery, producing all its wines from the grapes grown here (in contrast, most wineries make their wines from a combination of grapes from various parts of California). There are 11 acres of Petite Sirah, Cabernet Sauvignon, Merlot, and Sauvignon Blanc grapes on site.
I loved this place! Instead of standing at a bar to taste wine, we sat at a nice table and relaxed. I liked their reds so much that I almost signed up for their wine club. Maybe next time…
5:00: Check in at Craftsman Inn
The Craftsman Inn is a small, romantic B&B in a craftsman-style house just one block from downtown Calistoga. The rooms are cozy and tastefully decorated with jacuzzi tubs and private patios, but probably the #1 reason to stay here is the breakfast (see below). Look for the best rate here on Booking.com.
6:30: Walk downtown
Calistoga's downtown still has the look of a historic Gold Rush era town with several blocks of small shops, art galleries, and wine tasting rooms. We stopped at the Calistoga Roastery for coffee and loved the big tables and comfortable atmosphere, and then browsed in the large bookstore (so great to see a big bookstore these days!).
7:00: Dinner at All Seasons Bistro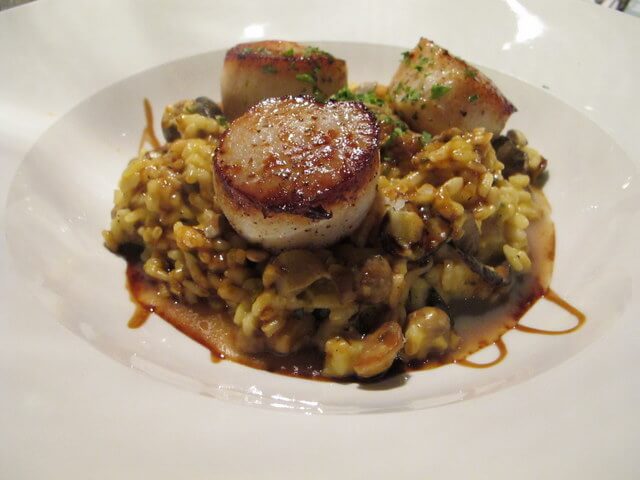 We LOVED this restaurant! All Seasons Bistro has been in Calistoga for 30 years, consistently serving great food that celebrates the seasons, using the best possible ingredients available. For example, the owner explained the long process of making her own blackberry-infused vinegar instead of buying it. The flavors of the food reflected the restaurant's attention to detail: everything was delicious and beautifully presented.
This was our dinner:
beet salad with pickled fennel and pistachios (shown above)
organic mixed greens with pears and walnuts (which my husband called "the best salad I've had in a very long time")
butternut squash gnocchi with blue cheese cream
risotto with seared scallops and wild mushrooms (also above)
a Meyer lemon tart
The salads and entrees were perfectly paired with local wines, first a Sean Minor Sauvignon Blanc from Sonoma County, and second a Napa Cellars Pinot Noir.
Day 2:
8:30: Breakfast at Craftsman Inn
Owner Gillian Kite wrote a cookbook of breakfast recipes, and after eating breakfast there, I can see why she has her own cookbook. Everything was delicious: blueberry coconut muffins, baked apples, poached eggs with chicken apple sausage, baked breakfast beans, and fresh fruit salad, with coffee, orange juice, and champagne.
9:00: Mineral bath treatments at Roman Spa
Calistoga is known for its hot springs and is considered one of the best spa towns in the United States. I was definitely curious about the spa experience, so we had a couple's one-hour mineral bath treatment at Roman Spa. An hour in the hot mineral water felt amazing, and I loved the mud mask and body scrub, too. Very relaxing…just what a couple needs on a romantic getaway.
10:30: Return to the hotel to shower and check out
11:30: Downtown shopping
We stopped at The Calistoga Olive Oil Company to taste olive oils and balsamic vinegars. Each was different but all had rich, fresh flavors. We couldn't leave without buying some to take home for ourselves and as a gift. Wonderful!

Calistoga has something I've never seen before but thought was brilliant: the old train depot and train cars have been renovated into shops and restaurants.
12:15 Scenic drive and a stop at Chateau Montelana
One of the unique features of Napa Valley is its almost unreal wineries, with incredible architecture and gardens. Chateau Montelana is one of those, with its beautiful European-style building and stunning Asian garden with the mountains of Calistoga as the backdrop. It's just at the edge of Calistoga and made a perfect stop as we drove the scenic roads that lead out of town.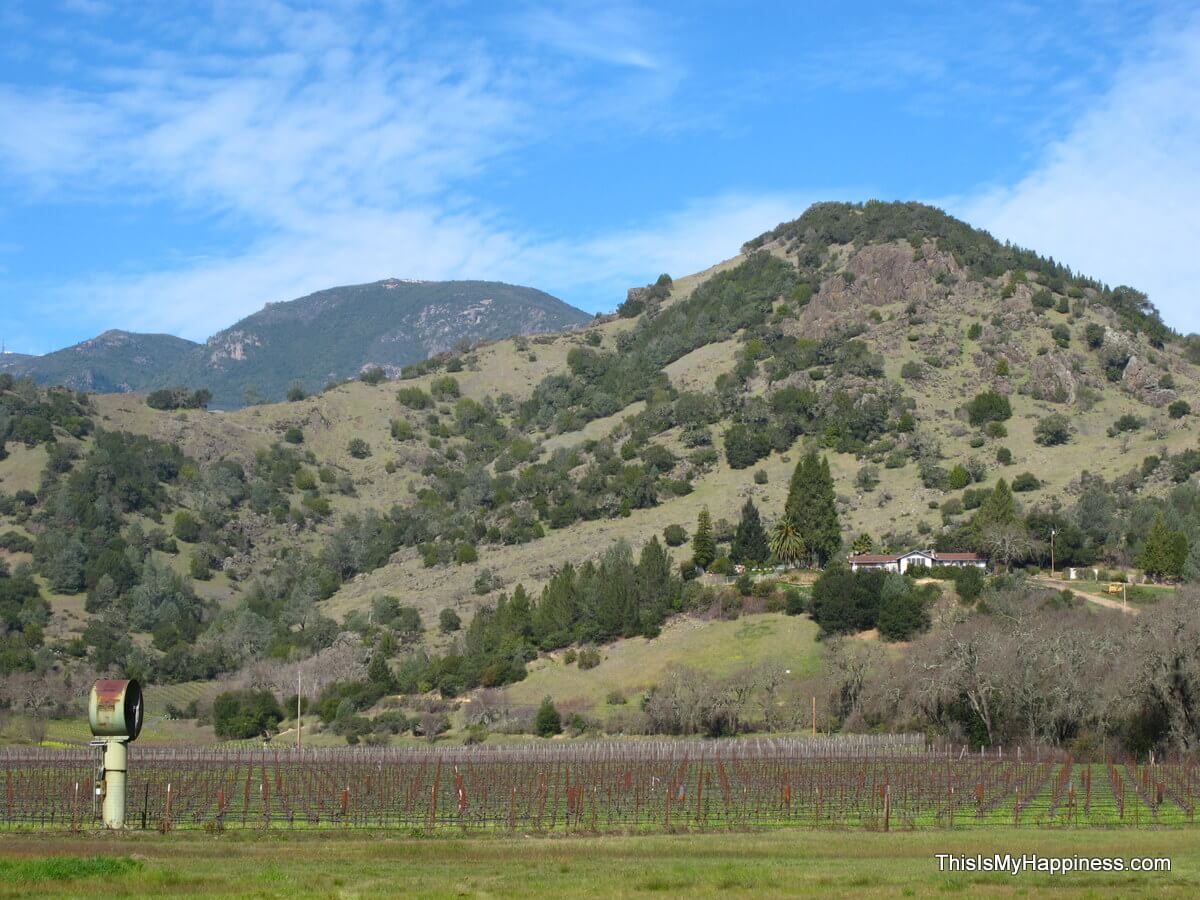 1:15: Castello di Amorosa winery
Castello di Amorosa is one of those wineries I had certainly heard about but had not stopped at yet. We were blown away…the castle is 120,000 square feet, and 80,000 square feet are underground. The interior is gorgeous, with materials imported from Europe, like the floor tiles imported from Belgium and the wall paintings done by European artists. The results are truly impressive.
The winery specializes in Italian-style reds, and my favorite was the 2008 Cabernet Sauvignon, which received double gold from the American Fine Wine Association. A great red wine that reflects the terroir of Napa Valley! More details about this winery are coming soon…
3:00: Quick lunch at V. Sattui before driving home
The owner of Castello di Amorosa, Dario Sattui, also owns V. Sattui, one of the classic wineries of Napa Valley. We stopped there for lunch, as we have before, choosing sandwiches, salads, and a baguette with cheese at the deli and eating outside in the sun at the winery's picnic tables.
What's your idea of a romantic getaway? Have you been to Calistoga?
A 3-Day Itinerary for Napa Valley, now available on Amazon
30 Things to Do in Napa Valley
The Perfect Day-Trip to Napa Valley
This trip was made possible by the Calistoga Vistors Bureau, but, as always, all opinions expressed are my own. A big thank you also goes to my mother, who stayed with our kids.