The theme for this month's ArtSmart Blogging Roundtable is architecture, and I've chosen to look at art nouveau architecture in Prague, one of my favorite cities.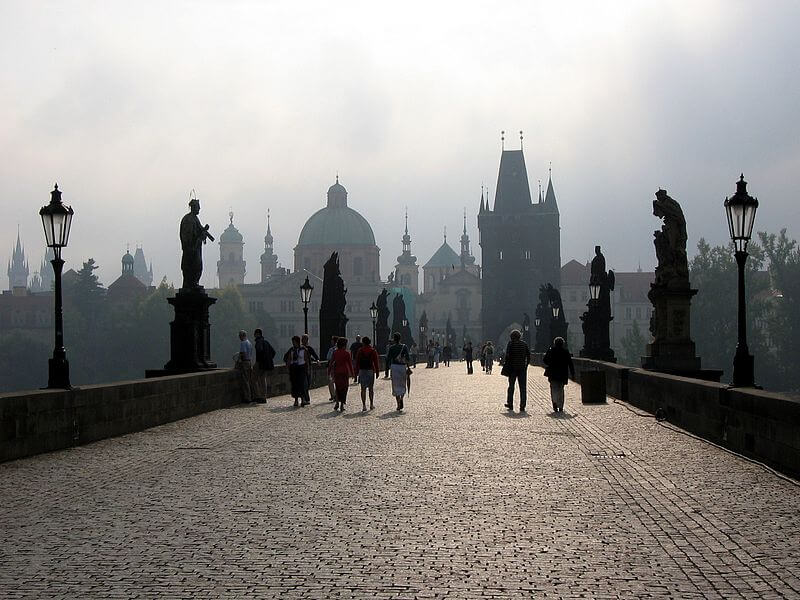 Prague is known for its historic architecture, having been the capital of the Holy Roman Empire during the 14th century and one of Europe's important cities for centuries. However, the range of architecture from the 20th century reflects Prague's position as a center of art and style, especially the early years from about 1895-1915.
The Art Nouveau style is characterized by long, flowing, curved shapes; these lines have been likened to the shapes a whip makes.
One of the reasons Prague became such a center of art nouveau is that Czech artist Alphonse Mucha was one of the movement's most prominent figures. His lithographed advertisement for the play Gismonda, with actress Sarah Bernhardt, showcased this new style in Paris in 1895. Now visitors can see Mucha's work at the Mucha Museum in Prague.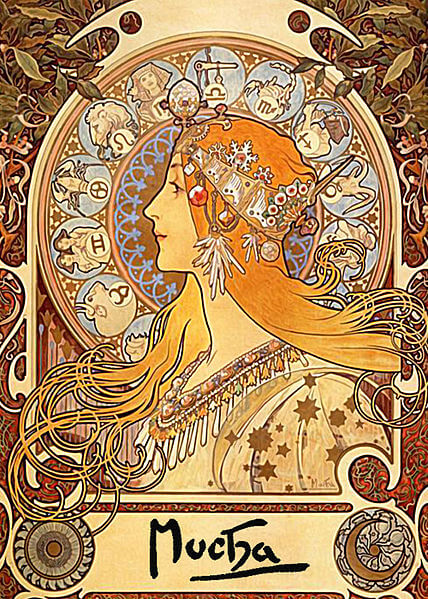 Because Mucha was so influential, you can see his work in some of Prague's finest buildings, including the stained glass window of St. Vitus Cathedral…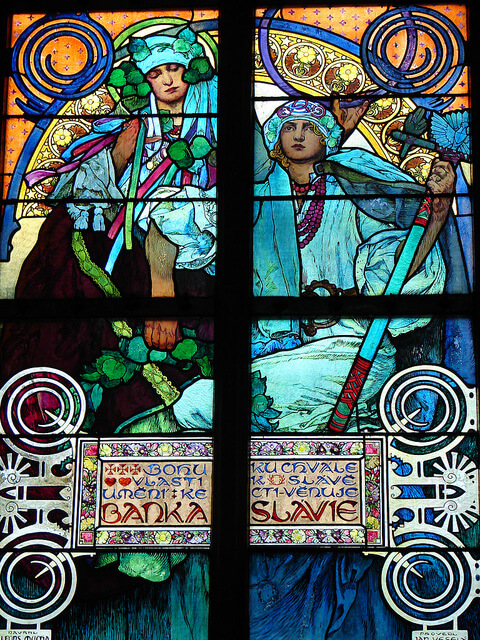 …and a painted ceiling in the art nouveau masterpiece, the Municipal House, or Obecní dům.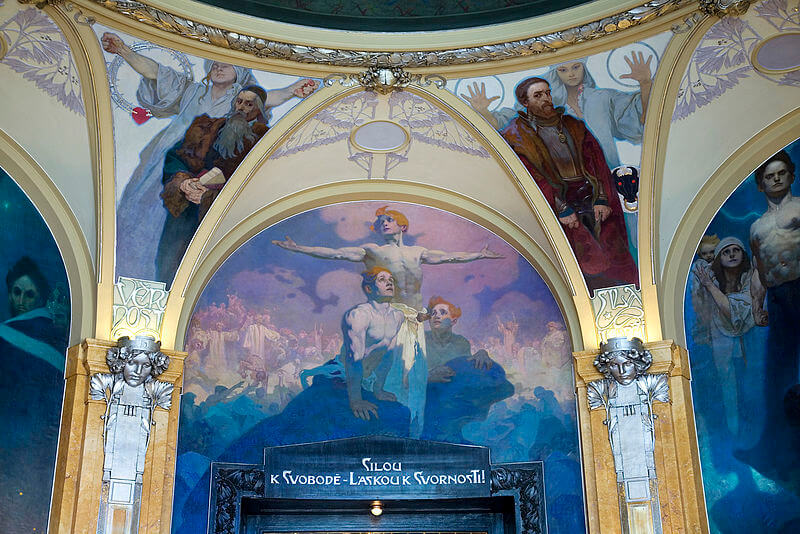 The Municipal House might be the most impressive example of art nouveau architecture in Prague. The exterior is dripping in beautiful details.
The good news is that the interior is a public space, containing a gorgeous cafe/restaurant and theater. You can go inside, walk around a bit, get a bite to eat, and even attend a concert (often classical music).
Besides these masterpieces, there are countless other examples of art nouveau architecture in Prague. Walk the streets near Old Town and Wenceslas Square and keep an eye open for Hotel Central and Hotel Grand Evropa.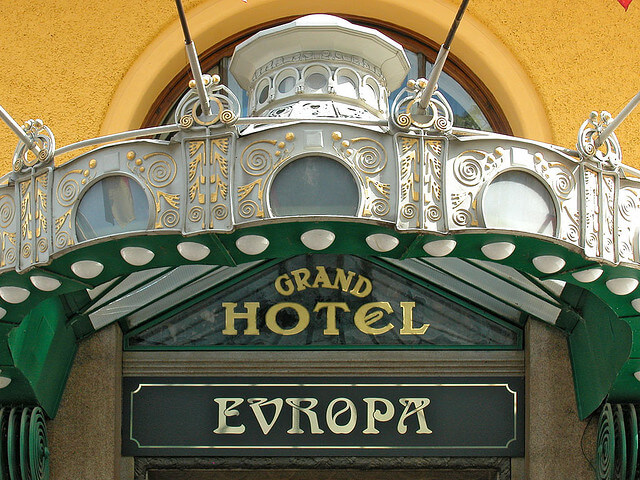 If you arrive in Prague by train, you pass through one of the city's grandest art nouveau spaces, the main train station (Hlavní nádraží).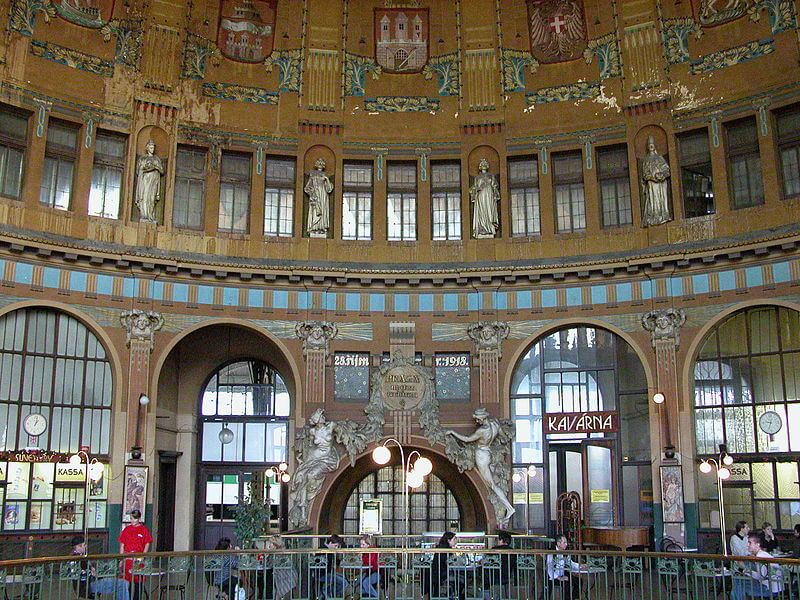 Art Nouveau architecture can be found in neighborhoods all around the city. Keep an eye open and look up to catch architectural details, especially on Wenceslas Square, the streets between Wenceslas Square and Old Town Square, and Pařížská avenue off of Old Town Square.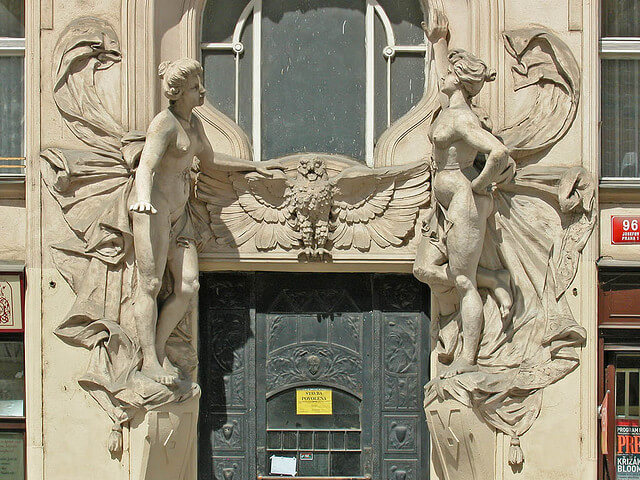 However, art nouveau details can even be found on villas away from the city center (and in small towns across the Czech Republic).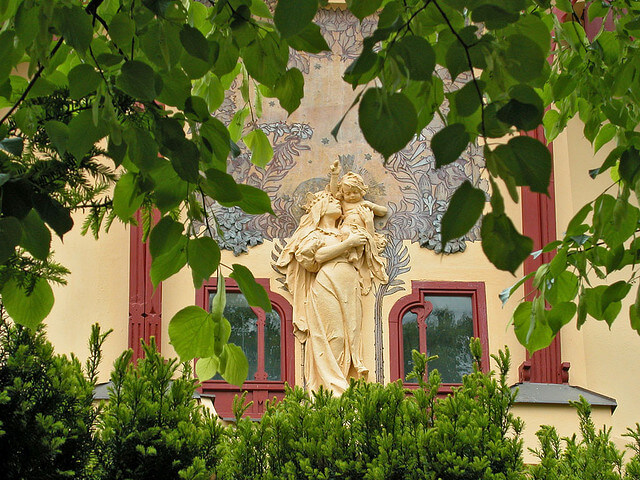 If you 'd like to learn more about art nouveau in Prague, try this book, Prague & Art Nouveau
, which has tons of photos and specifics of where you can see art nouveau details in Prague. For more about Prague, check out my post "Off the Beaten Path in Prague."
And you? Have you seen art nouveau architecture in Prague or another city? What did you like about it?
For more ArtSmart posts about architecture, check out the other ArtSmart posts for August:
The Best Hidden Museum in Paris Is All Architecture from Erin at A Sense of Place
Brussels' Fabulous Atomium from Lesley at Culture Tripper
The Temple of Artemis, Wonder of the Ancient World from Christina at Daydream Tourist
The Evolution of the Hotel (Top 5) from Murissa at Wanderfull Traveler
Norway's Stave Churches from Jeff at Eurotravelogue
Photo credits: Dalbera on Flickr: Grand Hotel Europa, Bubenec, doorway and Tjlex2 on Flickr: stained glass