I remember the day my art history professor began the class with this slide. The lights went out, this image appeared large on the screen, and the class let out an audible sigh. It's a touching image, one so pure in its beauty and the delicate touch of a mother and child. This is the delicate beauty of Raphael's work that captured the heart of a friend of mine, Hasan Niyazi.
Yesterday this friend and fellow blogger passed away. He was just 38, just one year older than Raphael was when he died. Unfortunately, he had a medical condition that returned and took his life very suddenly. What became apparent within hours through the enormous response on Twitter, where he had actively engaged with people who shared his interests, was that he had made a strong impact on many, many people. He was an extraordinary person, the type that we rarely encounter in our lives but once we do, we never forget.
I was fortunate to have developed a friendship with Hasan that was based first on our shared passion for Florence and the Italian Renaissance, and later on our work and time together in Florence last year. Hasan connected with others. What made so many people gravitate toward him in the online community were his profound and kind words, something that is rare in the often fast-talking, self-promotional world of social media.
When I met him in person last November, I was on the receiving end of his talent for cooperation and his endless passion for his subject. Every morning, the Florens 2012 bloggers awoke to a "good morning" message from Hasan highlighting our goals and the most interesting events of the day–his gestures to keep us organized and connected were typical of his generous nature. On our first day, Hasan, Sucheta, and I took a long walk to San Miniato al Monte, Hasan talking almost the whole time about his life in Australia, our shared love of Florence, and of course Raphael. We all spent a lot of time together during that special week, and his special character left an impression on all of us. (Hasan's excellent summary of Florens2012 is here).
Hasan was also a true innovator. He made a significant contribution to the pursuit of open access to knowledge as well as the future of art history by encouraging an evidence-based approach to such art historical topics as attribution and helping to develop digital resources, thereby pulling art history away from tradition and into the digital 21st century.
He was a self-taught art historian and was invited by professors and scholars to art history conferences. Despite his extraordinary skill in this area, his intention was always to make such information easily accessible to the public; he was never condescending or arrogant as so many with a similar intellect might be. He also had an admirable work ethic, one which I think was visible in everything he did. He never seemed to complain; instead, Hasan got things done, always with humility and in the spirit of cooperation. His main project, Open Raphael Online, was meant to be a complete collection of information and images of Raphael's work, based on carefully executed research. Creating a space where anyone could find everything about Raphael was his primary goal, one which he will sadly not be able to finish. As we can see from this outline on ORO, despite the hours upon hours he had already invested, he had only just begun.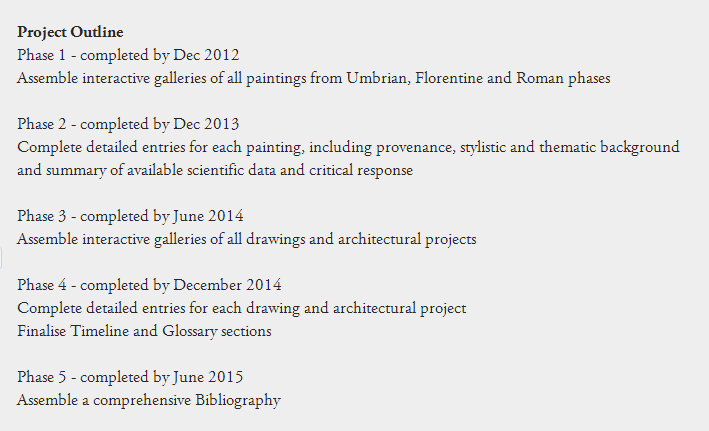 Hasan made a name for himself in the world of blogging and art history, but in his day-to-day work, he was a physical therapist. He told me that he enjoyed his work and the connections he made with his patients. While his friends and colleagues around the world grieve this loss, it's important to keep Hasan's family, co-workers, and patients in our thoughts.
When things like this happen, they make us take stock of our own lives. Because he made such an impact on so many people, his untimely death made me think about what we leave behind when we die. Hasan leaves so much behind. His character will never be forgotten by those who knew him. It is already inspiring people to act with more kindness and connect with others as he so gracefully did. He also leaves his blog, Three Pipe Problem, and Open Raphael Online, both of such extremely high quality that they can and should serve as a resource for art history students and scholars. Such a wide impact is rare for such a short life.
I think that the words of Alexandra Korey, a close friend of Hasan's, capture his essence well:
There are people who connect people.
Who are selfless in helping others.
Who work hard to surpass what life throws at them
And search daily for a way to reach their dreams.
And one of Hasan's last tweets was the following Keats line, which he called "sublime"; may it remind us to recognize the beauty all around us.
A thing of beauty is a joy forever: its loveliness increases; it will never pass into nothingness.