Stay tuned for 2 more fab giveaways coming soon, and be sure to check out my 2 nights of luxury in Napa giveaway!
Several months ago, I was approached by Michelin Guides stating that because my interest in sustainable and responsible travel jives with their mission, they hoped that I would agree to represent them as a brand ambassador. While I was excited about the prospect of working with a reputable guidebook company (because I LOVE guidebooks), I needed to actually use one of their guides to see if I felt confident promoting them. Soon after, the California guide arrived in my mailbox, and I carefully familiarized myself with the guide and soon decided Michelin would be my guidebooks of choice. Here are my top three reasons:
1) The size and shape:
After talking with people and reading reviews, I found out that the size and shape are a big reason why people love Michelin Green Guides. Now that I've been using mine, I completely agree. Their long, rectangular shape makes it easy both to read and to pop into a bag or even a pocket. The size is not too big, not too small–they contain enough information without being bulky.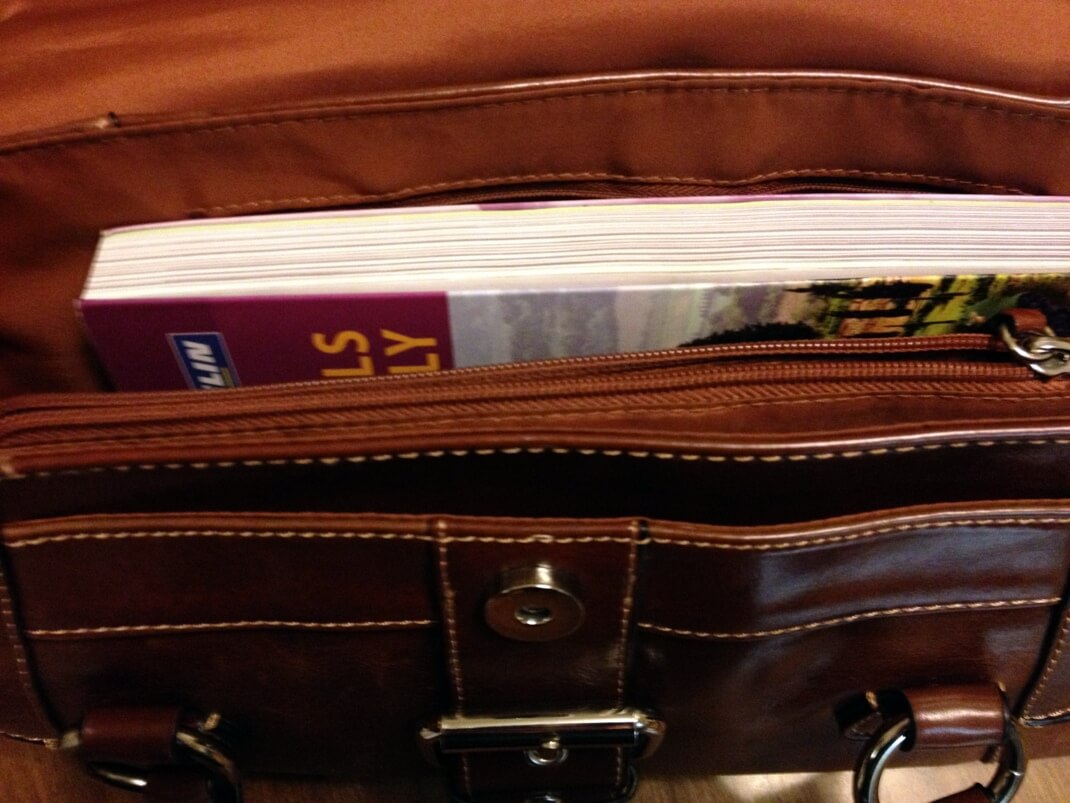 2) The Michelin Stars
3 stars, 2 stars, 1 star, or no stars? While I know that I can and should create my own impressions and opinions about the places I visit, when I am in a new place, I appreciate the guidance of those who have been there before. Instead of just a list of "must-sees," Michelin guides rate the sights with their famous star-rating system. By giving places 0-3 stars, I have a better idea of which places are not to be missed and which I might be able to skip.
3) Guidebook symbols help me find family-friendly sights
The guides use easy-to-understand symbols for various aspects of the travel experience, such as cost, opening hours, and type of activity. The one I appreciate the most is the family symbol–unlike other guidebooks, Michelin lets me know exactly which sights are suitable for kids. It's not in a separate section; instead, when I look up San Francisco, for example, all the family-friendly sights are labeled with the family symbol, making it easy for me to spot them among the other sights listed in the guidebook.
This system of symbols came in handy on a recent day trip to Napa Valley with my two little guys, and because I enjoy traveling with my kids, I know we will continue to look for the family symbol in Michelin guides when we travel.
So then…A funny thing happened after I decided that Michelin guides were a perfect fit for me and my site. I told my mom, and she excitedly reminded me that she had Michelin Green Guides when I was a kid. She also told me that she still has the guides and uses them for research even now! (She writes historical romance novels and uses the guides for research about locations and historical details of places). I had already been thinking about the company's long history and reputation for quality information–these show in her loyalty to the guides and the fact that she still has them on her bookcase!
Soon after, she and her husband went to Tuscany, and I made sure they tried out the Tuscany guidebook. She enjoyed using the guidebook for two main reasons. One was that she wanted to do some things in Florence that could offer a bit more authentic history of the city, things that may not on everyone's must-see list. The reliable information in the guide helped her decide where to go.
Second, the guidebook includes walking tours, and they tested one out during their three days in Lucca. Because the guidebook is not big, she could put it in her bag and easily use it to help them navigate their way around the town while sightseeing.
The Giveaway:
I think you will love Michelin Green Guides like I do, so I'm giving one away for this holiday season. Please take a moment to look at the Michelin Green Guides on Barnes & Noble and tell me which one you would like to win and why. Then fill in the Rafflecopter form below–don't worry…no spam. (Note that Michelin guides specialize in Europe (smile) and the U.S.)
This offer is open to U.S. residents only.
Good luck!