Now that 2014 has begun, you may be thinking about travel plans and what events you'd like to attend this year. To help you plan, we ArtSmart Roundtable bloggers are highlighting our favorite art to see in 2014. While this list is certainly not exhaustive, these are my choices for the best art exhibitions in 2014. (Links are in orange).
Note: Some photos may not represent an actual piece in the exhibition; in some cases, it was impossible for me to know what specific works will be included and therefore chose representative works of the artist and the time period represented in the exhibition.
Los Angeles County Museum of Art, through July 27, 2014
This exhibition includes both his kinetic sculptures (mobiles) and enormous stationary works. The unique mix of movement, color, shape, and delicacy makes his sculptures a treat to see in person. And the installation was designed by architect Frank Gehry.
National Gallery, London, October 15, 2014-January 18, 2015 after which it will be in Amsterdam from February-May 2015
This exhibition covers the later years of Rembrandt's long career, focusing on 1650-1669 when his style, particularly his brushstrokes, became even looser and more expressive than before. Rembrandt's work must be seen in person to be fully appreciated, and this is one art exhibition in 2014 that I would travel just to see.
The Natural History Museum in London, through March 23, 2014
A large collection of notable wildlife photography from the year is displayed first at one of my favorite London museums and then tours 60 cities, first in the UK and then around the globe.
Museum of Fine Arts, Budapest, through February 16, 2014
Unfortunately, the website of this museum is not very user-friendly or informative, but the title of this exhibition caught my attention. I then read this review and knew that this exhibition does indeed include a great number of impressive works by the best painters of that age, including nine works by Caravaggio. If I lived in Europe, I would make a trip to Budapest just to see this exhibition.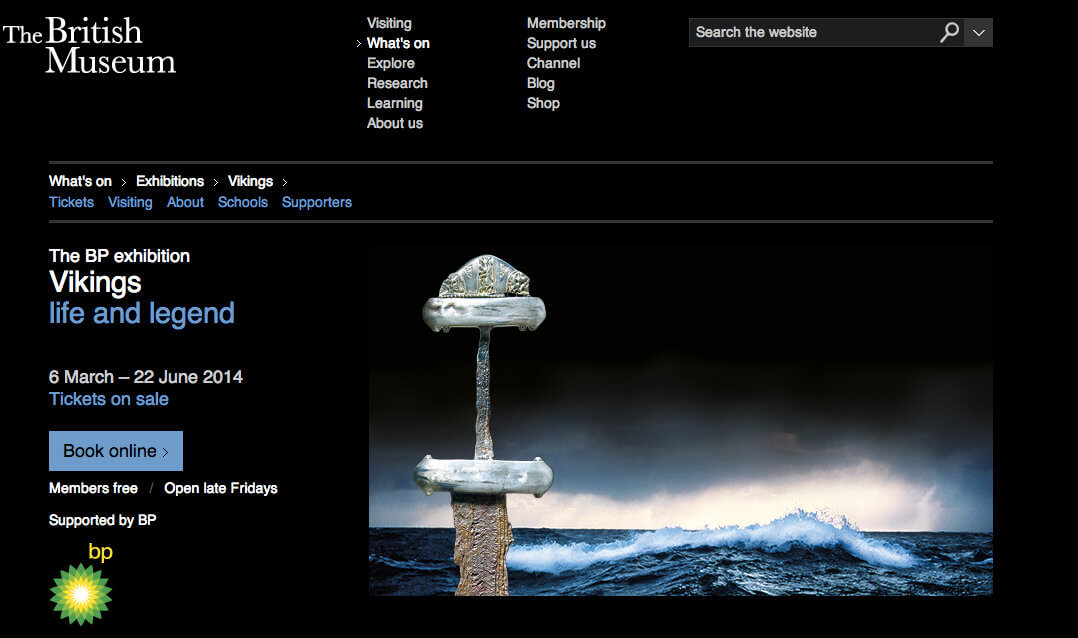 British Museum, London, March 6-June 22, 2014
The Vikings pique my curiosity; for me, they exist in my imagination as powerful yet mysterious because I know very little of what their life actually looked like. This exhibition brings them to life with "axes, coins and jewelery, hoards, amulets and religious images [that] show how Vikings created an international network connecting cultures over four continents. At the centre of the exhibition will be the surviving timbers of a 37-metre-long Viking warship, the longest ever found."
National Gallery of Art, Washington, D.C., May 11-October 5, 2014
Just about everyone enjoys seeing Impressionist paintings up close. This exhibition will explore the connections between the two artists, who were friends, and especially the influence of Degas on Cassatt's work and style.
de Young Museum, San Francisco, June 7-October 12, 2014
This is one exhibition I will actually visit. It is a sweeping look at Modernism from post-World War II through the end of the 20th century, with more than 50 paintings by American masters such as Frank Stella, Ellsworth Kelly, Roy Lichtenstein, Robert Rauschenberg, and Jasper Johns.

National Gallery of Art, London, April 30-September 21, 2014
A look at architecture in Italian Renaissance painting…need I say more?
National Gallery of Art, London, June 18-September 7, 2014
Yet another great exhibition in London…compiling this list left me wishing I could live there just to visit the city's fantastic museums. This exhibition will explore the use of color from the Renaissance through Impressionism, including the materials artists used to create colors. Each room will be dedicated to a color–I imagine that it will be not only informative but also beautiful.
Which of these exhibitions catch your attention? What exhibitions are on your list for 2014? 
Let's see what the other ArtSmart bloggers have to say:
"5 2014 Shows Not to Be Missed in Boston" from Erin of A Sense of Place
"Threatened Venice" from Christina of Daydream Tourist
"What art to see in Florence in 2014" from Alexandra of ArtTrav 

"Top 5 Museum Visits in 2014: From Vancouver to Venice" from Murissa of Wanderful Traveler 
"2014 Art Worth Traveling for in the USA" from Ashley of No Onions Extra Pickles
"Reopening of the Mauritshuis and The Hague" from Lesley of Culture Tripper
Click here for my previous ArtSmart posts and, if you love art, please like us on Facebook!