Sometimes we should add a little spontaneity to life. Two weeks ago, with the holiday weekend ahead and knowing that it would be the last weekend of our winter break, I booked a vacation rental and off we went. The time to connect with nature and with each other was refreshing for all of us.
We planned an itinerary based on previous travels in that area and my Michelin Guide to California, which thankfully indicates kid-friendly attractions. Perhaps this recap of our winter trip in beautiful Sonoma and Marin Counties will inspire you to make a similar winter vacation in California…? Just in case, a list of recommended places is at the bottom of this post.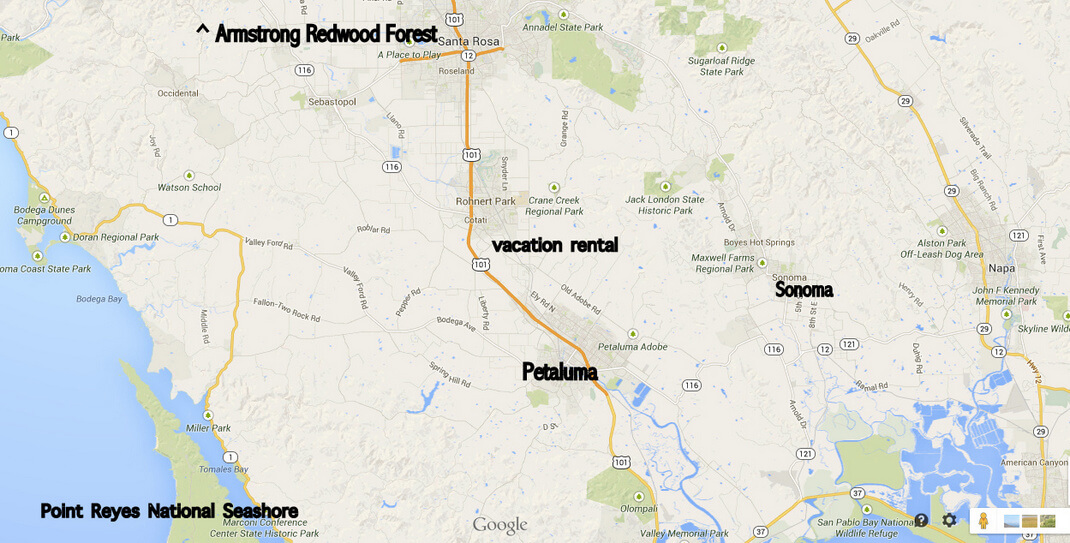 Rural Sonoma County
The house we rented was right off Old Redwood Highway just outside the town of Petaluma in Sonoma County. It's a rural area, and the view from our back deck included rolling hills, cows, farms, and golden light at sunset: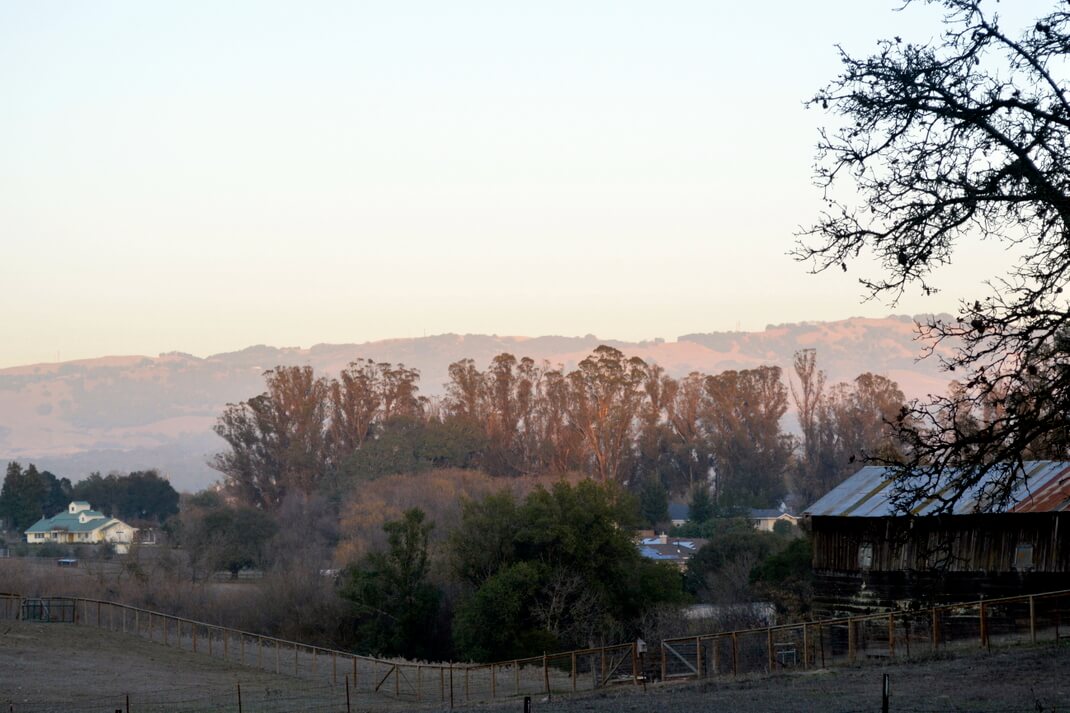 The drives in Sonoma County are some of my favorites in California. This eucalyptus-lined highway is typical of the area we stayed.
We divided our first day between Petaluma and the Armstrong Redwoods State Natural Preserve.
Petaluma
Petaluma is a city of about 55,000 known for its its Victorian architecture and beer. The Visitors Center is housed in the 1914 train depot just 2 blocks from the downtown.
Next to the Visitors Center is the Petaluma Arts Center; with free entrance and an interesting sculpture exhibition, it was a nice surprise.
Despite its location in one of California's finest wine regions, Petaluma is famous for its craft beers. Although we didn't make it to to the most famous Petaluma brewery, Lagunitas, we had lunch at Dempsey's brewery. It's the oldest brewery in Sonoma County, right on the river that winds through the downtown. We loved the outdoor patio, kid-friendly placemats, and fresh California-style food. Plus, the 7-beer tasting flight introduced us to their beers, and all their ales were fantastic.
Armstrong Redwoods, west of Healdsburg, Sonoma County
That afternoon we drove one hour north to Armstrong Redwoods State Natural Preserve, a forest of ancient redwoods that was saved during 19th century logging. This was my kids' favorite part of the trip–they loved walking the winding paths under the towering redwoods and running in and out of the massive holes in the trees.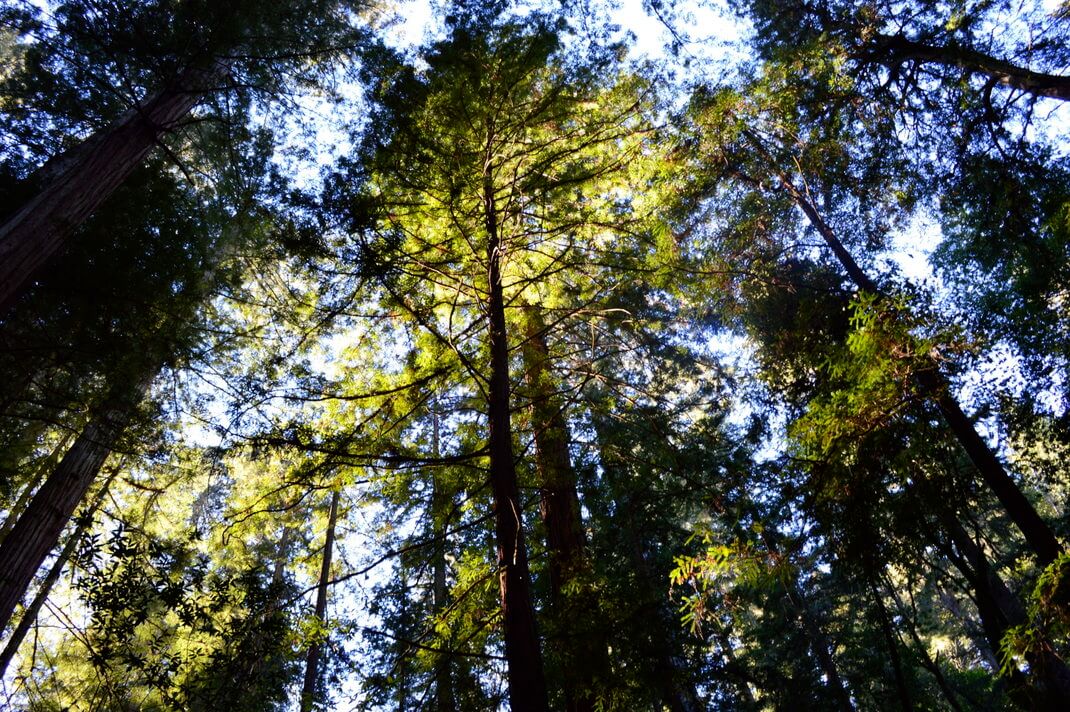 The forest is cold and dark, so even though the day was sunny and warm, the forest had a very different feel. The light also made it hard to photograph.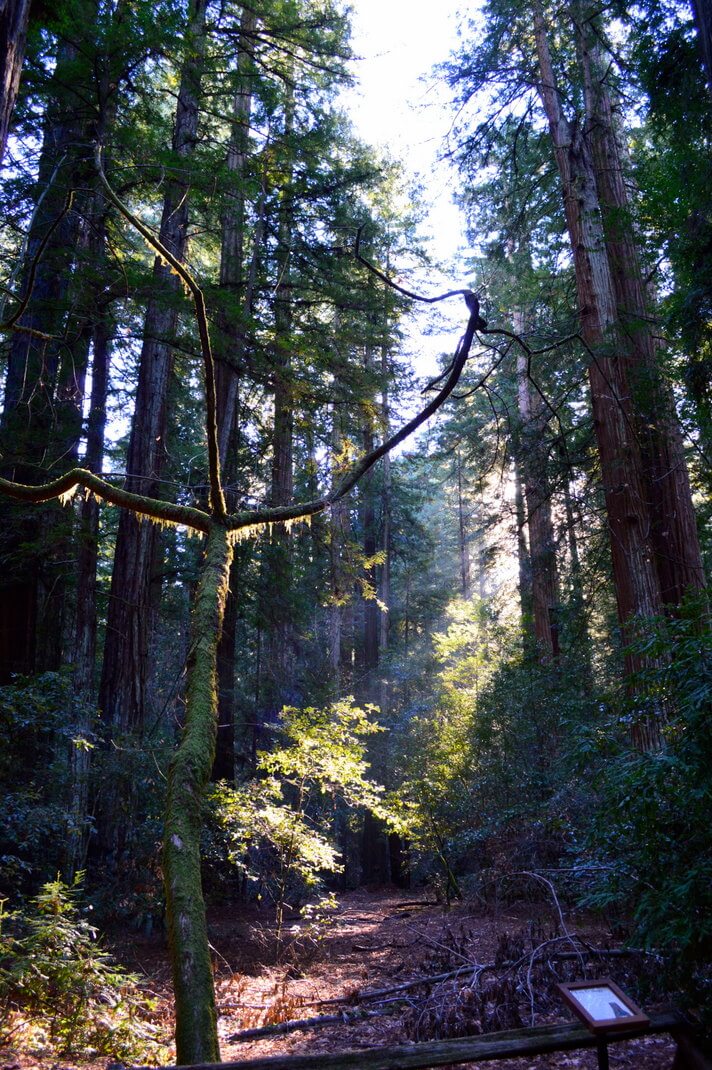 Point Reyes National Seashore and Point Reyes Station
The next day was dedicated to Point Reyes National Seashore. This is one of my favorite places in California–it's a peninsula of rolling hills and dramatic cliffs where mid-19th century ranches mix with raw nature. It's one of the best places to see wildlife in the state.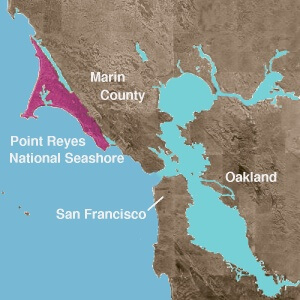 In the winter and spring, elephant seals come to Point Reyes to have babies. We came that day to see both the elephant seals and migrating whales, but, as I'll explain, we saw no whales.
By the way, the drive through Marin County to Point Reyes is gorgeous.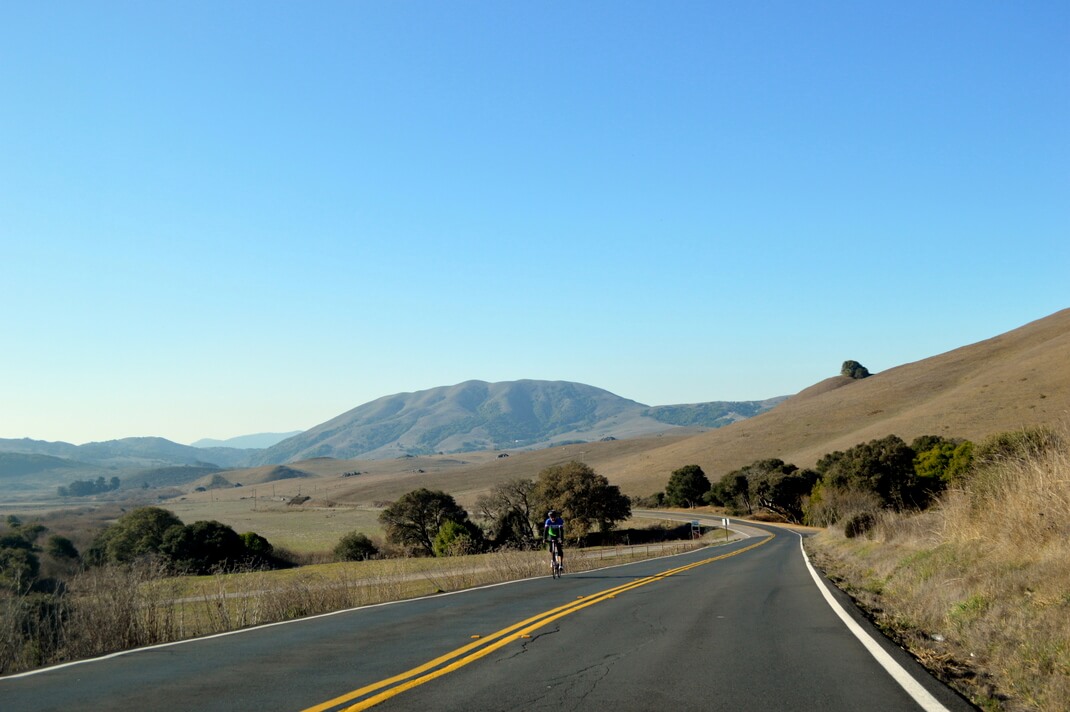 Once we arrived, we went straight to the Bear Valley Visitors Center to get information about the whales and seals. We walked the Earthquake Trail, one of many easy walking trails near the entrance to the park.
We went back to the small town of Point Reyes Station to have lunch and found Cafe Reyes, the perfect lunch stop–great food, kid-friendly, free cookies for dessert, and a beautiful view of the hills from the outdoor patio.
We then drove to Drake's Beach on the south side of Point Reyes National Seashore, where the cliffs form a long, arching beach and protect it from the area's strong winds.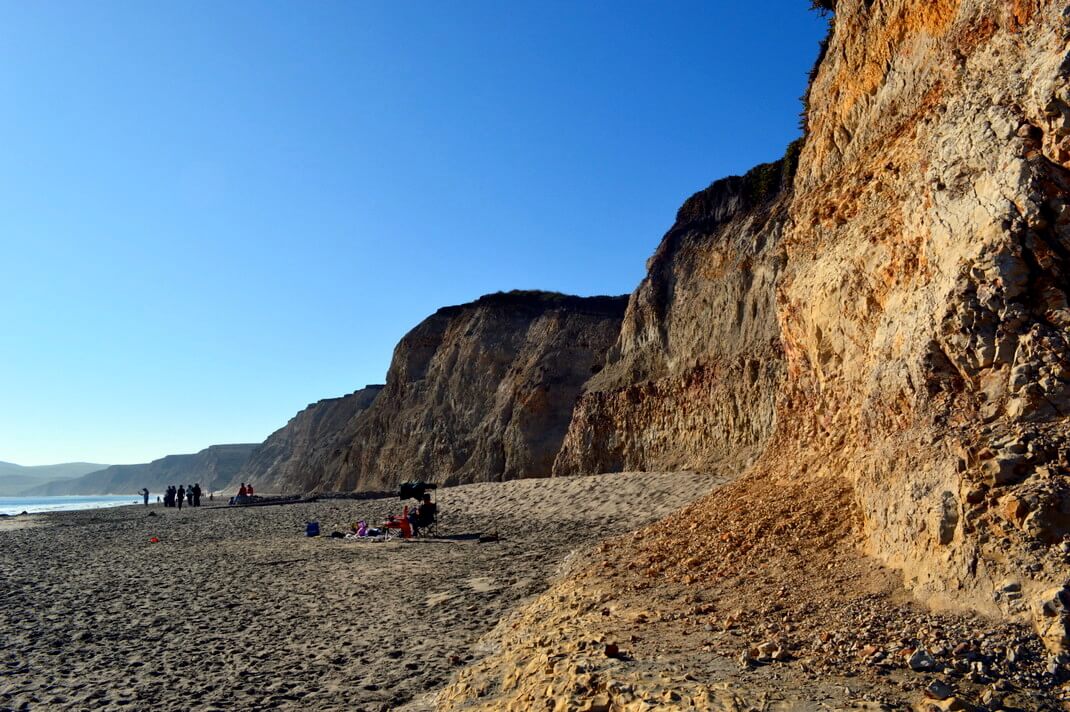 In the winter and spring, the park restricts traffic to the whale and seal viewing areas, and visitors are required to park at Drake's Beach at take the shuttle. The line for the shuttle was long (it was a Saturday on a holiday weekend during the peak whale viewing week, after all), so we decided to walk the beach and hope the line would get shorter.
The beach was so wonderful that we ended up skipping the shuttle all together. We may have missed out on seeing migrating whales and groups of elephant seals, but there was one lonely seal at Drake's Beach taking a long nap in the sun. We kept a safe distance but didn't stop watching it, such a beautiful creature participating in an old ritual that bring them to this very place every year.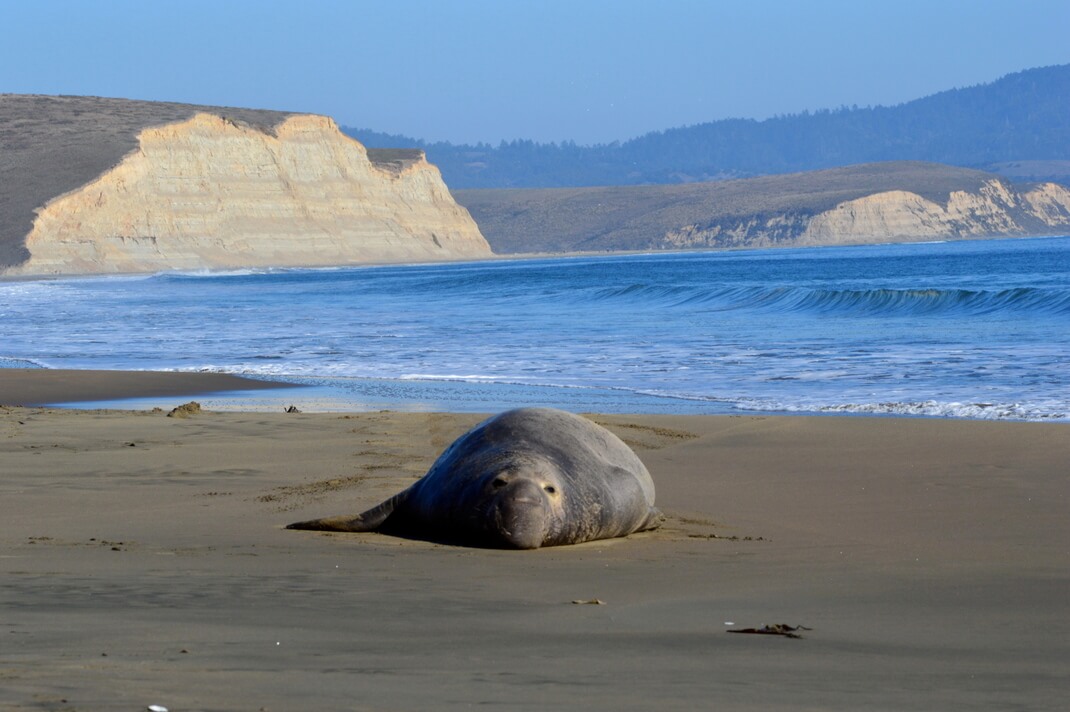 After a blissful afternoon at the ocean, we returned to Point Reyes Station to visit the toy store and get coffee and then made our way on the quiet roads back to our rental.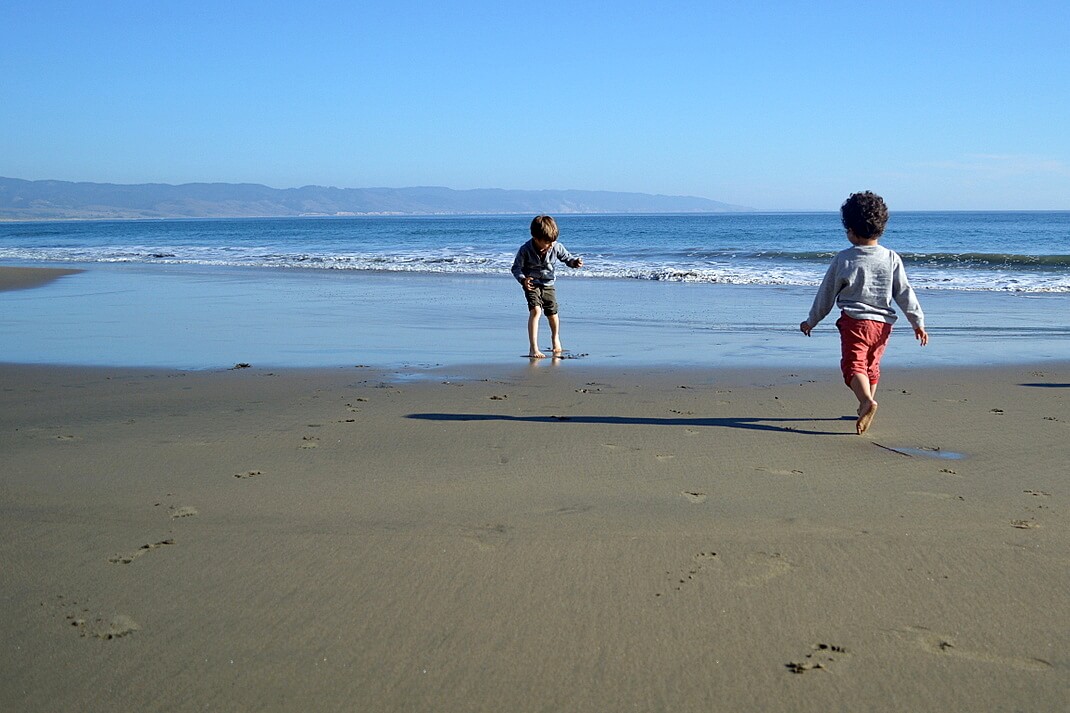 Sonoma
The next day we left our vacation rental and stopped in the historic town of Sonoma. The laid-back feeling of the town's park, with old trains, people strolling the bike path, and elderly couples playing bocce ball, reminded me of the many reasons I want to move to Sonoma County.
To me, these places are California at its best. We loved our time in Sonoma County and Point Reyes so much that the possibility of trying to buy a small vacation home there in the future even came up. With another holiday weekend approaching, I've already been looking for accommodations for a return visit, this time with whale spotting at the top of the list!
Have you considered taking a winter vacation in Northern California? What would you like to know about Sonoma County and Point Reyes National Seashore?
A list of my recommendations:
Vacation rental in rural Sonoma County
Petaluma Visitors Center, Petaluma Arts Center, and downtown walking tour
Armstrong Redwoods State Natural Reserve
Cafe Reyes on Highway 1 in Point Reyes Station
Bear Valley Visitors Center in Point Reyes National Seashore
Drake's Beach in Point Reyes National Seashore (plus its Visitors Center and cafe)
Sonoma State Historic Park in Sonoma
More about Sonoma County in these posts:
Camping in Northern California, A Storyteller and a Sustainable Winery, a favorite restaurant in Geyserville
This post was a compensated post as part of partnership with Michelin Guides.