The theme for this month's ArtSmart Roundtable is "national art," or art that makes one think of a particular country. I decided to share suggestions for where to see the art of Brazil since Brazil is so much more than soccer.
Most people don't realize that Brazil is a very artsy place. When I first went there, I was surprised to see art everywhere…from the expressive way people dressed to the color of the houses, from their infectious love of music to the "hippie fairs" full of handmade arts and crafts, from capoeira performed on street corners to the theater performances beckoning at night. For example, São Paulo, the world's fourth largest city and tenth richest city, is full of creative spaces; in fact, I recently heard that it now has more theaters than any city in the world. On any given day, you can see theater, opera, art, or music in a variety of venues such as this cultural center, SESC Pompéia.
There are many places to see the art of Brazil, but here are three places that provide a sense of its art history and current art scene and possibly a break from the usual while visiting Brazil.
 Pinacoteca do Estado de São Paulo
The Pinacoteca art museum is housed in a brick building from 1900 in central São Paulo. Most of the art here is Brazilian painting that shows the history and culture of the country. I found the collection to be educational as its reflects life from the early years of Brazil through the 20th century. (But the whole collection is not Brazilian art–there is also a collection of French sculpture, for instance.) Through 2015, there is a special exhibition of Brazilian art called "Art in Brazil: A Story at the Pinacoteca de São Paulo."
The beautiful downstairs cafe and the outside of the museum are also worth a visit. The exterior is decorated with playful, colorful images, and the adjacent park includes a sculpture garden and traditional European-style gardens.
To find out more about museums in São Paulo, click here.
Inhotim Contemporary Art Center and Botanical Garden, Minas Gerais state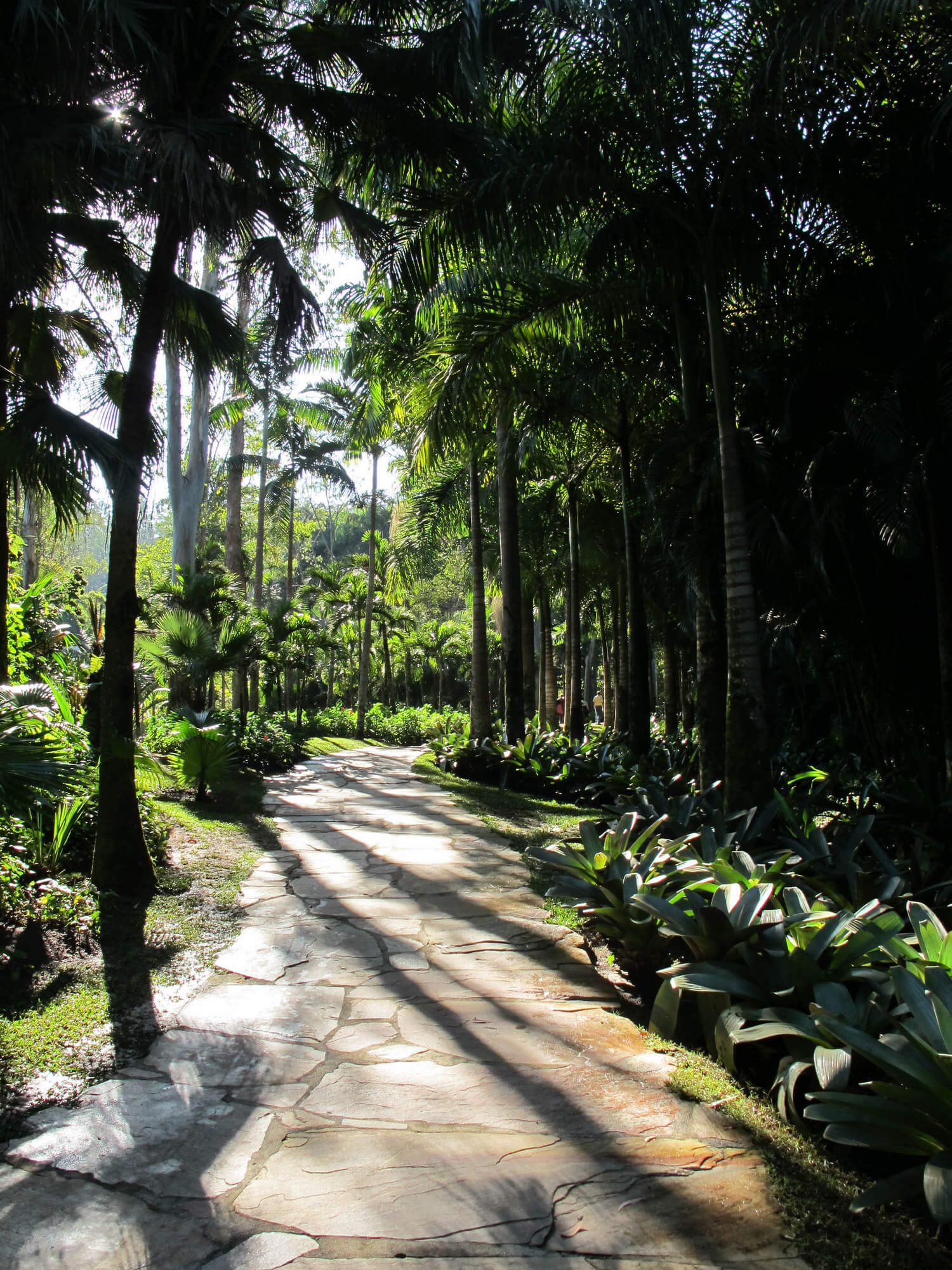 Inhotim is housed on a former ranch 60 km outside Belo Horizonte, the capital of Minas Gerais. It is now a sprawling 5000-acre botanical garden with two dozen art pavilions and a large collection of contemporary art by Brazilian artists and international artists. It can be experienced as a day trip from Belo Horizonte but could take two days to fully explore.
Because of our shared interests in landscape design, horticulture, and art, my husband and I had been wanting to visit Inhotim for a long time before finally doing so in 2014.
Museum of Contemporary Art of Niteroi, Rio de Janeiro state
The Museu de Arte Contemporânea de Niterói houses a large collection of contemporary art by Brazilian artists as well as some international artists. Besides providing a window into Brazil's contemporary art scene, the museum is worth visiting for its architecture. This is one of Oscar Niemeyer's (Brazil's most famous architect) best known buildings. The shapes and use of glass and water means that, like his other work, it must be experienced to be appreciated.
Sadly, like so many museums in Brazil and around the world, the website of MAC Niteroi is not user-friendly and has no English translations (and the Google translations are not sufficient).
These three museums are only some of the places you can experience the art of Brazil. What suggestions would you add?
For more posts about art from my fellow ArtSmart Roundtable bloggers:
"Ceramic Folk Art from Around the World" from Christina of Daydream Tourist
"Art and Territory in Conegliano" from Alexandra of ArtTrav

"The Modern Dutch Stijl" from Art Weekenders
"America and Its Skyscrapers" from Ashley of No Onions Extra Pickles

Join me on Pinterest and Instagram for more travel and design inspiration.