For many people who live around Sacramento and the Bay Area of California, winter is all about skiing and snowboarding in nearby Lake Tahoe. While the Sacramento valley never gets too cold and the Bay Area often has sunny, mild weather in the winter, the Sierra Nevadas frequently get enveloped in layers of beautiful snow, providing a winter wonderland just two hours from my house.
This year was different, though. The drought in California also meant very little snow in the mountains. When there was virtually no rain this winter, we had to wait and wait to take our kids to see snow. A recent weekend day trip changed that but also brought some unexpected discoveries near Lake Tahoe.
Since neither my husband nor I ski or snowboard, we are not always good about getting our kids out in the snow as much as they would like. Our younger son turned 3 this winter with having never seen snow, so we decided to change that and promptly bought toddler-sized snow pants and got our sled ready for a snow day. When snow finally came, we headed for the Lake Tahoe area and were surprised by what we found.
Much of this area is named after the Donner party. This group of about 89 emigrants from Illinois was stuck here in the winter of 1846-47 due to high snow levels as they tried to reach California. As many members of the group died, the others resorted to cannibalism, but half the group survived.
Donner Memorial State Park sits at 6200 feet near Truckee, just north of Lake Tahoe and about 100 minutes east of Sacramento. As the name implies, this is the place where the Donner party spent that winter. The park's small museum includes displays about pioneers that crossed the Sierras to reach California, including details of the circumstances that the Donner party faced.
The platform that the figures stand on on the Pioneer Memorial indicates the snow level (22 feet) when the Donner party was here. This year, there was no snow in the park, although we found plenty of snow just 10 miles west at 1000 feet higher elevation.
Donner Memorial State Park includes Donner Lake, a small alpine lake of about 3 miles, and trails that loop around the lake, one for snowshoeing, one for cross-country skiing. Because there was no snow this year, we spent our time hiking, having a picnic in the 60 degree winter weather, and skipping rocks in Donner Lake which, like all California lakes, is low due to the state's drought. Even though we were disappointed not to find snow here, we did find pure nature and peace.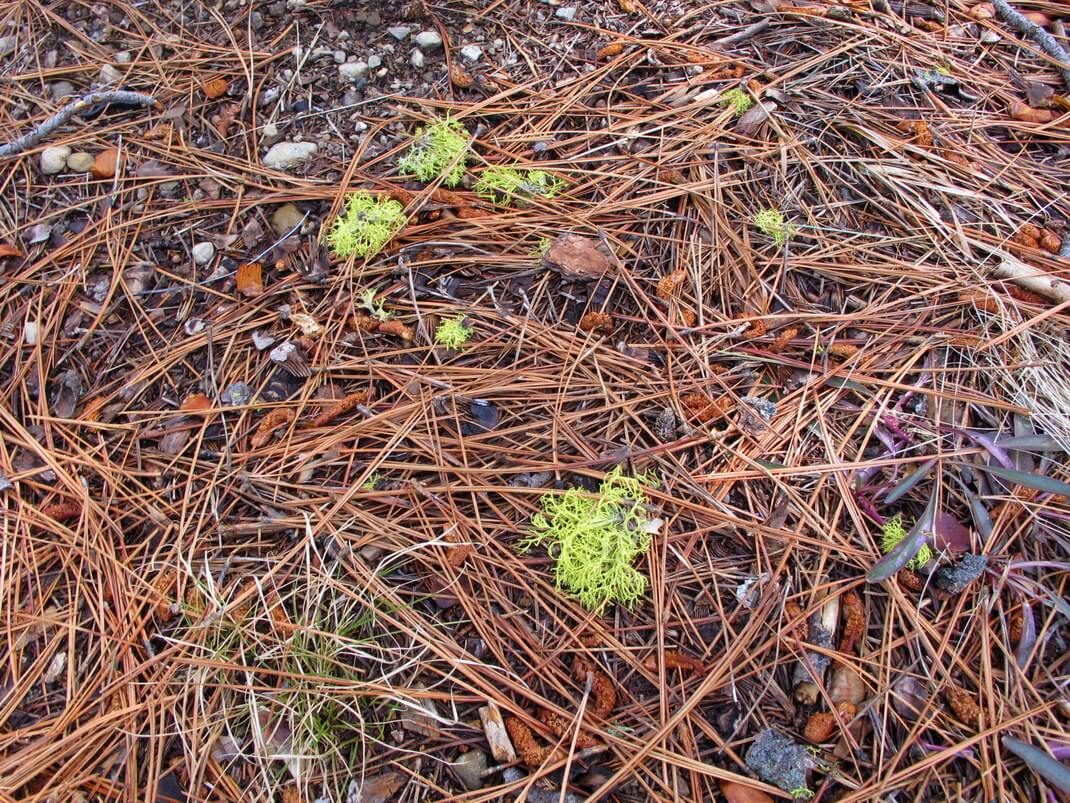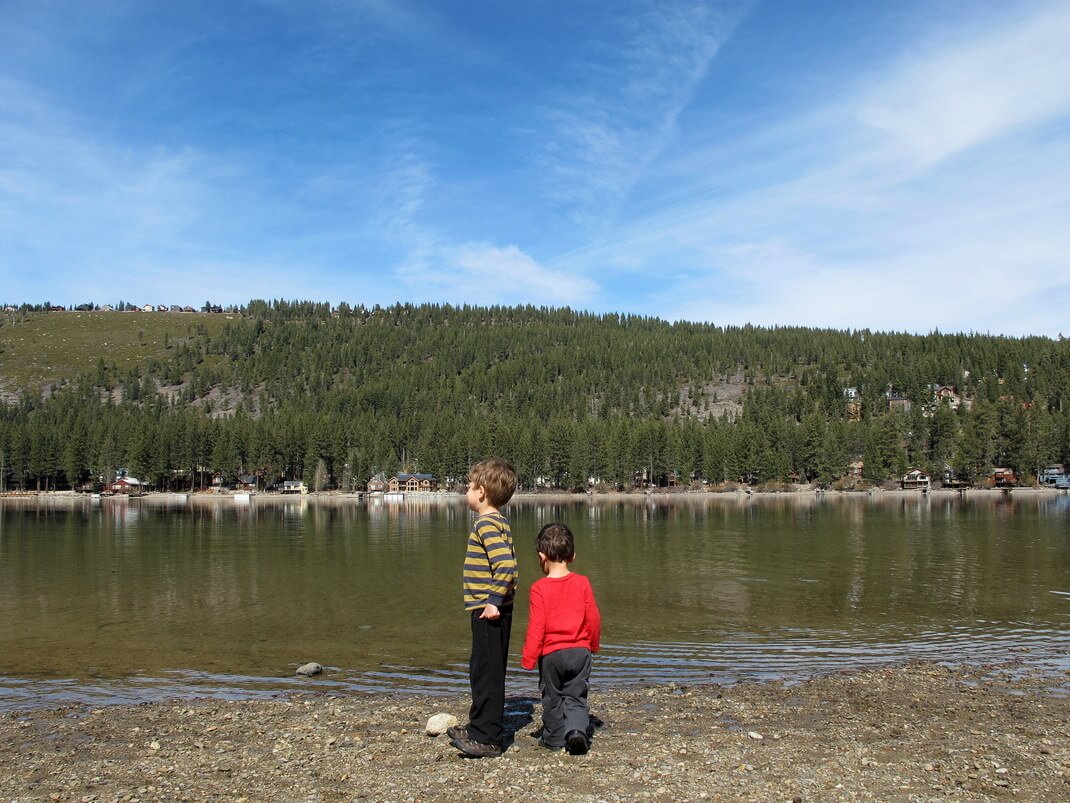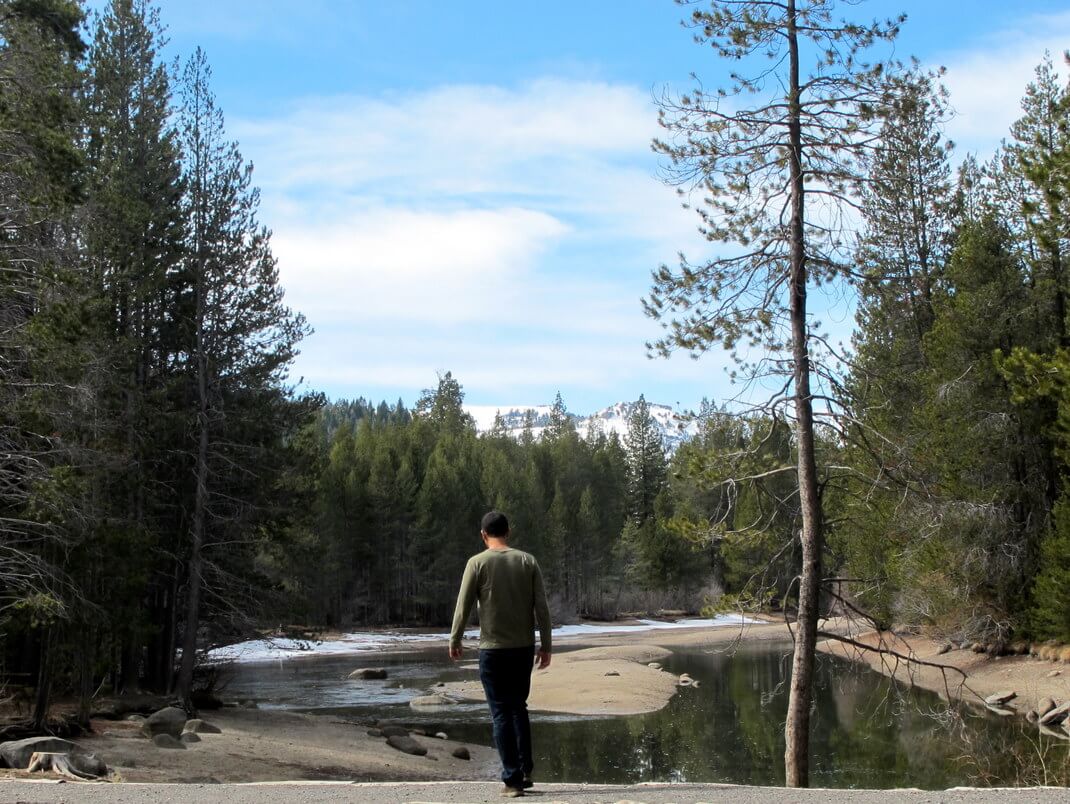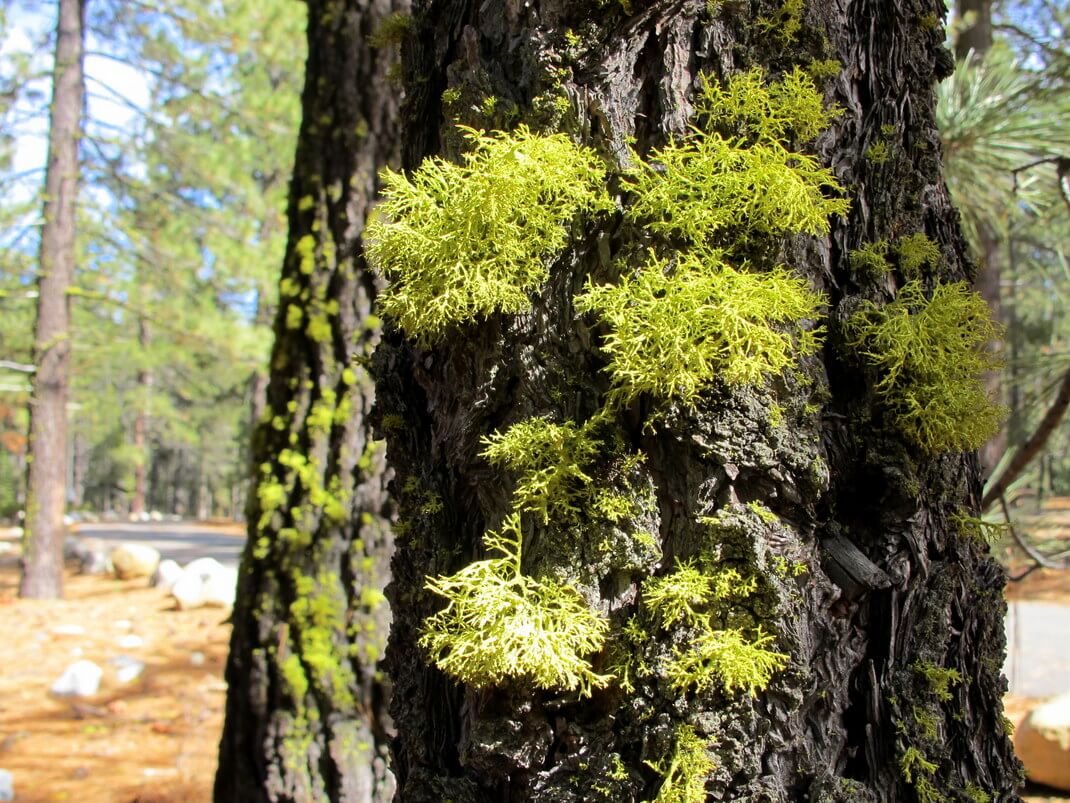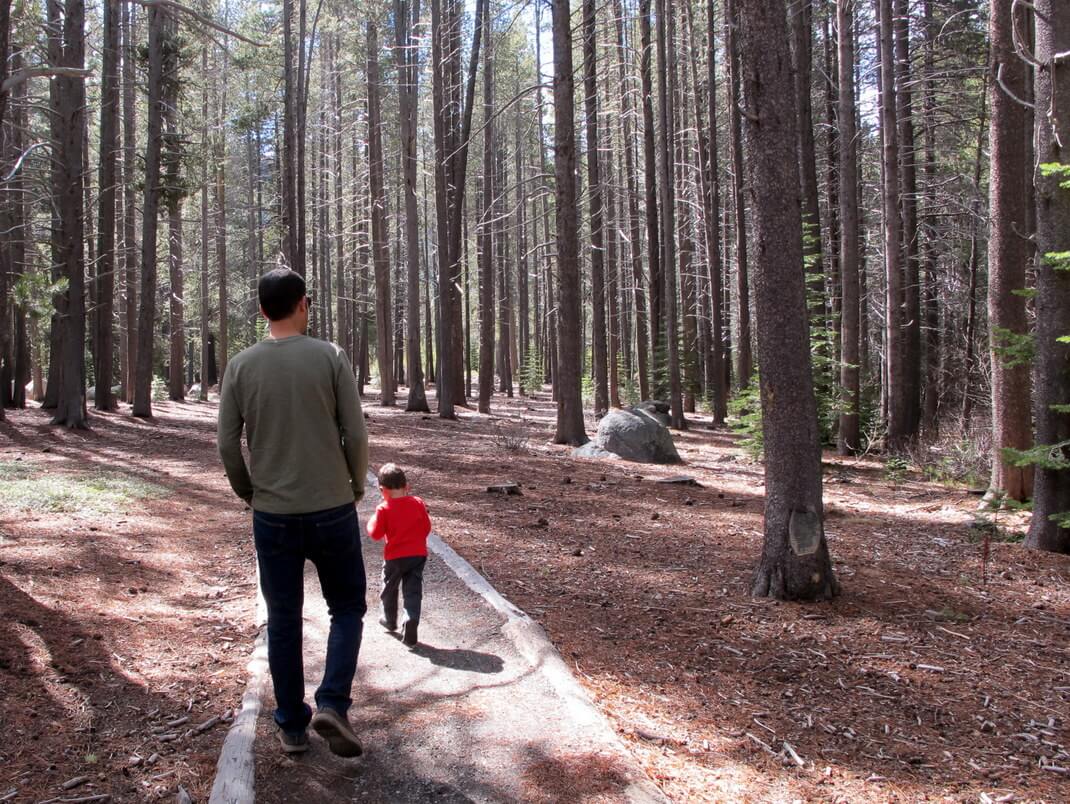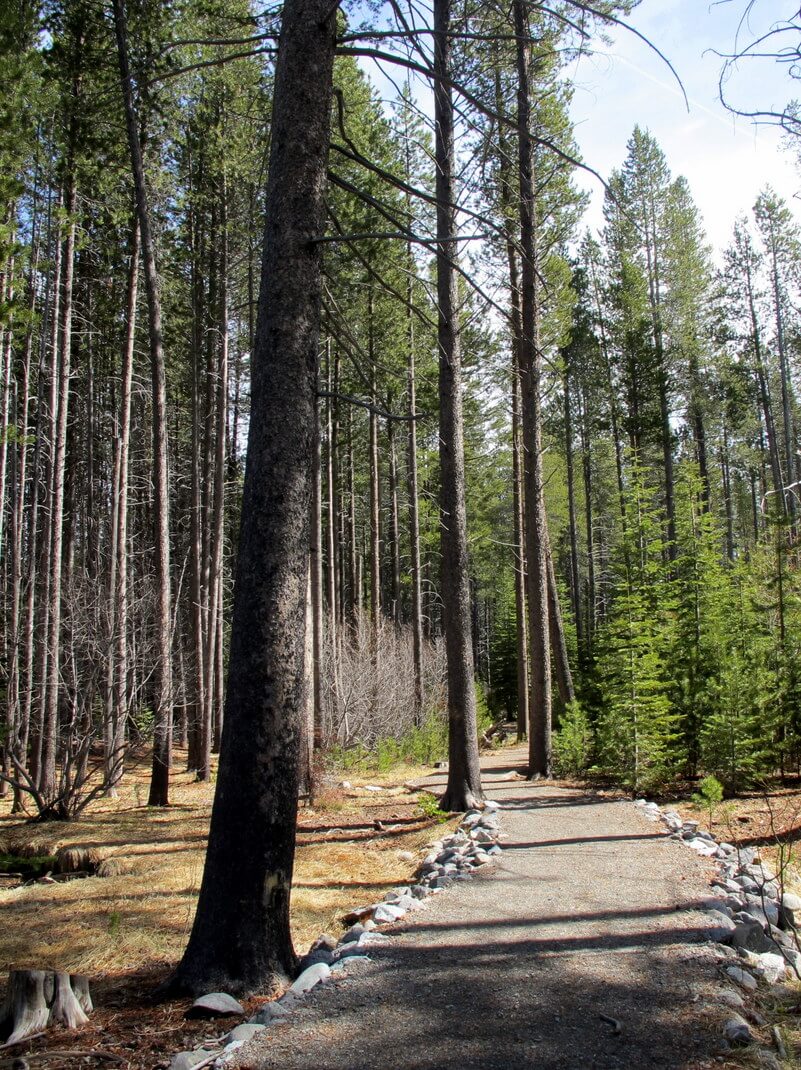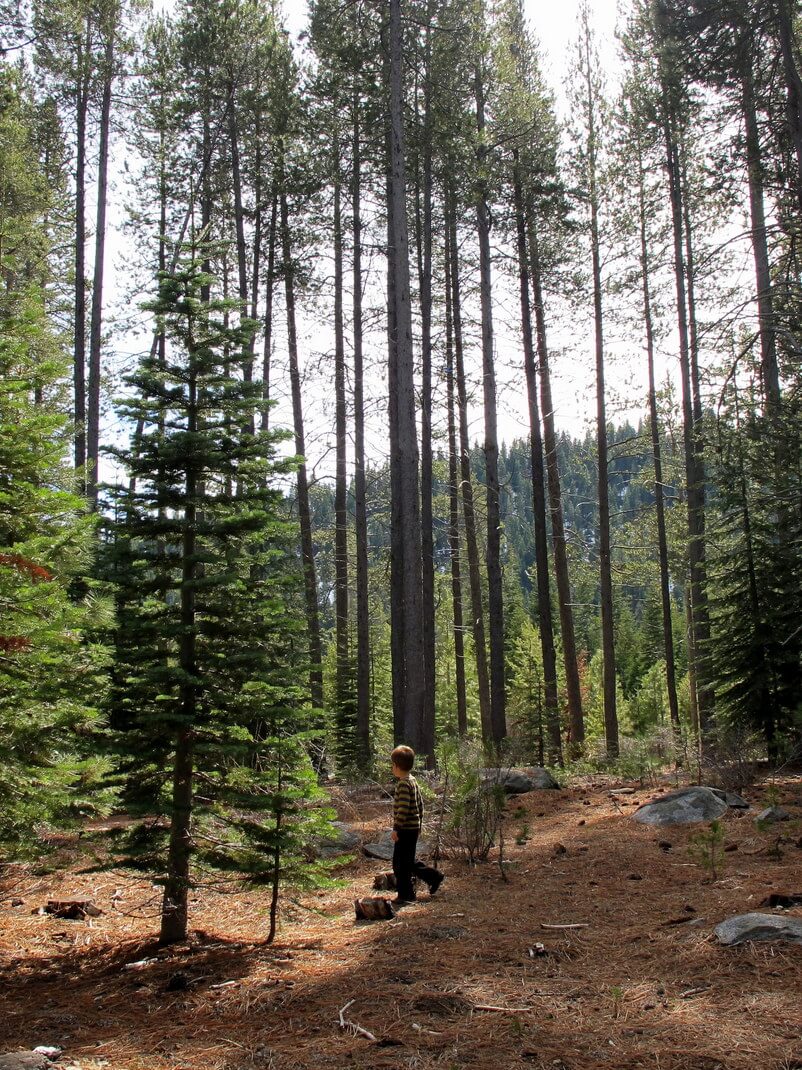 This is what I love about California: a place of raw natural beauty with very few people despite the fact that it's a beautiful Saturday. I feel so fortunate to live in a place that has so much nature to explore…that's why I plan to share much more of "Secret California" this year.
What are your favorite state parks?