I've had a hard time writing this post, trying to eloquently explain its purposes, so I'll just keep it simple and lay them out before moving on. 1) In my own personal quest to better understand Italy, I'm writing about Italy and its lesser-known sights this year. 2) This post has me returning to the San Zaccaria altarpiece in Venice and an important moment in my past as an art history student and young traveler. 3) This is part of the "Day for Hasan Niyazi" event. #RaphaelHasan commemorates the life of my friend Hasan Niyazi, an incredibly devoted Raphael scholar, by collecting posts on April 6, Raphael's birthday. Some of Hasan's family, friends and colleagues are contributing blog posts in an effort to celebrate his life, work and spirit.
I'll explain a bit about this occasion before moving on to San Zaccaria in Venice.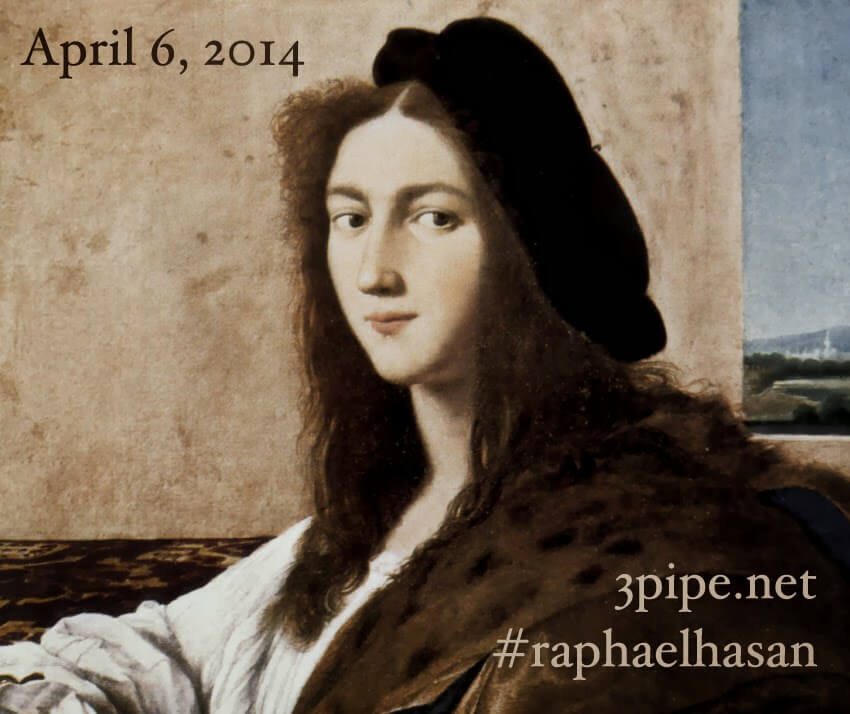 At first, it was difficult for me to imagine writing about Raphael, an artist I know little about. I then realized that posting in Hasan's memory could mean writing about something that he would have enjoyed, and because he was such an inquisitive and intelligent person, this opened up many possibilities (more about Hasan here). In the end, I returned to something that he and I shared–Hasan and I had admired art together in Florence, first in a small chapel in San Miniato al Monte and the next day in Santa Maria Novella, my favorite church in Florence.
Visiting both these churches was my idea; he was eager to come along but had not visited them before, perhaps because there are no Raphaels there…for Hasan, it seems everything went back to Raphael. This kind of obsession with something can't really be explained; maybe it was spiritual, or maybe his life's work became Raphael because he connected with the artist from a young age, as this beautiful post by a family member shows. Whatever it was, it was unusual, as was his intellect (he was a self-taught but highly gifted art history scholar). The depth and breadth of his work show what one person can accomplish despite many odds.
Even though there are no Raphael paintings in San Zaccaria, I know Hasan would have enjoyed visiting. I can imagine that we would admire the church and its Bellini altarpiece in particular and discuss the meaning behind a sacred conversation painting. Then he would tell me about Raphael's sacra conversazione (which, of course, Hasan explained in incredible detail, reflecting depth of research that I can only marvel at) and the symbolism in Bellini's work and how Raphael used or didn't use such symbols…at which point I might feel "Raphaeled-out" and suggest we meet friends for a glass of wine. 😉
So, let's go to San Zaccaria in Venice:
In Venice, a little known church stands among the city's iconic architecture. I love Venice and was fortunate to spend time there during three winters, all peaceful, rainy and cold, before arriving there once during the summer and realizing that the off-season is the best time to be in Venice. San Zaccaria is one place where you can see beautiful art and experience the city's history without the crowds of tourists.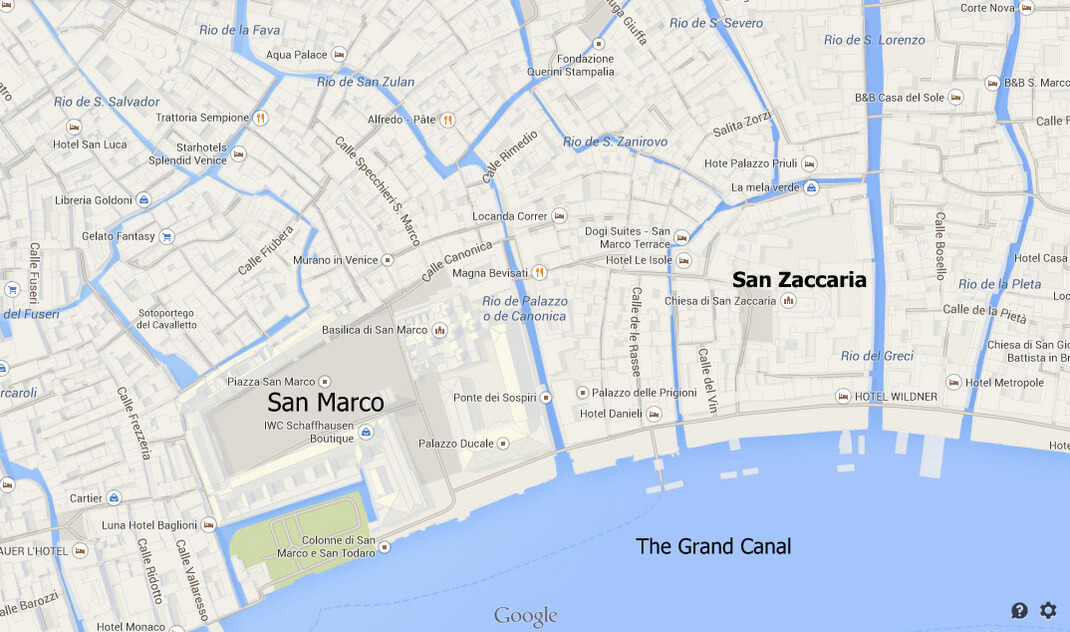 San Zaccaria is where worshipers in the late Renaissance came to see this gorgeous altarpiece, to use its quiet mood to focus on their prayers. Imagine what it would have been like to live at that time, with no Internet barraging us with images and no art history classes in college to show us the wealth of beauty in the world. Instead, they lived in a uniquely beautiful city with very little exposure to images beyond what they saw in their local lives. Here it was, this altarpiece that must have moved those who saw it, not just because of the sacredness of its scene but also because of the power of its color, detail and size.
This work will always hold a special place in my memory because it is one I studied in depth as an art history student many years ago. Before leaving for a one-month course in the Italian Renaissance in Italy, all the students had to choose from a list one art work to present in person. I chose this altarpiece because of the colors and quality of execution. I remember arriving at the church on cold January morning and being struck by the altarpiece's size (16.5 feet tall by almost 8 feet wide). I felt very small standing in front of it and trying to explain its significance to my classmates.
The San Zaccaria Altarpiece, or Enthroned Madonna with Saints, by Giovanni Bellini from 1505 shows a sacra conversazione, or "holy conversation": a depiction of the Virgin and child with various saints, all in contemplation and without any action or emotion. Instead, the scene was meant to create a quiet, meditative mood that encourages prayer. In this one we see the Virgin Mary and Christ child with (from left to right) Saints Peter, Catherine of Alexandria, Lucy, and Jerome. St. Peter is holding the keys to heaven in his left hand, and St. Catherine holds a frond, symbolic of martyrdom, and leans against the wheel on which she was martyred.
Bellini used composition to show the importance of the two central figures–he placed the Madonna and Child on a throne, forming a point in the center of the image and above the saints. He also used linear perspective to create an elaborate architectural scene, one that gives the figures their own special place, separate from the church wall it's located on. Ironically, I was reminded of Masaccio's Trinity, which Hasan and I saw together in Santa Maria Novella, and then noticed the same comparison in this video.
Renaissance scholar Frederick Hartt calls the color in Bellini's work "a new world of liberated color." The depth of color from Bellini's use of oil paints is tremendous. His use of light playing off the folds of drapery adds volume to the figures and enhances the colors of the fabrics. But to appreciate such color and detail, you have to see it in person.
When you go to Venice, seek out the smaller experiences where you can get a glimpse of life in Venice's past and the power of centuries of creativity. Whether you love art or not, experiencing a quieter side of Italy makes for a more fulfilling travel experience. As we learned through Hasan's untimely death, life is short and full of unexpected twists, but beauty is a pleasure available to us all. For reflections on art and life, check out other bloggers' contributions to the Raphael Hasan event here.