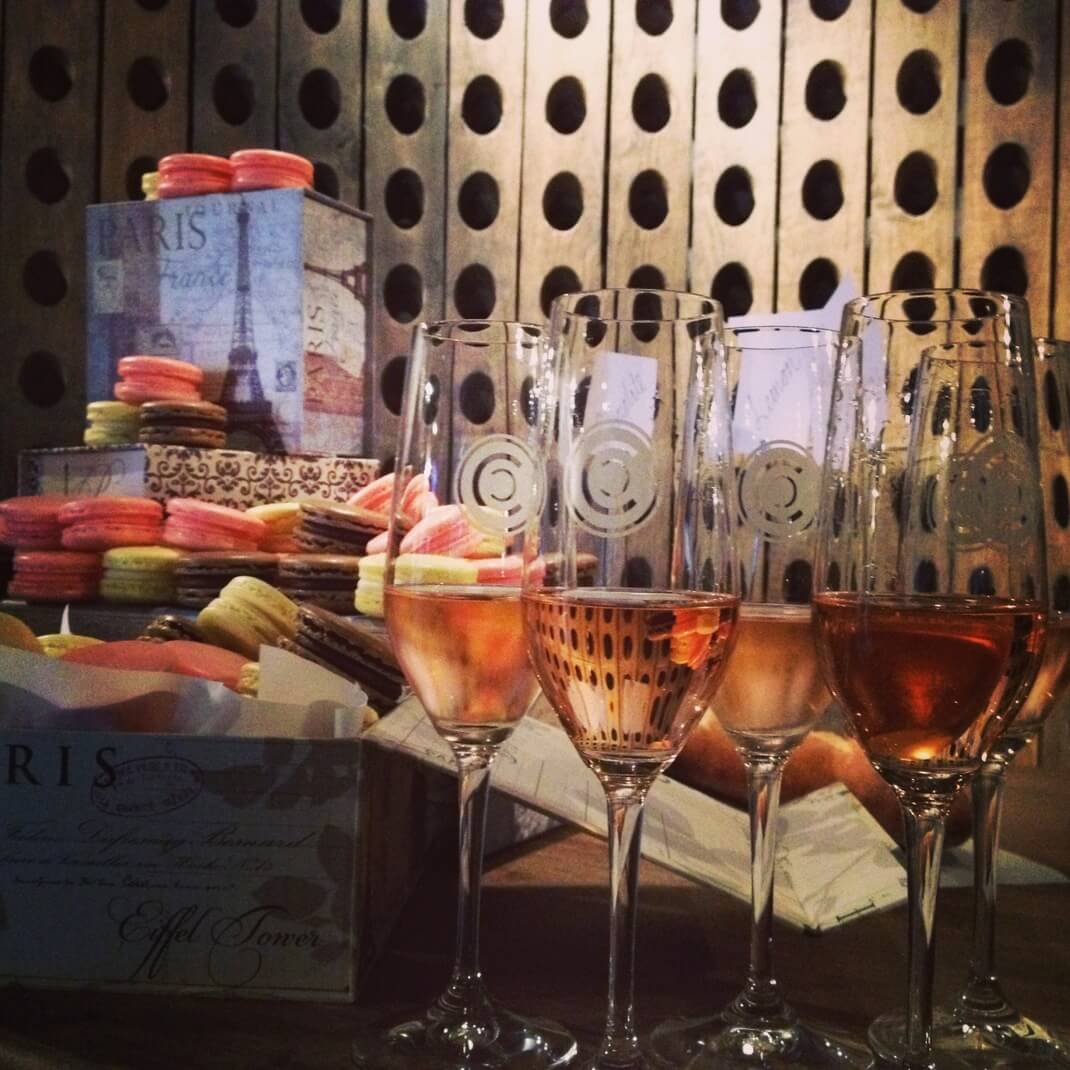 It's almost dinnertime, and I can't stop looking at those macarons (they're huge!). When she says that we can help ourselves, I immediately reach out for that chocolate one I've been eyeing for the past 15 minutes. In one of my favorite towns, wine tasting with new friends and piles of fresh macarons…this is the crowning moment in an afternoon of pleasure wine tasting in Carmel-by-the-Sea.
Actually, the day began with three hours of wildlife viewing and hiking in Point Lobos State Reserve, just south of Carmel…
continued with a jaw-dropping drive down the Big Sur coast…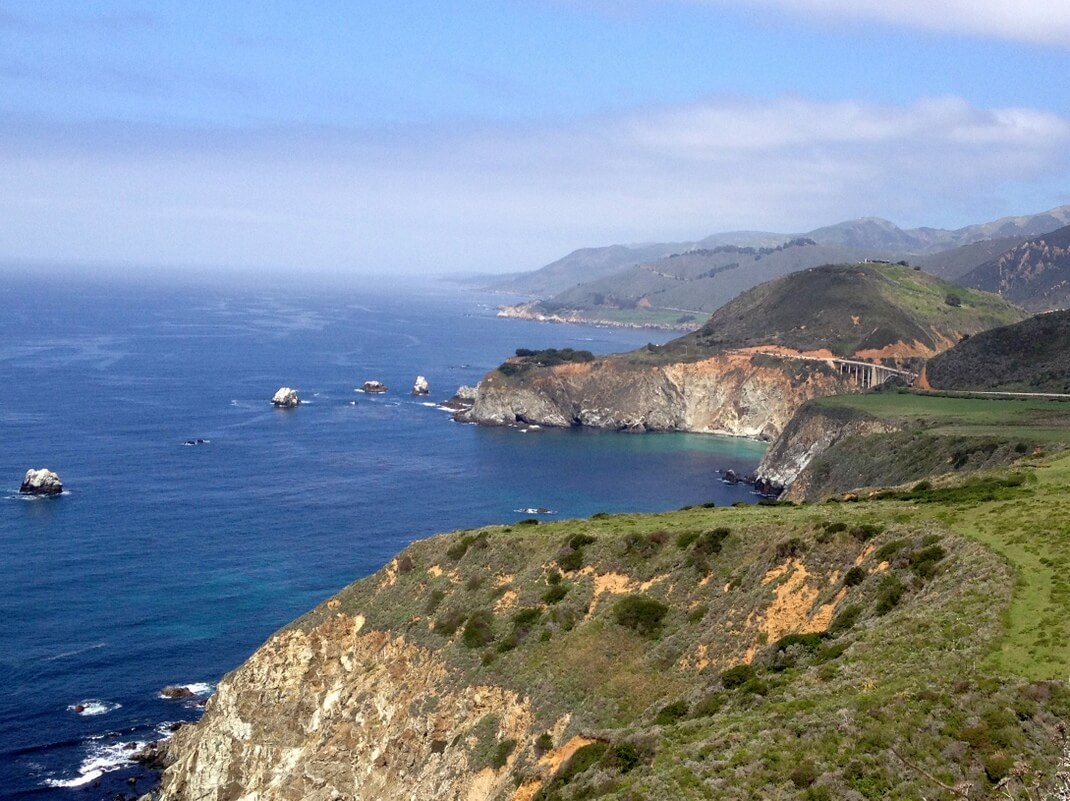 continued with a New Orleans style lunch in the woods at the Big Sur Roadhouse…
and ended with the Carmel Wine Walk in one of my favorite small towns, Carmel-by-the-Sea.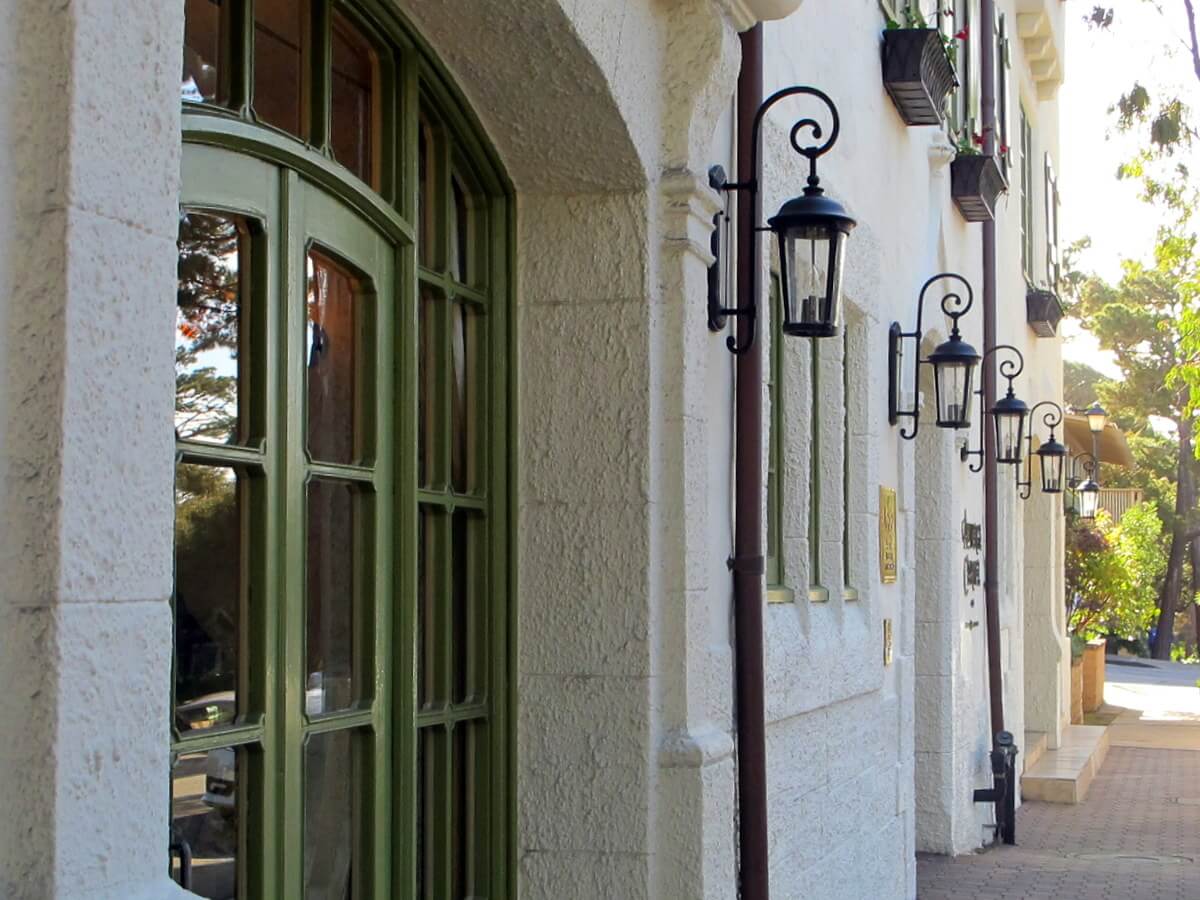 Carmel is located in the large wine country of Monterey County, and the village now has ten tasting rooms that pour wines made by small wineries in the surrounding countryside. Like downtown Napa, Carmel offers a tasting pass, allowing visitors the leisurely experience of visiting tasting rooms on foot, without the worry of driving but with the convenience of restaurants and other activities within walking distance.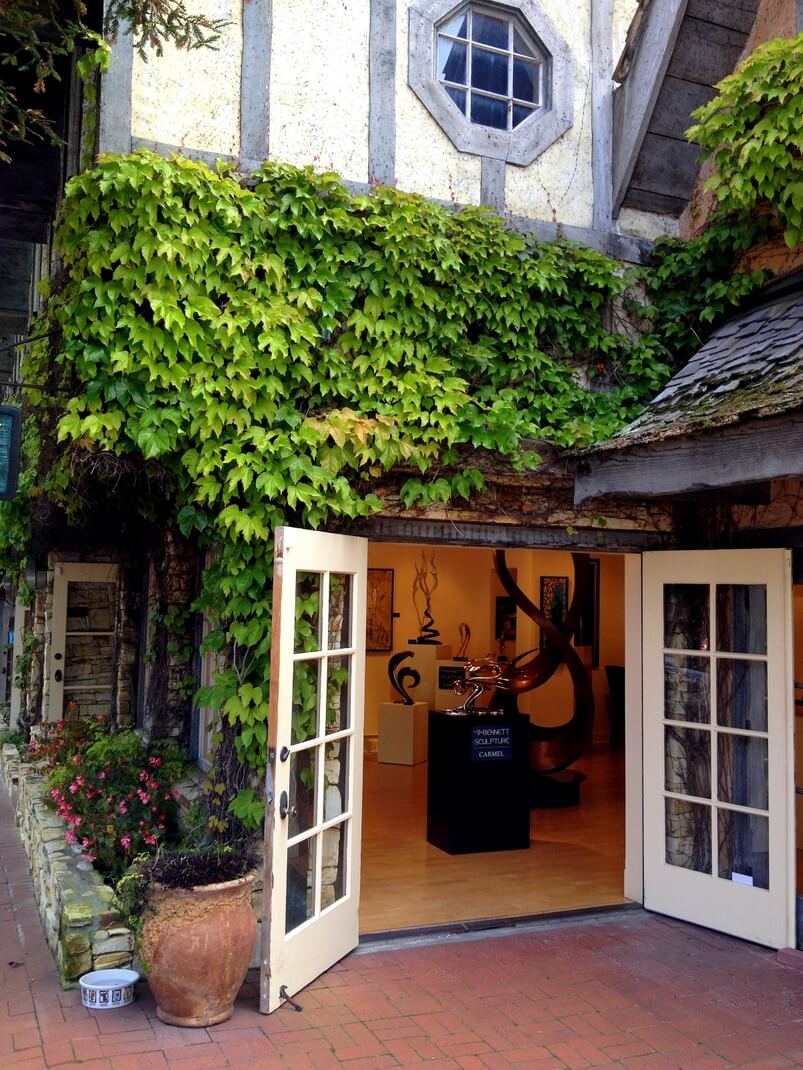 The Carmel Wine Walk is a wine tasting pass for $10 flights at all ten tasting rooms for just $65. Fortunately, it doesn't need to be used in one day; in fact, I saved the ones I didn't use and will keep them for my next visit, perhaps later this year. The passes themselves are easy to use–I just handed one of the ten cards to the tasting room employee. A map and list of tasting rooms are included, but all of them are easily reached in the few blocks of Carmel's downtown, next to quaint courtyards like this one, for which Carmel is famous: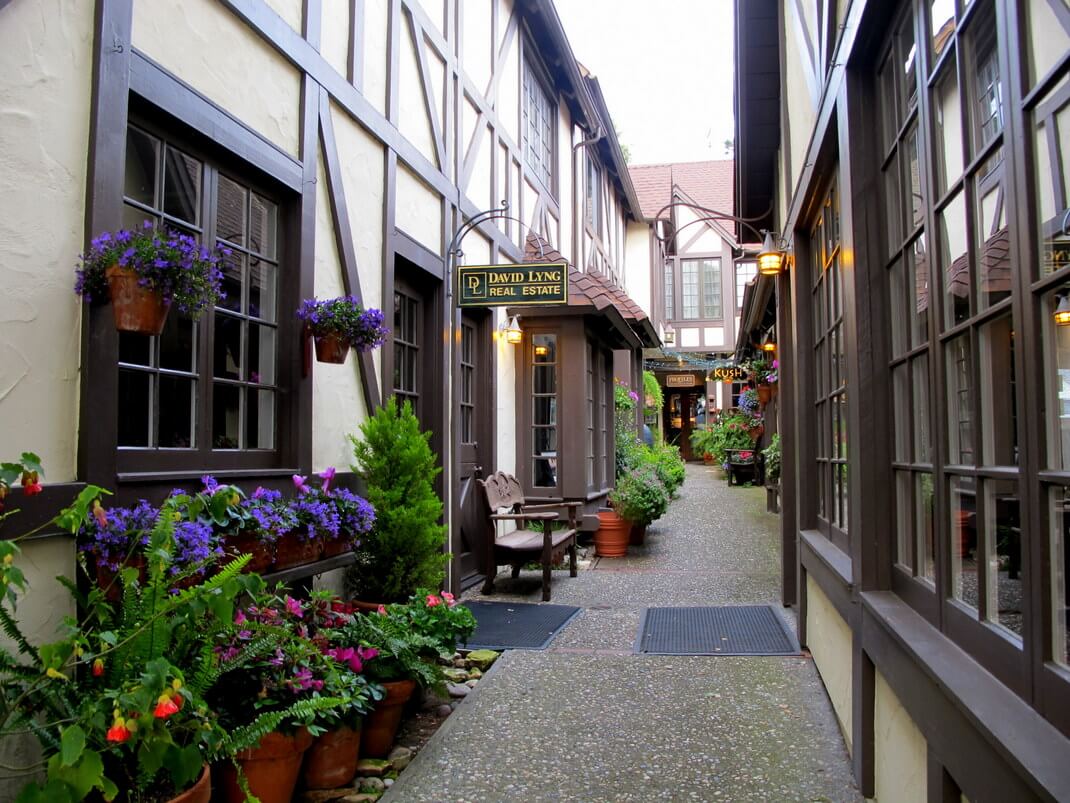 Scheid Vineyards
Scheid was the most crowded place we visited and therefore also my least favorite, although that may not actually be a bad reflection of the place. The tasting room is pleasant and light and the staff was friendly, but I was put off by how packed it was (and that crowd might actually be a good sign for the tasting room!). Compared to some of California's lesser-known wine country, the prices here are about average. Tasting flights are $10 or $20 for reserves; the $10 tasting fee is waived with a purchase of two bottles (not one, as is often the case, even in Napa Valley), and the $20 flights only include four tastings. Then again, the $10 flight is included in the Wine Walk passport, and Carmel is expensive (but worth it).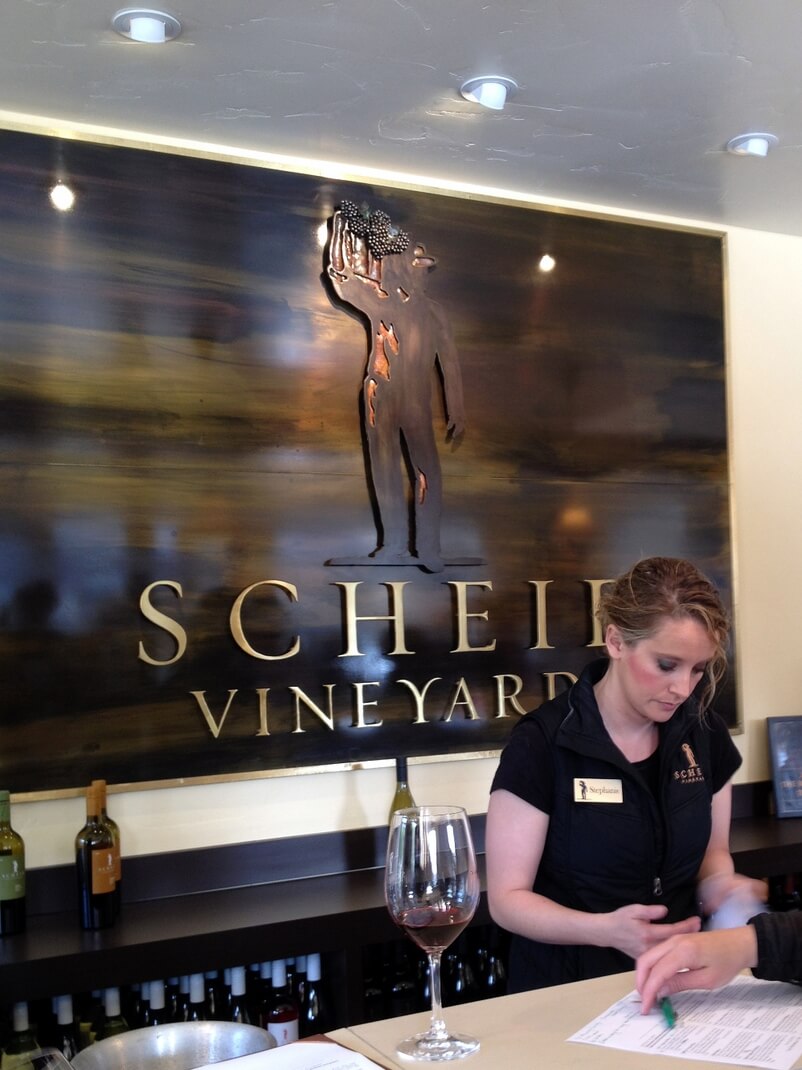 I liked the wines at Scheid but found them to be slightly one-dimensional, but I was also reminded what a personal thing wine is…one of my companions and I rated all the wines and gave opposite marks to several wines that afternoon. For example, I gave the Scheid 2011 Odd Lot White a thumbs-up, but he gave it only 1 of 5 stars. I liked the 2009 Merlot, but another friend didn't care for it at all! In addition to the crisp Odd Lot White blend and the pleasant Merlot, the Syrah Rosé  hinted of strawberry without being too sweet, and the 2009 Cabernet Sauvignon was smooth–not intense or overpowering, but also not quite enough Cab gusto for my taste.
Blair Estate & Shale Canyon Wines
This was my favorite tasting room of the afternoon. The tasting room pours wine from two wineries, Shale Canyon and Blair Estates. After reading the descriptions, I chose to try Shale Canyon wines because the flight offered more reds (my preference) and was happy to see that Shale Canyon produces small lot artisan wines in a solar-powered winery. We tried the 2012 Chardonnay, 2011 Cab Franc, 2011 Merlot, and 2009 Syrah; the Cab Franc was my favorite, but I was impressed that all the wines cost $15-27/bottle.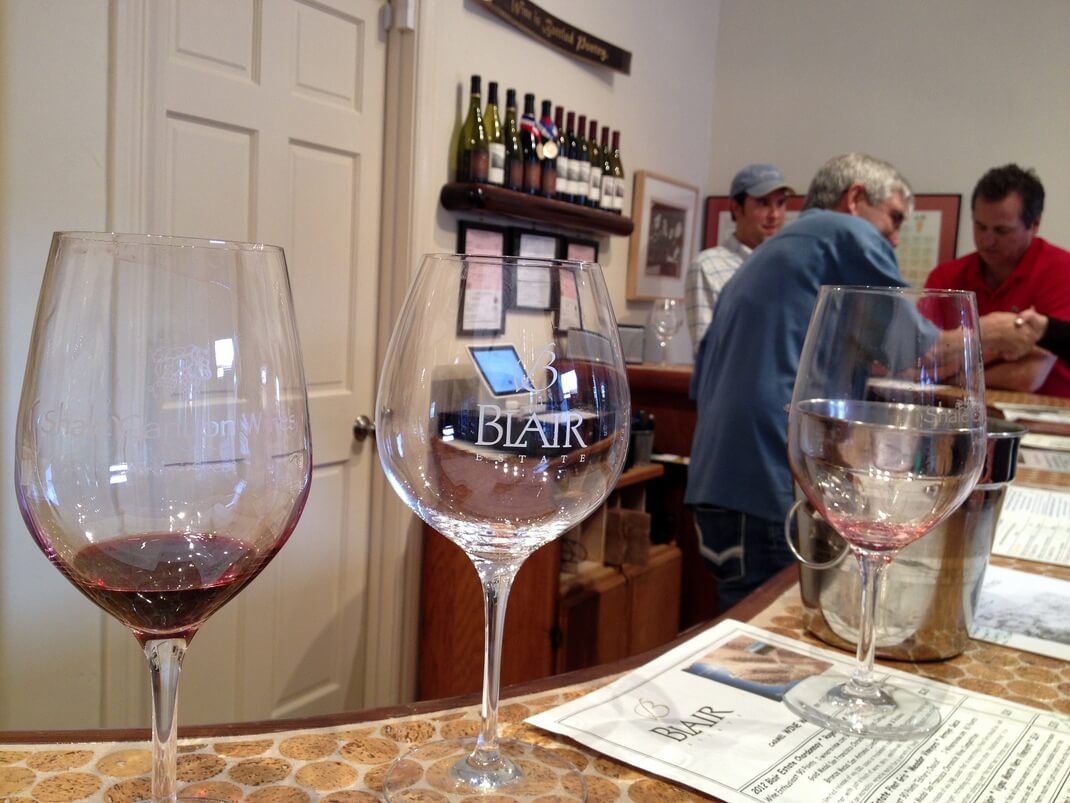 My friend Noel chose to taste Blair Estate wines, and I quickly realized that I prefer their winemaking style. The 2012 Chardonnay, with tropical and citrus notes, was a San Francisco Chronicle gold medal winner, and we all agreed it was the best white of the day. The 2011 Vigna Monte Nero Vineyard Pinot Noir, fruity and made with a "special grape," was by far my favorite–only 55 cases were made and it's available only at the tasting room.  The 2010 Delfina's Vineyard Pinot Noir was much less fruity—this one got 5 stars from Noel! Again, this difference in our preferences just goes to show how subjective wine is.
Besides the quality wines, the best part of visiting this tasting room was the person pouring the wines. This is Jeffrey Blair, the vintner behind Blair Estate Wines. People like Blair make wine tasting so much more interesting and fun…his stories of his grandfather making wine in this very area just after Prohibition and his grandmother feeding the vineyard workers brought the history of Monterey winemaking to life. In fact, Delfina's Vineyard is named after her. He is proud of his heritage, and it shows in his lively stories and his wine! (Find out more about Blair wines in this interview with Jeffrey Blair).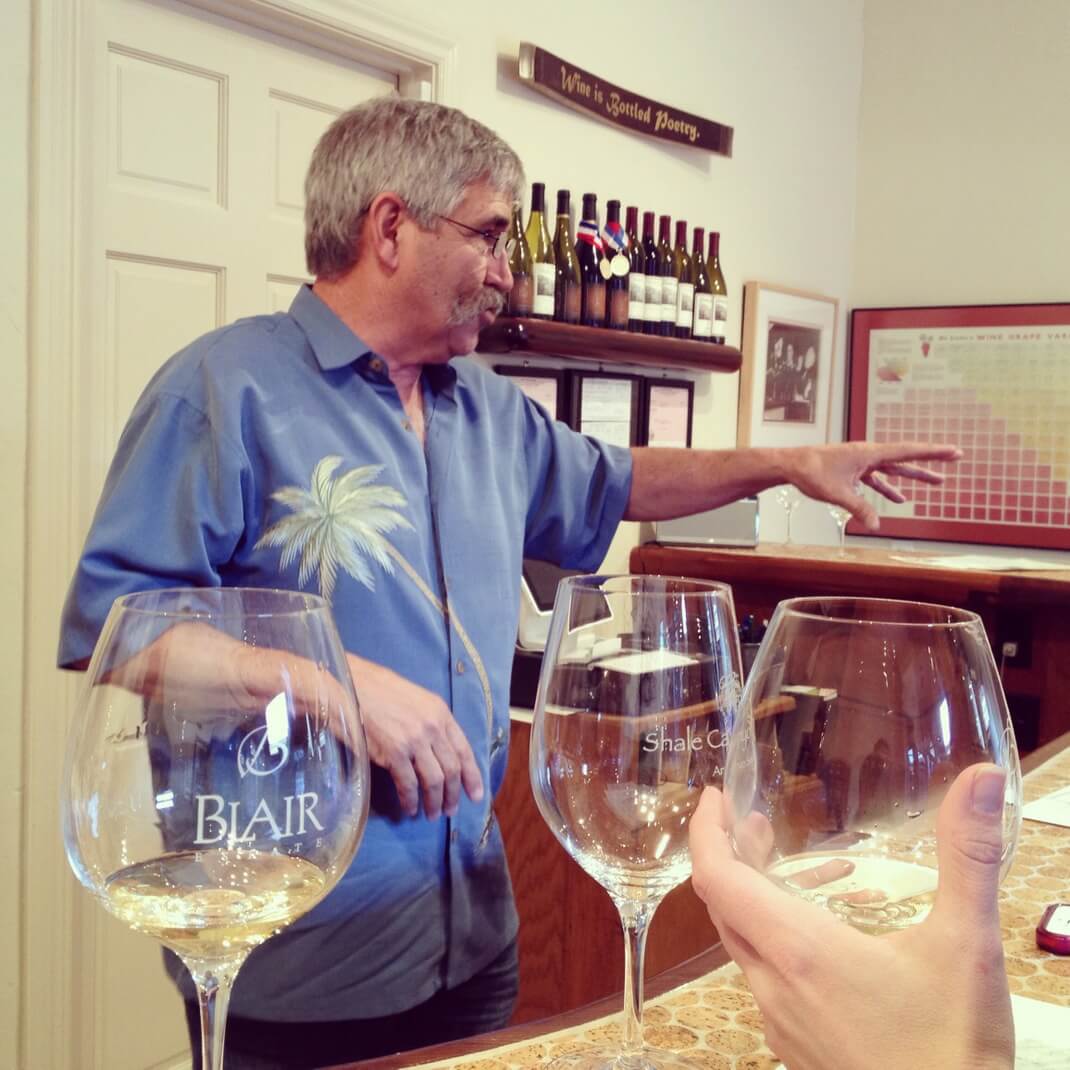 Caraccioli Cellars
Our final stop on the Carmel Wine Walk was Caraccioli Cellars. This place is so different from the other two…a dark, funky interior with an eclectic European vibe and fun young women with red lipstick pouring the wine. This is where we got spoiled by the macarons, which had been delivered from the next-door bakery for a special tasting room event that evening.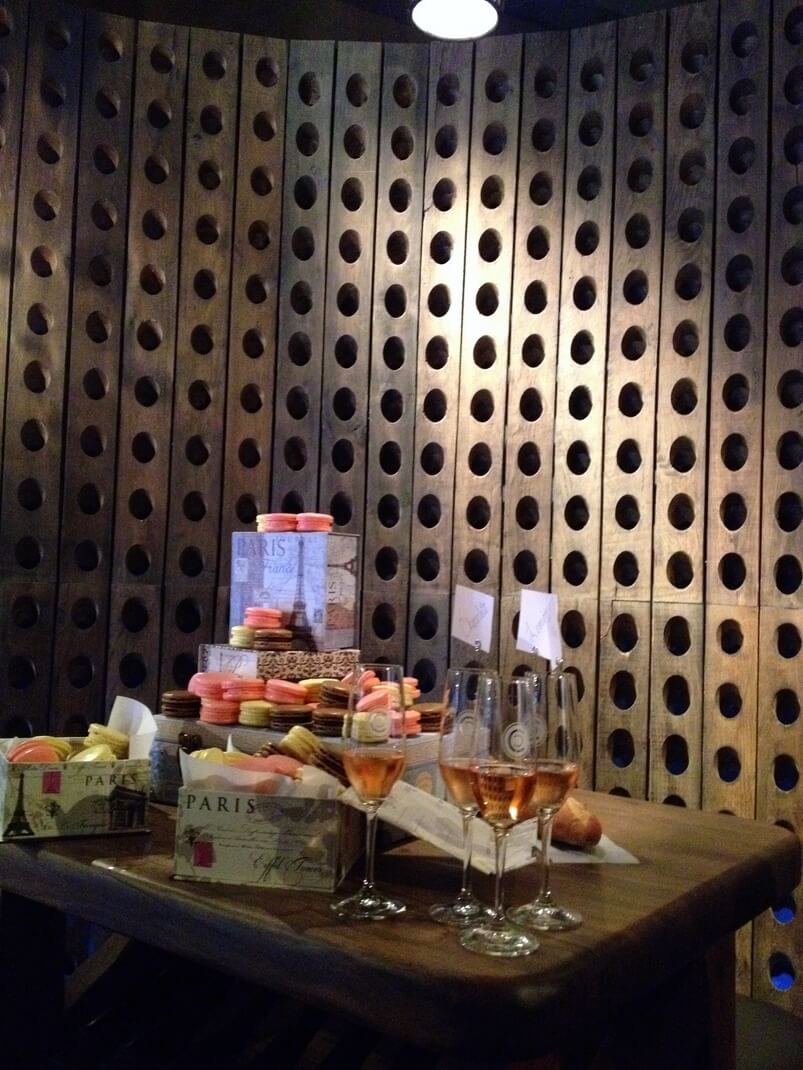 Caraccioli is a boutique winery with at most 3500 cases produced per year. They make both sparkling and still wines but have a different winemaker for each. Honestly, sparkling wines are not my thing, but I liked the 2010 Pinot Noir and enjoyed the unusual yet relaxing atmosphere.
Like the other tasting rooms we visited, Caraccioli is very dog-friendly. This poodle had its paws resting on the bar most of the time, just one of the ladies hanging out. Dogs are everywhere in Carmel; after all, it's well known as the most dog-friendly town in the country.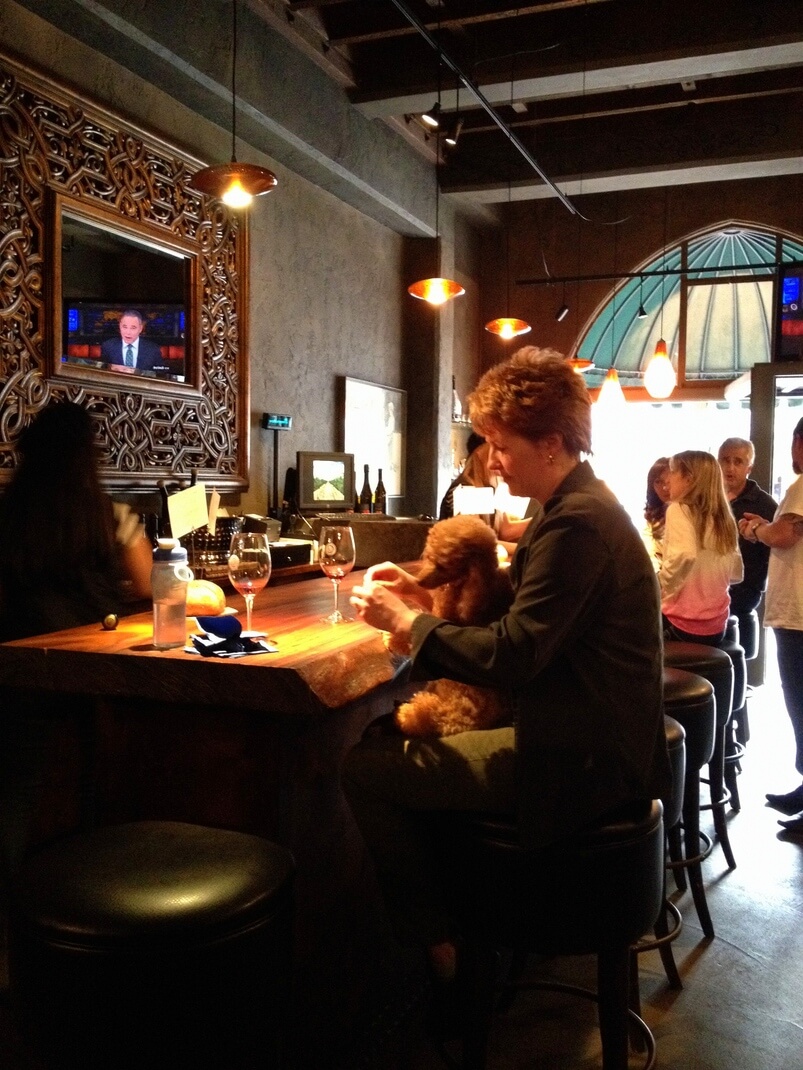 Bonus: Besides taking the Carmel Wine Walk, we stopped in three art galleries that we happened to notice along the way. Carmel is full of small galleries, and I found them a really nice way to quiet the mind in contrast to the activity of the tasting rooms.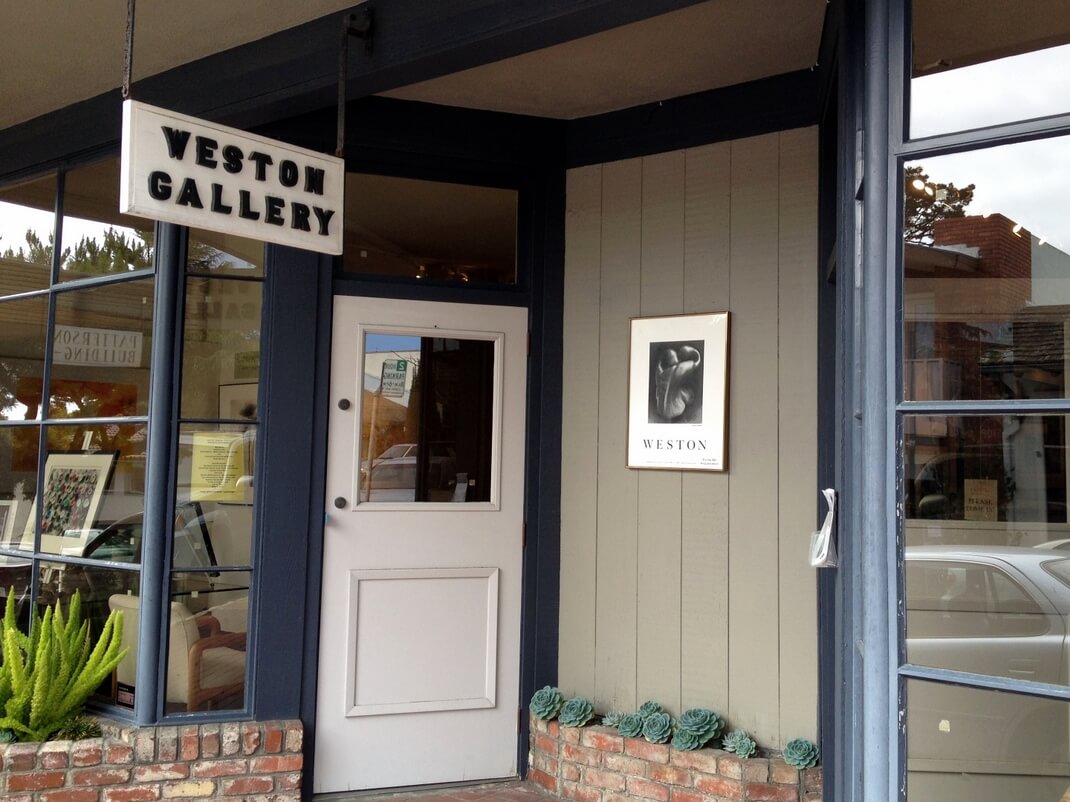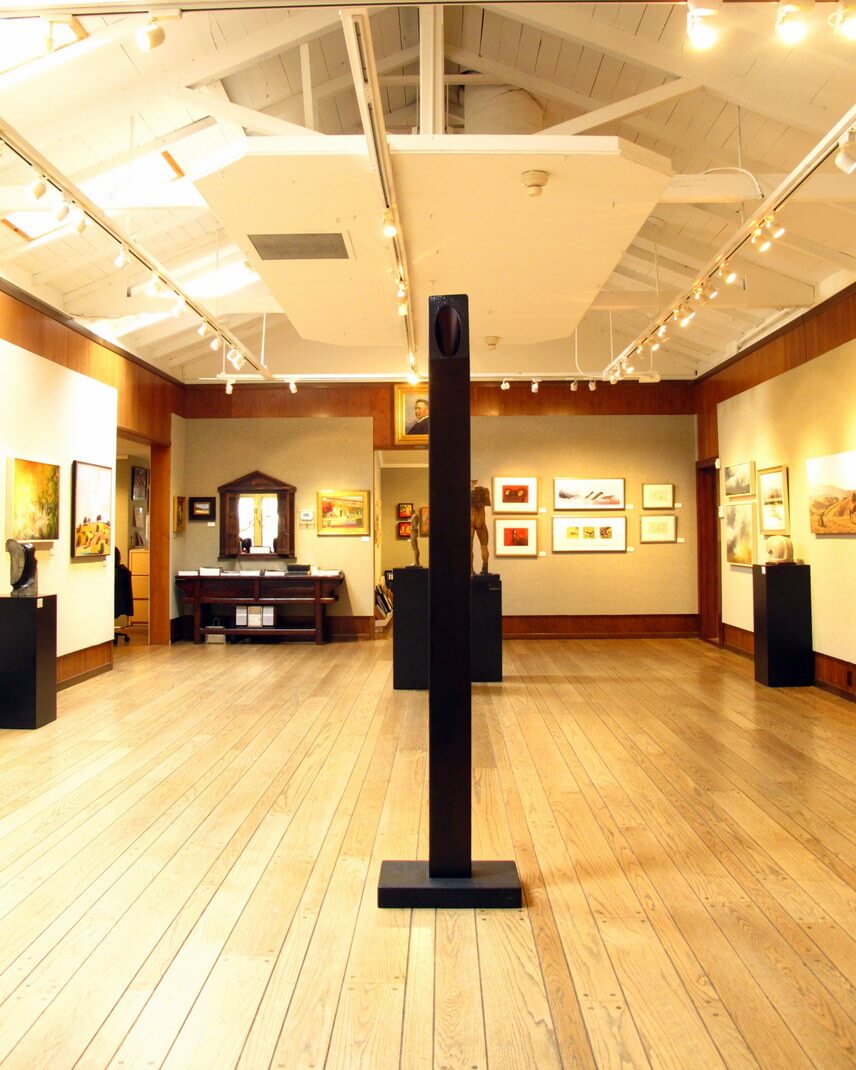 Four hours, three tasting rooms and three art galleries later, it was time to go. I still have seven more tasting cards to use from my Wine Walk passport, and the diversity of the tasting rooms piqued my curiosity, so I'll definitely be back to see what else Carmel's wine tasting rooms have to offer.
For more about Carmel:
Disclosure: I was given a complimentary Carmel Wine Walk passport. However, the opinions expressed here are entirely my own.
Thank you to my new friends Noel, Elaine, and Cassie and Kevin for their excellent company!