Mother's Day is just a few days away…I'm terrible at planning gifts ahead of time, so if you're like me, you're thinking of what to get for that special mom in your life. As a mom, I can tell you that the most important thing for a mom is to feel appreciated. A nice meal, breakfast in bed, artwork made by the kids, or a poem would all be wonderful ways to show your appreciation. Here are some other last-minute gift ideas for Mother's Day: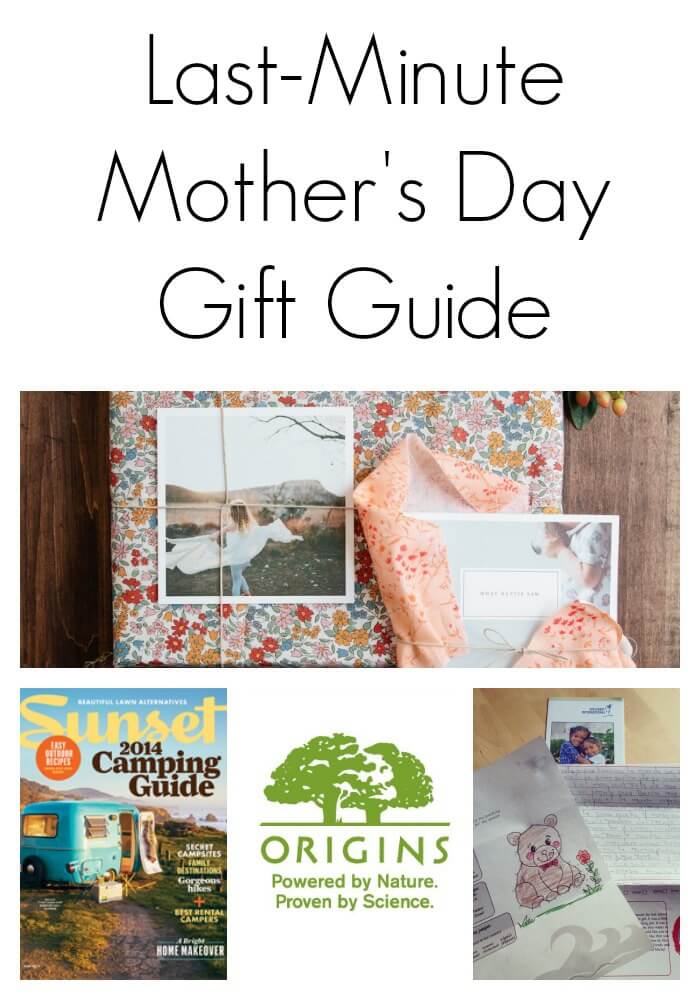 1) Treat her to a gift pack of skin care, body creams, or candles from Origins. Their products smell fantastic and are all natural, with no nasty chemicals. If you're really under the gun, there's even a gift pack available at Amazon with 2-day shipping.
2) Let her be pampered with massage and/or facial time. Buy her online gift certificates from her favorite massage therapist or an afternoon of pampering at a fancy local spa. Massage Envy has a great Mother's Day special running now: $100 for a two-hour massage and facial session (rates vary by location, so check with your local outlet). I recently tried it out and was very impressed! The massage was great, and the facial made me look younger and feel refreshed.
3)  Treat her to a subscription that she can enjoy throughout the year. Some personal favorites are Sunset magazine (for the woman who likes travel, cooking, and garden design), AFAR magazine (to ignite wanderlust), The New York Times digital subscription (for limitless reading on all devices), and Amazon Prime (not just for its 2-day shipping, but also for its instant video).
Another subscription idea is seasonal home delivery of fresh, local produce.
4) Help her add something fresh to her walls. Order a favorite photo that she has taken from Mpix and buy a frame to put it in. Really pressed for time? Order it for pick up from one of your local photo printing services.
5) I believe the idea that we get more from giving than receiving, so I can't forget to suggest a charitable gift in honor of that special mom. There are many worthy charities, and I've listed my 10 favorites here, but on Mother's Day it might be especially appropriate to give to a charity that helps a mother's most beloved beings, children. UNICEF and St. Jude's Research Hospital make great one-time gifts, but a long-term sponsorship of a child in need through Children International would be even better since she would be able to bond with one particular child.
6) Plan a getaway that's all about what she likes to do but never has time for. Take her to the ballet, go to that museum she's been wanting to visit, go wine tasting and out for a fancy meal, splurge on  something special like the Napa Wine Train or a weekend at a retreat center.
Finally, wrap up whatever gift you've chosen in a special way. Artifact Uprising, one of my favorite sites for creative projects, suggests using fabric and found objects in nature as creative wrapping supplies.
What are your suggestions for last-minute Mother's Day gifts?
Disclosure: I received a complimentary massage and facial session at Massage Envy; however, all opinions are my own.