As soccer fans begin to rain down on Brazil for the Olympics, they need to know what to eat without spending a fortune. Many people don't know how expensive Brazil can be–in São Paulo a meal at a decent restaurant can run $50 per person–but fortunately there is plenty of good and cheap food in Brazil. Street food and fast food are tasty, inexpensive and clean options.
The following cheap eats can be found at feiras (street markets) or botecos (small cafes), both of which are worth seeking out because they give a glimpse of authentic life in Brazil. And vegetarians will be happy to see that there are some options for them, too.
Pastel
Pastel (pronounced "pah-steh-oo" because any L at the end of a word is pronounced like a U) is a deep-fried pastry with your choice of filling (mozzarella and tomato, meat with cheese, etc.). This is a very common snack in Brazil and can be found both in street stalls and in small pastel shops. By the way, the plural is pasteis ("pah-stays").
Hot dogs
Brazilian style hot dogs are different from American hot dogs because of the toppings. A common way to eat them is with mashed potatoes, but the variety of toppings gives you a lot to choose from, including vinaigrette (chopped tomatoes and onions in olive oil and vinegar), fried shoestring potatoes, and corn.
Empadinha, pão de queijo, coxinha, and esfiha
These are four of the most popular snack foods in Brazil. Sometimes we buy a few of them to make a small meal.
Empadinhas are mini pot pies usually filled with either chicken and peas or heart of palm with green olives.
Pão de queijo means cheese bread. It's typically crunchy on the outside with a melted cheese center. If you can get them hot and fresh from a bakery, buy a bag full and enjoy.
Coxinhas (pronounced "ko-shee-nyaz") are pear-shaped fried snacks with shredded chicken inside. Sometimes the chicken mixture has a Brazilian cream cheese mixed in; other times it can taste slightly spicy. Very good.
Esfiha is a Middle Eastern food that was brought to Brazil by immigrant groups from Lebanon and Syria. They usually resemble small flat pizzas but can sometimes be folded like a calzone. They're typically filled with ground beef, but my favorite is with escarole (escarola) (shown below).
Acarajé
Acarajé is a typical dish from the state of Bahia in northeastern Brazil. It's a fritter made from black-eyed peas, fried in dendê (palm oil, a staple ingredient of Bahian cuisine), and topped with a spicy paste and shrimp. This dish was brought to Brazil from Africa by slaves and is typically served by Bahianas, women from Bahia who wear a white dress and a headdress, making them easy to spot in street markets.
Even though acarajé is from the northeast of Brazil, it's easy to find in cities across the country. We see it sold at every big street market in São Paulo.
Nuts
Nuts and fruit grow so abundantly in Brazil, so it's common to see roasted nuts and even dried fruits and coconut for sale at outdoor markets.  Cashews, Brazil nuts and peanuts are the most common types of nuts sold, and cashews and peanuts are very common snacks on the beach.
Fruit
Of course, because Brazil is a tropical country, a huge variety of fresh fruit is available. You can easily buy boxes of inexpensive fruit, such as mangoes, bananas, and guavas, at markets and even on street corners. Look for other varieties such as maracujá doce (sweet passionfruit, shown below), cajú (cashew fruit), and banana-maçã (apple bananas, small bananas that have a slight apple flavor).
Drinks: Juices and coconut water
Three of the most common drinks sold on the streets of Brazil are fruit juices (sucos), caldo de cana (sugar cane juice), and água de coco, (coconut water). You can find them on many street corners from vans or trucks like this one:
Sugar cane juice is very sweet and apparently is a low-glycemic way to get an energy boost.
Coconut water has been an acquired taste for me, but most people just love it, especially because it's known for being an excellent way to hydrate. The flavor of each coconut is slightly different, some sweeter than others. However, always drink coconut water from a coconut, not from a cup, since the machines used to serve coconut water can be dirty.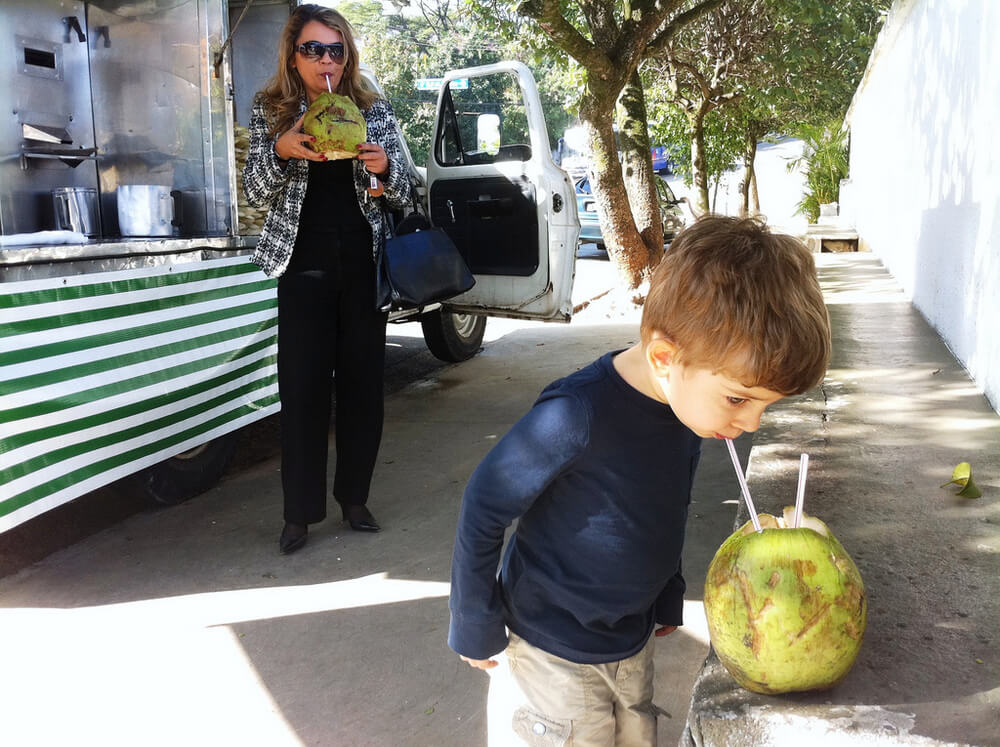 Fruit juices in Brazil are amazing–my favorites are caju (cashew fruit), laranja com acerola (orange with acerola, a Vitamin-C packed combo that I have after arriving in Brazil), and the tart cupuaçu ("koo-poo-ah-soo"). The latter is one of many fruits from the Amazon that are used to make juices. They are often very tart without sugar and therefore are usually prepared with sugar, so if the person asks if you want sugar ("Com açucar?"), you should say "sim" or "um pouco."
Beach snacks: Corn, açaí, & coconuts
Two common snacks sold on the beach are corn and açaí with granola (pronounced "ahs-eye-ee" with stress on the last syllable). I don't recommend the corn, but I think my bias for sweet crunchy corn from the U.S. affects my tolerance for the Brazilian version.
Açaí with granola, on the other hand, is a must when in Brazil and makes a perfect beach snack because it's served cold and is refreshing and light.
And of course, no beach time is complete without coconut water, the perfect antidote to a hot day. In this case, after we drank the water, we asked the guy to cut them open so we could scoop out the "meat." Delicious.
Pizza
You  might not associate good pizza with Brazil, but in São Paulo, where a large Italian population settled, pizza is part of the city's cuisine. The variety of pizza combinations is big, and toppings like egg might be new, but my favorite is arugula (rucula) and sundried tomatoes (shown below). Pizza is not exactly a cheap option, but they usually deliver quickly, or you can easily pick it up at one of the neighborhood pizza places.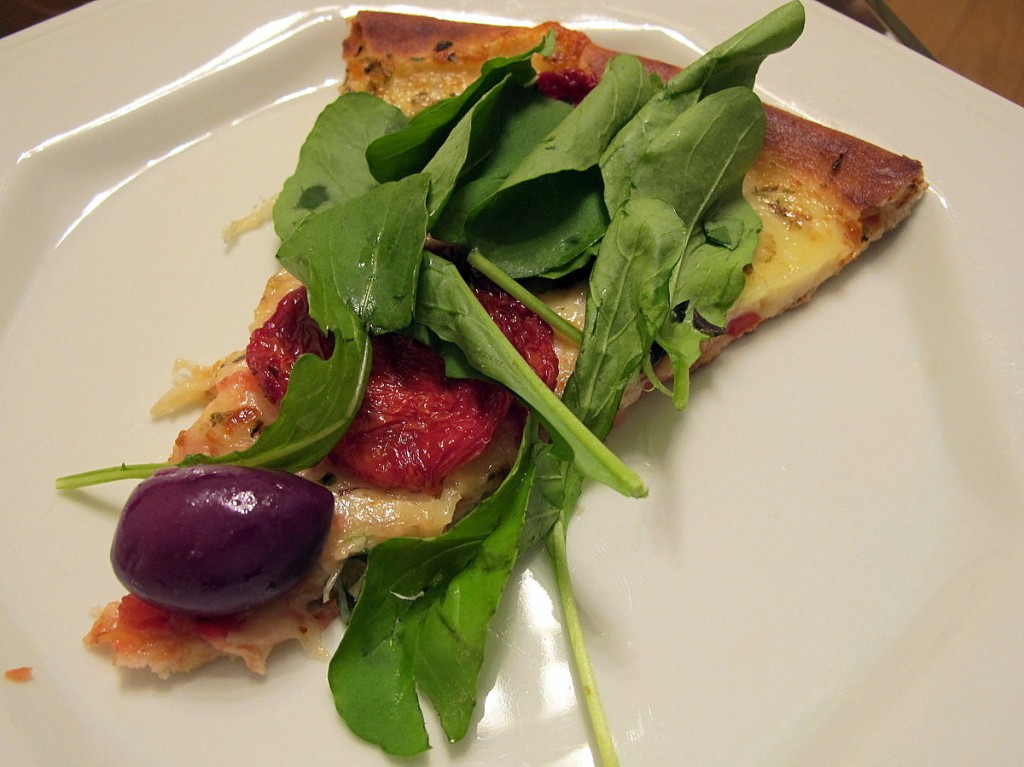 What snacks would  you like to try?