Napa Valley is one of California's most important regions for tourism and, of course, wine, but a lot of people wonder what to do in Napa Valley besides taste wine. Actually, Napa Valley has cultural attractions because some winery owners are also art aficionados. This month's ArtSmart Roundtable features "an art day in…" so I thought this was a good time to provide my ideas for an art day in Napa Valley (and get more travel tips for Napa Valley in my guidebook!).
1) The Napa Art Walk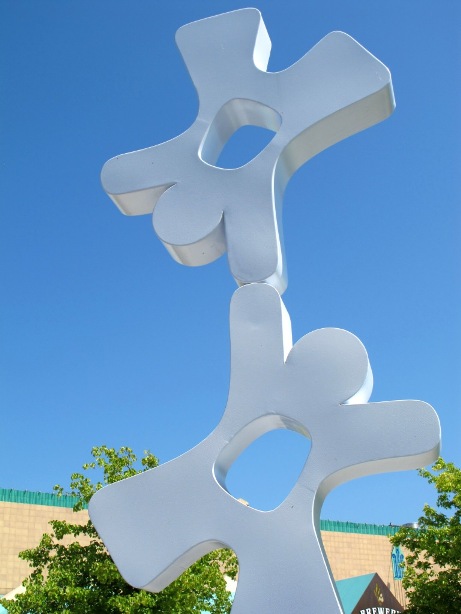 Downtown Napa is one of my favorite small cities in California, and the Napa Art Walk is part of the city's charm. Every 18 months or so, the city of Napa installs new sculptures from regional artists. The art is chosen based around a theme that changes with each installation. Because the works are displayed in various spots around the downtown, you can get to know the city better by taking the art walk, starting with a brochure from the Visitors' Center and continuing along the riverfront and then to the streets of downtown.
The current art walk includes 15 works based on the theme of metamorphosis and is on display until May 2015.
While you're there, pop into Liken gallery on the Napa Riverfront. The artist's work is beautiful, and the gallery's collection of unusual furniture and beautiful floral arrangements are also worth a look.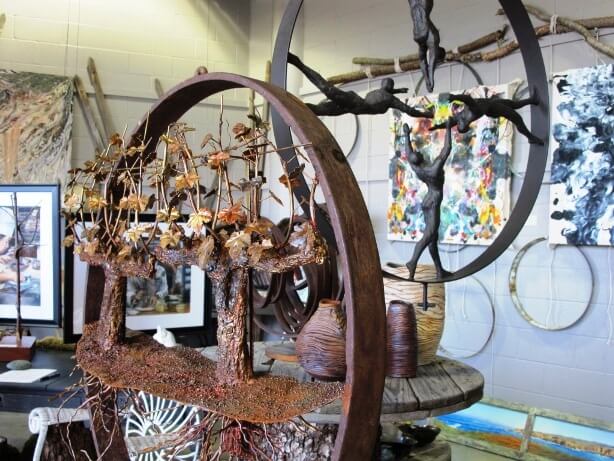 2) Clos Pegase Winery
Clos Pegase, just outside of Calistoga off the Silverado Trail, is a winery and art exhibition space. The owner, Jan Shrem, has a true passion for art that he gladly shares with everyone who visits here. This starts with the winery's architecture–its unusual design is by Michael Graves.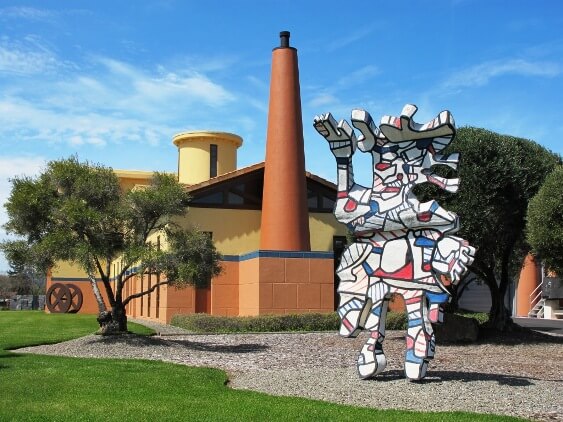 The art works at Clos Pegase span a history of about 400 years, but sculpture by modern masters like Henry Moore, Jean Dubuffet, and Mimmo Paladino are the standouts. More about the art at Clos Pegase here.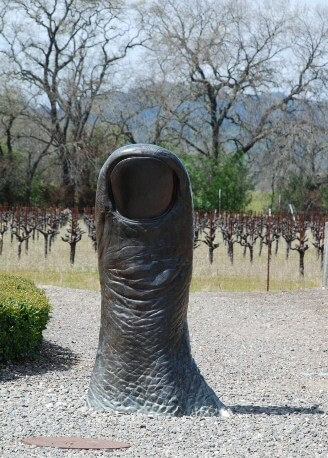 3) Hess Collection & Winery
The Hess Collection and Winery is a beautiful place to experience art in Napa Valley. Donald Hess began collecting art in the 1960s and now shows about a quarter of his entire collection at the winery. Visitors are welcome to view what the winery calls "vivid, powerful, and thought provoking art"; the art collection is open to the public daily 10:00-5:30.
4) Cliff Lede Vineyards
I first visited Cliff Lede because it was featured in my local newspaper as one of the best wineries in Napa Valley. What surprised me was the nice collection of sculpture.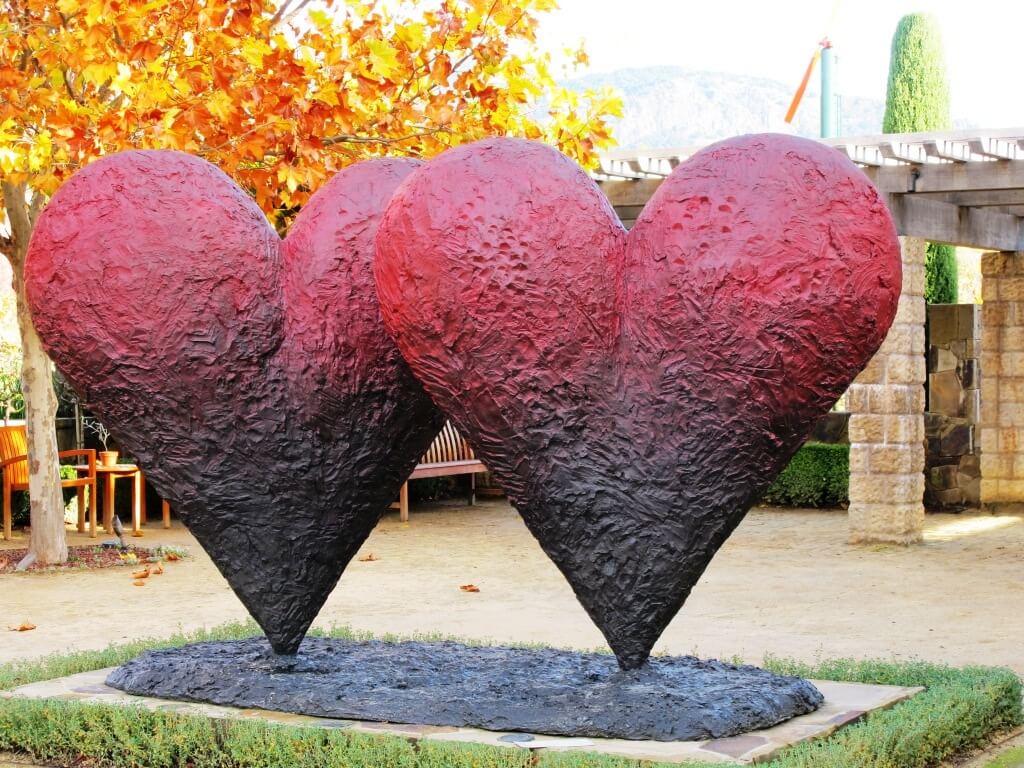 One work (above) by 20th century pop artist Jim Dine has an important position in the courtyard, where you can sit with a glass of wine, but a few other sculptures fill the outdoor space. The winery is open daily 10:00-4:00; tastings are $25 but various tours and special tastings are also available.
5) di Rosa Gallery
Art collectors Rene and Veronica di Rosa made the commitment to ensure that their art is accessible to the public. They now have a collection of over 2000 works, mostly by Bay Area artists. They're displayed outside on 200 acres, where the art interacts with the landscape, and inside the large exhibition space. While drop-in admission to the Gatehouse Gallery is possible with a suggested donation of $5, viewing the rest of the art requires a guided tour. Open Wednesday-Sunday 10:00-4:00; tours cost $12-15 and reservations are recommended. More information here.
AND YOU? Where have you discovered art in unlikely places? What suggestions do you have for what to do in Napa Valley besides taste wine?
Enjoy "a day of art in…" with these posts by my talented ArtSmart colleagues:
An Art Day in Cambridge, MA: Modernist Architecture at Harvard and MIT from Erin of A Sense of Place
An Art Day in Doha, Qatar from Ashley of No Onions Extra Pickles
Masterpieces for Free: An Art Day in Washington, DC from Christina of Daydream Tourist
An Art Day in Paris: My Own Accidental Walking Tour from Murissa of Wanderfull Traveler
An art day in Maremma at Daniel Spoerri's garden from Alexandra of ArtTrav
An Art Day at the Kröller-Müller Museum from Pal and Lydian of Art Weekenders
You might enjoy these related posts:
 Budget Travel Tips for Napa Valley
30 Things to Do in Napa Valley