After a busy summer, so full of travel and even some uncertainty, it's been a welcome change to be HOME and settling into the routine of a new semester. You may know that both my husband and I are professors at a community college in Sacramento, California, so between us and our now-2nd-grade son, our schedules revolve around that of the school year.
While the last few weeks of settling into our new classes have been challenging (like getting up at 6 a.m. again!), the stimulation of being with new students and the routine of work have been good for us, I think. The same goes for my older son who is absolutely loving his new world of play, imagination, and childhood wonder at his new Waldorf-inspired charter school.
At the same time, I'm itching to get out of town. The next few weeks will see us taking some local trips to wine country, Delta nature areas, and the Sierra Nevada mountains. We're in the process of planning November travel to possibly include a Thanksgiving weekend away (where would you go for a long weekend in November?) and are in the early stages of planning winter travel for our 4-week break from work, which we hope to spend south of here, away from the rain and cold days.
The routine of working has given us the focus we needed to establish some home routines that I think have added to our sense of well-being. Let me know what you think:
Healthy, Home-Cooked Foods
I hate dieting but am really trying to eat as healthfully as possible these days. Besides weekly batches of homemade granola (see below!) and soup, I've been trying a few new things, like this warm kale salad. I switched up the recipe and made it with sweet honeycrisp apples and candied almonds, but the dressing was really the star. I'm honestly not a big fan of kale salads (a little kale goes a long way, right?), but this one is good: Kale and Asian Pear Salad from a favorite food/lifestyle blog, A House in the Hills.
More socializing
We keep hearing the research findings that socializing boosts happiness, and I've been testing that theory lately by spending a lot more time socializing with friends and trying to cut down on work time. Last week was the highlight: an excellent dinner of Latin fusion food at Tuco's in Davis, which included a flight of red wines and tapas, plus a Caetano Veloso (wow!) show at the beautiful Mondavi Center. What a night!
Slowing down with plenty of family time
While getting out and trying new things are important, I love having plenty of happy at-home time. September has given me a lot of that (including floating around in the pool!), and I don't think I've ever been this close to my kids.
We have been having so much fun together lately, and it's due partly to my ability to relax more. I've been trying not to sweat the small stuff and have been using more positive reinforcement with them. The result is more laughing, more helping, and just more love all around.
Next up besides fall travel is doing some landscaping in the garden. We're still settling into our new yard and are looking forward to making it feel more like us.
THE Best Granola
It's partly the cardamom that makes it so tasty, so be sure to add that special ingredient! This recipe is based loosely on the Indulgent Granola recipe here, but I've changed it up over time until finding this end result.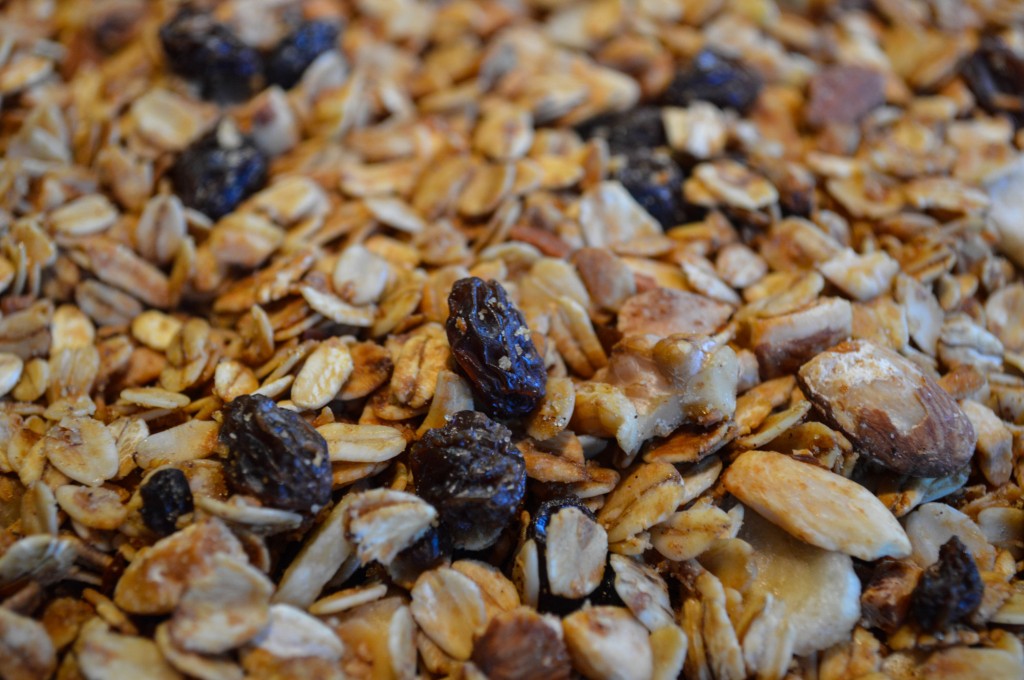 Preheat oven to 300 degrees and take out a large 9 x 11 glass baking dish (or something similar). Heat coconut oil and honey together in a small pot on the stove over medium until they are liquid. The coconut oil will separate from the honey; that's OK.
Mix everything else except the fruit together in a large bowl. Pour the oil and honey mixture over it while stirring so that it gets mixed in evenly. Bake for 40-45 minutes until lightly brown but be sure to stir it every 10-15 minutes.
1/4 cup coconut oil (you can use butter instead)
1/4 cup honey
4 cups oats
1/4 to 1/2 cup unsweetened shredded coconut (if you use sweetened, reduce the brown sugar)
1/2 cup brown sugar
2 tbsp ground flax seeds
1 cup chopped almonds and walnuts (I use 3/4 almonds and 1/4 walnuts)
1/4 tsp salt (You can use a little more if you use unsalted almonds)
1/4 tsp cinnamon
1/8 tsp cardamom
About 1 cup of a mix of raisins and dried cranberries.
Later: Add raisins and cranberries and other dried fruit you like. Store in an airtight container for up to 7-10 days.
Fall is a beautiful time of year here in Northern California, and I can't wait to share it with you. It still feels like summer here, but soon the days will start to have that cool fall breeze, and after this very homey September, I'll be ready to explore!
What are you up to this fall? 
P.S. Fall posts:
Why I love Northern California in the fall
30 Things to Do in San Francisco (because fall is the best time to visit!)