The theme for this month's ArtSmart Roundtable is color. While my first thoughts went to Brazil, where color is an integral part of the aesthetic (like here and here), I decided not to bore you just yet with another Brazil post. 😉 Instead, I get so much travel inspiration from seeing what art exhibitions are happening around the world, so let's see where you can see art exhibitions in 2014-2015 that showcase color. (Click the orange links to visit the museums' websites).
Mark Rothko at the Gemeente Museum in The Hague, through March 1, 2015
This is the exhibition I would travel to see. Perhaps no other modern painter had such a close relationship with color. Rothko's work is all about color–the tones and shades and, most important. the feelings colors express. This "simplest" of painting technique produces powerful, moving results. According to the exhibition description, "Constructed layer upon shimmering layer, his colour fields are of unparalleled intensity and communicate universal human emotions such as fear, ecstasy, grief and euphoria."  Later works of Rothko used darker colors that reflected his own mental state before ending his own life in 1970.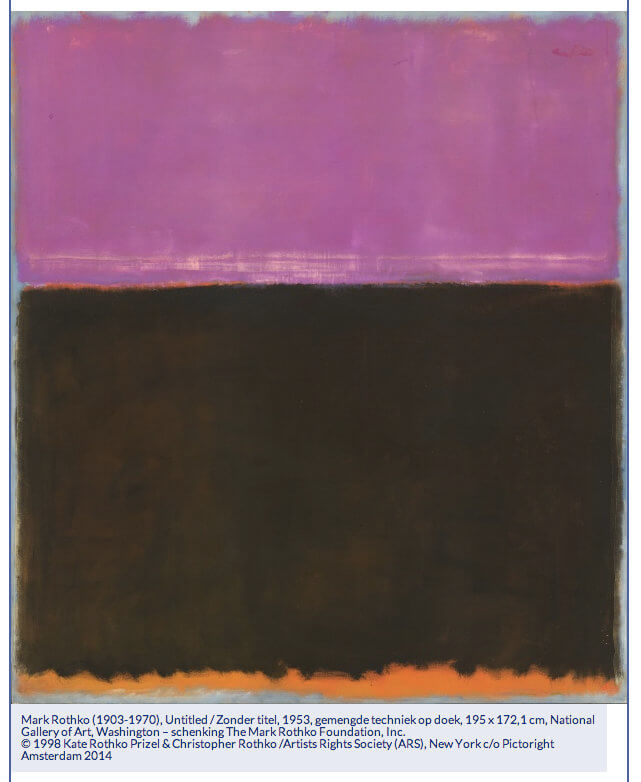 The museum website includes this short video of people speaking about what they appreciate about Rothko's work, including color.
Keith Haring: The Political Line, at the de Young Museum, San Francisco, November 8, 2014-February 16, 2015
This exhibition includes 130 works by Keith Haring, the American artist whose work always included a political or social message. According to the exhibition description, "The exhibition creates a narrative that explores Haring's responses to nuclear proliferation, racial inequality, the excesses of capitalism, environmental degradation, and other issues of deep personal concern."
It's fitting that it will take place in San Francisco, where Haring's work has a place in the city's culture. Haring was active in the fight against AIDS before he died of the disease at the young age of 31.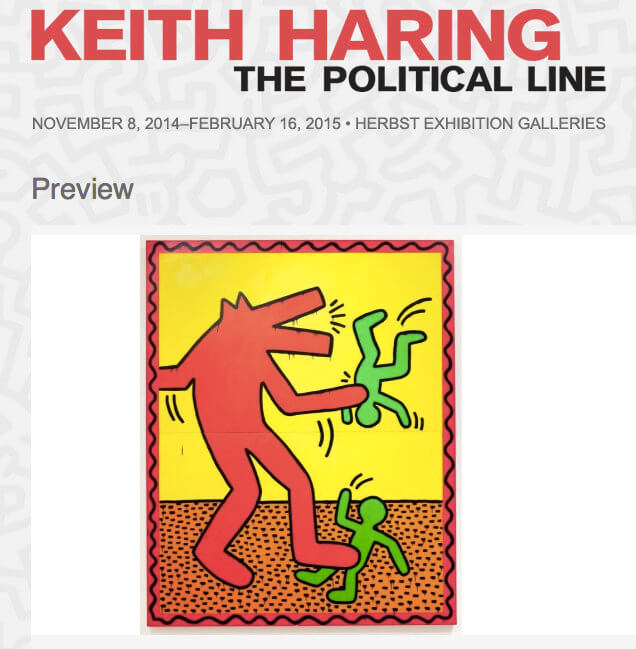 Henri Matisse: The Cut-Outs at the Museum of Modern Art in New York City, October 12, 2014-February 8, 2015
Matisse is often known for use of joyful, bright colors, and his cut-out works are wonderful examples. Later in his career, he began experimenting with this new type of art, using paper and scissors to play with form and color. He soon made enormous mural cut-outs. This exhibition includes 100 of these works, including the MOMA's popular piece, The Swimming Pool. The exhibition will require timed tickets, and related children's books will be available. Check out these fascinating interactive pages about the exhibition.
These two small exhibitions showcase color through stone and marble, photographs, and decorative arts. The former is a collection of 25 works that show how humans have valued color stones for thousands of years. The second exhibition focuses on color in photography.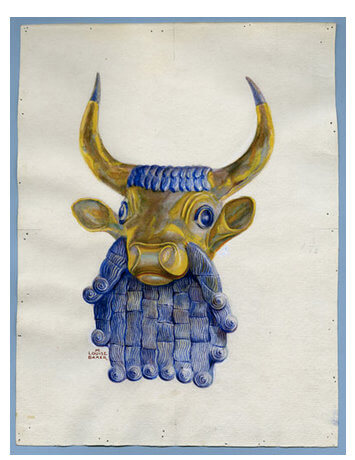 James Turrell: A Retrospective at the National Gallery of Australia, Canberra, December 13, 2014-June 8, 2015
James Turrell is an American contemporary artist who makes interactive installations using light and color. This exhibition brings together works from almost five decades. Visitors should expect to experience the effects and illusions created by light. In fact, the museum website mentions that one woman sued the artist after falling when she leaned against what she thought was a wall in one of his installations.
What artist's use of color made an impression on you? What art exhibitions are you anticipating in 2014-2015?
For more about color, check out this month's ArtSmart members' posts:
Caesar and the Snail: "Royal Purple" in Imperial Rome from Daydream Tourist
Rothko Spiritual Performers: His Colours from Art Weekenders
Images are from the museums' websites.