With all the things to see and experience in California–amazing nature, trends in food, and local craft beer and wine, for instance–it seems that I don't give the state's museums enough attention. This month's ArtSmart Roundtable topic "Hidden Gems" gave me a good excuse to cover some lesser-known Northern California museums, so here are 6 of my favorite museums in Northern California.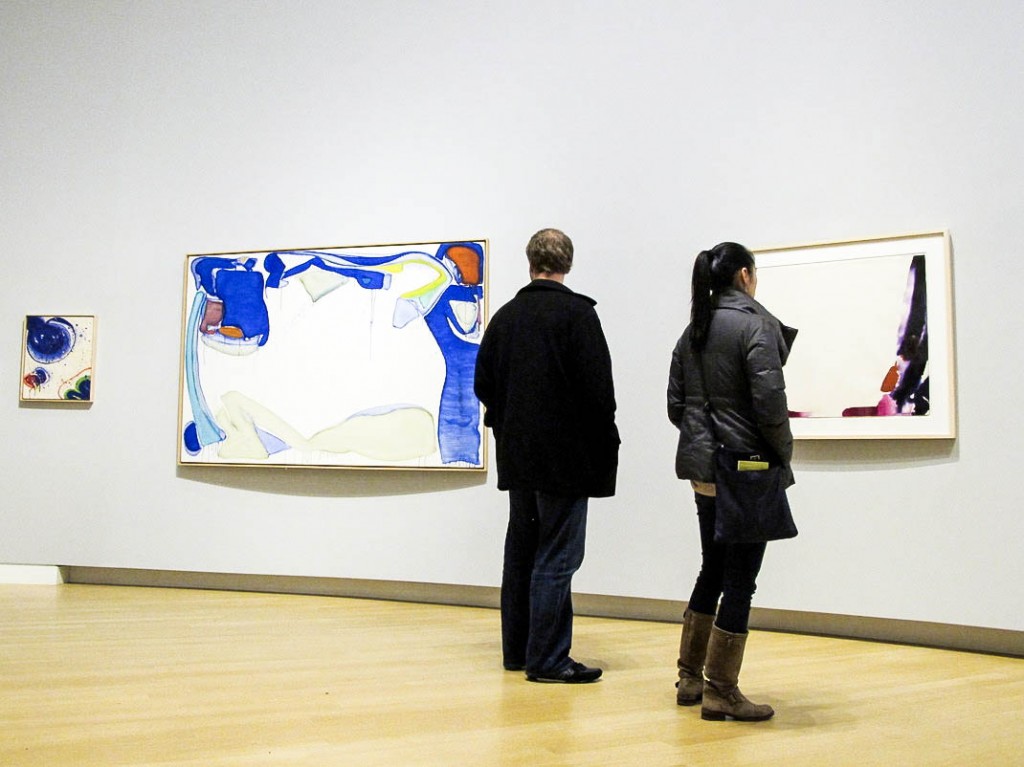 The Crocker Art Museum is my favorite local museum for two reasons. One is the variety of its exhibitions; recent exhibitions included contemporary American art, origami and Japanese photography. The second is its architecture. The museum is housed in two adjoined buildings–the historic Crocker mansion, and a light-filled contemporary building.
The museum has a small collection of African and Asian art as well as many significant works by California artists, such as the California Impressionists and American painter Wayne Thiebaud. My family especially appreciates the variety of family-friendly events held here throughout the year, meant to foster a love of art in children and encourage a local community of art lovers.
The Crocker Art Museum is located in downtown Sacramento at 216 O Street. Open Tuesday-Sunday 10:00-5:00 and open late on Thursdays, until 9:00. More information about the Crocker Art Museum can be found here.
I love trains and have enjoyed taking my kids to this museum of railroad history. The reason for its location in the state historic park of Old Sacramento is that this very place was once the western terminus of the transcontinental railroad.
Inside are historic train cars and locomotives that you can tour–original restored train cars for dining, sleeping, delivering mail, dating back to 1862. There is also information on the history of the railroad in California, including its role in the Gold Rush and the contribution of Chinese workers in building the train lines.
The museum is located in Old Sacramento at 125 I Street. Open daily 10:00-5:00.
One of my favorite things to do in San Francisco is visit its museums, and this is one of the city's finest. It's not as well-known as the SFMOMA, de Young, or California Academy of Sciences, but the Legion of Honor is, in my opinion, the city's most beautiful museum. The neoclassical architecture is grand, with a large courtyard entrance. Its location in Lincoln Park, on the headlands overlooking the Golden Gate Bridge, certainly adds to its impact.
The museum houses important European works, especially 18th and 19th century French painting and many Impressionist paintings, as well as European sculpture, ancient art, and an expansive collection of photography.
The Legion of Honor is located at 100 34th Avenue, San Francisco. Open Tuesday-Sunday 9:30-5:15.
The Monterey Bay area is John Steinbeck country. Monterey's Cannery Row was the inspiration for one of his most famous books, but nearby Salinas, his birthplace, is the home of a museum dedicated to the life and work of Steinbeck. Through artifacts, movies, and photographs, the museum brings aspects of his works to life and shows how his writings were inspired. For instance, the museum includes Rocinante, the real camper from the book Travels with Charley.
The museum is located at 1 South Main Street, Salinas. Open daily 10:00-5:00.
5) di Rosa Winery, Napa Valley
Di Rosa is a collection of approximately 2000 works collected by Rene and Veronica di Rosa. Their vision is to create "a place that provokes the artistic spirit and imagination of our time." The art is displayed outside on 200 acres and inside the Gatehouse Gallery. While drop-in admission to the Gatehouse Gallery is possible with a suggested donation of $5, viewing the rest of the art requires a guided tour.
The di Rosa collection is located in Napa Valley at 5200 Carneros Highway, Napa. Open Wednesday-Sunday 10:00-4:00; tours cost $12-15 and reservations are recommended. More about art in Napa Valley here.
6) Columbia State Historic Park, Columbia
This state historic park is an outdoor museum of historic architecture in California Gold Rush country. This tiny town in the foothills of the Sierra Nevada mountains allows visitors to step back in time to the 1850s when Columbia was at the center of the Gold Rush. All the architectural details make Columbia one of my favorite spots for learning more about California history. More about visiting Columbia here.
And a look ahead…
In 2016, a new museum in Northern California is set to open, one which I am very excited about. The Jan Shrem and Maria Manetti Shrem Museum of Art will be dedicated to art education for the students of the University of California, Davis, and the community. From what I've seen, the architecture is expected to be unusual and striking, with a "grand canopy" that will allow for outdoor art that can be visited 24 hours a day.
This museum began with a $2 million gift from Margrit Mondavi of the Mondavi wine family and then a naming gift of $10 million from Jan Shrem and his wife, Maria Manetti Shrem. Jan Shrem is the owner of Clos Pegase winery in Napa Valley; in fact, the winery's public art collection is another stop for any art lover. A video about the upcoming museum is here.
For more hidden gems in the art/travel world, check out the other ArtSmart bloggers' posts:
Discovering Contemporary Art in Roswell, New Mexico from No Onions Extra Pickles
The Imperial Treasury of Vienna from Daydream Tourist
The Life of St Nicholas in Stained Glass at The Cluny, Paris from Wanderfull Traveler
A Hidden Treasure of Tolerance in Amsterdam's Red Light District: Our Lord in The Attic from Art Weekenders
And for more about lesser-known places in California, see the other posts in my Secret California series.