This part of Northern California is a great place to be when I can't get out and explore farther away. Lodi wine country is one of those local places that I've loved getting to know–I feel like it's my own little slice of California wine country, one that even local people still don't know enough about.
Fortunately for me, the rural wine region of Lodi, just 40 minutes south of my home, is constantly evolving, and I've been enjoying watching it happen. There's so much going on here for people who like wine, want to learn about wine, or maybe don't care about wine but want to enjoy the sophisticated yet down-to-earth atmosphere of this thriving agricultural region.
If you're in Northern California and want to visit Lodi, or even if you've been before but want to return, here are my reasons for loving Lodi wine country right now:
1) European varieties are serious business here
Lodi's Mediterranean climate of sunny days and cool nights means that a huge variety of grapes can grow well here, and most Lodi winemakers use that variety to create wines that people may not expect from Zinfandel country.
Tempranillo
This Spanish varietal thrives in Lodi, and several wineries are producing Tempranillos worth knowing.
McCay Cellars 2012 Tempranillo: this was my favorite Tempranillo: savory flavors with plum and strawberry and a distinct nose of spice, red fruits, and eucalyptus
Other Tempranillos worth noting are the m2 2012, Harney Lane 2010 (recent winner of best in class at the CA State Fair), Bokisch 2012 (pioneers in Spanish varietals in California), and Riaza Wines' Clement Hills 2012–this winery specializes in Spanish varietals, and I find their wines to be pleasant and easy drinking.
Spain, Portugal, or Germany?
Lodi wines go way, way beyond the Zinfandel that the region is so famous for. Several wineries have been getting special notice lately for their other European varietals. Here are a few favorites I've tried over the past year, and I look forward to seeing what these wineries have in store for us in 2015:
Bokisch Vineyards: This winery keeps producing award-winning wines from Spanish varietals. The Garnacha, Tempranillo, and Albariño were recently awarded medals at the San Francisco Chronicle Wine Competition.
McCay Cellars: I loved all their wines last year and am looking forward to tasting what winemaker Mike McCay gives us with the new Viognier, Cinsaut, and Grenache.
Borra Vineyards: This winery and its offshoot, Markus Wine Co., have been making news around Lodi for the innovative white wines made from German varietals (read all about that on Luxe Beat Mag).
Fields Family Wines: This winery is best known for its highly-regarded Old Vine Zinfandels, but I'm also excited about the Il Ladro–a Tuscan-inspired blend, and Vin du Sol–a blend of Syrah, Mourvedre, Carignan, and Granache.
2) California's Vineyard of the Year
The small Bechthold Vineyard was named the 2014 California Vineyard of the Year (by the California State Fair, where a panel of wine professionals do wine judging every year). I was fortunate to have the opportunity to try four wines from this special vineyard, and I enjoyed learning about this interesting slice of local history.
Just 25 acres of Cinsault grapes are organically grown and dry farmed in this vineyard in Lodi, planted in 1886. It's the oldest continually-farmed vineyard in Lodi! But, because this variety of grape was not in high demand, for most of the vineyard's life, the grapes were sold for almost nothing as a grape to be added to blends. Recently, however, the innovative and evolving winemakers in Lodi realized the worth of this vineyard and started making 100% Cinsault.
Cinsault is a French varietal that I knew nothing about, but I learned that a Cinsault is usually a delicate, feminine, light-bodied red with perfumy aromatics and flavors of strawberry, rhubarb, and spice. These wines were so interesting and delicious that I felt like I'd discovered a treasure. The Onesta 2011 Cinsault, Michael David 2013 Ancient Vine Cinsault, and Estate Crush 2012 Cinsault were all different but each elegant and smooth with flavors of strawberry.
But would you believe that the winemaker of the year makes wine from this vineyard of the year?! It seems like a combination too good to be true! Tegan Passalacqua of Napa Valley's Turley Wine Cellars was just named California winemaker of the year (along with his colleague, Morgan Twain Peterson of Bedrock Wine Co.)–read about it here. Turley's 2012 Cinsault was delicate and smooth yet perfumed–and a total bargain at only $18!
3) Barbera
Barbera is one of my favorite types of wines, and it seems that its popularity in California is growing. Though I'm sure there are many good ones here that I haven't tried yet, Lodi has two that you should try: Old Farm Vineyards 2012 Barbera and Borra Vineyards 2012 Old Vine Barbera.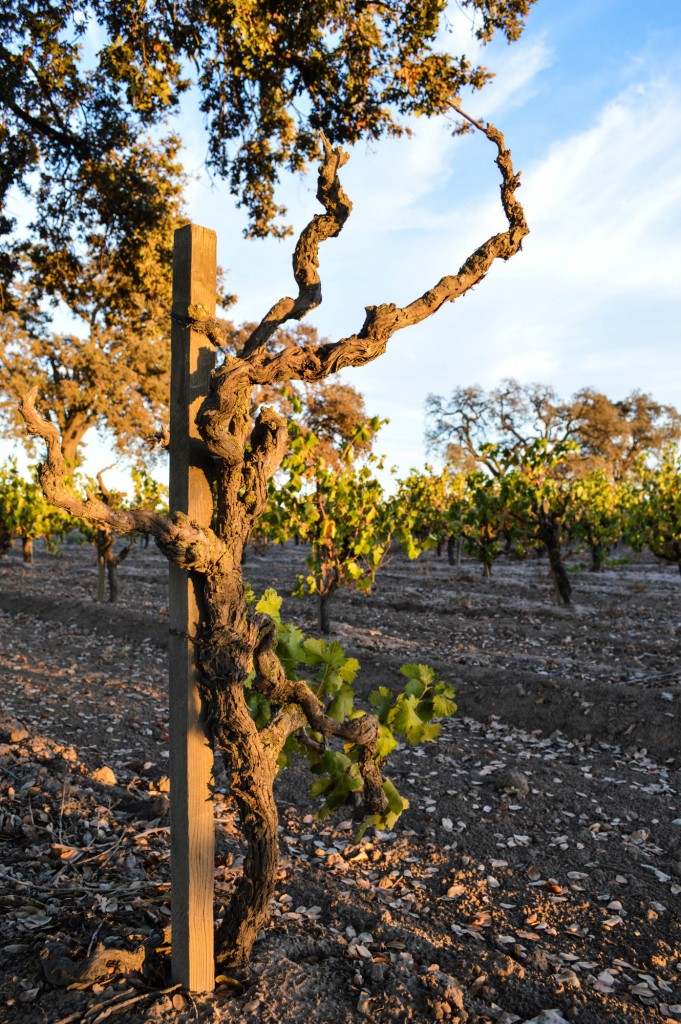 So, how can you get to know Lodi wine country?
Anytime: Visit for a day! Stop at the Lodi Visitors Center as you enter town and let them know what you're particularly interested in. They'll give you a map and help you decide where to go. Most wineries charge just $5 for a tasting, and don't forget Lodi's downtown, with welcoming tasting rooms, restaurants, and even a cheese shop.
Lodi's wine festivals: Wine & Chocolate Weekend in February, Zinfest in May, and Sip & Savor in September.
What local discoveries have you made near your home?