(Update: Here's a new list of good quality, affordable red wines and a bit about why Fetzer is one of my favorite value wines.) How many times have I stood in front of the wine selection at my local grocery store debating what to get? It's a silly dilemma but one I deal with pretty often because I love wine but hate spending money on a bottle that I end up not liking. Fortunately, my local supermarket, Nugget Markets, makes it easier–it has a big and ever-changing wine selection, a "wine guy" who can guide me, helpful labels that show which wines have won medals or received high scores, and occasional wine tastings.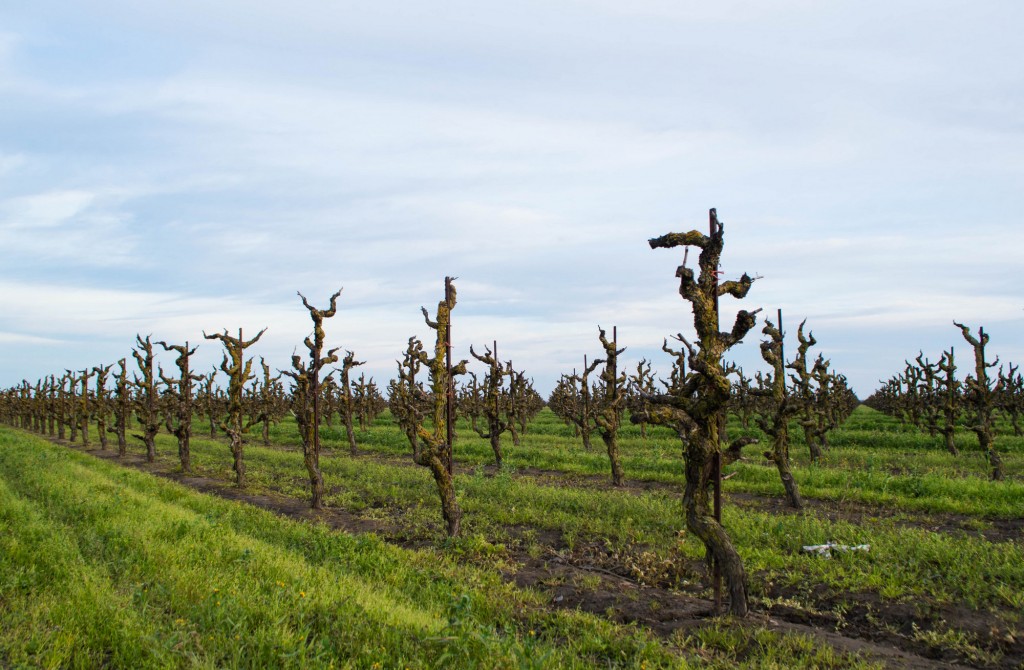 Several people have asked me lately for wine recommendations and were happy to hear that I rarely spend more than $15-20 on a bottle of wine. If you're starting out with reds, you may want to try the many good value wines from Italy, Spain, and Argentina. This list of best red wines under $20 is all California (except one) for now partly because California wines tend to be expensive, so recommendations for less expensive ones are helpful, and because I'm most familiar with California wines. Here are some of my favorite red wines under $20, but I'm hoping you'll share your recommendations in a comment below. 🙂
Dry Creek 2013 Heritage Vines Zinfandel
This Sonoma County Zinfandel comes from one of the area's leading wineries for value. It has classic Zinfandel characteristics:  fruity, earthy, and spicy all at the same time. It's well balanced and smooth and a great value at about $18. This wine also won Double Gold at the 2015 San Francisco Chronicle Wine Competition, meaning that every judge awarded it a gold medal. Available in select stores and through the winery.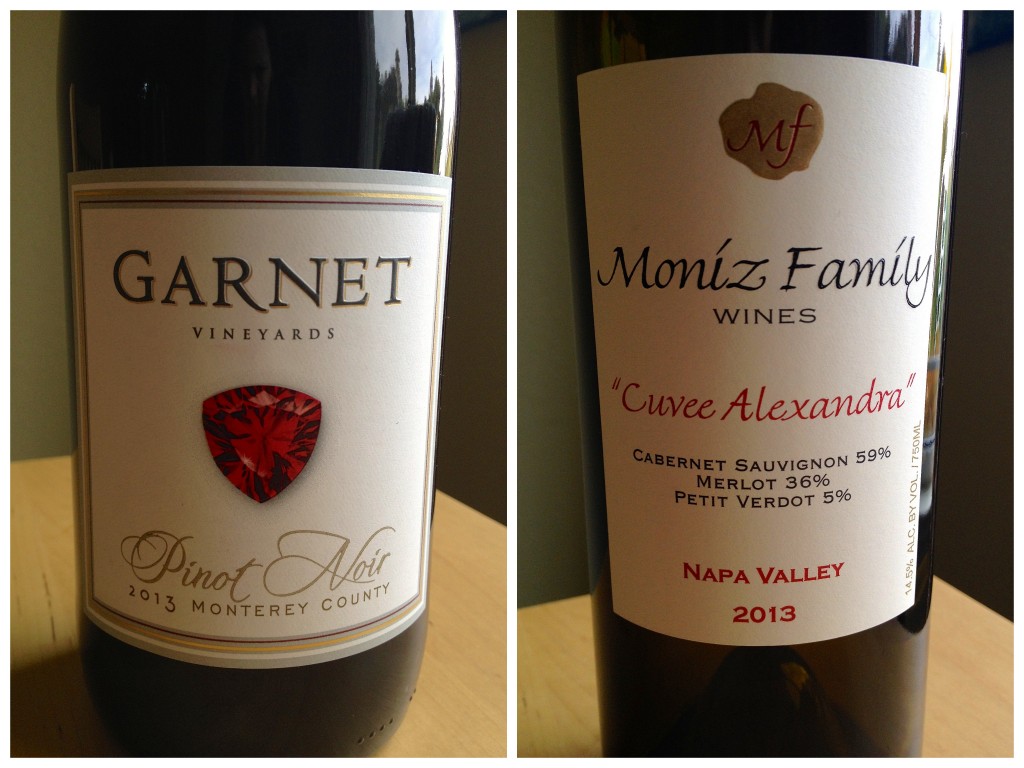 Garnet Vineyards 2013 Monterey County Point Noir
I love Pinot Noir, but it is hard to find a good Pinot for under $20. Thanks to the detailed recommendations of the wine guy at my local Nugget Market, I bought this one and found a reasonably priced Pinot Noir that actually tastes like a Pinot. It's medium-bodied with juicy fruit flavors, a balanced wine that is easy to drink on its own but can pair with food as well.
Moniz Family Wines 2013 Cuvee Alexandra
This red blend of fruit from Napa Valley caught my attention because it won the best in class (Bordeaux blends up to $19.99) at the San Francisco Chronicle Wine Competition. This well balanced, full bodied wine is bright yet rich with notes of cherry, dark berries, and oak and smooth tannins.
Boeger 2012 Barbera
This wine flew off the shelves of Trader Joe's this spring and recently won gold at the San Francisco Chronicle Wine Competition. When people think of California Barbera, Boeger Winery often comes to mind. It's a local favorite from the nearby gold country area of Placerville. Barbera grows well at slightly higher elevations, and the Sierra Nevada foothills produce perhaps the best Barbera grapes in California. If you like medium-bodied reds with deep fruit flavors, this might be for you.
Bogle Vineyards Essential Red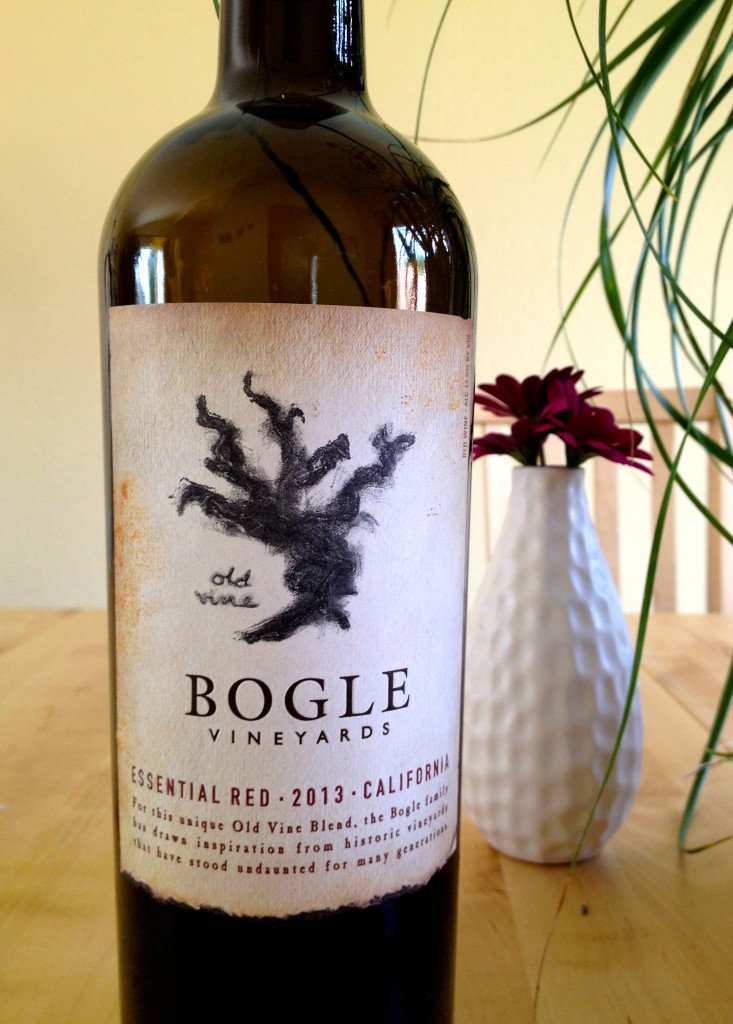 This is an easy everyday wine. A blend of old vine Zinfandel, Petite Sirah, Cabernet Sauvignon, and Syrah, the wine has a nice mouth feel, without being too heavy or too light, and is fruit forward without being sweet. Flavors of blueberry and ripe boysenberry dominate. About $10, widely available. (Bogle Vineyards is about 10 miles from my house, so we go there once in a while for summer music nights or an easy tasting. Their wines are widely available and are generally a good value.)
St. Amant 2012 Mohr Fry Ranch Zinfandel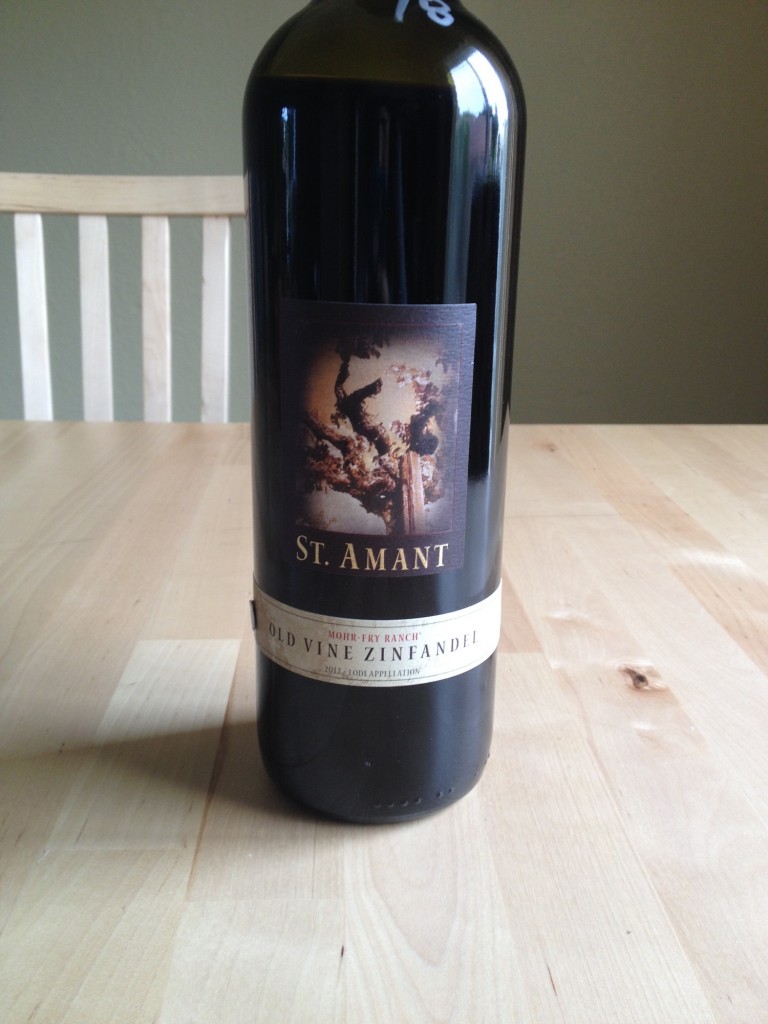 Another local favorite of mine is St. Amant wines from nearby Lodi. Their wines are a great price point–you can pay about $16 for a well-made boutique wine from old vineyards. Their old vine Zinfandel even scored an incredible 100 points from a sommelier in a blind tasting! It is complex and interesting yet totally smooth, with beautiful aromatics and flavors of deep fruit with chocolate, reflecting the old vines of this certified organic vineyard. A beautiful wine, available at Nugget Markets and through the winery.
Fog Head 2012 Merlot
I enjoy a good California Merlot, and this one caught my eye because it won the best of class medal at the San Francisco Chronicle Wine Competition in 2014. It's a smooth, well-balanced Merlot with notes of cherry and boysenberry, an all-around easy drinking red, especially for less than $10!
Marietta Cellars Old Vine Red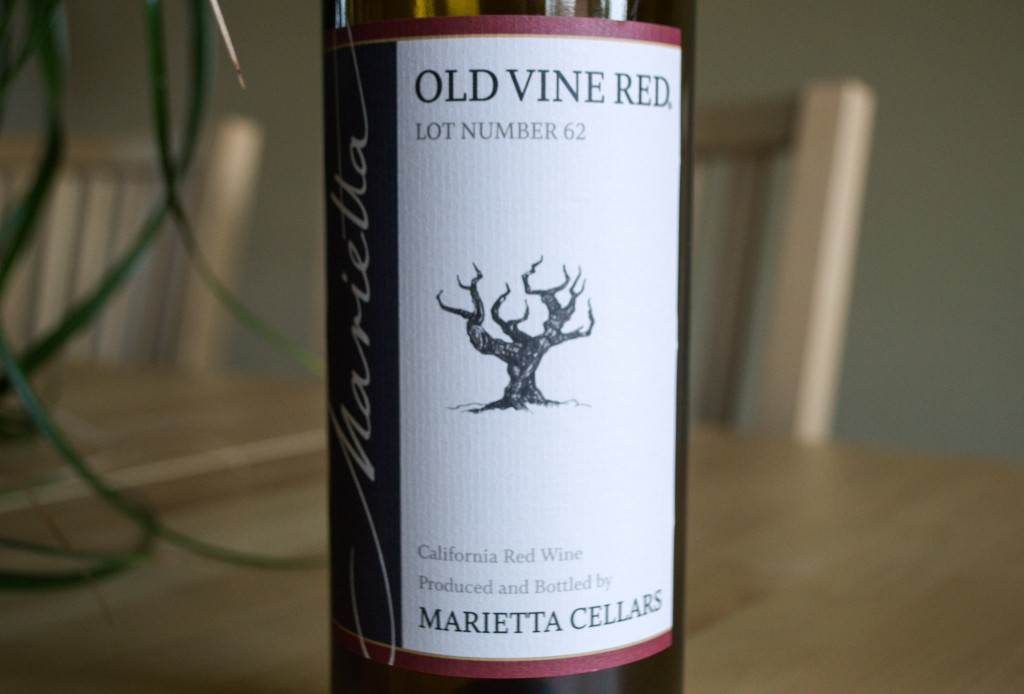 A blend of mostly Zinfandel, Carignane, and Petite Sirah, this California version of the European"table red" is made from grapes grown in Sonoma and Mendocino Counties in Northern California. This wine has received some good reviews; one reviewer called it "one of the finest value-priced wines" in the U.S. It runs about $13, a good value for a wine that can be drunk alone but is complex enough to stand up to food. From Marietta Cellars.
Fantini Farnese 2013 Montepulciano D'Abruzzo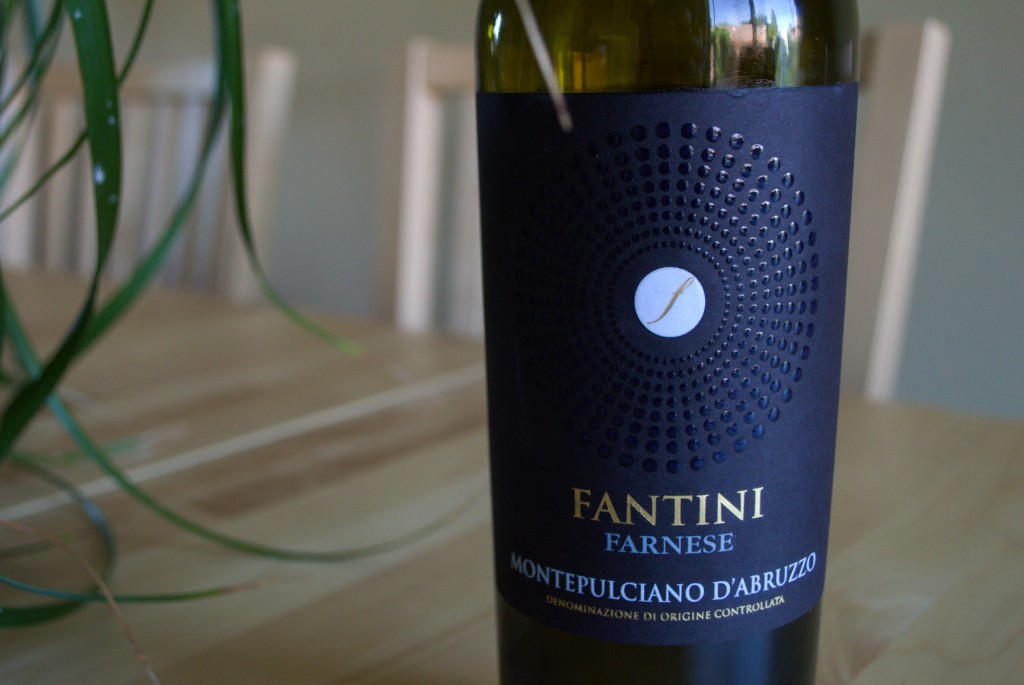 I really enjoy good Italian wines but don't always know what to buy. Fortunately, this value red (about $10) didn't disappoint. It was straight-forward, a nice mix of fruit and a bit of earth, to be enjoyed on its own or with a simple dinner (for me, that means pizza or pasta with a salad). Another nice point is the alcohol at 12.5% is lower than most California reds.
Matchbook 2011 Dunnigan Hills Tempranillo
This Matchbook Tempranillo blend (77% Tempranillo, 10% Petit Verdot, 9% Graciano, 2% Cabernet Sauvignon, 2% Merlot) from the agricultural area between Sacramento and Napa Valley was a silver medal winner at the San Francisco International Wine Competition. It's an intense wine that can be enjoyed with food or by itself if you like deep red wines. Full-bodied with notes of cherry, blackberry, leather, and spice. About $13.
Turley Cinsault
This wine is hard to get a hold of, but I'd be remiss if I didn't mention it because it's a unique wine and an excellent value at just $17. Turley Wine Cellars is well known for its Zinfandels and Petite Sirahs (in fact, its winemaker, Tegan Passalacqua, was recently named "California winemaker of the year"). This wine's Cinsault grapes come from the small yet acclaimed, historic, organically-farmed Bechthold vineyard in Lodi. Cinsault is a grape you may not be familiar with, but it makes a light- to medium-bodied red wine, perfumed with lovely flavors of strawberry and even rhubarb. Limited distribution and for sale at Turley's Paso Robles tasting room. (Learn more here.)
And more to try: Castle Rock Pinot Noir, Ravenswood Lodi Zinfandel, Beringer Founder's Estate Cabernet Sauvignon, Michael David Winery 7 Deadly Zins, Robert Mondavi Pinot Noir (possibly under $20 if on sale), and Frescobaldi Castiglioni Chianti.
What are your favorite red wines under $20? Do share!
P.S. Want to know more about wine? This wine guide is a great resource.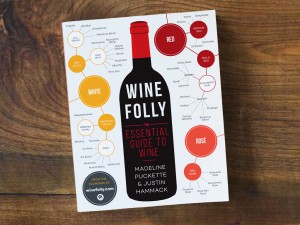 And more about wine in California:
A Sommelier's Wine Tasting Tips
5 Affordable Red Wines from California
And check out the Wine & Food category for much more