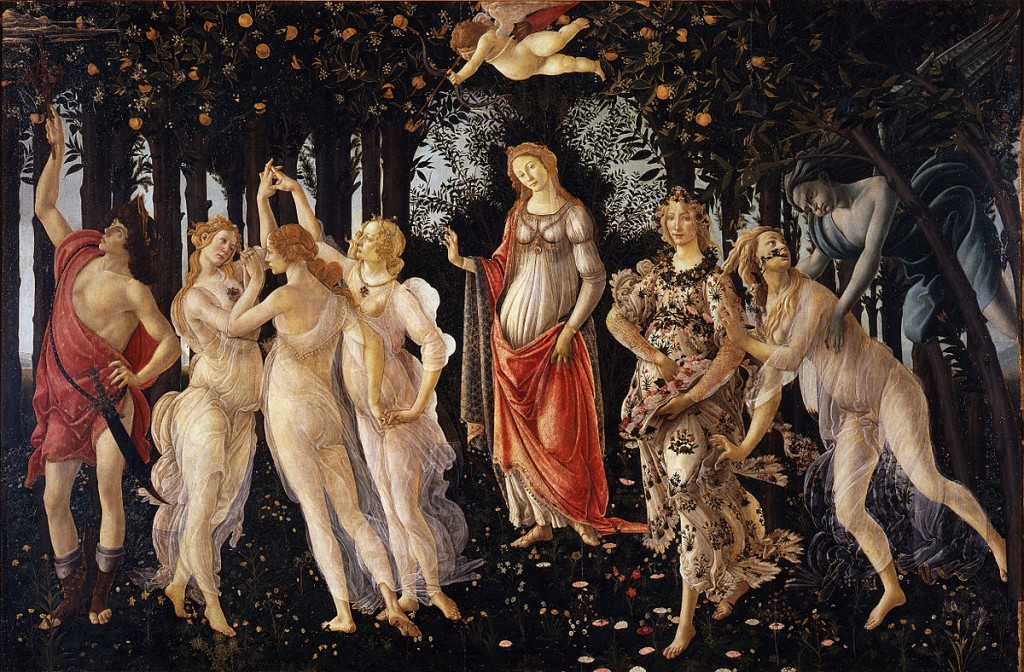 If you've been to Florence, you've likely seen this painting, and if not, then perhaps you will someday, for it's one of the best known images of the Italian Renaissance and one of the most iconic art works in Florence. In fact, the Visit Florence website lists Primavera as the first "must see" in the Uffizi Galleries. Apparently this young guy thought it was important enough for an Instagram selfie.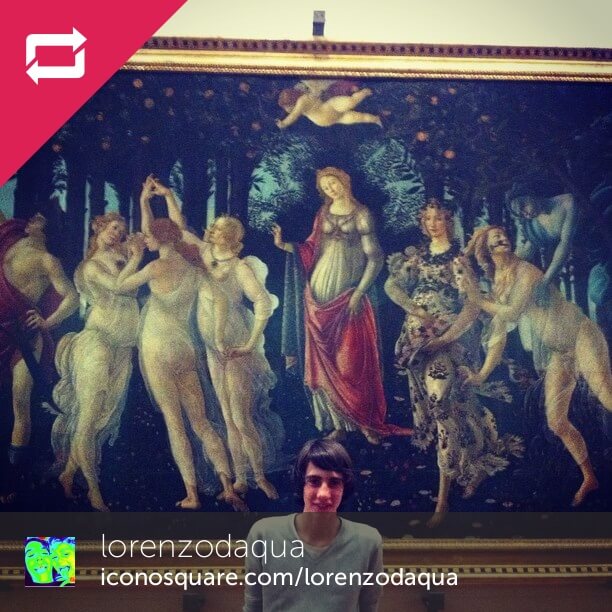 Let me tell you a bit about this work, and then, perhaps what is more important, the "so what?".
Sandro Botticelli was a painter of the Italian Renaissance. He lived and worked in Florence in the second half of the 15th century, active just before the High Renaissance masters Leonardo da Vinci and Michelangelo reached their peaks.
Botticelli was trained by Fra Filippo Lippi, one of the greatest painters of 15th century Florence, and much of the delicate detail found in Botticelli's work seems to come from Lippi's influence. Note the almost transparent folds and bouncy curls, for example, in Lippi's work below. They look (almost) like they could have been painted by Botticelli (though the faces are definitely different, not Botticelli!).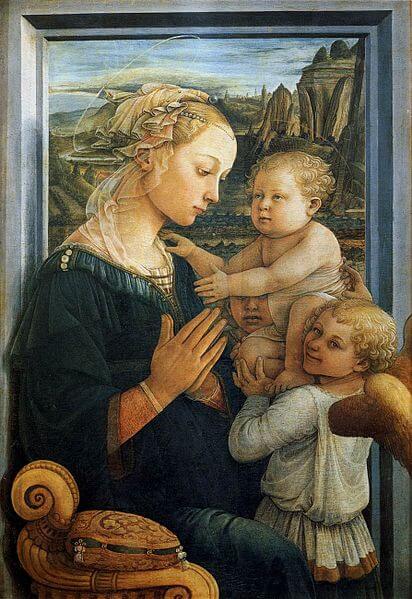 .
While Botticelli's paintings Primavera and The Birth of Venus are two of the most famous–and popular–images from the Renaissance, Botticelli's work has been criticized by some for being cold, flat, and unreal, far from the ideal of humanism that was so central to the Renaissance.
Besides the fame of those two most famous paintings, what may make Botticelli's work stand out for the average viewer are its themes and his relationship to the Medici family. After early works on familiar Christian religious themes, Botticelli produced several paintings of mythological scenes (hello, pagans!) before a complete reversal to strongly religious themes in the last part of his life.
But let's get back to Primavera. There is still not complete agreement about the details of the scene…I'll use a combination of information from Frederick Hartt's The History of Italian Renaissance Art and the Google Art Project here.
Clearly, this is a mythological scene with Venus at the center. On the right, we see Zephyr, the wind god, coming out of the trees to chase a nymph, Chloris. She's shown with flowers growing out of her mouth as she turns into the goddess Flora, depicted just next to her. Venus stands under Cupid, who is blindfolded, and the three Graces and Mercury fill the other side of the painting.
Mercury holds the symbol for doctors in his raised hand; this is to represent the Medici family since "Medici" means doctors.
And by the way, the painting is huge. It's 6'8″ by 10'4″.
In contrast to the Renaissance focus on humanism and showing figures in a space that the viewer can relate to, this scene seems to take place in a garden in some kind of la-la land. The figures step daintily on the grass, almost floating, as though they are weightless. It's a poetic scene, one that transcends reality.
Now for the "So what?" As a viewer, seeing art is so much more interesting when you ask yourself this question. It begs you to look at what makes a work special, why we should see it in the first place, and why it's still relevant for us today.
Primavera was painted around 1482 and commissioned by Lorenzo di Pierfrancesco de' Medici, cousin of Florence's Medici ruler of that time, Lorenzo de' Medici. It was displayed in his private home–this is important to note because up until this time, art was generally commissioned for churches, not private residences. This was art for art's sake. This could not have happened before this time, but thanks to the Medici and their patronage of artists, Botticelli was able to make a painting that was purely for viewing pleasure.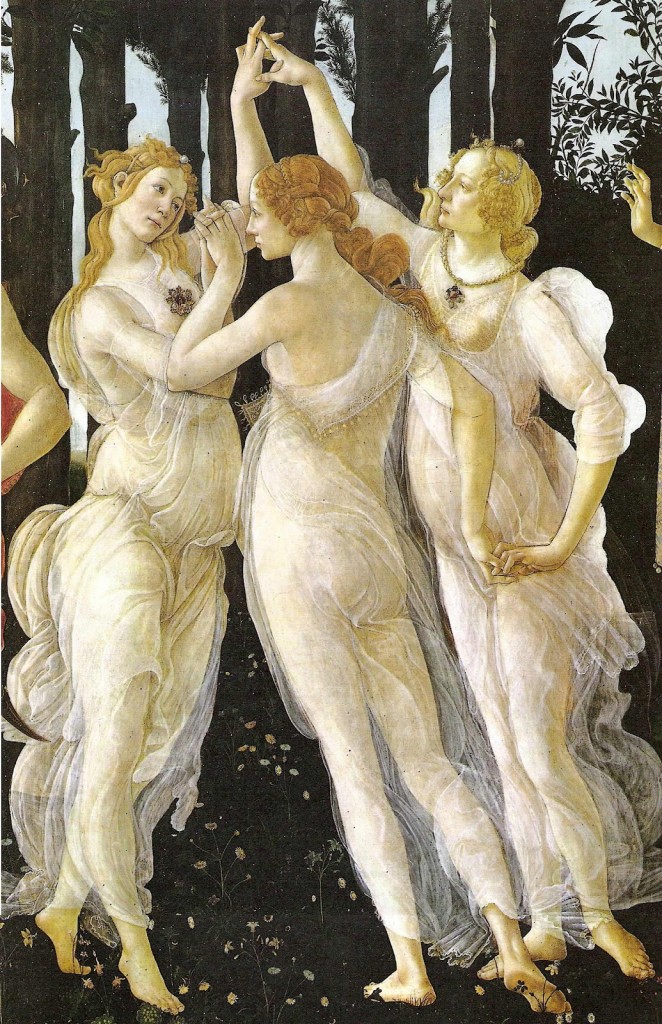 Compare Botticelli's Primavera to most of the others in this room and adjacent rooms in the Uffizi, and you'll see lots of Madonnas and similar religious scenes or perhaps portraits of important and powerful people. Botticelli's wonderful depictions of non-religious scenes helped open minds to what art could be and thereby paved the way for later work that expanded on this vision…think of Michelangelo's Bacchus, for example.
The next time you're in a world-famous museum visiting that painting that's on everyone's must-see list, I hope you'll stop and ask yourself "And so what?" What is it that makes this painting stand out in comparison to the others of its time? How is it different from the art that came before it? How did it help lead the way for the art that followed?
More on art and life in Italy:
Tips to Understanding Renaissance Paintings
The Beginning of the Renaissance
What's It Really Like to Live in Florence?