My son is seven but often seems more like a teenager these days. Just a few days after returning from our Spring Break trip to Yosemite, something trigged a long complaint about our plans being all about me. "Remember, Mommy, how we had to go to San Francisco? And why?! All because of you." Which is odd because he loves San Francisco, but clearly by complaining about our travels that I always plan, he was trying to make the point that he should be in charge of family decisions. Then he added Yosemite, and, in disbelief, I said, "Really?" And he actually backtracked…"No, Mommy, no, no…Yosemite was pretty awesome."
Yeah, it was.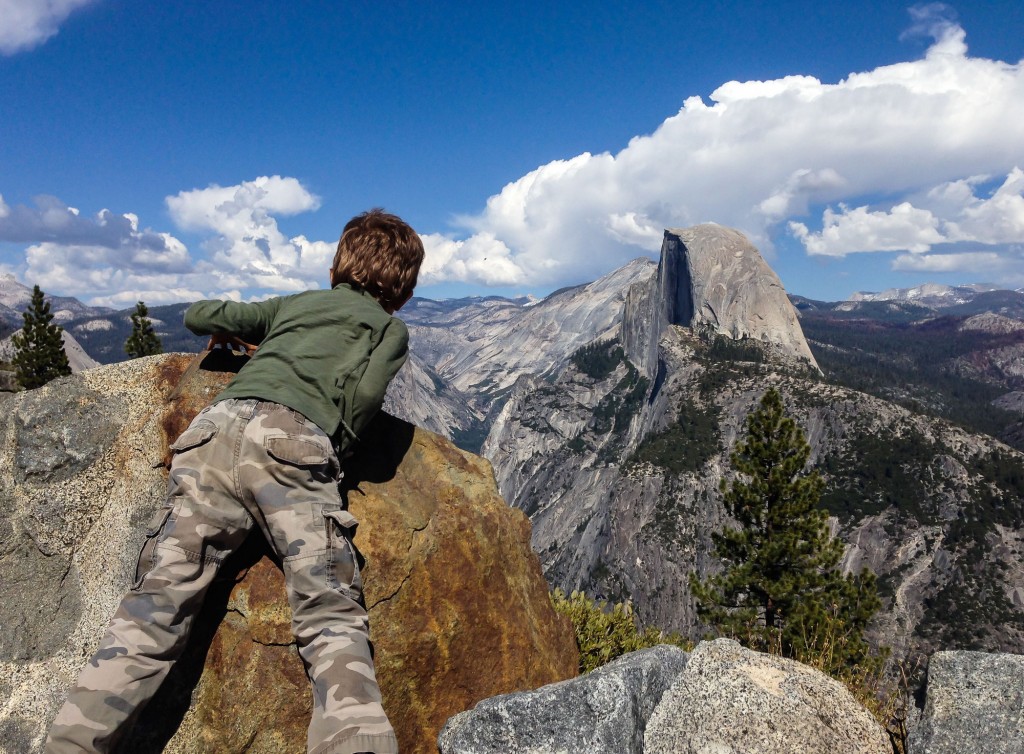 Yosemite National Park is one of Northern California's treasures, but despite living here since 2002, I've been there only once…and that was 11 years ago. Knowing that we wanted to visit in spring when the waterfalls are running, we decided on a 3-night stay there to ensure the 3.5-hour drive from home would be worth it.
In actuality, three nights gave us only two full days-the first day was spent driving and then relaxing at the hotel with a quick wilderness walk, and the last day was a bit of a waste due to morning crowds at Mariposa Grove (it's hard for us to get time off during the semester, so we ended up going over Spring Break, and boy, it was crowded!).
Here are some highlights from our time there. Coming soon: kid-friendly hikes in Yosemite and other lessons from our family trip (with two kids and two dogs!).
Where to stay? 
Accommodations in Yosemite are more complicated than I had realized–most places are very expensive or too far outside the park and camping usually requires reservations months in advance. We stayed at Tenaya Lodge, a beautiful family-friendly (and dog friendly!) property with all kinds of bonuses like family movie night, holiday-themed scavenger hunts (my son loved the Easter one!), pet sitting, and a luxurious spa with where guests can relax in the sauna and steam room and get a massage. The hotel is located just a few minutes from Yosemite's South Gate, which is very close to Mariposa Grove but about an hour from the park's other main attractions.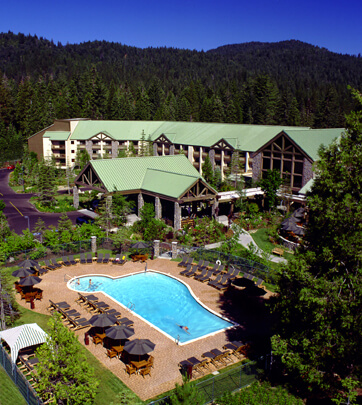 Glacier Point
Glacier Point Road is normally not open this early in the season–it closes every winter due to snow–but we happened to arrive the day after it had opened. This year's drought means there was no snow to keep cars away. How fortunate for us because this might have been the highlight of our stay. Some people claim the view from Glacier Point is the most spectacular view they've ever seen.
This day, though, was not without its problems, one of which was that I forgot my memory card in my computer. That meant that I had to borrow my husband's phone every time I wanted to take a picture, and having only an iPhone to photograph this place–what a shame!
But what started to spiral into a day of family spats and crankiness (coming from me) quickly turned into a memorable travel day. The expansive view that overwhelms at first and then keeps it coming with detail after detail was the center of that entire day. After a few hours there, we still were not ready to leave. We put the dogs in the car and set off for one last hike, and it was simply perfection.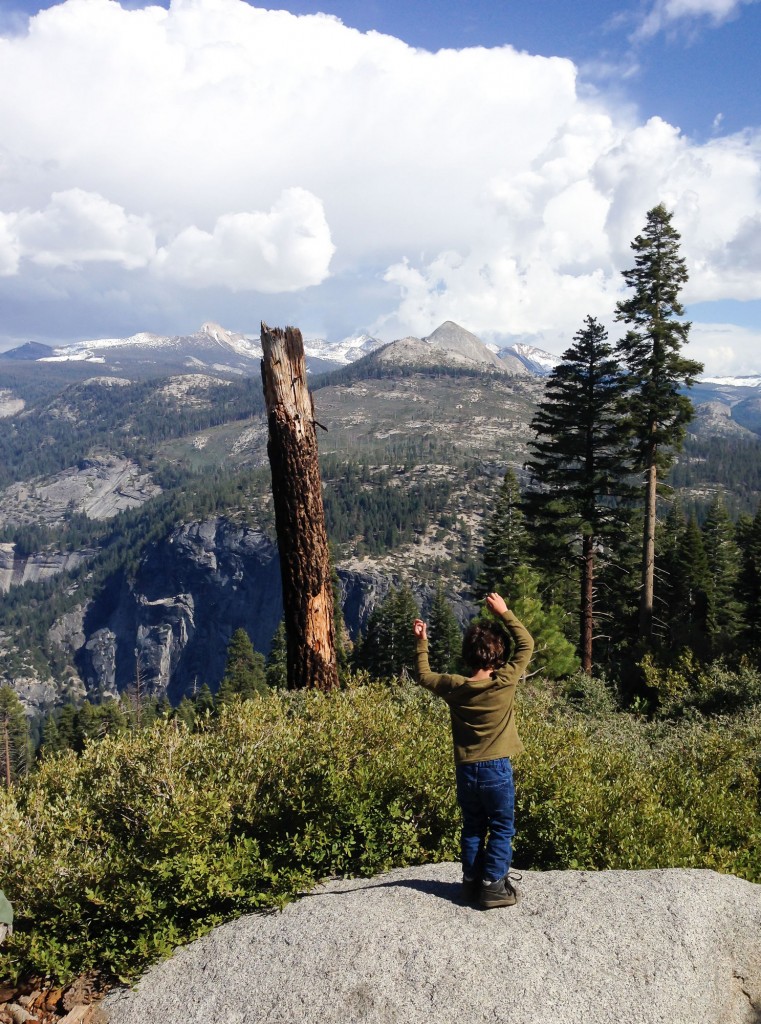 Glacier Point sits more than 3000 feet above the valley floor, providing expansive views of Half Dome, several waterfalls, Yosemite's high country, and Yosemite Valley below. We spent hours there, first eagerly taking in the view from a variety of angles, then walking to Glacier Point for the view down to the valley, walking the paved trails, and finally hiking the trail that goes in the opposite direction, away from Glacier Point. We were alone on that last trail, a welcome respite from the crowds that we'd encountered at every step, with afternoon clouds descending so that we felt like we were walking towards them.
Not a bad view from the hiking trail. Not bad at all.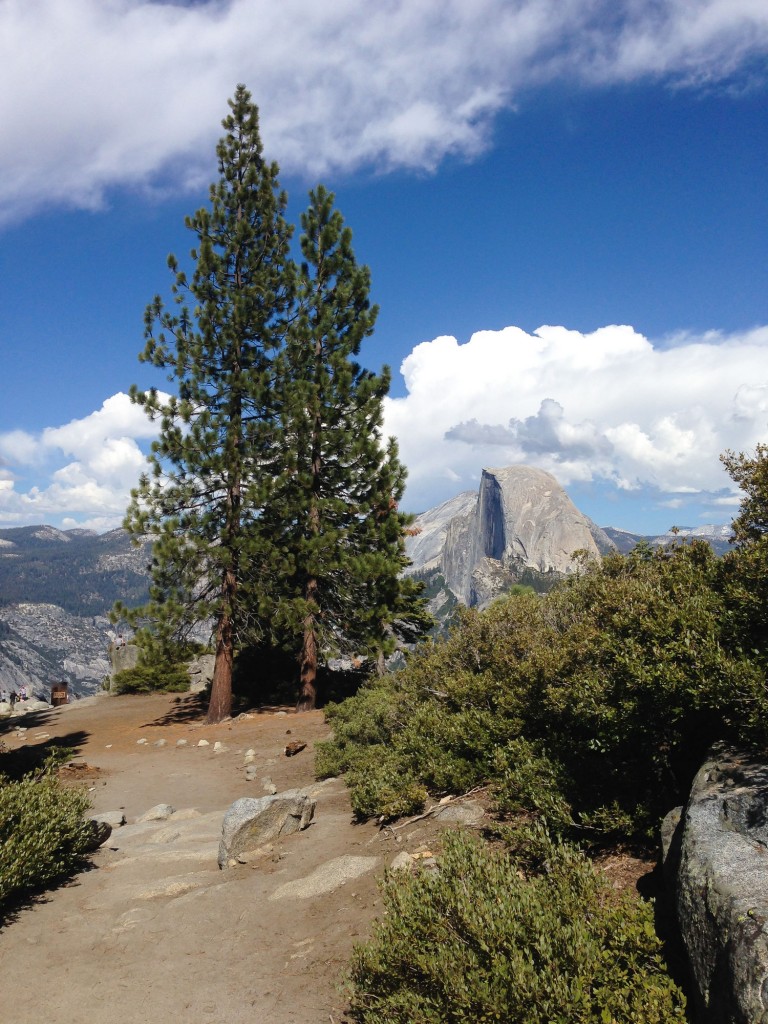 And while my kids don't talk about views or express their appreciation for what they see, their exhilaration was evidenced in their mood. Jumping from one rock to another, touching everything in sight, asking for their photo to be taken while perched on top of this rock and that rock–these are the things that happen when kids are in nature. Here they are playing among the remains of a dead tree with the distant rumbling of Nevada Fall below.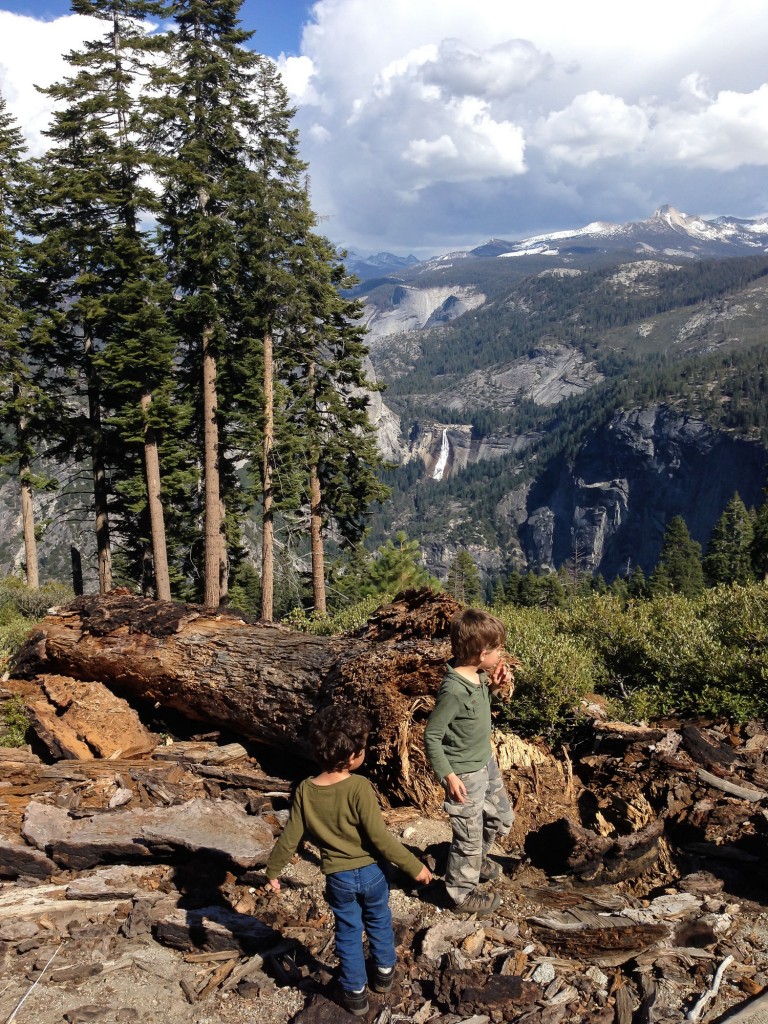 By late afternoon, the wind was picking up and we were cold, but we were the only ones on this trail. Turning back didn't seem like an option.
Yosemite Valley
Our day in Yosemite Valley began with the 25-mile drive of twists and turns from our hotel, just south of the park's South Gate. Our first stop was the Tunnel View. Just after driving through the Wawona Tunnel, Yosemite Valley suddenly comes into view. There's a parking lot, not exactly how one would like to experience nature, but steps away from the car is this: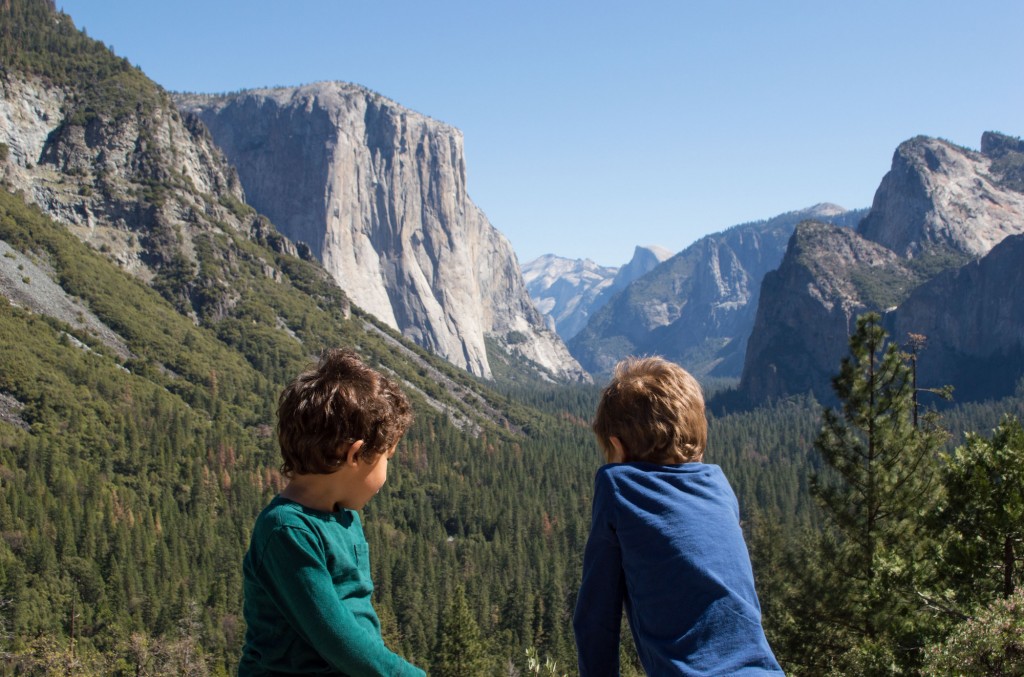 Being the planner (and foodie) that I am, I carefully researched the food options in Yosemite Valley and decided that lunch at the Ahwahnee Hotel was the best choice. Even if it would be overpriced and perhaps a bit slow for my sons' tastes, at least we'd enjoy a beautiful setting while indulging in a delicious meal that would sustain us for the rest of what I knew would be a long day. So we spent a good deal of time finding just the right parking spot where the dogs could stay in the car without sun, then spent far too long walking around Yosemite Village before hoofing it to the Ahwahnee to make our reservation time.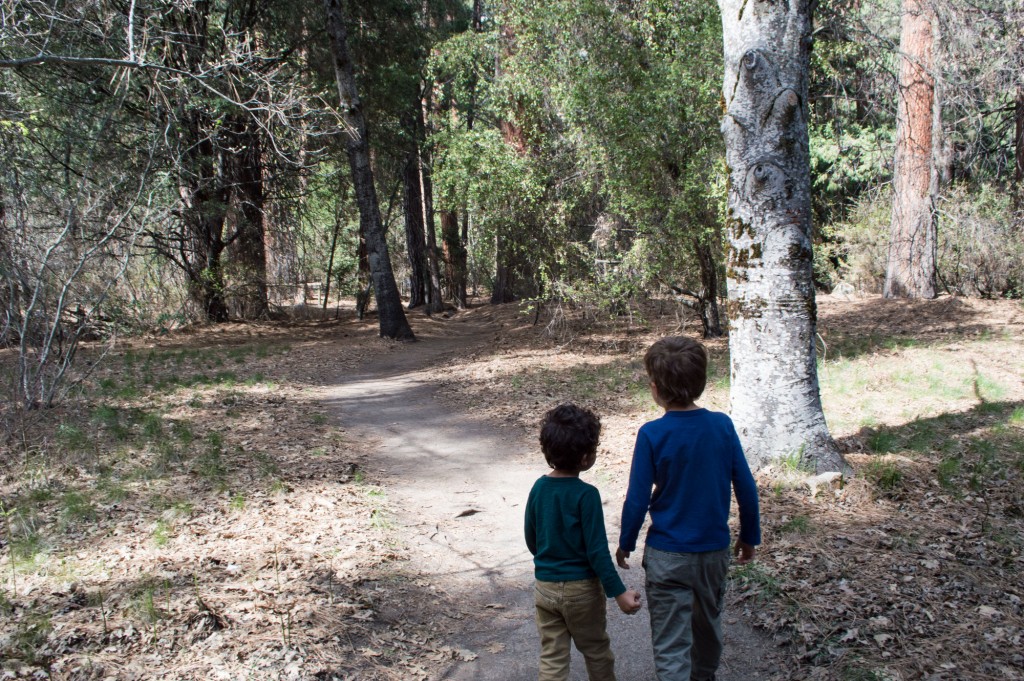 The Ahwahnee Hotel is a national historic landmark and luxurious hotel, but our experience at the Ahwahnee Dining Room was so bad that it was a bit surreal. I hope the restaurant was just having an off day, but the words that come to mind are slow, awkward, overpriced, and disorganized.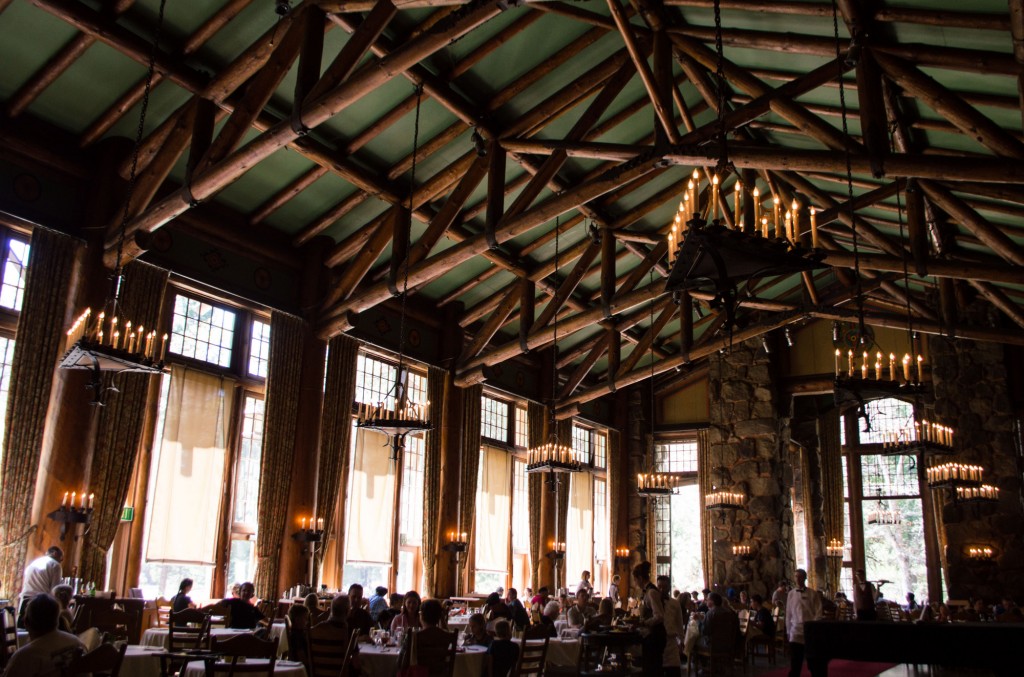 The 34-foot ceilings and windows that seem to frame the nature that surrounds the hotel do make for a special atmosphere, but…I couldn't wait to leave and found myself apologizing to my family members for making them suffer through such an awkward dining experience.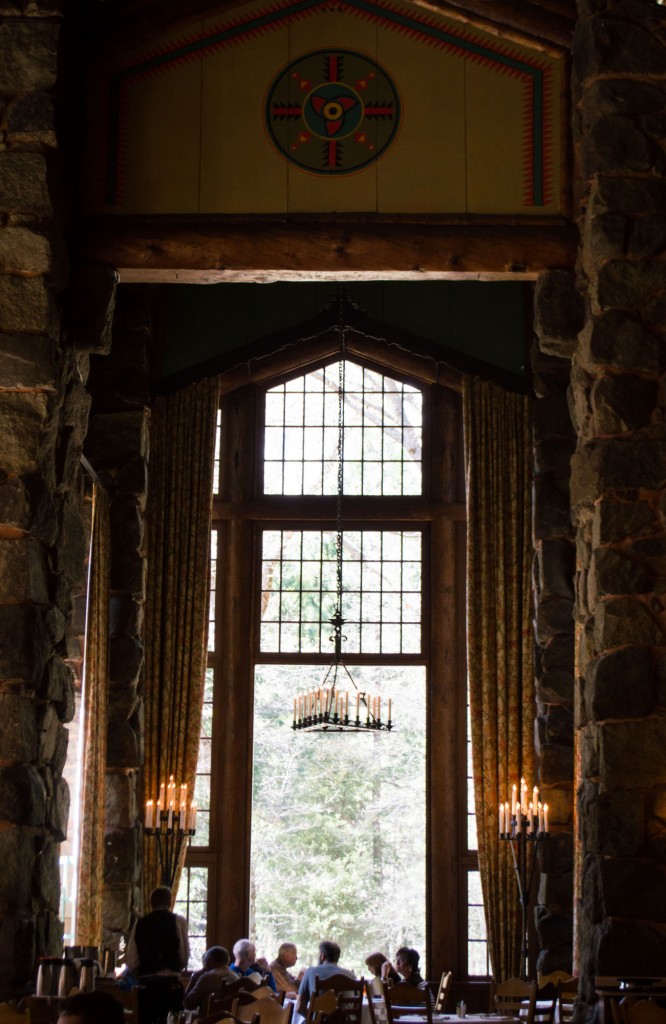 With a bulk of the day gone after a very long lunch, we opted for kid-friendly time on the boulders outside the Ahwahnee, the hike to Lower Yosemite Fall, and the walk to Bridalveil Fall.
The sun was beginning to descend behind the face of El Capitan as my sons seemed to get truly comfortable with the power of Yosemite's nature. There was no complaining, just a sense of exploration and curiosity about what would be around every turn.
Our last stop was the easy walk to the delicate, misty Bridalveil Fall.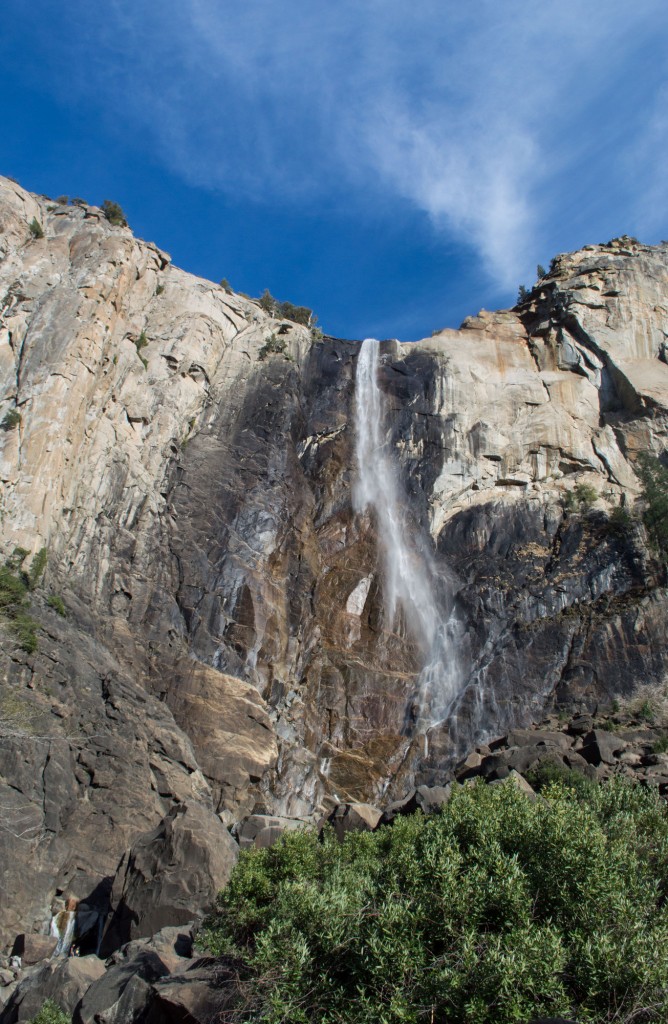 And as we drove out of the valley, we caught a few last views from the car, including El Capitan as we drove right by:
As we left, I felt frustrated by the downsides of those days–the expense, the wasted time, the hikes we wanted to take but couldn't–but so grateful for our family's experience in one of our nation's most special places. With my kids climbing rocks, spotting waterfalls, and generally slowing down to experience it all detail by detail, I'm assured that their love of nature will continue to grow, and perhaps a deep-seated respect of our beautiful planet will grow with it.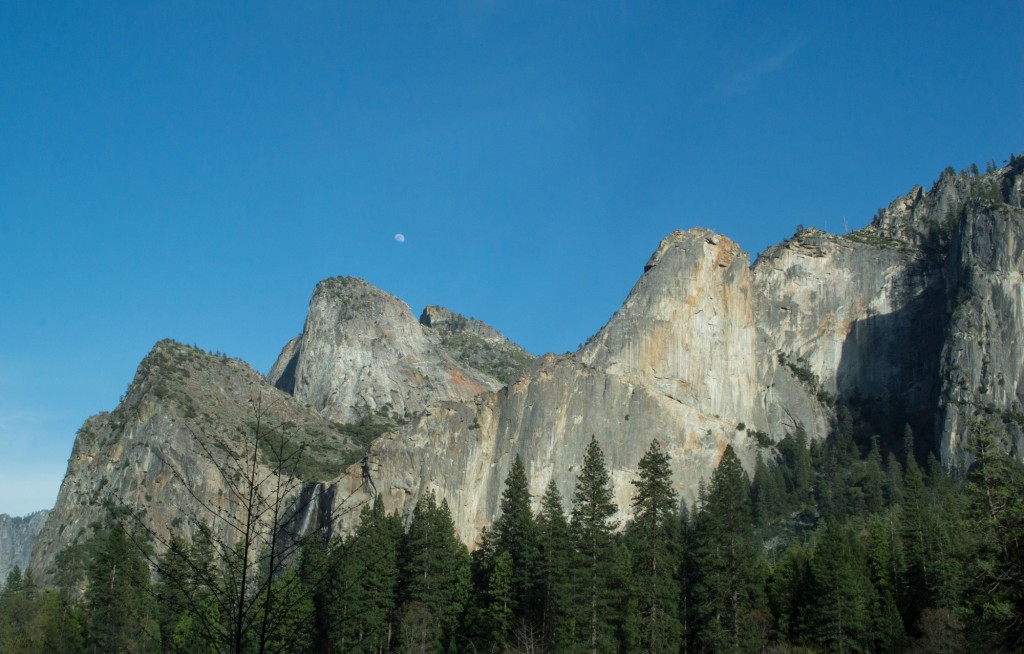 P.S. You can learn more about Yosemite here, here and here.
Disclosure: I received a discounted rate and complimentary massage at Tenaya Lodge. Image courtesy of Tenaya Lodge.