Wine tasting can be so intimidating. When preparing to taste wine with a room of (what may seem like) wine experts and maybe even the winemaker, questions may race through your mind. "Should I sip or spit?" "Should I swirl before sniffing?" And most perplexing, "What on earth should I say about the wine?"
Fortunately, there's no need to be intimidated. Most people who work in the wine industry are eager to share their knowledge and help people understand wine. This is always apparent in Lodi, California, where a group of boutique wineries are taking risks in winemaking and are happy to share their wines with the public.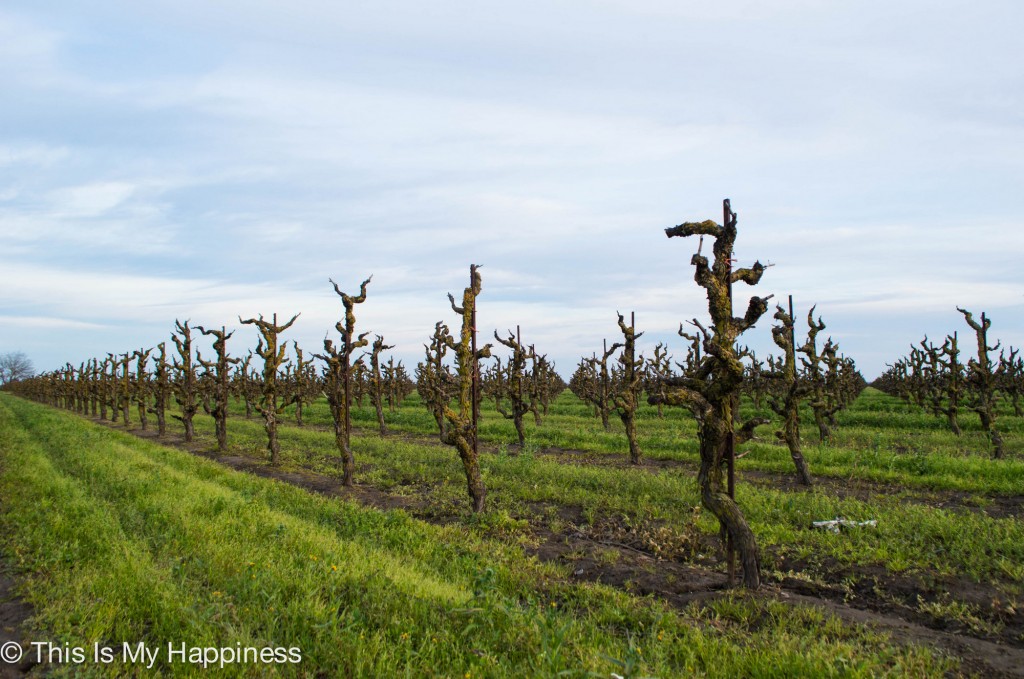 On my recent stop in Lodi for their annual Zinfest, a weekend-long celebration of Lodi wines that includes the Zinfest Wine Festival, I attended free Wine School seminars and picked up some very good wine tasting tips that I thought you'd enjoy, too.
Fred Swan, Certified Sommelier and instructor at San Francisco Wine School, presented the seminar "Everything you always wanted to know about wine tasting." I loved his low-key, friendly approach and complete lack of pretension as he presented wine tasting in an approachable way, with something for both novices and seasoned wine lovers.
According to Swan, the steps to tasting wine are as follows:
1) Look.
Look at the color of the wine. Think about the intensity of color. Wines get darker as they age in barrels and as they get older.
Is the wine clear or cloudy? A cloudy or dull looking wine may be in bad condition.
What about "legs" as so many of us learned to look for? Fred told us to forget about legs since they really tell us nothing of any importance.
To try this out, we looked at the Borra Vineyards Vermentino and noticed that the wine was pale, almost white in color. Comparing it to a Chardonnay a few minutes later, we could see how aging the Chardonnay in oak barrels resulted in a darker yellow while the Vermentino kept that light, almost translucent color due to being aged in stainless steel tanks instead of oak.
2) Sniff. Then swirl and sniff again.
Sniffing the wine before swirling it allows you to get a sense of the wine's aromas before they have been fully released. Swirling the wine around in the glass allows the aromas to be released, so you will probably find that the "nose," or how a wine smells, is different before and after swirling.
Of course, so much of what goes into the wine tasting experience is based on smell, and smelling the wine before tasting gives you a sense of the wine's aromatics. On this day, aromas ranged from citrus and perfume to florals and cherries. You can think of wine aromas as belonging to various categories:
fruits: red fruits like cherries and strawberries, citrus, tropical fruits, stone fruits like apricots and peaches
wood: oak, lead, charcoal, smoke
spices: baking spices, coffee, chocolate and vanilla
earthy aromas: soil, leather, tar, barnyard
green grass or vegetables
However, if you smell rotten eggs or vinegar, your wine is probably bad.
This blog post from Fred Swan's website, NorCalWine, describes various unusual wine aromas, like what it means when your wine smells a bit like a barnyard.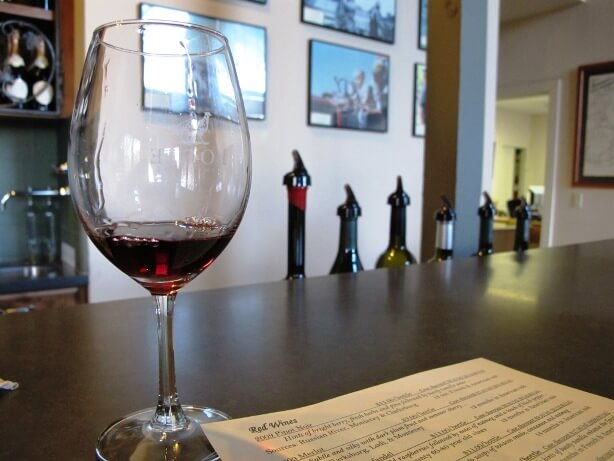 3) Taste.
If this is your first wine of the day or the first red wine after trying whites, the wine may seem strong at first. Try swirling the first sip around in your mouth and spitting it out (or swallowing) before taking the second sip. And by the way, spitting wine into a container (or on the grass!) is perfectly OK, and you'll see lots of people do it. Go with what makes you feel comfortable.
Swish the wine around in your mouth for several seconds and, if possible, breathe in a bit of air through your lips. Spit the wine out or swallow it, and notice the following components of a wine's body:
Taste for the wine's body and feel:
Acidity: Pay attention to how the wine feels on the tip of your tongue. Is it sweet or dull, or is it refreshing and crisp? This tells you about the acidity of the wine. If the wine has a good amount of acidity, it will make you feel a bit thirsty so that you want to have more.
Acidity also helps a wine pair well with food. A great example of a wine that has a nice amount of acidity is Markus Wine Co.'s white wines, all of which are super refreshing and leave me wanting a second glass.
Viscosity: Fred Swan told us to think of the wine in your mouth like milk, and I found that analogy helpful. Does it feel like water, skim milk, whole milk, or cream? Light-bodied wines feel more like skim milk while full-bodied wines produce a heavier feeling in the mouth.
Tannins: Tannins produce that grippy feel or drying sensation on the lips and the front of tongue. This feeling can even be in the whole mouth with wines that have more tannins (e.g. Petite Sirah). Tannins come from the grape skins; since reds stay in barrels longer than whites, they have more tannins. Tannins adds to the body and creaminess of a wine and help reds go with food.
Alcohol: A sign of a wine having high alcohol is when a wine burns as it goes down or makes your breath feel hot.
Taste for the wine's flavor:
Next, notice the flavors. You might need to take another swirl to do this. If you're tasting Chardonnay, you may get hints of tropical fruit, butter, and even caramel; if you're tasting Zinfandel, you may get cherry, blackberry, pepper, and spice; and if you're tasting Petite Sirah, you may taste blueberries.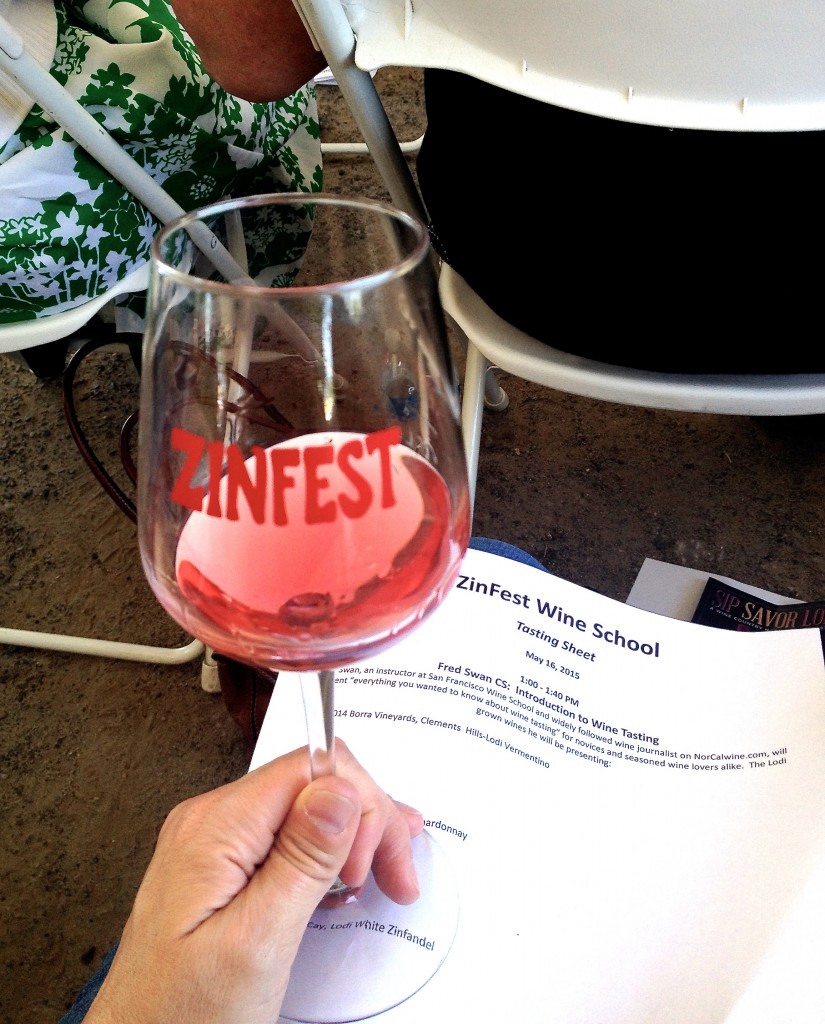 Fred Swan reminded us, however, that flavors are subjective. For example, saying that a wine tastes like blackberries means different things to different people as flavors are connected to memories and personal perceptions…if you think of blackberry flavor, is it freshly-picked blackberries from a neighbor's yard, blackberries that are barely ripe from the local market, blackberries in a pie, or blackberry jam? And the ways in which people perceive those different things affect how they define flavors.
What about oak?
You hear a lot about oak when wine tasting. Here's what Fred Swan had to say about oak: Neutral oak doesn't give any oak flavor. French oak is more subtle than other oaks. American oak brings more perfume or aromatics while French oak gives more tannins.
Finally, consider the wine's balance.
Do the flavors and aspects of the wine's body seem in harmony? If one aspect stands out too much, such as really strong tannins or alcohol, then the wine may not be balanced (but it may improve over time, especially if it's a red wine with high tannins).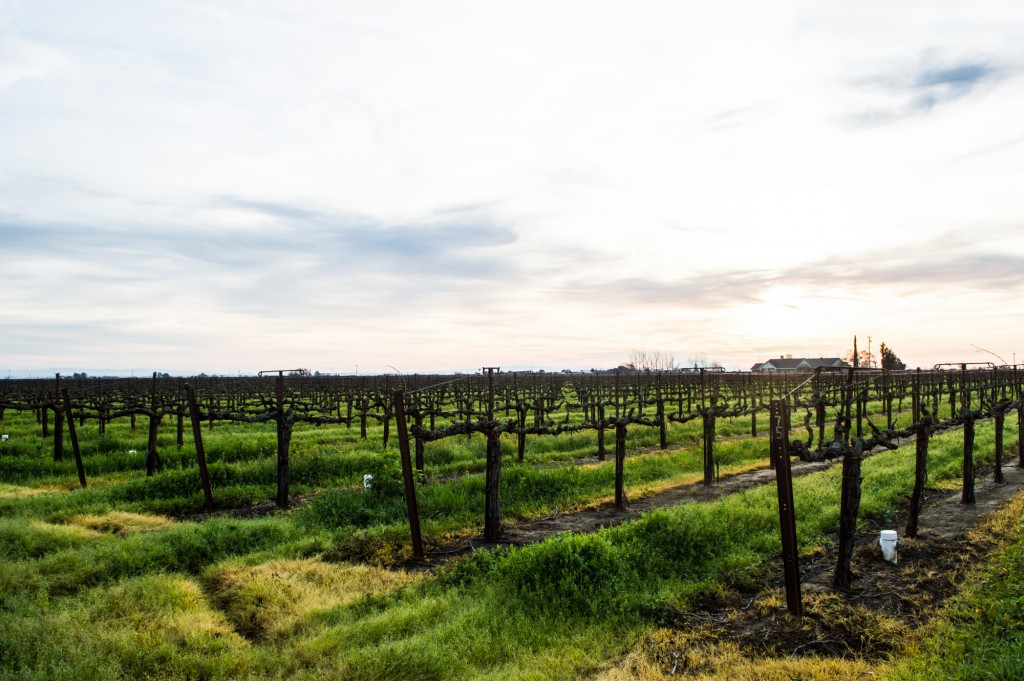 Most important, what do YOU like?
Now that you know how to taste wine and understand a bit about tannins, oak, acidity, etc., ask yourself what types of wines you like. I like dry, crisp whites and light- to medium-bodied reds with fruit and spice flavors. If you like those types of wines, you might enjoy some of my new favorites discovered at Zinfest (and all are reasonably priced!). Click on the winery to visit their store.
What are your favorite types of wines? Any wine tasting tips you would add?
P.S. 7 tips for wine tasting and many more blog posts about wine