What do you do when family come to visit? My sister-in-law and mother-in-law have been visiting from Brazil, and we've been alternating relaxing days by the pool at home with fun day trips. Even though they've both been to San Francisco, they wanted to see it again, and due to limited options for staying the night there (there are six of us, after all), we decided to visit the City as a day trip. (San Francisco is about ninety miles southwest of Sacramento.)
The challenge of taking relatives to a city like San Francisco is choosing what to do. Fortunately, we could eliminate most of the touristy things like Lombard St. and Fisherman's Wharf and the city's greatest attractions like Coit Tower and Golden Gate Park since they had already visited all of these during a previous visit. Instead, we opted for a combination of nature and city plus some things here and there to satisfy our kids. Here are a collection of ideas; you can mix and match according to your own interests and schedule.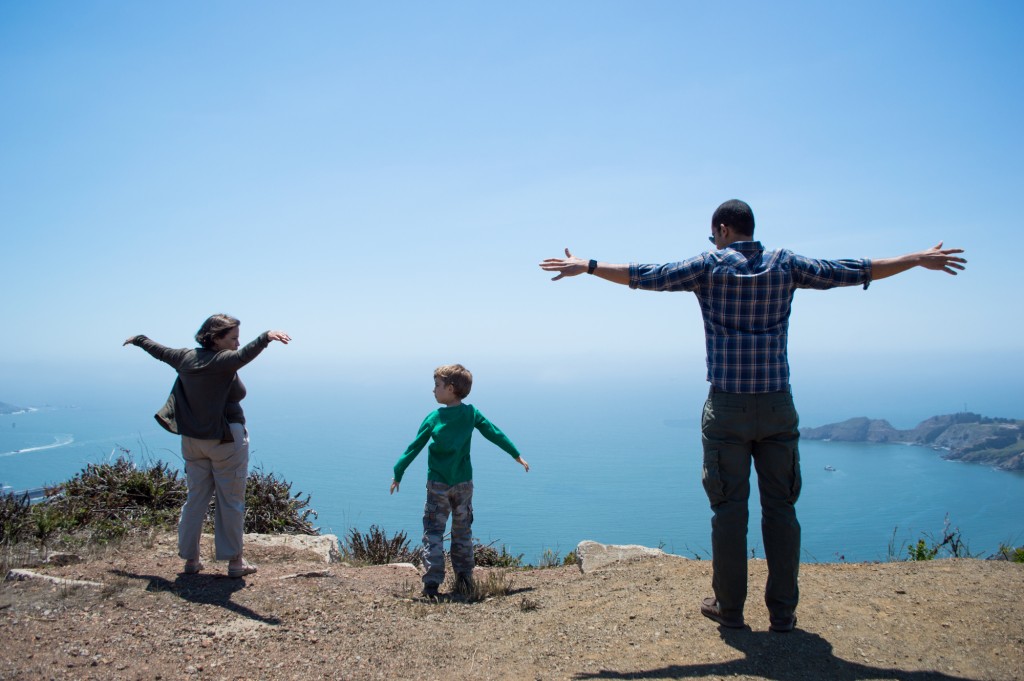 Timing is everything: don't mess with Bay Area traffic!
We left Sacramento at 8:30 and drove the 90 miles to San Francisco in less than 90 minutes with no traffic on the way. Having a FasTrak device in our borrowed 2015 Toyota Highlander helped since we could zip right past the toll lines and take the FasTrak Car Pool lane. But don't make the same mistake that we've made in the past–don't try to leave San Francisco between about 3:30 and 6:00! I've learned this the hard way.
Lands End
Lands End, on the west side of the city, is a beautiful location with hiking trails, views of the Pacific and, if you walk a little ways on the trail, the Golden Gate Bridge. From the Lands End Lookout parking lot, walk down to the ruins of Sutro Baths, a private swim club from 1894 which burned down in 1966.
If you're an art lover, head over to the nearby Legion of Honor museum. Its location, architecture, and collection of European art are stunning.
Time: 45 minutes to two hours depending if you want to hike. Sunset is the best time for the view; mornings are quiet.
Cost: Free. Sutro's at the Cliff House is about $20-30 per person for lunch.
Parking: Plenty of free parking except at sunset when the parking lot can be full.
Where to eat and drink: There is a cafe at Lands End for coffee and snacks. The Cliff House is also here; this historic restaurant is a good place to take out-of-town guests for the atmosphere and views of the ocean and Seal Rock. Reservations are usually needed.
Tips for kids: Watch kids if they climb among the ruins or try to get too close to the water. Ocean Beach is just south of the Cliff House; while not the most appealing beach, kids can't resist running and playing along the water and in the dunes.
The Golden Gate Bridge & Marin Headlands:
No matter how often one goes to San Francisco, it seems the bridge never loses its significance. Walking or biking across the bridge is a nice (if noisy) way to experience it, but you can get excellent views of it from Baker Beach, the Presidio and the Marin Headlands (the part of the Golden Gate National Recreation Area on the north side of the bridge).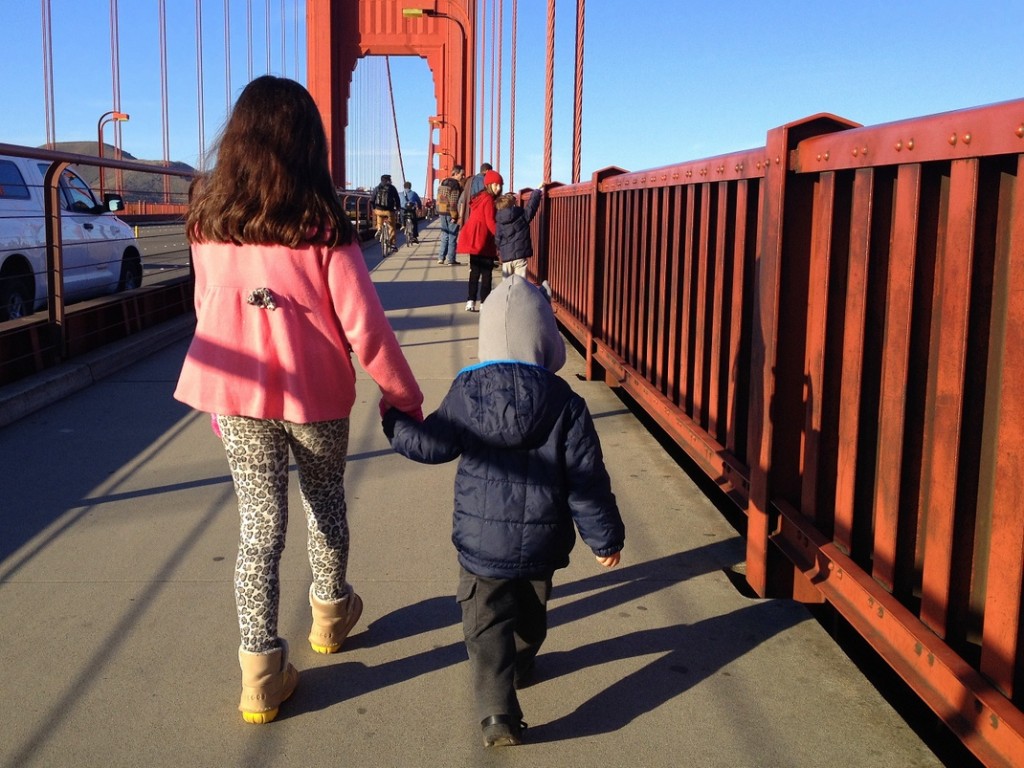 Just after you cross the bridge, take exit 442 to access the Marin Headlands and then continue climbing the hill until you find a parking spot as high up as possible. The trail here leads to Hawk Hill, where you can see Point Bonita lighthouse in the distance and climb above one of the old batteries left from when this was an important military outpost during World War II.
Time: One to two hours or more depending on how much you want to hike and if you walk across the bridge. Bring layers no matter what time of day you visit since the bridge and headlands tend to be windy.
Cost: $7 for the bridge toll if you drive across the bridge
Parking: Free parking in the Marin Headlands. Both visitor parking lots at the north and south side of the bridge have limited parking. The south side lot has a shop and cafe and metered parking; the north side lot has free parking and restrooms.
Tips for kids: My kids love visiting the bridge and walking the trails in the Golden Gate Recreation Area. When we walk it with them, we usually go just half way and then turn around.
Public transportation options and more information here.
North Beach:
This part of the northeastern corner of San Francisco is an old Italian neighborhood, filled with delis, restaurants, and independent shops, many still run by Italians. The oldest street in San Francisco, Grant Avenue, with its funky shops is the place to begin before heading over to Columbus Ave. for gelato and Washington Square and the beautiful Saints Peter and Paul Church.
I planned an afternoon in North Beach, an area of San Francisco that is new to me, based on the recommendations of travel writer/photographer Garrick Ramirez in "5 Things: North Beach." Thanks, Garrick!
Coit Tower is just up the street from Grant Ave. Climb the stairs up Telegraph Hill to reach the tower, where you can view the murals inside and take the elevator for a panoramic view of San Francisco and the Bay.
Time: Two hours or more depending on how much you want to peek into shops or if you want to eat a meal here.
Cost: A few dollars for parking plus several dollars per person for gelato and/or pizza. $6 per adult for the Coit Tower elevator.
Where to eat and drink: Alimento is an Italian deli with sandwiches, salads, and gelato. Tony's Pizza Napoletana is a popular choice, but if you're in a rush, there are other places in North Beach that sell pizza by the slice. If you're here without kids, try Tosca Cafe for the food, atmosphere, and cocktails.
Parking: Parking spots are very hard to find, but there's a garage at 735 Vallejo St., a few blocks from Washington Square.
Tips for kids: Lola of North Beach is a cute gift shop with goodies for kids and adults. Kids will appreciate the array of gelato flavors at Alimento.
Golden Gate Park or the Presidio:
While we didn't spend time in either of these amazing parks on our last trip to San Francisco, they are favorites. On a nice day, go to Golden Gate Park for a leisurely walk in the Botanical Garden and then climb the tower of the nearby de Young Museum for a 360 degree view of the city.
The Presidio is a convenient stop before or after visiting the Golden Gate Bridge. In fact, you can park here to walk across the bridge. With eleven miles of hiking trails, this coastal park and former military base makes a peaceful place to spend time in the city. The trails near the bridge include military remnants that add a historical element to the natural beauty, but my favorite part of the Presidio is Wood Line, an art installation that snakes its way through a eucalyptus grove.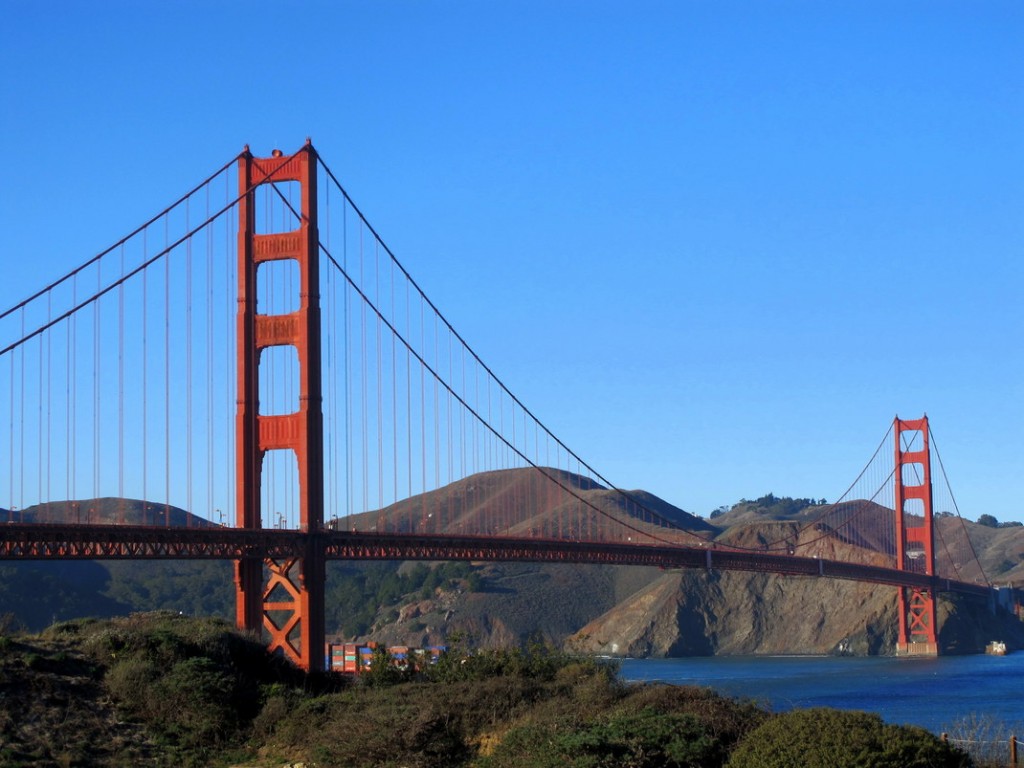 Time: At least one-two hours for the Presidio, and at least two hours for Golden Gate Park (though one could spend the whole day there).
Cost: Free unless you park in a lot at Golden Gate Park
Parking: In Golden Gate Park, on street parking or the parking lot under the California Academy of Sciences near the Botanical Garden.
Where to eat: If you're in a pinch, the de Young Cafe has good food and a nice atmosphere and is kid-friendly.
Tips for kids: All of these activities are perfect with kids, but for a more kid-focused itinerary, try the California Academy of Sciences (but you'll need a few hours) or the amazing Koret Children's Quarter playground in Golden Gate Park.
A combination of these places will fit the bill if you're looking for an affordable day trip with plenty of outdoor time. Of course there are many more things to do in San Francisco that you can add to your day trip itinerary, like Twin Peaks, the Ferry Building (for the food!), Valencia St. in the Mission, Union Square, and the restaurants on West Portal Ave (like this one).
What ideas do you have for a day trip to San Francisco?

P.S. 30 more things to do in San Francisco