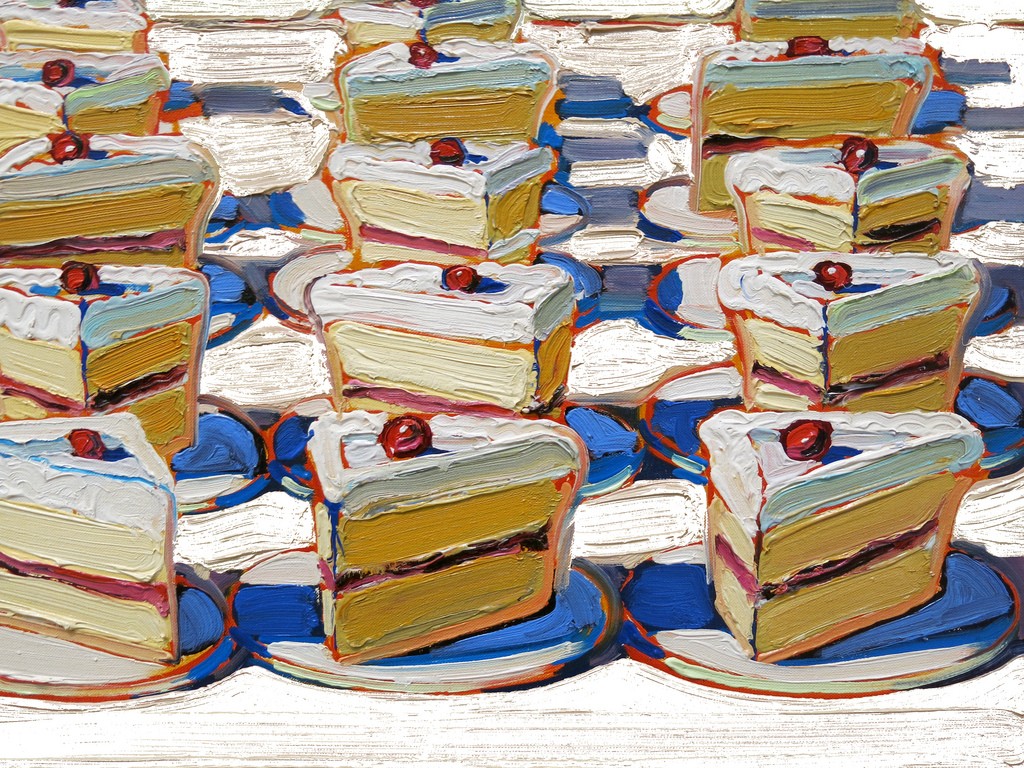 This month's ArtSmart Roundtable topic is "concept," and given how generally that word can be applied to art, we bloggers have taken an array of approaches. One artist who came to my mind is Wayne Thiebaud for the way he grabbed onto a concept–food, especially desserts–and developed it into something that has made him famous and beloved for half a century. I found, though, that Wayne Thiebaud is much more than an artist who painted food.
Wayne Thiebaud was born in 1920 and is still living, at age 94, here in my hometown of Sacramento. Just after I moved back here, I was introduced to his work by an old friend of mine, who proudly took me to the library of California State University where one of Thiebaud's classic dessert paintings hung. What I didn't realize at the time was how popular and respected this artist is, not only in this region, but nationally and internationally as well.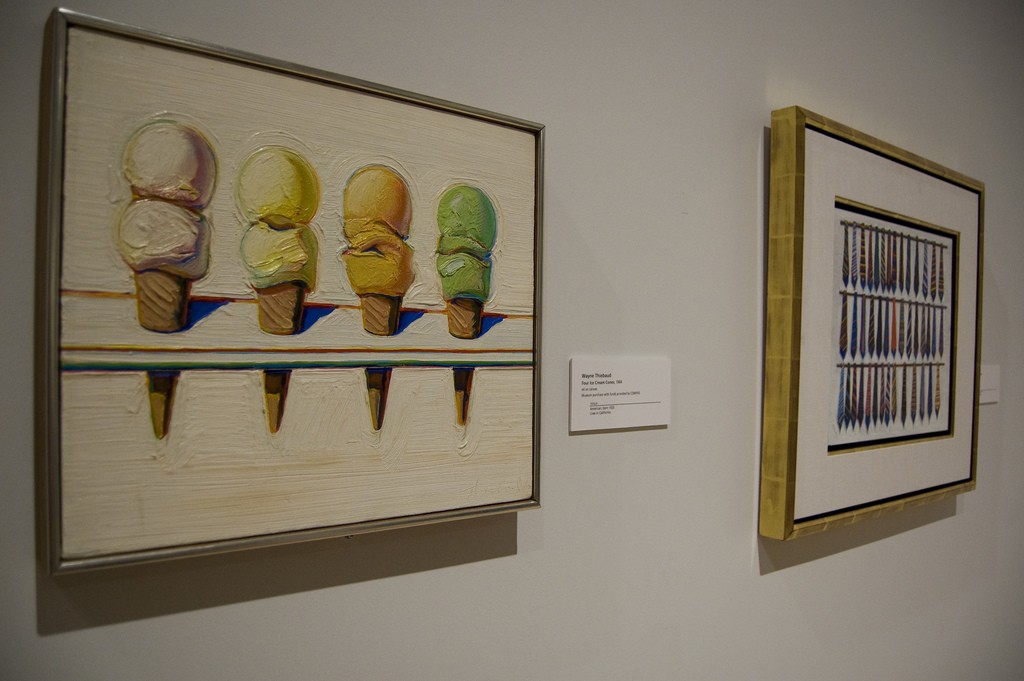 At first glance, Thiebaud's paintings may seem to be part of the Pop Art movement of the late 1950s and 60s; the repetition of everyday objects recalls the soup cans of Andy Warhol, for example. But some critics disagree with this categorization because the irony and criticism of commercialism behind Pop Art are absent in Thiebaud's work, and because he apparently didn't consider himself to be part of the movement. One article suggested that his work may have even influenced the Pop Art movement since he was depicting rows of everyday objects slightly before Pop Art.
Instead his work reflects a certain California air–sun, light, bright colors, and nostalgia for good times. In fact, an excellent Smithsonian Magazine piece about him points out that "he was turned off, he once said, by the 'churchy feeling of a lot of New York painting,' with all its elaborate theories and air of reverence."
He tried New York City in 1956-57 but came back to California permanently. During his New York stay, his art became influenced by new friendships with abstract expressionist masters Franz Kline and Willem de Kooning. It was during this time period that he began painting images of food displayed in windows in which he focused on the repetition of shape.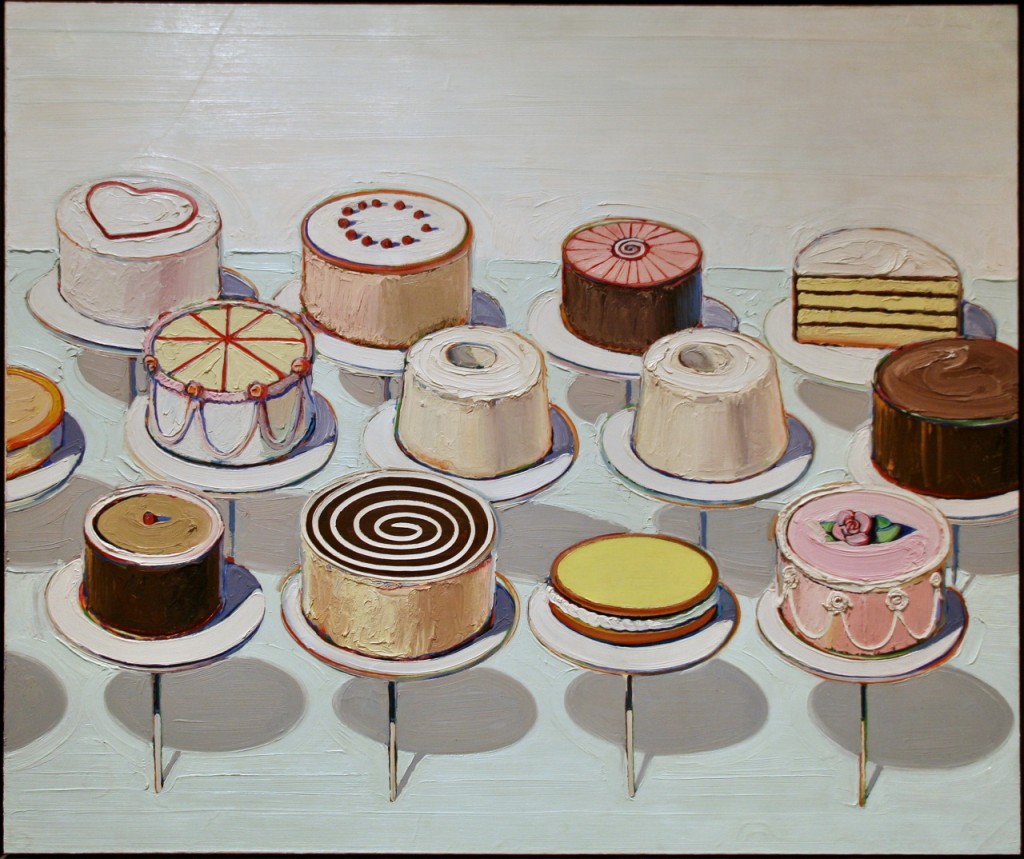 Who doesn't like to look at rows and rows of desserts? Such appeal has made his work timeless, but there's more than first meets the eye. Like still-lifes of earlier centuries, the simple subjects of his paintings allowed him to experiment extensively with the aspects that make his work so fun to look at: shape, brushstroke, color, composition, and light. Perhaps the big bold brushstrokes and heavy application of paint are the best reasons to view his work in person.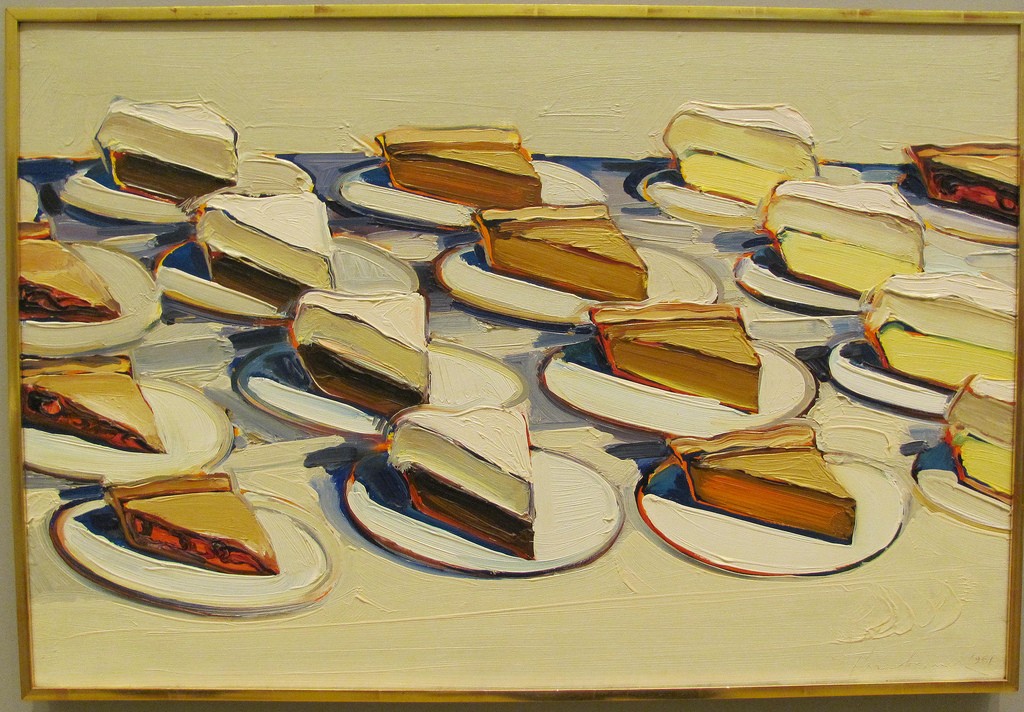 However, Thiebaud didn't paint just food. His body of work includes landscapes, striking paintings of women, and everyday objects like lipsticks and gumball machines.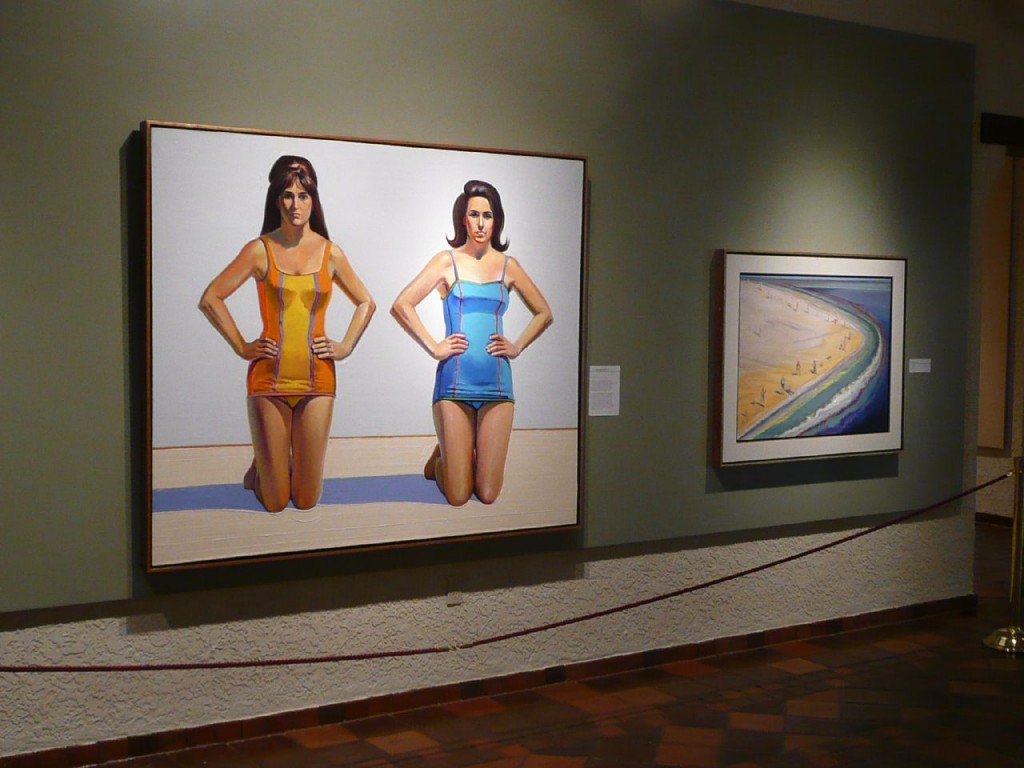 Wayne Thiebaud may be an American master, but for me, his local roots are especially interesting. He studied at California State University in Sacramento, near where he still lives decades later, and worked as a professor of art at two places that I have a personal connection to: first at Sacramento City College and then for 30 years at the University of California, Davis. (In fact, he taught there as professor emeritus until just recently and claims to especially love teaching beginning drawing–what a treat for the students!)
Instead of moving on to a big city like big artists usually do, Thiebaud chose a simple life of work and family here. The typical cool, sunny mornings of Sacramento that I enjoy here are the same ones he uses for daily tennis matches; the American River trails I walked last weekend are near his home.
Where can you see Wayne Thiebaud's work?
It can be viewed as part of the permanent collection at the following American art museums:
Locally in his hometown of Sacramento at the Crocker Art Museum and California State University, Sacramento library gallery.
Elsewhere in the U.S.:
Art Institute Chicago, MOMA in New York City, the Fine Arts Museums of San Francisco (the de Young and Legion of Honor), National Gallery of Art in D.C., MOMA in San Francisco, the Smithsonian American Art Museum in D.C., the Whitney Museum of American Art in New York City, Cantor Center for Visual Arts at Stanford University, Kemper Museum of Contemporary Art in Kansas City, the Philadelphia Museum of Art, Sheldon Museum of Art in Lincoln, Nebraska.
Find current exhibitions of his work here.
Check out the other ArtSmart Roundtable members' take on "concept":
Changing Paintings After They are "Finished" from Daydream Tourist
The Conceptual Design of Vancouver's New Art Gallery from Wanderfull Traveler
Earth Art – Out To Nature Back To The Gallery from Art Weekenders
Nurture and Hospitality at Santa Maria della Scala in Siena from ArtTrav
The Concept of Travel in Art Through the Ages from Wanderarti
Photo credits: Torbakhopper, Mandy Jansen, Cliff, Rocor, Adam Koford, Rocor on Flickr.