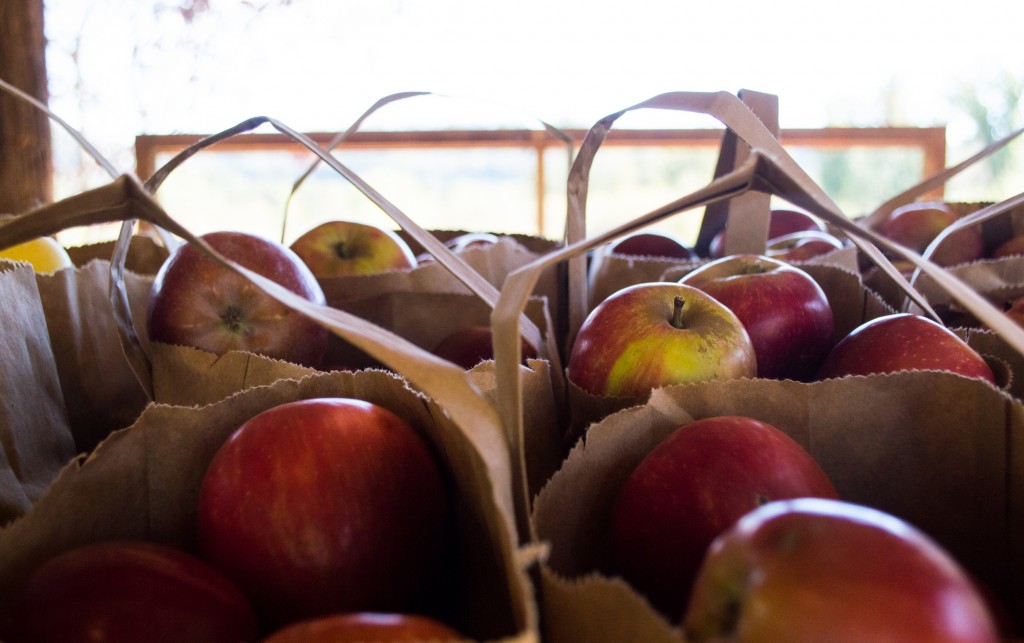 A day trip to Apple Hill is a traditional fall activity for many people who live in this area. After all, Sacramento is flat as can be, so we take any opportunity to get out of the city and into the foothills. After a couple of so-so visits to Apple Hill more than a decade ago, I wasn't excited to go back, but after seeing this guide to Apple Hill, I decided it was definitely time to give this popular day trip another try.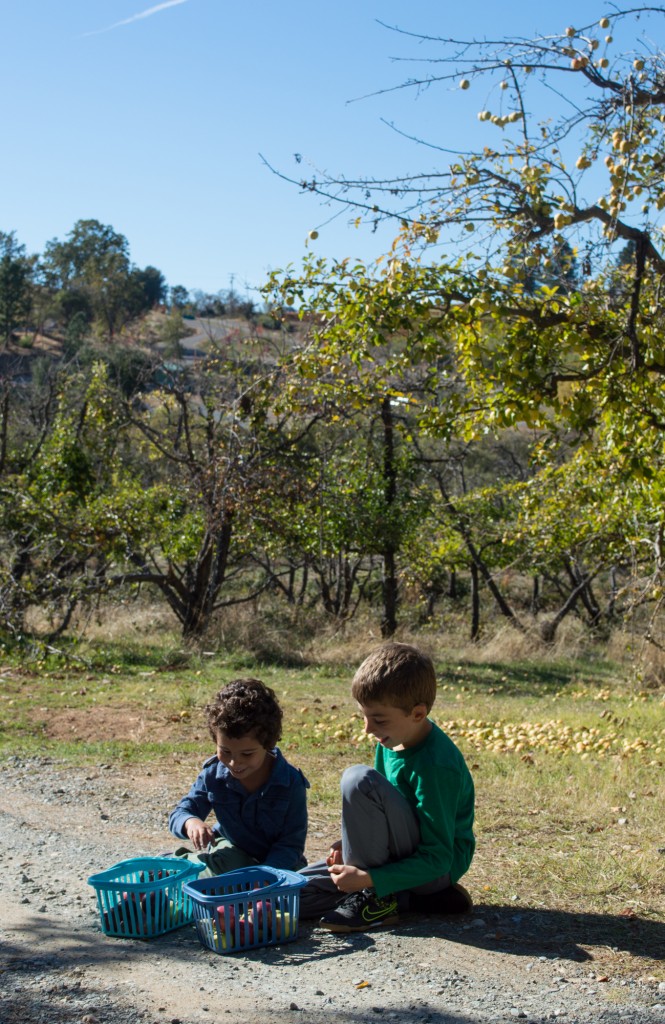 Apple Hill is a small area in hills of El Dorado County, located about half way between Sacramento and Lake Tahoe. It's famous for its fall bounty of apples, of course, and pumpkins, but there's something for every season: fruit trees in bloom in spring, you-pick berry farms in summer and Christmas tree farms in winter. The farms are family-owned and feature something for kids, whether it's corn mazes, pony rides or donuts.
While Apple Hill makes an easy and affordable day trip–most activities are free and the farms are all located within an easy drive of each other–the caveat is that Apple Hill gets very crowded in the fall. Parking lots full of cars and long lines for donuts and hot cider are expected. We gambled last Saturday when, I hoped, the season would be winding down, but it was still too crowded for my taste. Clearly if visiting in the fall, the best choice is to go on a weekday. Despite the crowds at some places we visited, it was a perfect day trip.
First stop: 24Carrot Farm
This was definitely the highlight of the day, and here's why.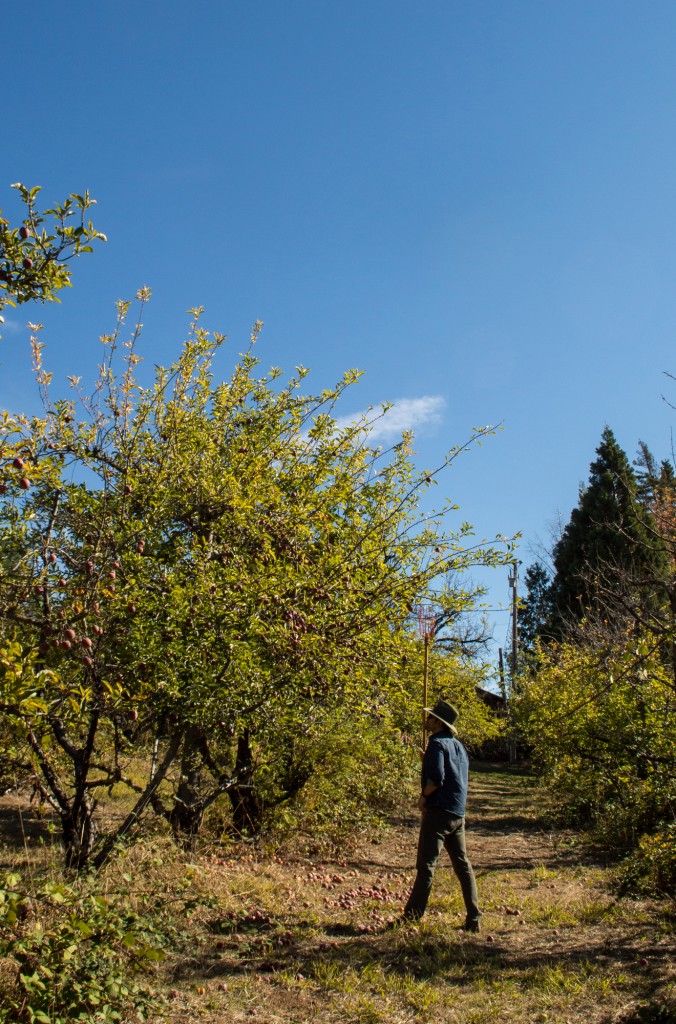 You-pick apples: 24Carrot Farm is an organic farm with apple orchards of golden delicious, red delicious, rome, and Arkansas Blacks. It's easy: you grab a basket and an apple picker, roam the orchards and sample the varieties, then pick what you want and pay as you leave. Apples are a steal–only $1.25 a pound! And this farm has you-pick apples well after the other nearby farms.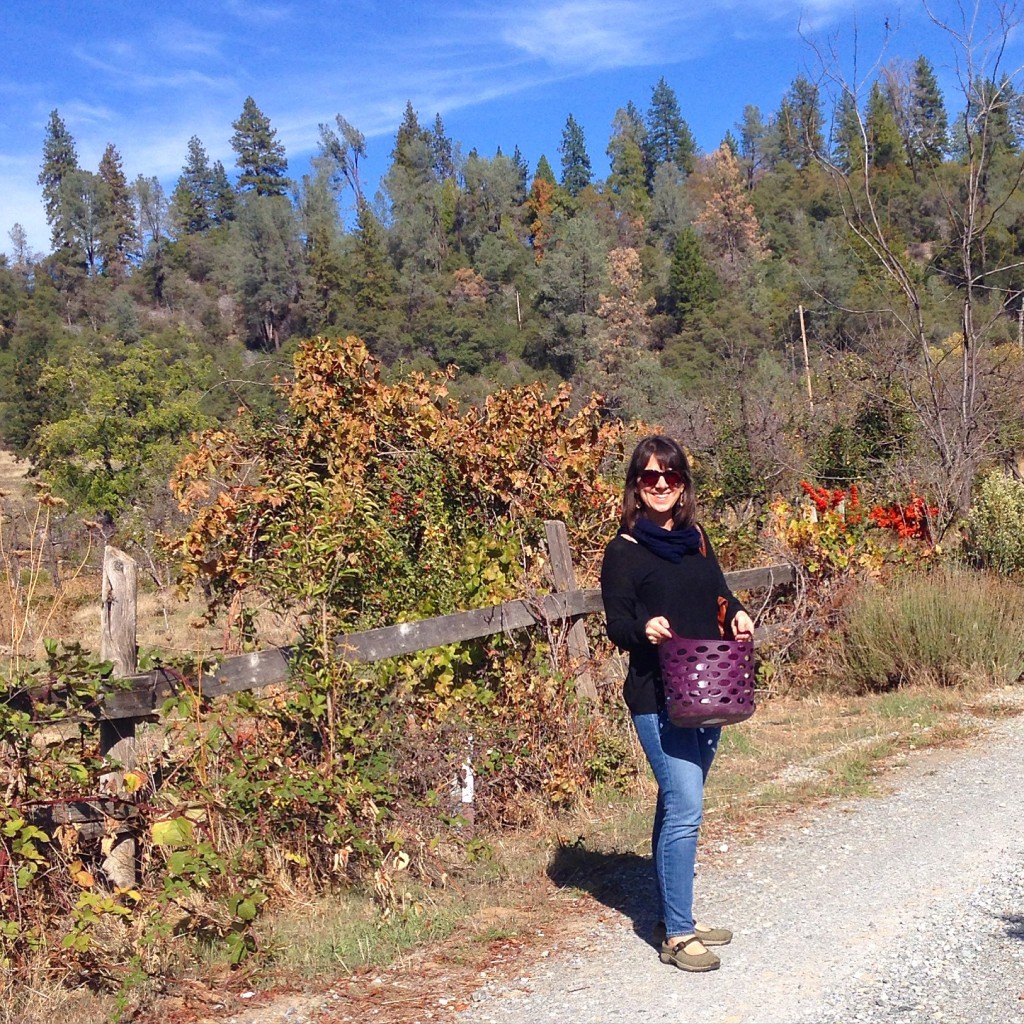 Traveling with kids is really about what they can be doing at any given moment, and apple picking is certainly high on any list of fun activities for kids. There was such a sweet sense of pride from them at being able to try apples, choose ones to pick, and carry their harvest. They loved carrying their beautiful baskets of fruit. Here Noah is explaining (in Portuguese) his reason for choosing the Arkansas Blacks as his favorite variety: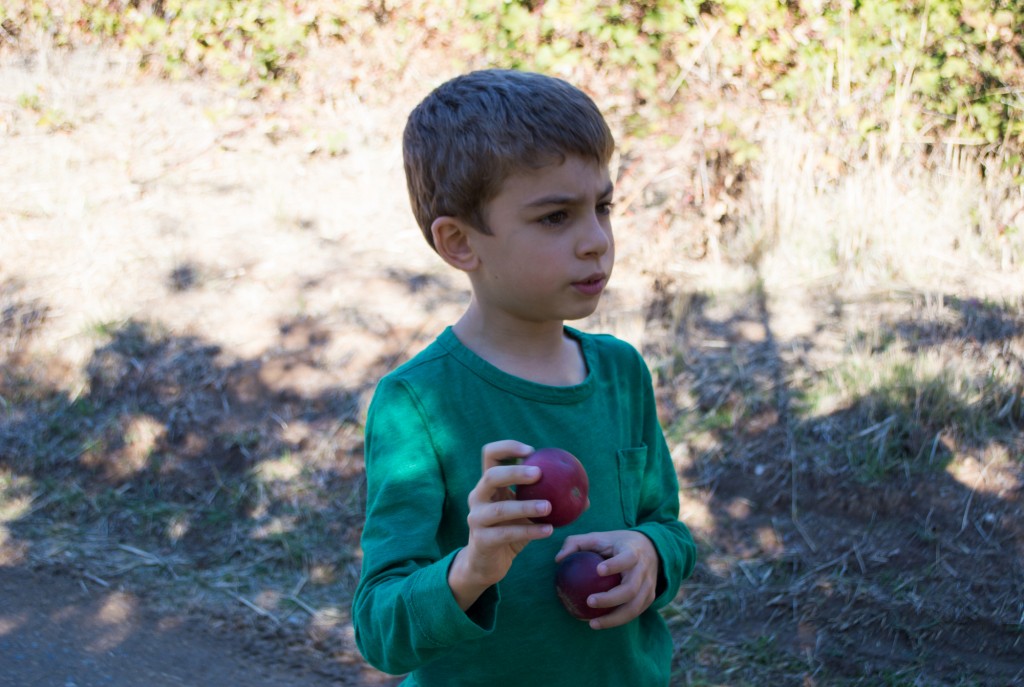 Organic!: This is important to me since we eat almost exclusively organic produce. The apples are also dry-farmed and therefore are smaller and less watery than apples you find elsewhere. You can see the size of this golden delicious apple in my hand…just right for a small snack or kids' lunch boxes.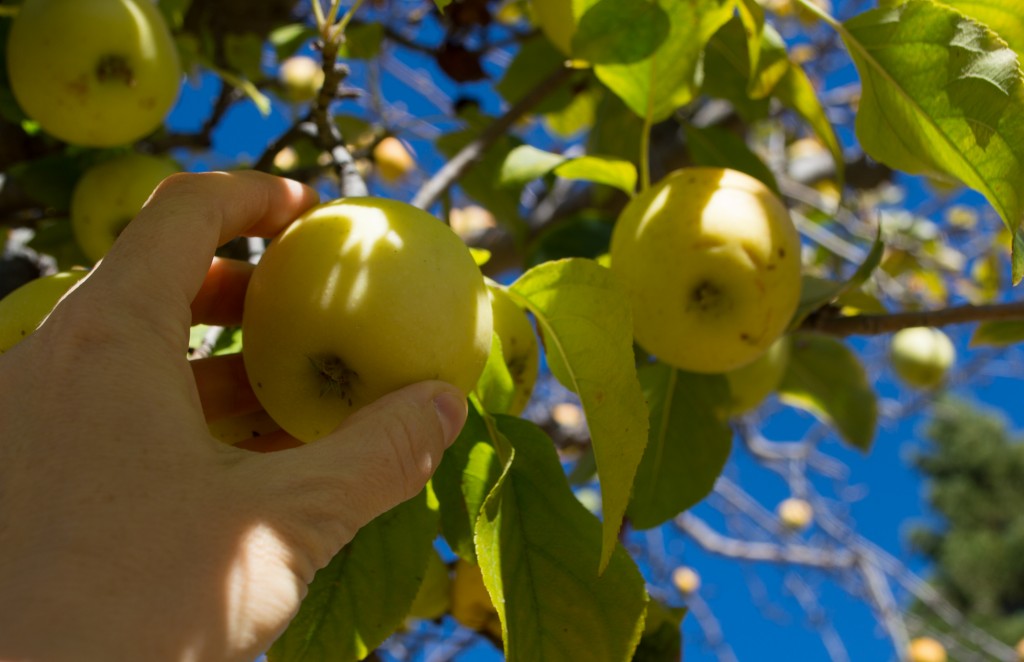 And as you can see, the farm was very quiet, even on a Saturday. We were the only ones in the orchard (besides a very large gopher snake that slithered into the brush while I picked apples!). This was the perfect way to capture the spirit of farm life in these beautiful hills, and the peace here set a pretty high bar for the rest of our day.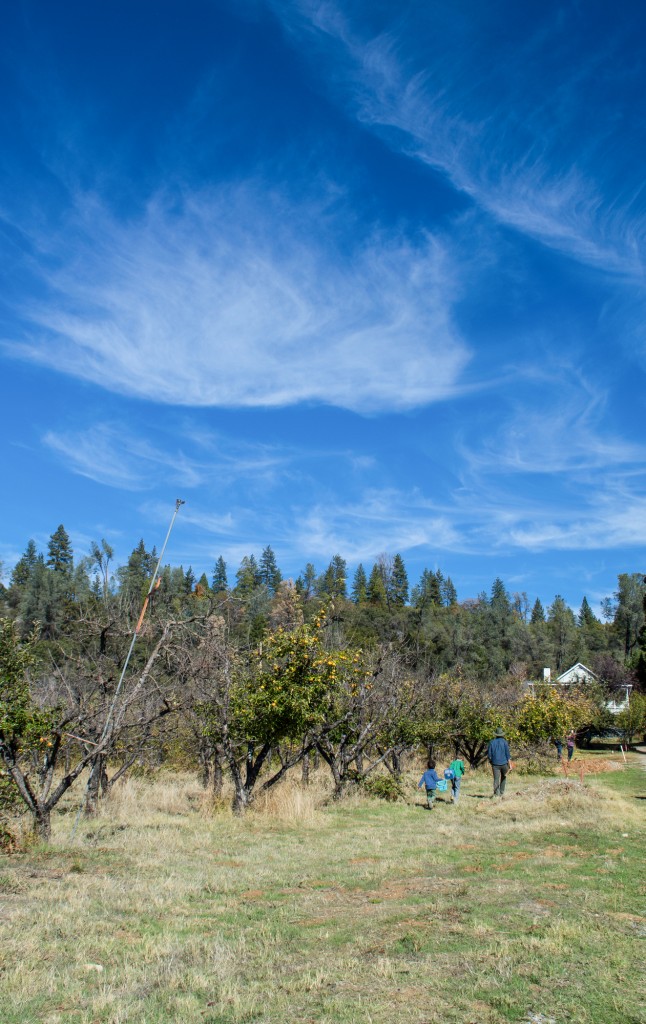 The farm stand: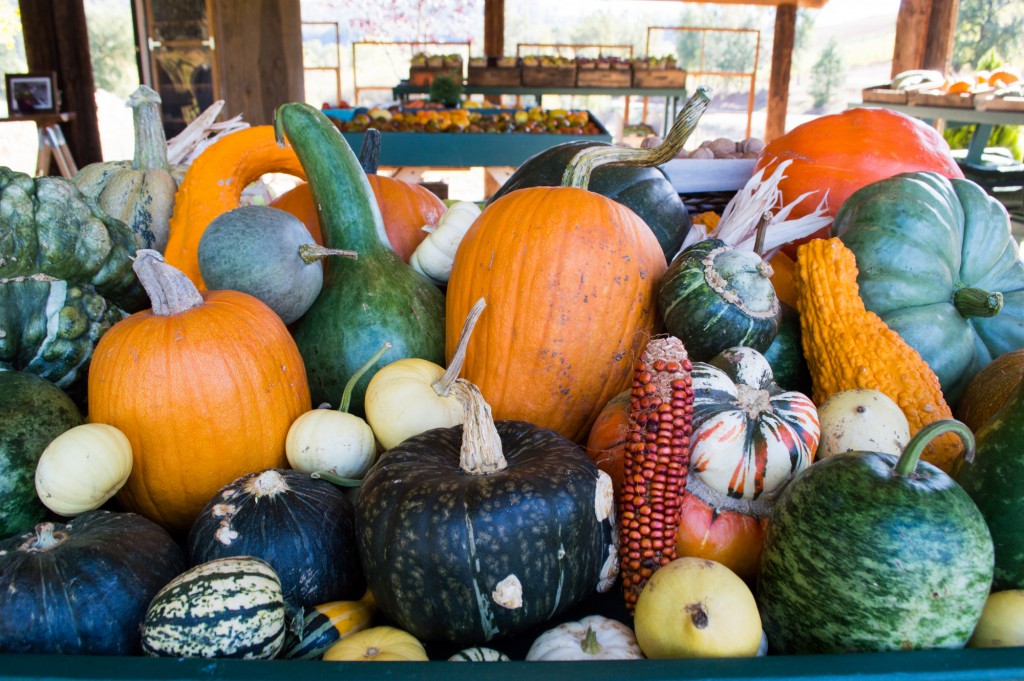 The farm stand at 24Carrot Farm has lots of other seasonal goodies. On this day, there were heirloom tomatoes, pumpkins, persimmons, squash, bags and boxes of apples, Totem coffee from Placerville, and more. I suspect that many of these items are grown right there on the farm; we saw fields being tended by two friendly guys, but other items may come from other local growers.
The honey: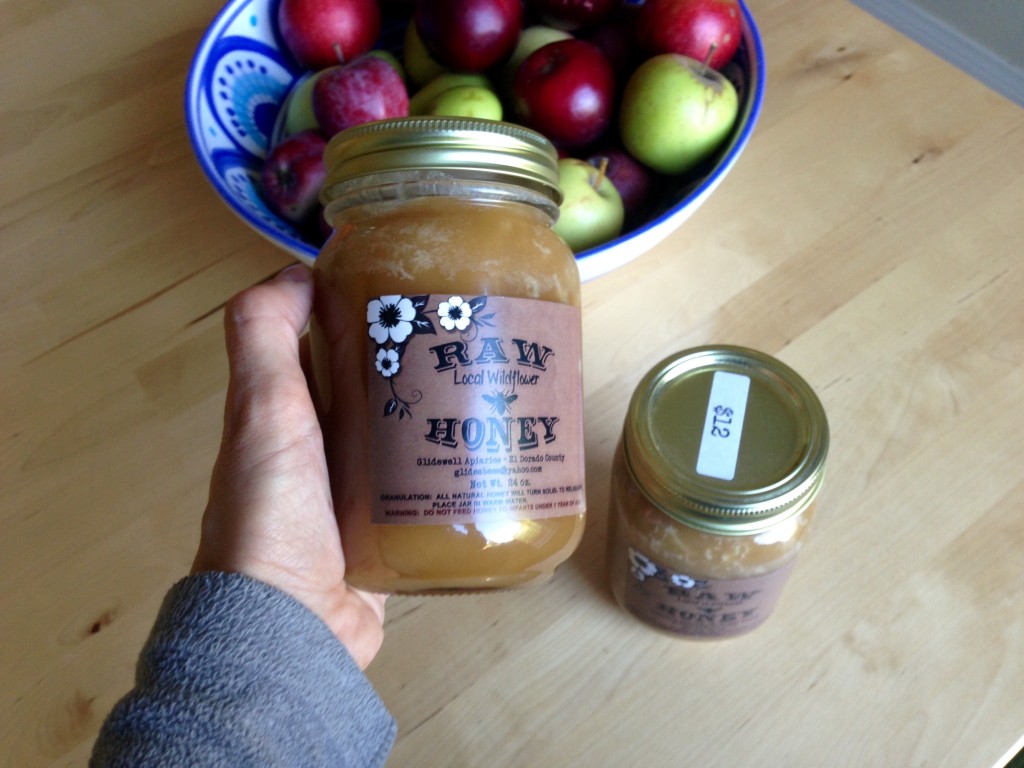 Large jars of raw honey made from the bees that live here on the farm are for sale, and we bought one for ourselves (we're loving it) and one to take to family in Brazil. There is an observation beehive in the farm stand where you can see the bees at work.
Family-friendly place to hang out & play horseshoes:
24Carrot Farm has a nice area to relax after apple picking and shopping the farm stand. With a pond, horseshoes, and picnic tables, we took advantage of the beautiful fall weather and played horseshoes before moving on down the country road to our next stop. Just like in the orchard, there was no one else around while we played horseshoes: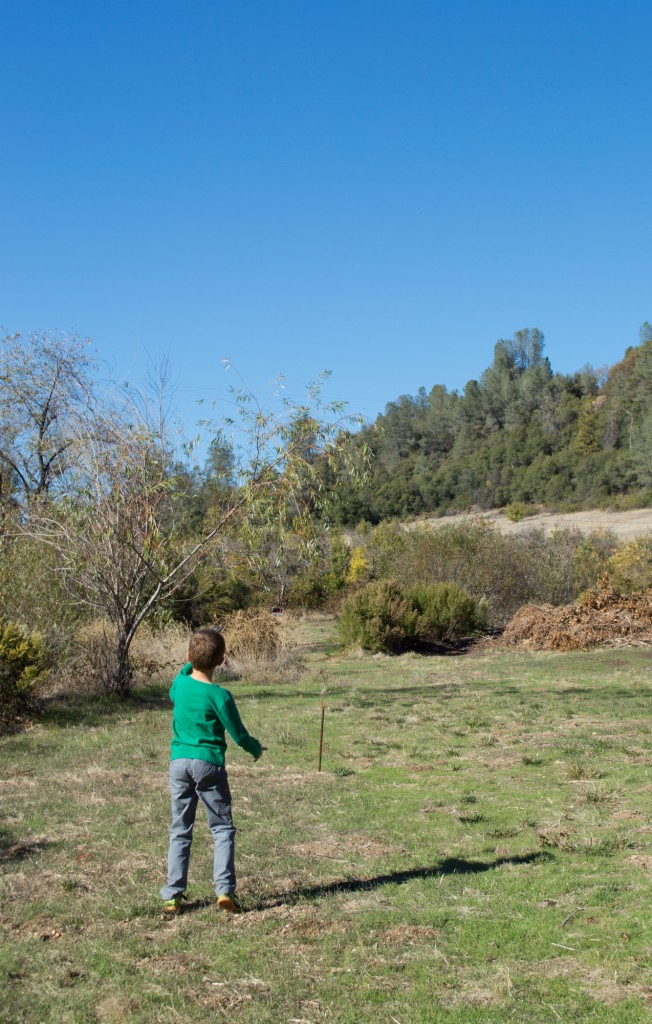 Info: 24Carrot Farm, 2731 Jacquier Rd., Placerville, CA, just down the road from the rest of Apple Hill's farms
Next stop: Kids Inc.
Kids Inc. is a farm run by the Delfino family, and it definitely has a bit of everything for adults and kids. Set on a hill overlooking grape vines, apple orchards, and pine trees, the farm has the best view that we saw that day (excluding the large power lines that seemed to be in every photo).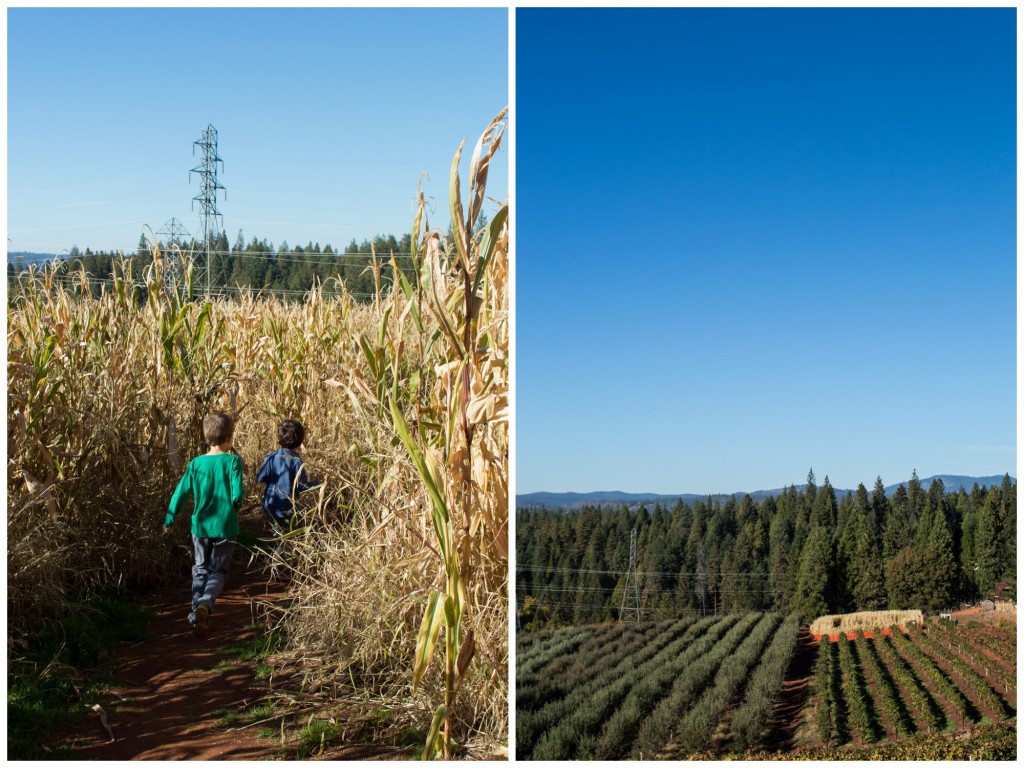 The place was too busy for me, and the lines to order drinks and food were long, but it was worth the stop for the corn maze and the beautiful grounds that the kids could wander. If you're up for a hike, there's also a nature trail that goes behind the property.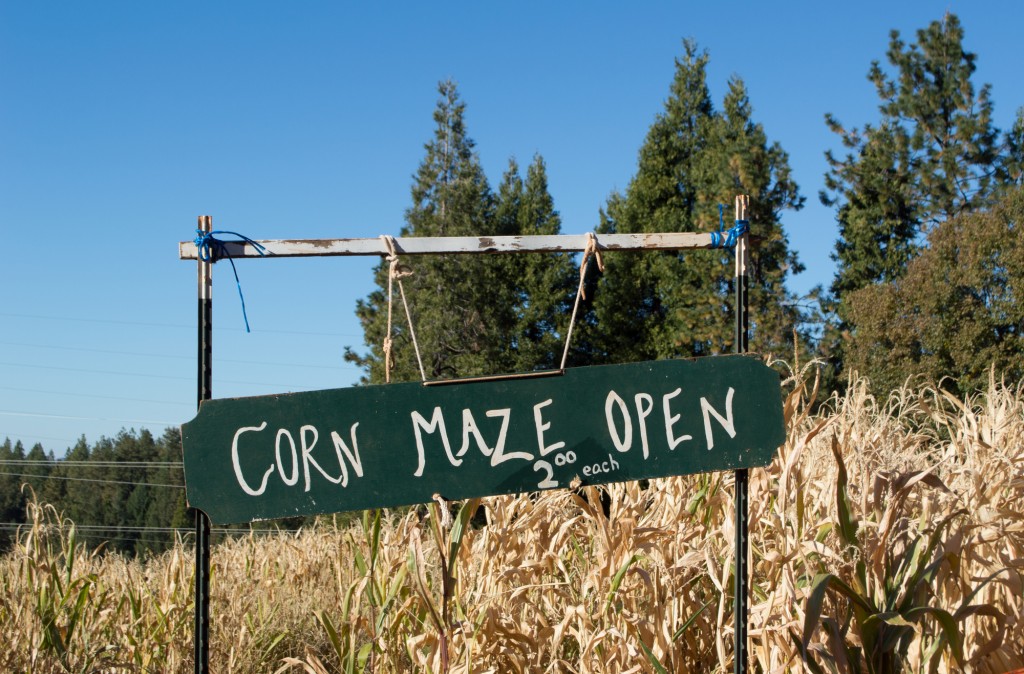 Info: Kids Inc., 3205 N. Canyon Rd., Camino
Next stop: Apple Pantry Farm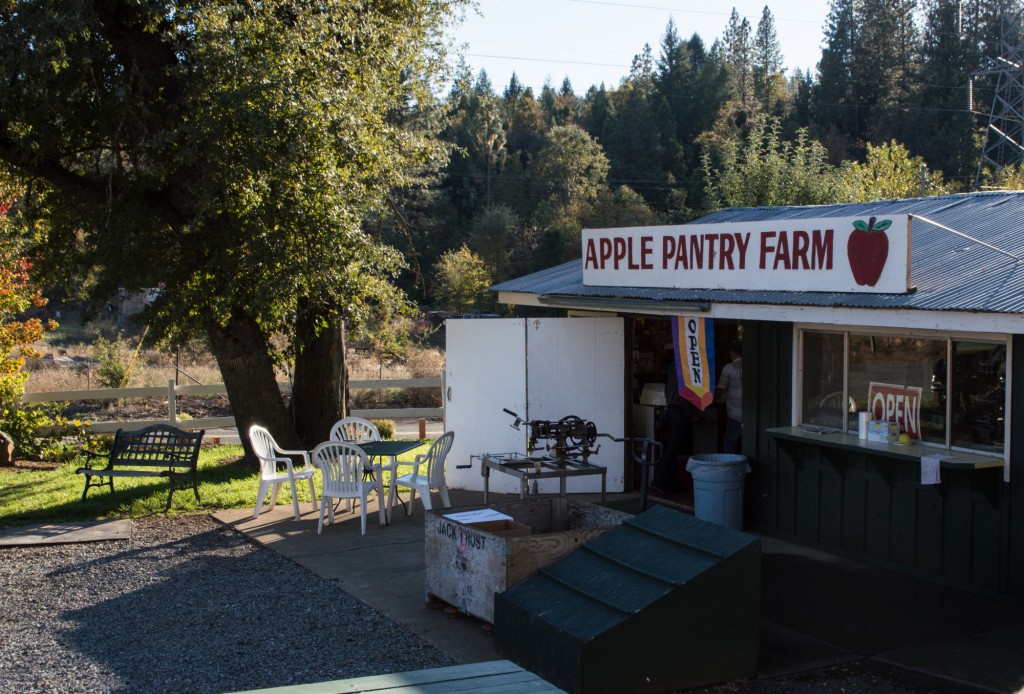 I've heard many times that Apple Pantry Farm has the best pie in the area. They sell many types of fall pie, from traditional Dutch apple to berry apple sour cream and apple rhubarb, as well as crisps, apple butter, and jams. All their pies and crisps are sold frozen so you can take one home, keep it for whenever you are ready for pie, and bake it straight from the freezer to the table.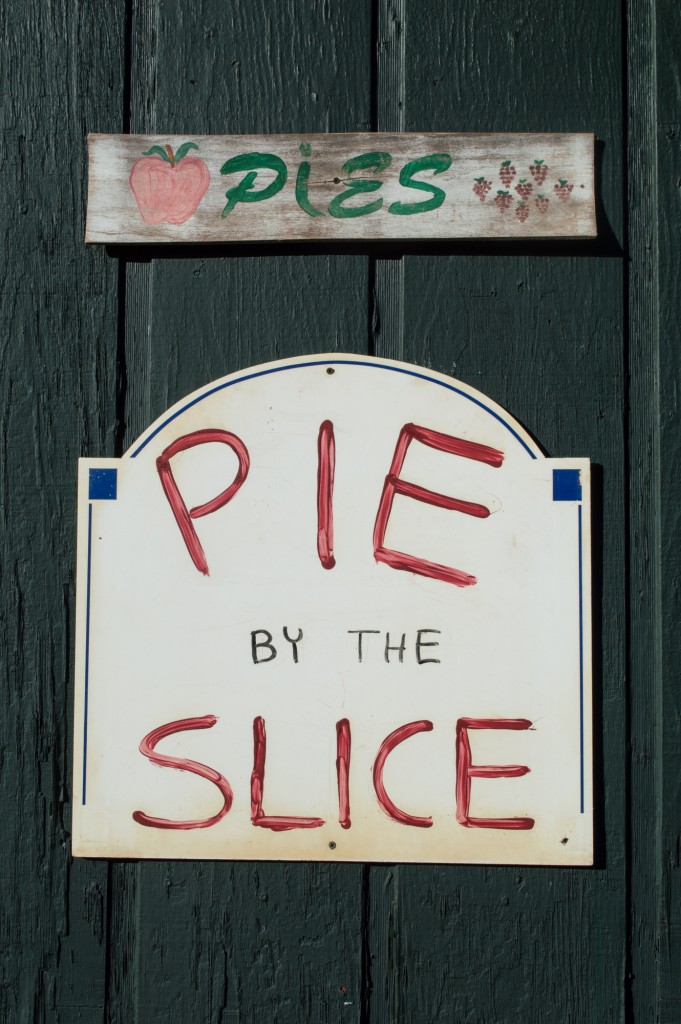 The place is simple, friendly, and easy. The pie slices are huge and come with a big scoop of delicious vanilla ice cream. There's a small shaded patio where we ate our pie while watching cows eat pumpkins in the field across the road. We tried the blackberry apple crunch pie with vanilla ice cream and liked it so much that we bought a pie to take home.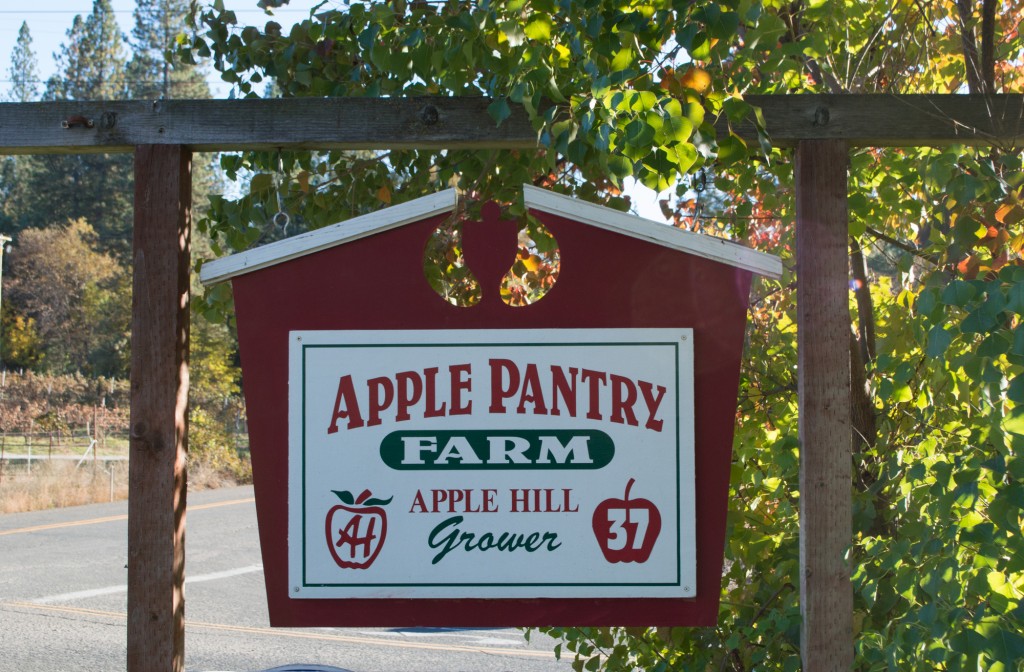 Info: Apple Pantry Farm, 2310 Hidden Valley Way, Camino
Finally, we stopped at Rainbow Orchards to try their famous apple donuts, but the line to order food was very long (50+ people?) and noisy, something my kids were not interested in tolerating. We called it a day and drove back through the country roads as the sun began to descend on a perfect fall day.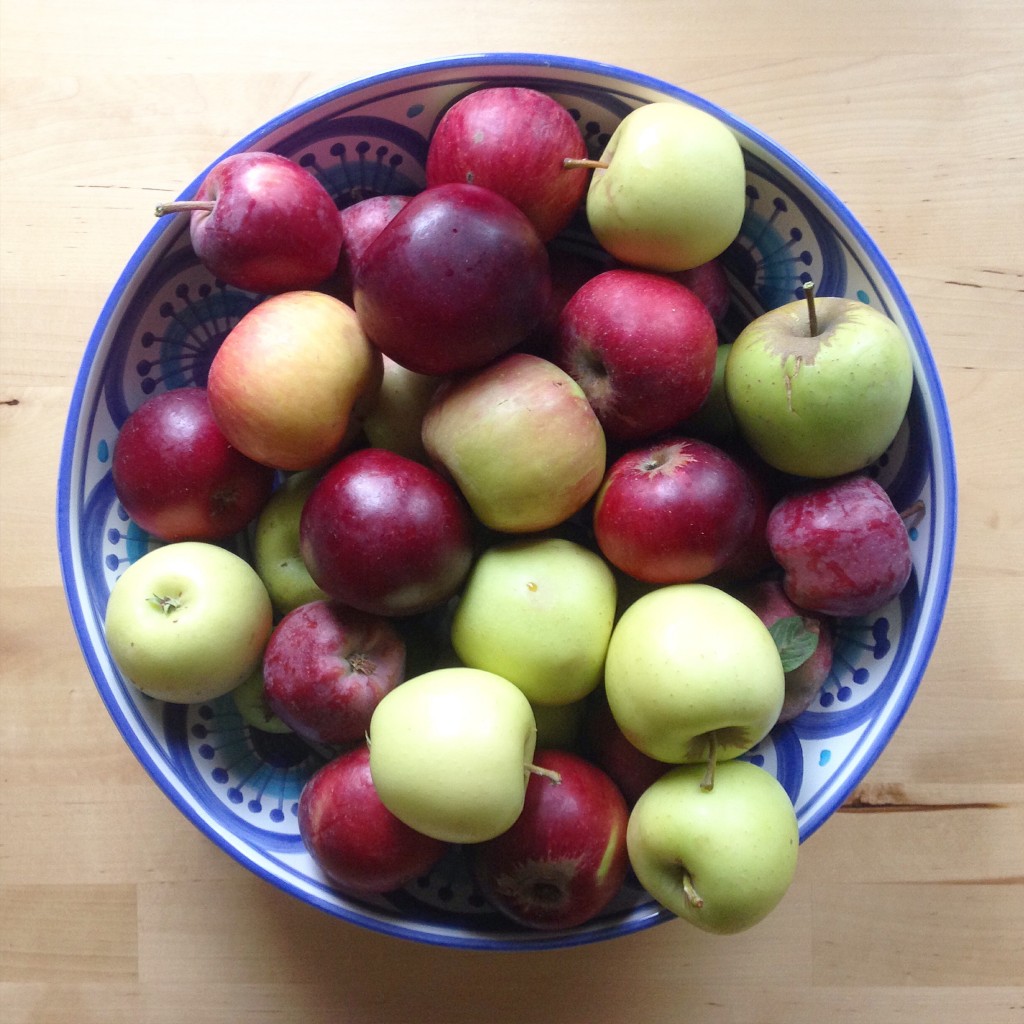 We're still munching on the apples and are looking forward to digging out that pie for Thanksgiving. If you've been there, what suggestions do you have for a day trip to Apple Hill?
P.S. More about Apple Hill on City Scout.