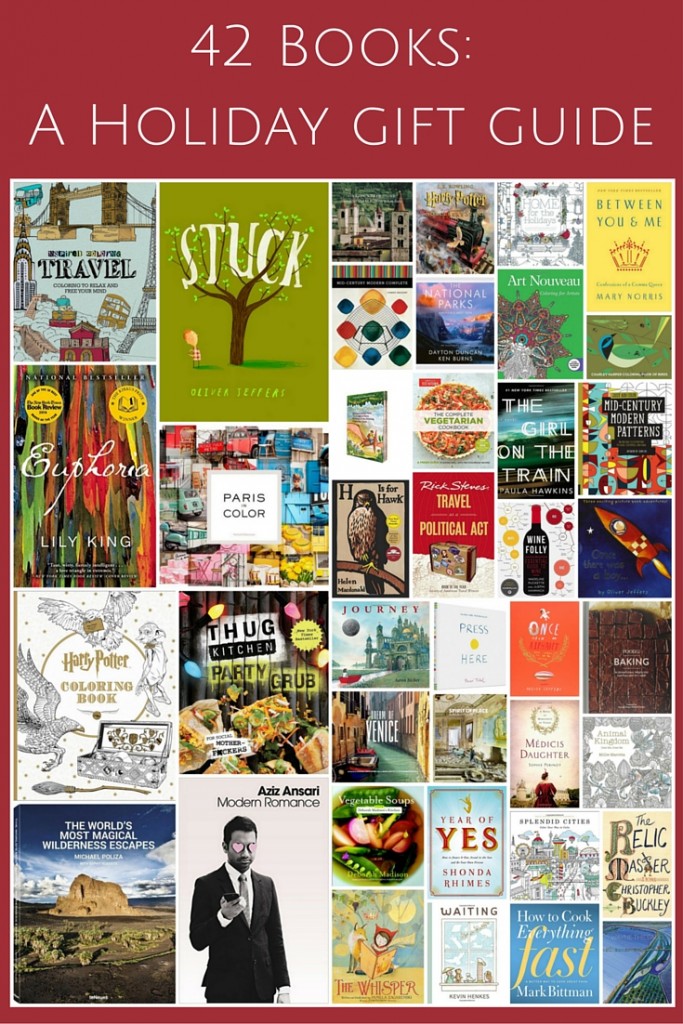 The holiday season is here and so are the many holiday gift guides with ideas for what to get just about everyone you know. In lieu of my usual holiday gift guide, I decided to do something a little different–a holiday gift guide of books that I've had my eye on lately (and this is not a coincidence since I finally got my reading groove back this year). This list of 42 books has something for just about everyone, but I'd love to hear your suggestions of special books you've found lately.
Coffee Table Books (because my mom has sometimes gotten me one, and I treasure them)
Spirit of Place: If I chose only one coffee table book this year, this would be it. French photographer Aurelien Villette evokes the past through images of buildings that were either beautifully restored or left to fall into ruin.
The World's Most Magical Wilderness Escapes: Michael Poliza, a wildlife and landscape photographer, has traveled extensively and showcases some of the world's most remote, unspoiled areas. This book contains not only beautiful photographs but also helpful travel information which, according to Amazon, "make this volume a one-of-a-kind experience."
Dreams of Venice: I have this book and can vouch that it's more than just a pretty coffee table book. The stunning photos are paired with prose (memories, poems, and stories) by famous people who have fallen in love with Venice.
Mid-Century Modern Complete: Mid-century modern is all the rage now, and it's easy to see why when the designs seen in the art, furniture, and patterns of the era are just so fun to look at. The book is a comprehensive reference for anyone interested in the movement. It contains over 1000 images and is divided into three sections: "Media and Masters," which profiles key creators of the aesthetic; "Houses and Interiors," which presents twenty excellent examples of homes and their furnishings; and an alphabetical dictionary of people, terms, and places.
Wayne Thiebaud: Named one of the best new coffee table books of 2015, this book showcases the colorful, playful art of California artist Wayne Thiebaud (whom I recently wrote about here).
The National Parks: America's Best Idea: Though not a new book, it always deserves a spot on a holiday wish list. The illustrated history of the U.S. national park system is a companion to the PBS series by Ken Burns.
One Hundred and One Beautiful Small Towns in Italy: Because people like me can never get enough of Italy.
Plus these smaller coffee tables books (end table books?):
Paris in Color: A beautiful collection of photos of the details of Paris organized by color
Humans of New York: Stories and Little Humans: Two collections from the Humans of New York project
Fiction & Non-fiction Picks (because whether traveling or relaxing at home, winter's a nice time to curl up with a new book)
Year of Yes: How to Dance It Out, Stand in the Sun, and Be Your Own Person: The inspirational book everyone seems to be talking about lately.
H Is for Hawk: This award-winning book keeps popping up in lists of recommended books, but I may be particularly drawn to it because of my love of birds.
Girl on the Train: Once I started this book, I couldn't put it down. Perfect for long flights or car rides during the holiday travel season.
Euphoria: I recently finished this award-winning novel and loved it!
Medicis Daughter: Called a "page-turner of a historical fiction," this book is set in 1564 and follows Princess Marguerite de Valois and the tumultuous events that occurred after her arrival at the French court.
The Relic Master: A Novel: Since many themes in fiction are dark, I'm always on the look out for books that are both interesting and light. Bestselling author Christopher Buckley creates a 16th-century adventure with a relic hunter and his friend, the artist Albrecht Dürer, who conspire to forge the Shroud of Turin.
Between You and Me: Confessions of a Comma Queen: A book about grammar and the English language that will make you laugh. 🙂
Modern Romance: Aziz Ansari's look at romance today…I started it last night and stayed up too late laughing in bed.
Rick Steves' Travel as a Political Act: I saw Rick Steves speak in Sacramento last week and thought of how this book's message of travel as a bridge builder is more important now than ever.
Books about food & wine (because life is too short to not enjoy good food and drink)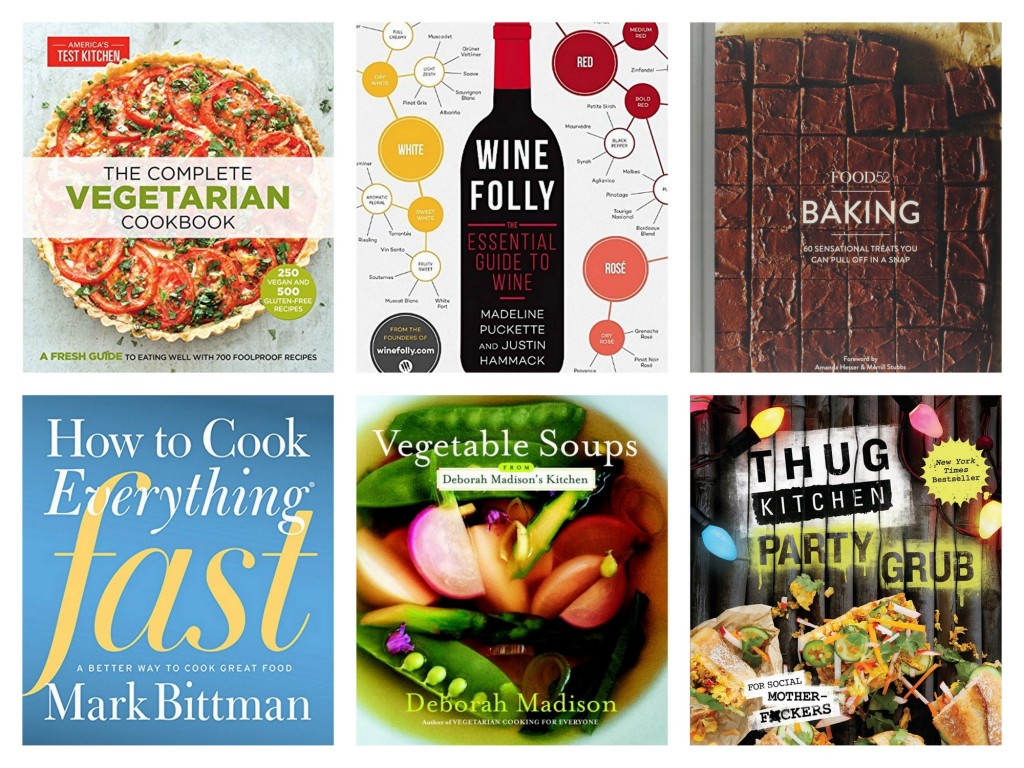 How to Cook Everything Fast: Because Mark Bittman is great, his cooking style is so practical, and we all want to be able to whip up meals quickly.
Wine Folly: The Essential Guide to Wine: The new guide to wine, this book, with its clear descriptions and minimal layout, is a great gift idea for the wine lover in your life.
Food52 Baking: 60 Sensational Treats You Can Pull Off in a Snap: No more so-so baked goods from Pinterest with this volume from the folks at Food52.
Thug Kitchen Party Grub: Thug Kitchen is back with healthy, plant-based recipes for kick-ass party food.
The Complete Vegetarian Cookbook: The best vegetarian recipes from America's Test Kitchen
Vegetable Soups from Deborah Madison's Kitchen: This is not a new book, but I included it because I can't imagine my cooking life without it. I love soup, and Deborah Madison takes it to a whole new level.
Coloring books for adults or kids (because…why not?)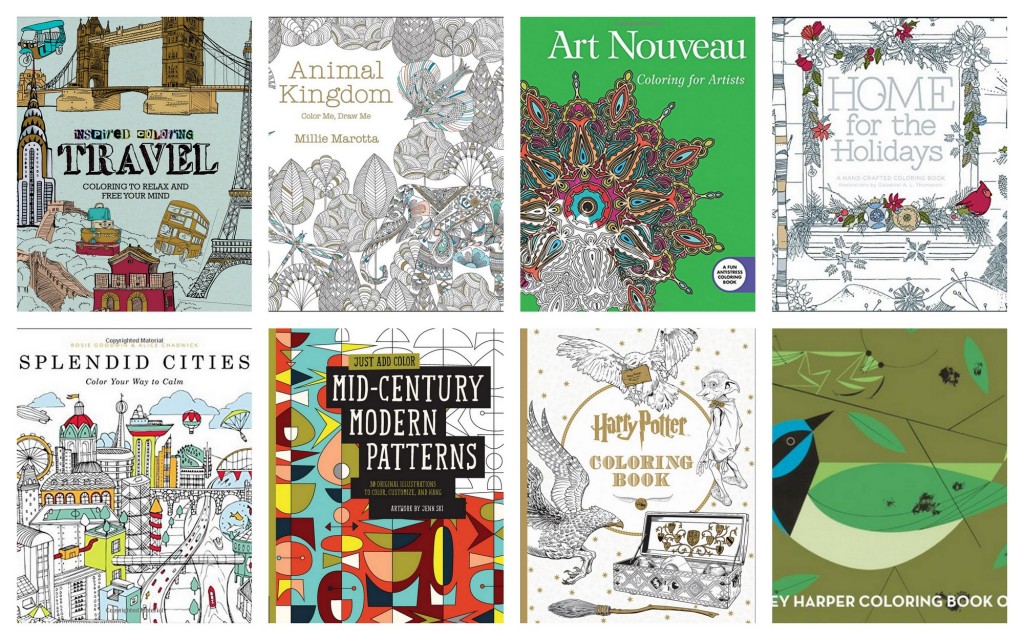 Art Nouveau: Coloring for Artists
Charley Harper Coloring Book of Birds (This one differs from the others because it doesn't have the tiny detail that the others have. It may be a better choice if you want to color larger spaces or have small kids to color with you.)
For kids (because books are always a good idea for kids)
Journey: The most beautiful book my kids own
Once There Was a Boy: Boxed Set: A perfect introduction to Oliver Jeffers for young children
Once Upon an Alphabet: Short Stories for All the Letters: Another choice from talented writer/illustrator Oliver Jeffers, this unique way of presenting the alphabet is for kids in grades 1-4.
Stuck: My favorite book to read to my 4-year-old son
Waiting: Named one of the best books for kids of 2015, this book about patience and perspective is a good choice for smaller children.
The Whisperer: For kids in grades 1-3, this book about a little girl who borrows a book from her teacher celebrates the joy of reading.
Magic Treehouse Books 1-4: The Magic Treehouse series inspires wonder and curiosity by taking readers on adventures through time and around the world. I started reading them to my son when he was 5 or 6, and he now reads the higher ones to himself every day.
Harry Potter and the Sorcerer's Stone Illustrated: This beautiful illustrated Harry Potter book is on many wish lists this year.
Press Here: This unique interactive book is a classic choice for young children.
Want more ideas? Best Books of 2015 on Amazon, The Best Kids' Books of 2015 on The New York Times, and 100 Best Books of 2015 on The New York Times
P.S. My holiday gift guide from 2014 and my favorite charities