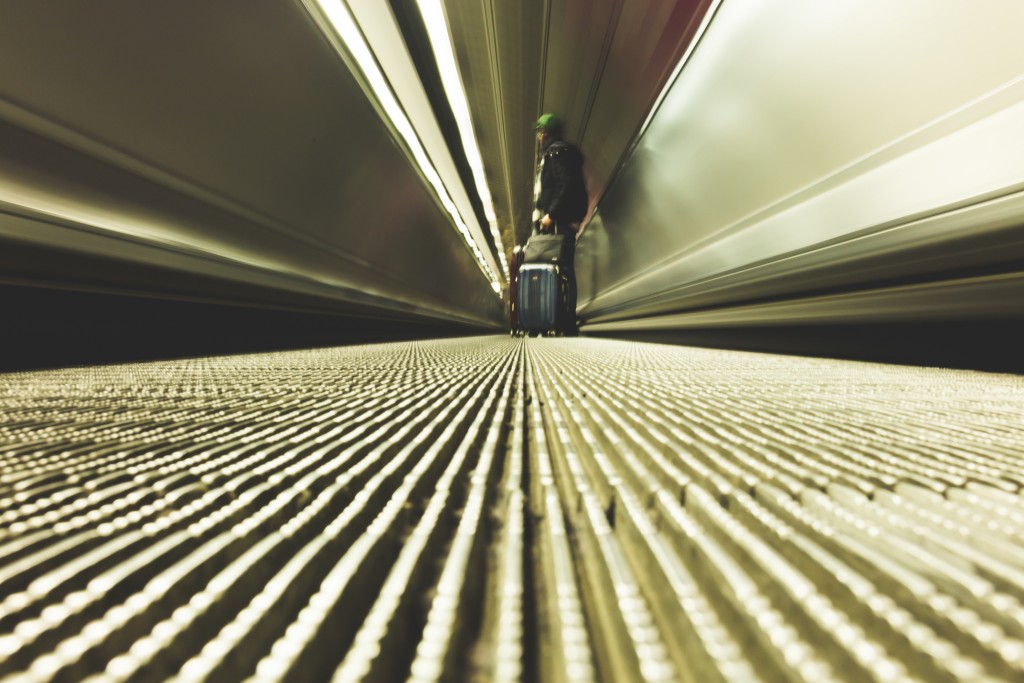 Packing for overseas travel can be a pain, and it's even more stressful when packing for kids, too. Every year we fly overseas with kids, usually for a month-long stay in Brazil. This time we're staying a little more than three weeks. It's summer here so we had to go from sweater weather in California to tank tops and swim gear. With years of practice, I've learned a few packing tricks along the way and have finally created the ultimate packing list for overseas travel. First, 5 tips for packing for overseas travel, and then a packing list for adults or adults traveling with kids.
Tip #1: Plan how much and how many
How much? First, you need to consider your needs based on where you're going and what style of travel you'll be doing. Decide what type of bag you're going to take and how much stuff you'll allow yourself.
When I travel in Europe, I limit myself to one small suitcase that can fit in an overhead bin to make navigating trains and cobblestone streets easy. But when we come to Brazil, we stay with family and therefore feel comfortable bringing larger suitcases that fit not only our stuff but also gifts and souvenirs.
How many? It's easy for me to overpack, but I've also gone the other way and ended up wishing I had packed more. Now, no matter where we go, I decide on a number of items to guide my packing. I consider the number of days I'll be in one place and if I'll have access to a washing machine.
For this trip, because we'll be at the beach for about 5 days, I decided I would need 5 changes of clothes and therefore used the number 5 to guide my packing: 5 tops, 5 bottoms, 5 dresses, 5 tank tops, etc.
Tip #2: Use packing cubes

I love my packing cubes! Not only do they help me stay organized, but they also really save space. For example, I pack one cube for my shirts and one for my son's shirts and pants. When we get to our destination, I can pull out the packing cubes and know where all my son's stuff is instead of digging through a suitcase and inevitably making a mess. Most important is that they're made for saving space–I can cram so much stuff in them!
Tip #3: Keep your travel toiletries ready
Packing toiletries always takes so much longer than I would like–putting bottles in baggies and taping containers closed to prevent leaking on the plane, transferring shampoo to travel size bottles, looking for that small toothpaste… I finally made a bag of toiletries that's ready to grab before we take off. Inevitably, I have to modify it depending on where we're going, but having travel size toiletries ready to go saves me time and stress.
Tip #4: Roll your clothes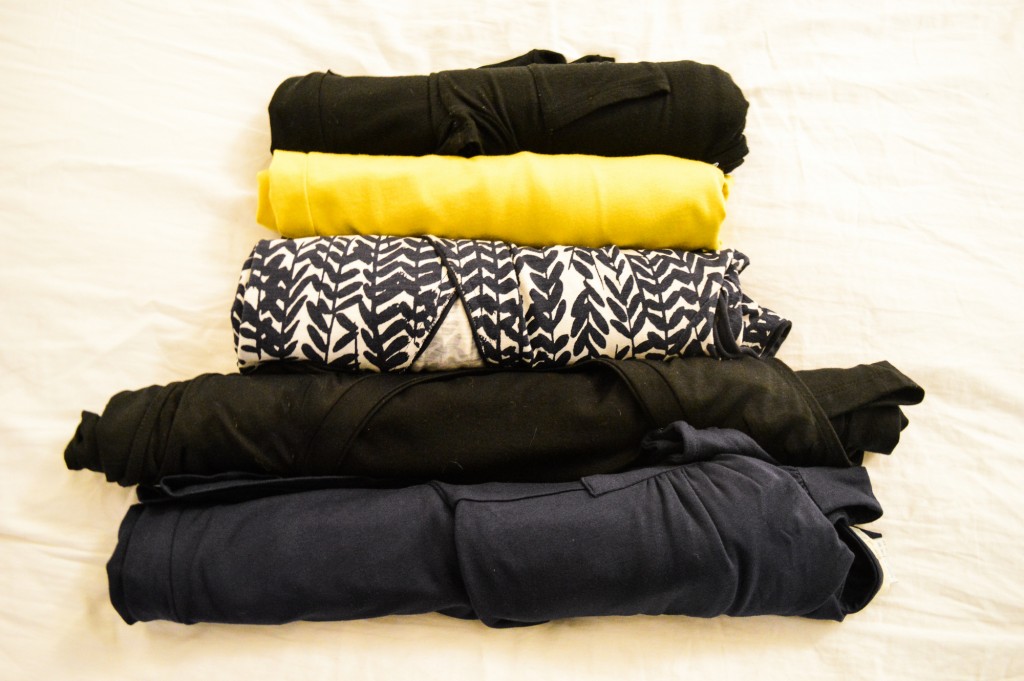 I've been using this strategy to avoid wrinkles for a while, but this time I experimented with rolling dresses and then putting them in a large rectangular packing cube from Eagle Creek. It worked perfectly! I unpacked them yesterday and wore one today–no wrinkles!
Tip #5: Packing for kids? Split the work.
Anyone who has traveled with kids knows that packing for them is a task in itself. Fortunately, it gets easier as they get older because they need less stuff as they grow. My favorite tip for packing with kids is to split the work with your travel partner (if you have one).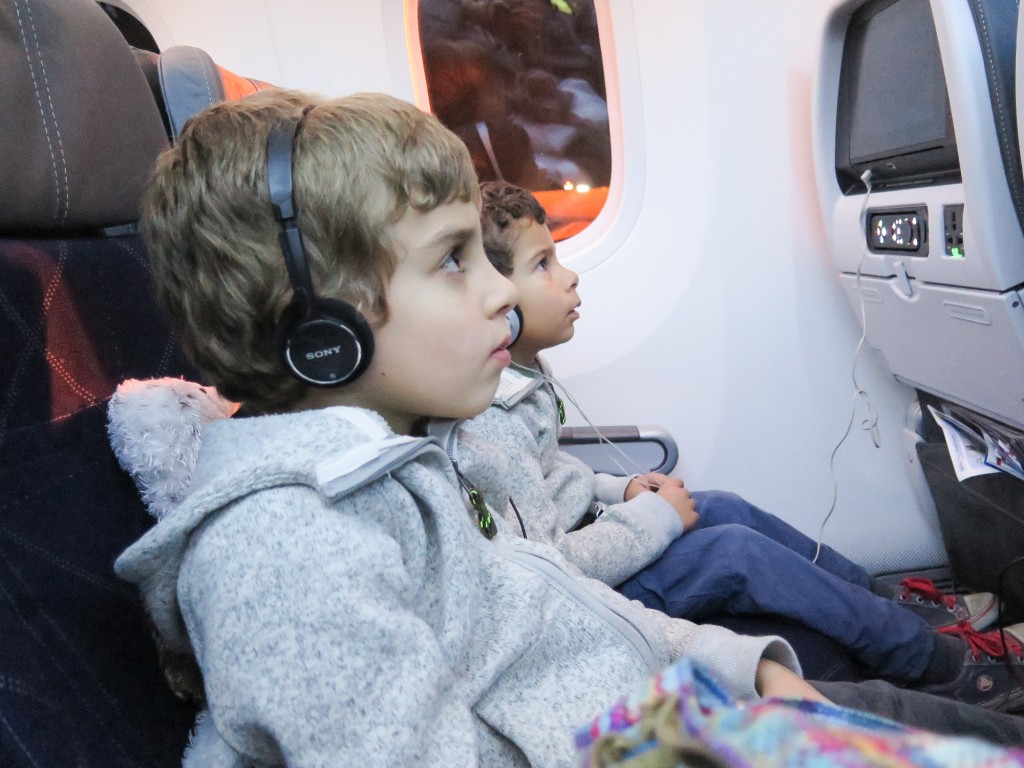 For example, my husband always packs for himself and our older son, while I always pack for me and our younger son. If there's just one kid, you can split the work by having one parent in charge of packing clothes and the other in charge of packing medicines, toys, or other stuff that your child will need.
And now for that packing list! Note that this is an example of a packing list that I made for myself and added things to bring for kids in each section. All of these items fit in one large suitcase. Taking a small suitcase? Cut the clothes down to three outfits.
Packing List for One Adult or One Adult + One Kid
PDF of this packing list here
Toiletries (most of these can be travel size)
Shampoo
Conditioner
Lotion
Small bar of soap
Razor
Face soap
Eye cream
Chapstick w/ SPF
Floss
Toothbrush
Toothpaste
Hair products
Brush/Comb
Travel size hair iron &/or blowdryer (?)
Hair holders: bobby pins, ponytail holders, etc.
Cotton swabs
A few small bandages
Small first-aid cream
With kids? Add these:
Kids' conditioning shampoo
Travel size kids' toothpaste and toothbrush
Accessories
Hat
Belt
Umbrella (some recommend buying one while traveling, but I prefer to be ready)
Jewelry: nothing fancy, but I bring a few interesting necklaces and 2-3 pairs of earrings
Purse
Sunglasses
With kids? Add these:
Cotton sunhat
Kids' sunglasses (?)
Misc.
With kids? Add these:
Favorite bedtime book
One (or more) favorite toy that they've chosen to bring on the trip
Little kids? Bring cups with lids
Clothing 
Note: Obviously, this depends on the weather where you're going–this one was made for warm weather travel and includes long pants and shirts to prevent mosquito bites. You'll also need to adjust the number of items based on your suitcase size.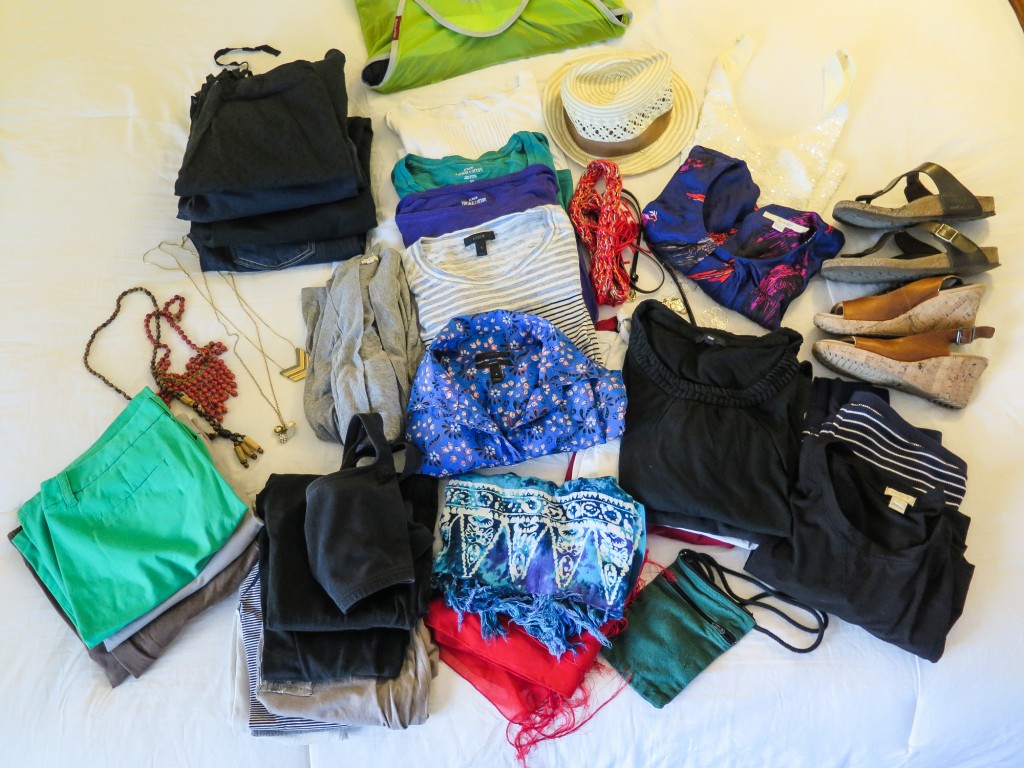 5 pairs of underwear
5 pairs of socks
2 bras
1 sports bra
2 sets of pajamas
Swimsuit
Beach cover ups
5 short-sleeve t-shirts
3 long-sleeve t-shirts
3 pairs of shorts
2 pairs of leggings
1 cardigan sweater (to wear on the plane)
1 compact rain jacket (see mine from REI in the last photo–it rolls into a ball)
2 blouses
1 pair of jeans
2 pairs of pants
4 tank tops
3 dresses including one that can be dressed up
With kids? Add these clothes for each kid:
8 pairs of underwear
6 pairs of socks
3 sets of pajamas
Swimsuit
6 short-sleeve t-shirts
4 long-sleeve t-shirts
3 pairs of shorts
2-3 pairs of leggings/comfy pants
1 sweatshirt or cardigan
1 compact rain jacket
Medicines, etc.
Note: I like to bring small amounts of common medicine with me because, as I've learned, illness can strike at any time of day.
Ibuprofen and Acetaminophen
Thermometer
Insect repellent (depending on the destination)
Sunscreen
Cough syrup
Depending on the destination: antibiotic in case of food poisoning
With kids? Add these:
Ibuprofen and Acetaminophen for kids
Benadryl in case of allergic reaction
Any medications your child takes
Kids' cough syrup
For the airplane: (consider a backpack that can be used as a day bag while traveling)
Wet Ones to clean the tray table (I'm a little paranoid about germs on planes!)
Smart phone w/ books & games
Laptop
Camera (I prefer a small high quality camera for travel)
Portable charger like the jackery
Earbuds
Copy of itinerary
Pen
Travel size lotion
Warm socks
Mints
Snack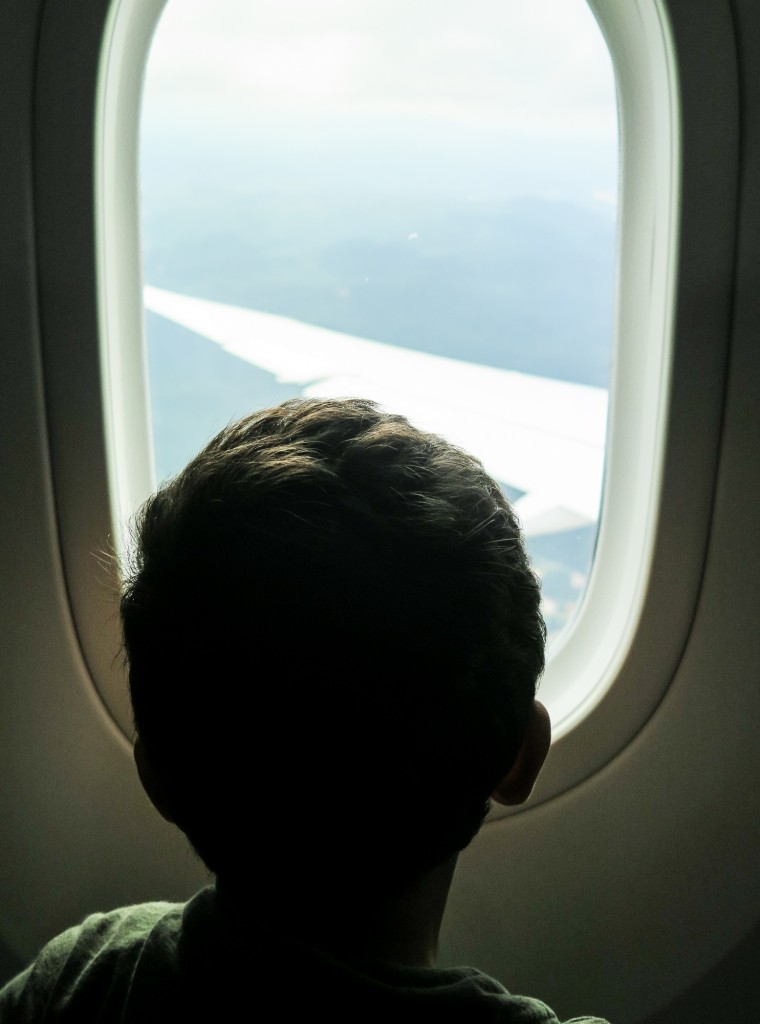 With kids? Add these:
Gum
Small snack with protein like Tiger's Milk bars
One small surprise toy like a sticker book
One favorite stuffed animal to cuddle with and teach good airplane behavior
One change of clothes
Cup with lid and straw
Kids' acetaminophen in case of fever on the flight (yes, that happened to us!)
I'd love to hear your tips for packing for overseas travel. Do you lean toward Rick Steves' recommendation of taking only a carry-on suitcase? And any tips for packing light with kids?
Pin for later: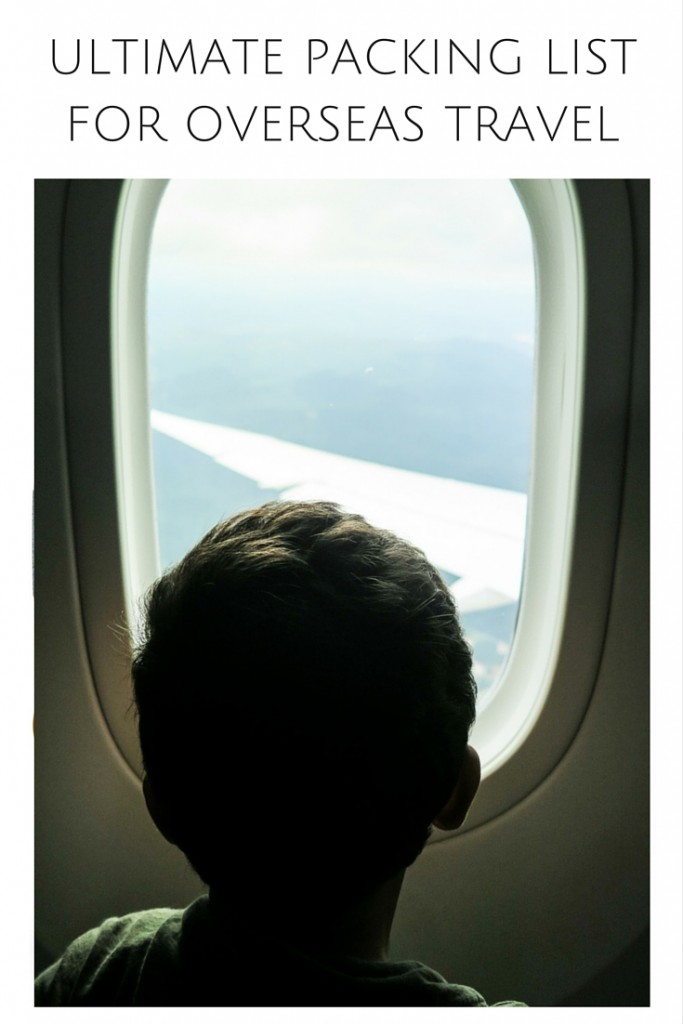 P.S. Like this post? You might like these, too:
What to Pack for Summer Travel
What to Pack for Winter Travel
8 Things I Never Travel Without