Spring may have suddenly sprung here in Northern California this week, but the fuss lately has been over the very snowy winter we've had in the mountains this season. While we are (unfortunately) not skiers, we don't usually spend much time at Lake Tahoe in the winter because, after all, it's best known as a ski destination. But snow and kids are definitely a perfect mix, so a renewed interest in Tahoe in the winter began in recent years…and then the drought came and we had little chance to experience Tahoe as a winter wonderland.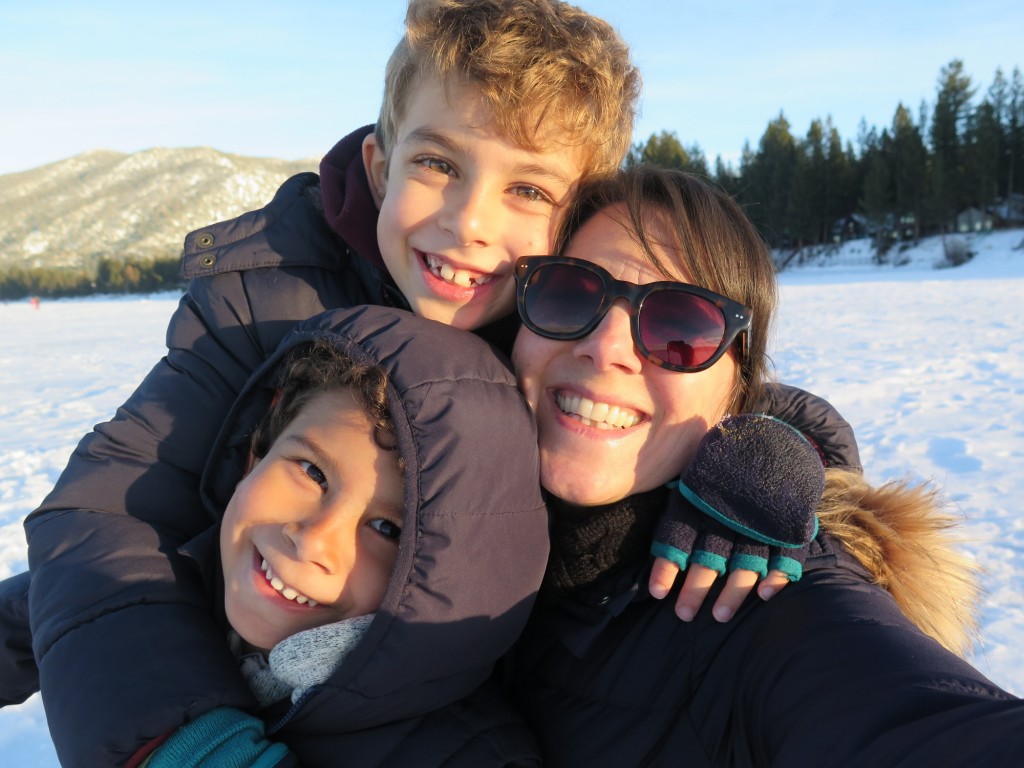 Fortunately, we were able to change that this winter and spent two weekends in a row in South Lake Tahoe. It was interesting because the weekends were almost complete opposites–the first weekend was a snowy one, meaning cloudy skies, almost constant snowflakes, traffic while trying to get home, and loads of beautiful, fresh snow coating everything in sight. The second weekend was clear, warmer, and sunny, giving us those classic Tahoe views of the blue lake and snow-covered peaks.
If you come to Tahoe with your kids, or if you want to experience other aspects of Tahoe besides skiing, here are 5 family-friendly things to do in South Lake Tahoe plus one family-friendly place to stay.
Sledding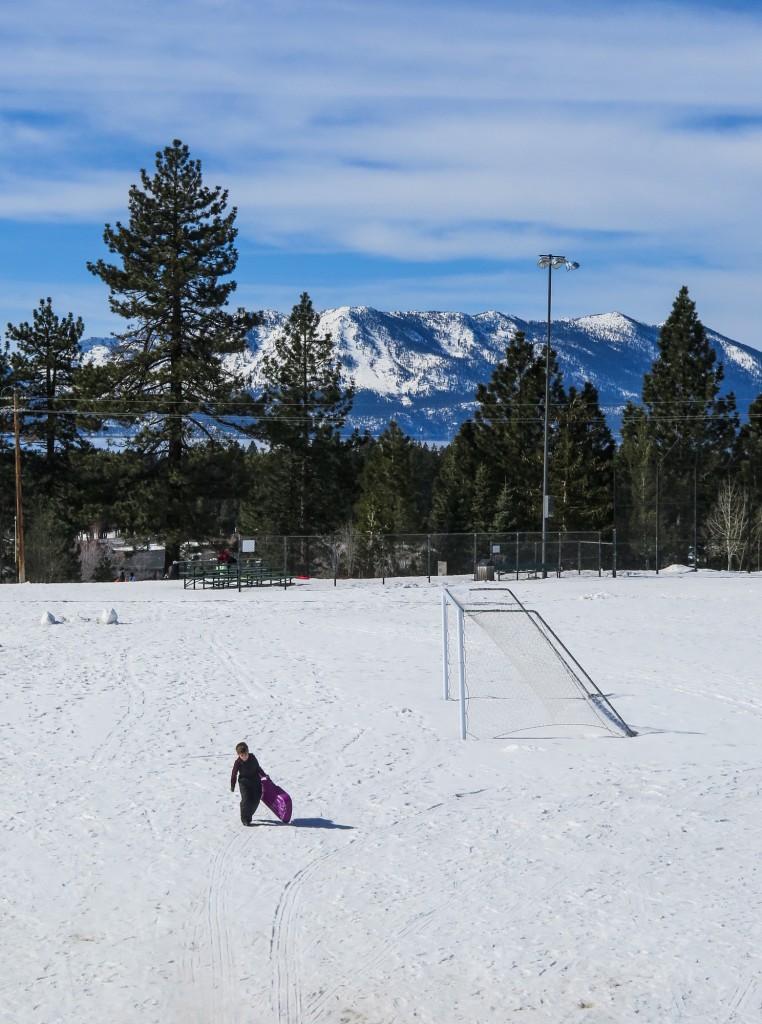 Sledding in winter here is a must! You can bring a sled like we did or rent one at the nearby shops.
Sledding locations are scattered around the South Lake Tahoe area. We saw lots of people sledding on the hill at the beach, and there are snow parks like Adventure Mountain, but I preferred the more laid-back and quiet vibe at Kahle Park. This local park, just across the state border in Nevada, is good for younger kids who aren't ready for the challenge of bigger hills. Plus, the park comes with indoor facility, easy parking, a playground, and a view of the lake and mountains.
The Heavenly Gondola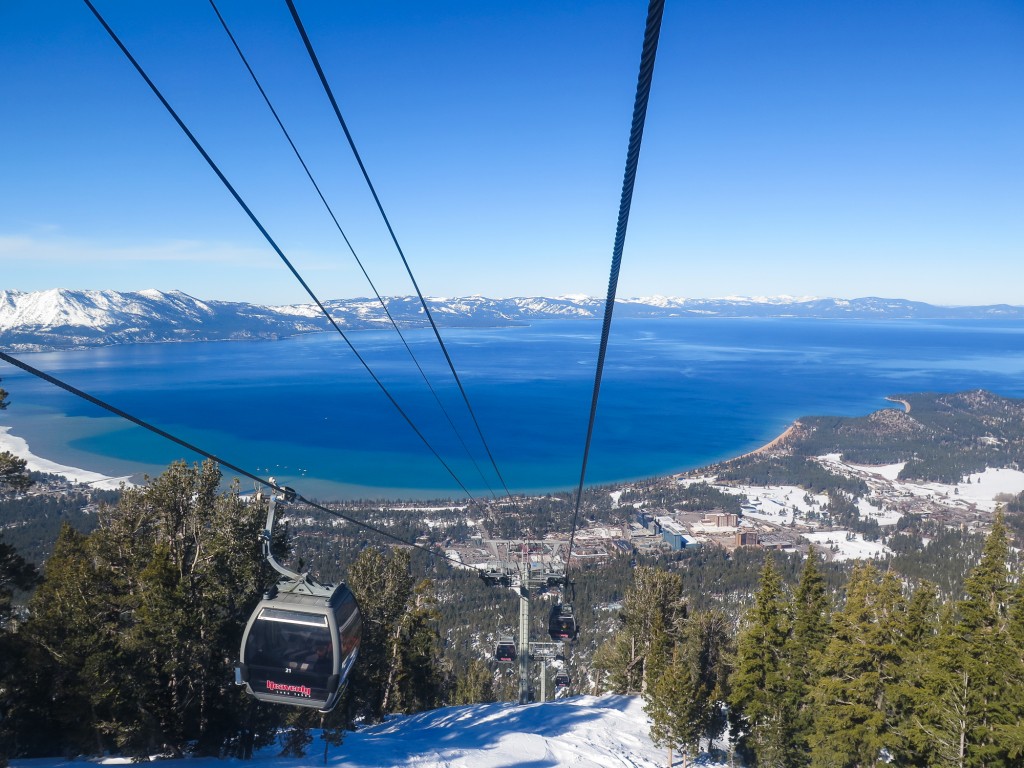 The Heavenly Gondola takes visitors on a 2.4-mile ride up almost 3,000 feet! The ride itself is a lot of fun–the gondola ride offers spectacular views of the lake and the surrounding moutains.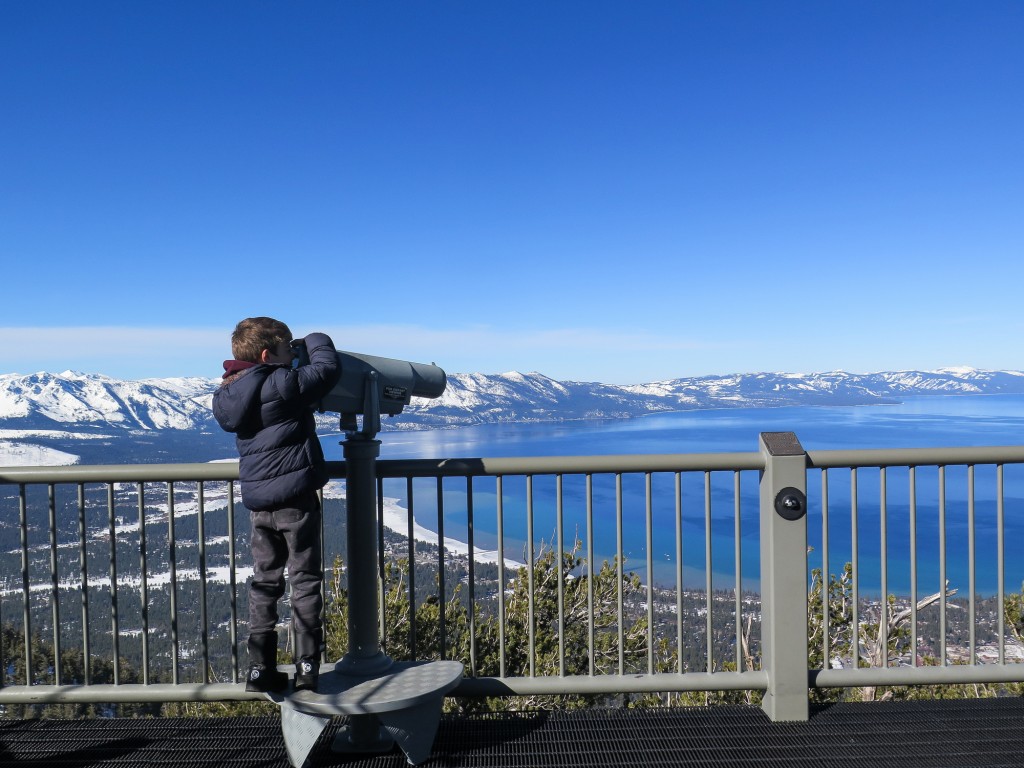 There are two stops: the first is the observation deck, where you can get the best view of Lake Tahoe and surrounding points of interest and enjoy a treat from the cafe (but it's cold and windy there!); the second is at the state line of California and Nevada. Here you can get out to ski/snowboard or have a meal (there are other activities here in the warmer months).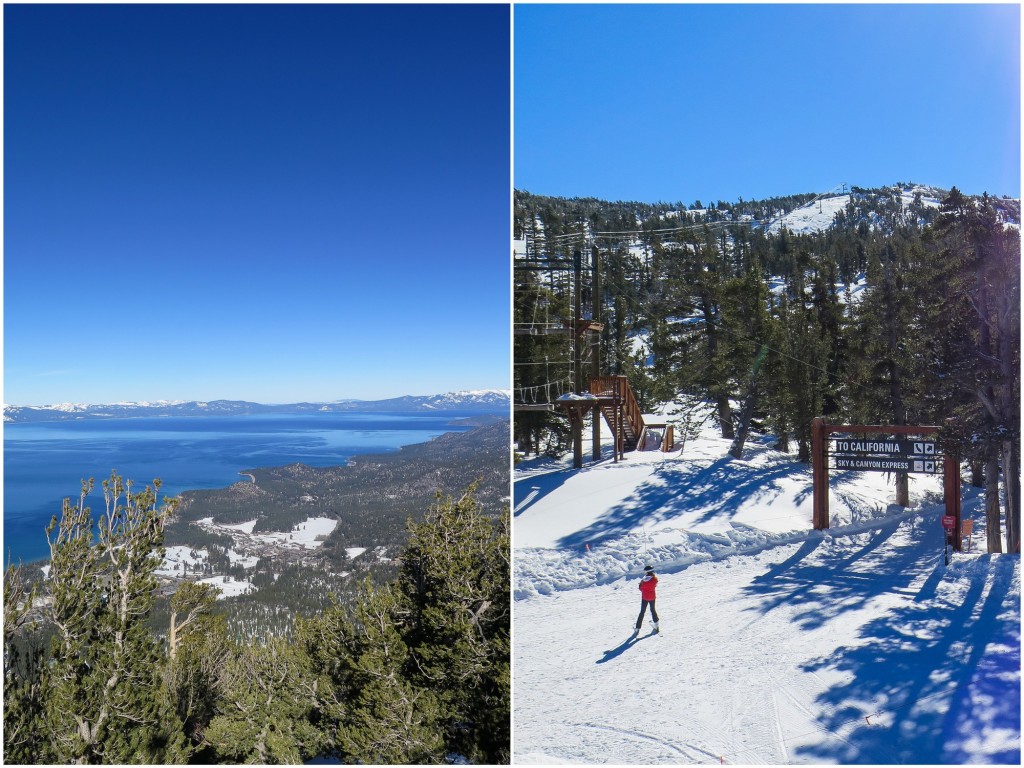 The ride begins at Heavenly Village on Lake Tahoe Blvd. On weekends the line for tickets can get long, so you may want to try getting there by 10:00 a.m. or in the afternoon when most skiers have already ascended. You can park in the parking garage (about $3 per hour), in the lot by Blue Dog Pizza/Raley's (free 2-hour parking), or in the lower level of the structure across Lake Tahoe Blvd for free. For our family of 4, the gondola ride cost $150. Kids under 5 are free.
Lakeview Commons Beach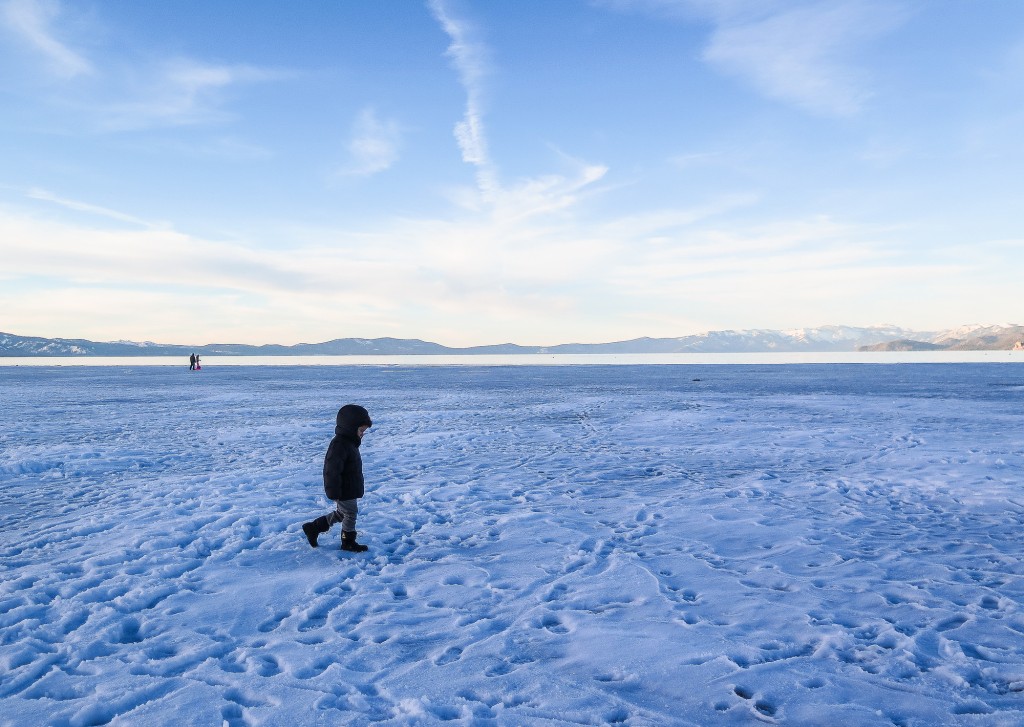 Being on the beach in South Lake Tahoe just before sunset was one of our favorite experiences. The flat expanse of the snow-covered beach has an unusual beauty. It's hard to imagine that this is the place where people sunbathe and take their boats out in the summer.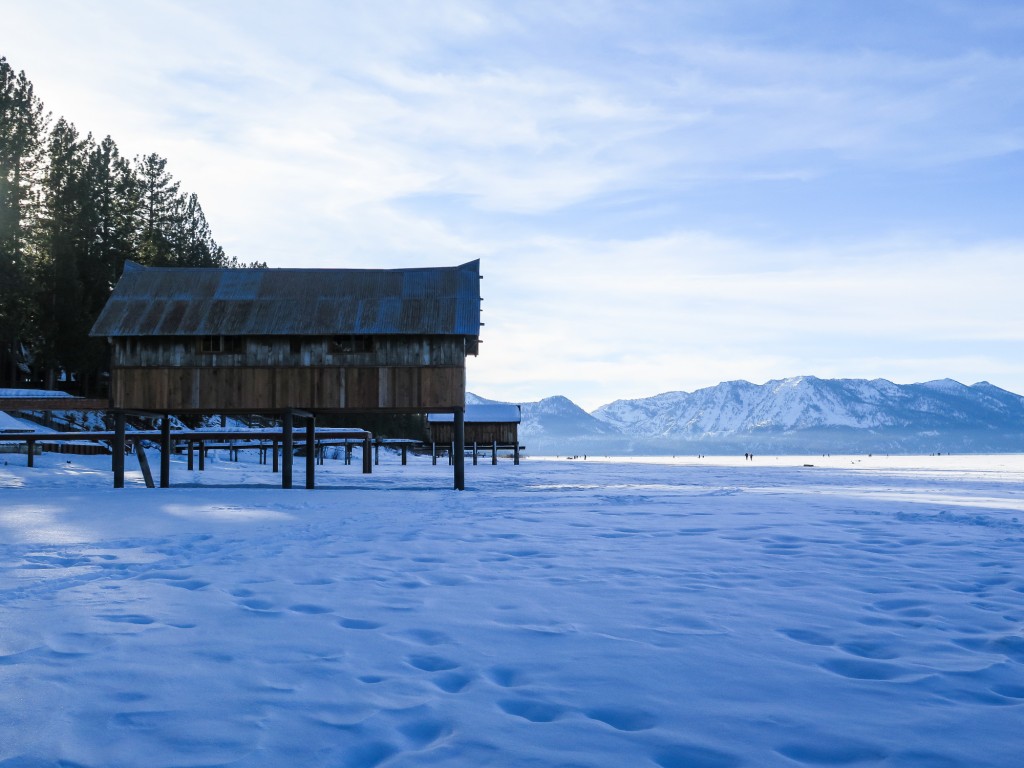 You can park for free near the entrance to the beach and just hang out for at least an hour–we got there at about 3:30 and stayed almost two hours, leaving just at sunset.
Snowshoeing at Camp Richardson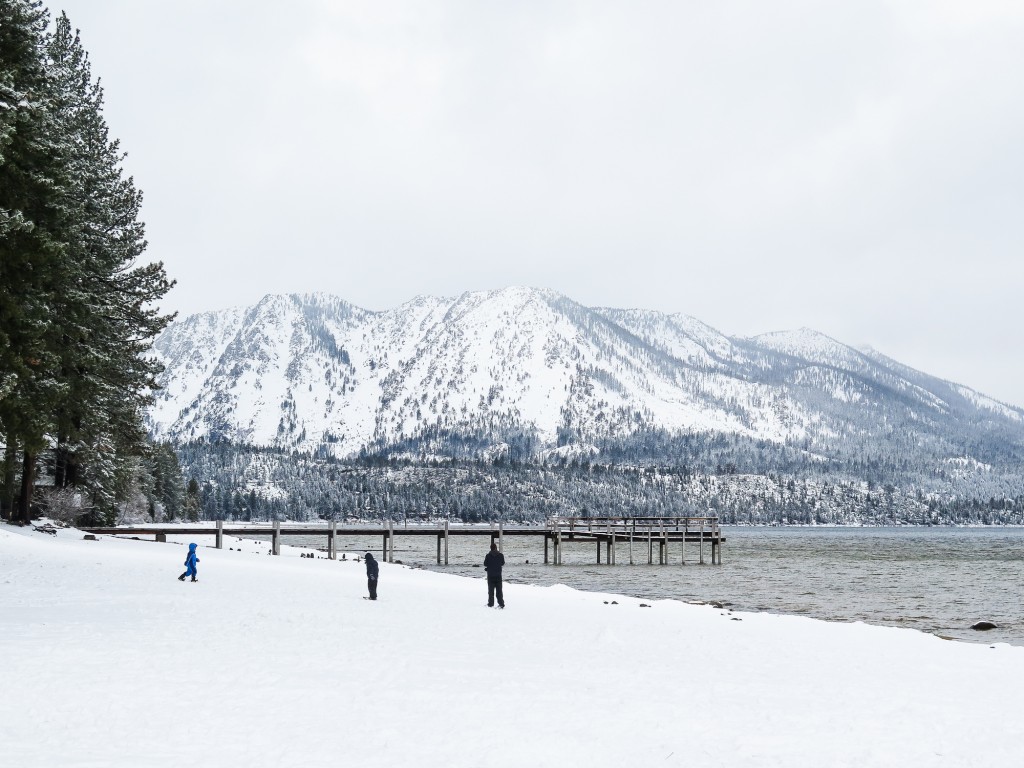 I wasn't sure how our kids would do with snowshoeing, but they took right to it and have been begging to do it again! At Camp Richardson, just down road from South Lake Tahoe toward Emerald Bay, you can rent snowshoes or cross-country skis (look for the snowshoe rental office on the left side of the road). There you'll need to decide what type of trail you want to use–if you want to use their miles of groomed trails which go through the woods behind the office, you'll need to pay a trail pass fee for each person ($7/person for a half day, $12 for a full day). If you prefer to find your own place to snowshoe, you can rent the snowshoes there and return them later in the day. We did the half day rental and paid $48. See prices and a map here.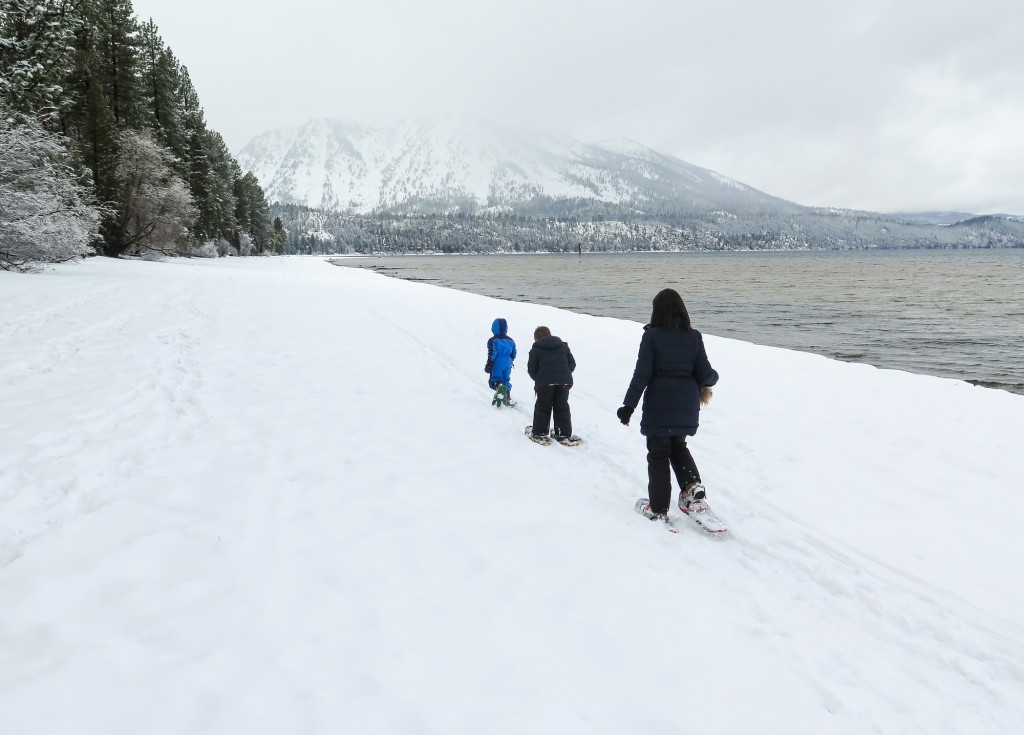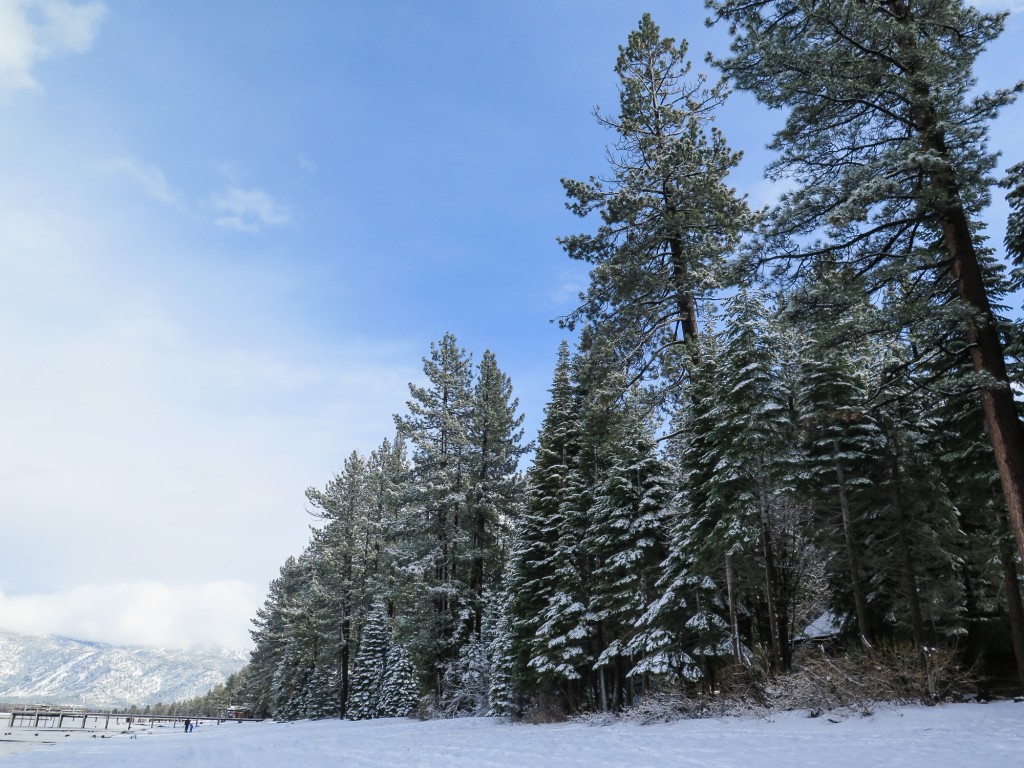 Because we didn't think we'd need miles of trails and we wanted a view, we chose to snowshoe on the lake instead of on their groomed trails. You can see on the map that you can park at the Beacon Bar & Grill and then walk along the lake. We fell through the snow a lot, so being on the trails would have been easier, but the sound of the water lapping against the snow was so peaceful!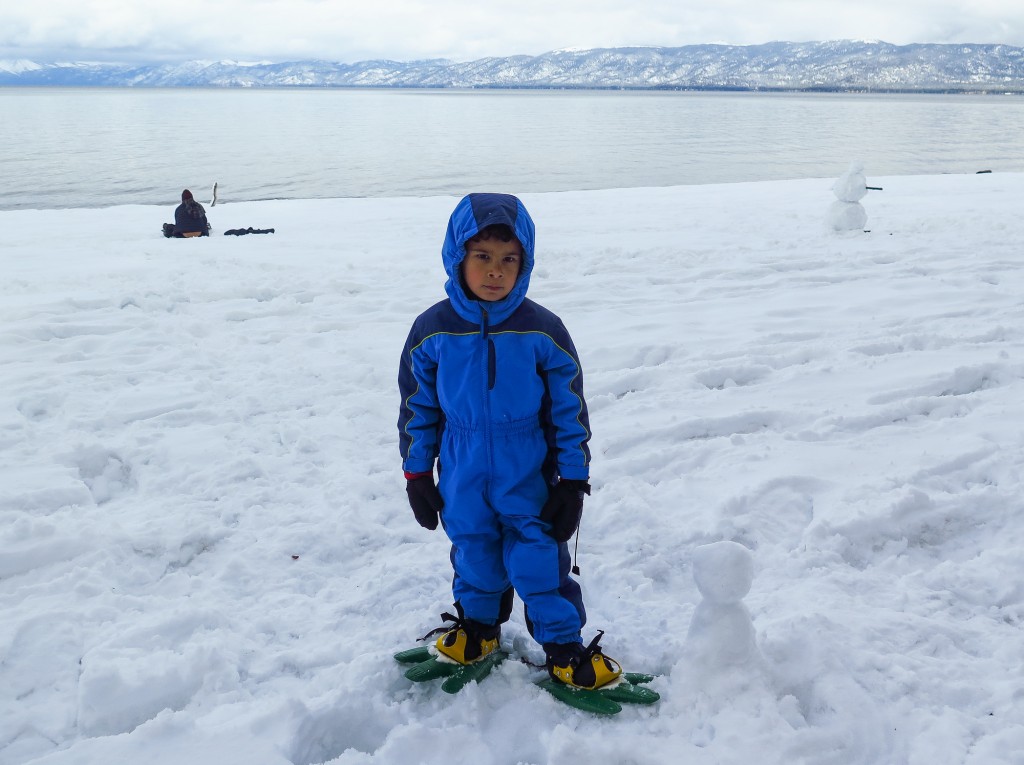 Check out the snowshoes! The guys at the rental office were really helpful. They even have green T-rex snowshoes for little kids! Gabriel was especially excited about making big dino prints in the snow.
Where to eat in South Lake Tahoe with Kids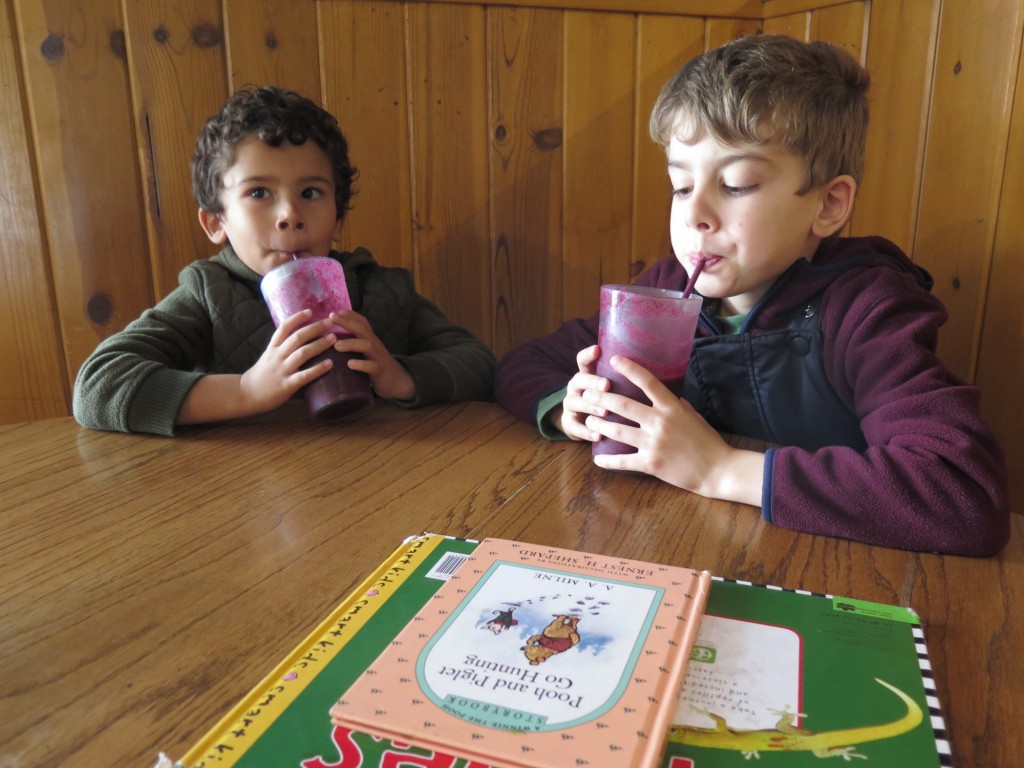 Sprouts Cafe: We love this cozy restaurant so much that we ate there four times! The cafe is a perfect solution for traveling families: it's quick, healthy, and kid friendly. There's even a corner where kids can build with blocks or choose a book.
You order and pay at the counter and then take a table, where your food is delivered quickly, even when the cafe is busy. My favorite was the breakfast burrito bowl–it's a tasty combination of rice, black beans, egg, cheese, avocado, salsa, and tortilla chips. For the kids we ordered blueberry smoothies and the Turkey Jr. and cheese quesadilla from the kids menu (no chicken strips and fries here!). The four of us could get plenty of food and drinks for $40, and the portions are large.
Blue Dog Pizza is another reliable kid-friendly option.
Where to Stay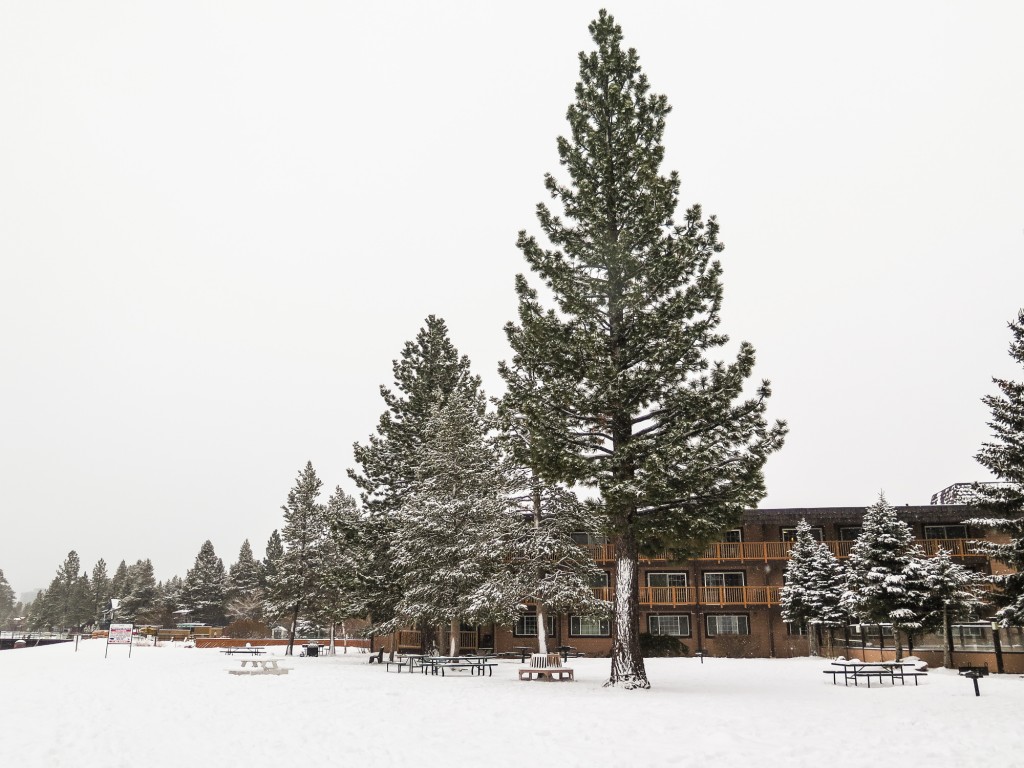 Tahoe Beach & Ski Club: This ResorTime property offers what I think is the perfect happy medium between vacation rental and hotel. Like a vacation rental, the rooms are spacious (try the 1-bedroom units), and there's a kitchen and eating area that makes staying here with kids convenient. Bathrooms include a soaking tub, and the 1-bedroom unit even has two full bathrooms!
Like a hotel, there is consistency and service. The rooms are extremely clean and have all been remodeled and updated with new appliances and quality linens. The front desk service is friendly and helpful, and there are plenty of amenities to make this a comfortable stay. The property includes a heated pool and two hot tubs as well as a sauna, fitness center, and activities room with games and foosball and pool tables. There is a large selection of DVDs to choose from for quiet evenings in. We also enjoyed the playground and private beach (I'd love to stay here in the summer!).
Tip: Ask for a room on the top floor in Building 5, where some rooms have a lake view.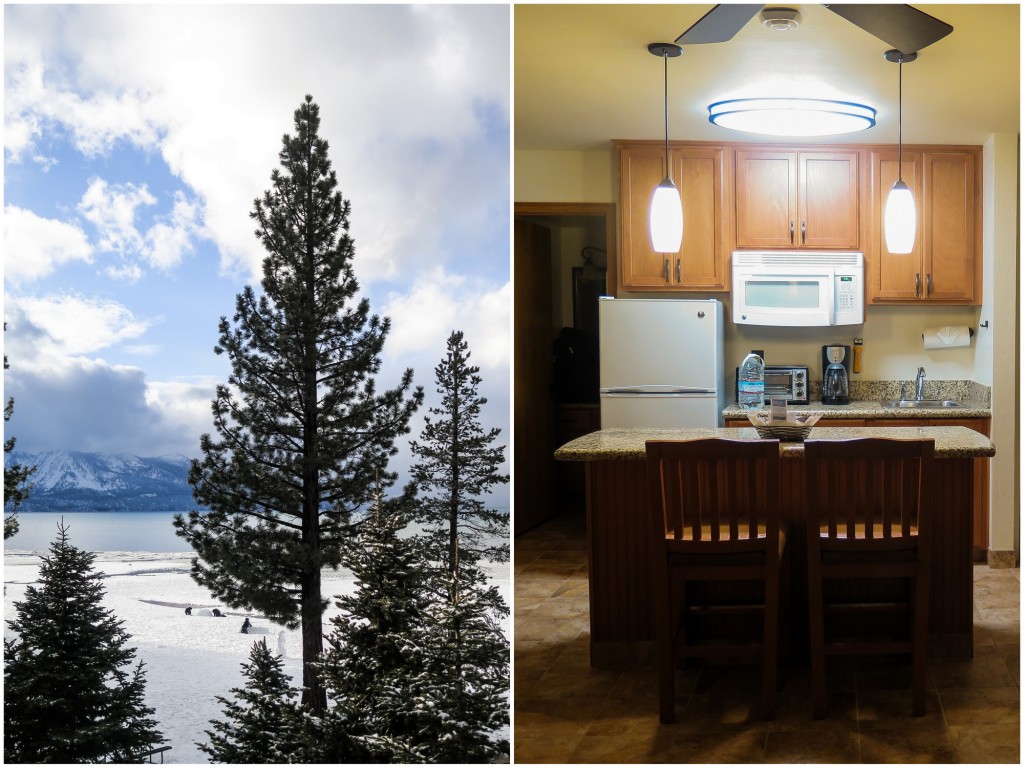 Click here for more recommended places to stay at Lake Tahoe.
Have you been to Lake Tahoe in the winter? What things to do in South Lake Tahoe would you recommend?
P.S. More about Lake Tahoe:
Images from Four Days at Lake Tahoe
Travel Guide to South Lake Tahoe on Whiskey Tango Globetrot