I'm excited to share this story with you today. Tiffiney and I connected online a while back thanks to similarities in our backgrounds and interests, but recently I've become captivated by her family's story. I followed their journey from California to Spain and Mexico and Greece before their recent return to Northern California. Besides inspiring me with her adventurous spirit and love of life, she's inspiring many others through her new Mama Said project (see below). 
An Adventure to Renew our Vows
Not so long ago, my life looked like the American dream.
I had a cute little house downtown, a job I loved at the local community college, a significant other, two healthy children, three cars, a camper, a garage full of recreational gear, and a social calendar packed with fun social gatherings.
There was just one small problem.
My husband and I hated each other, and I felt trapped.
I felt ungrateful for complaining about my life—especially when there are literally thousands of people in the world suffering unspeakable tragedies like the Syrian refugee crisis and homelessness. But despite the first world nature of my problems, they were crippling. There is no lonelier feeling than being in a relationship that is broken and no one knows how to fix.
There's not one moment I can pinpoint where everything went wrong.
Rather there were many small hurts that somehow became an insurmountable and dangerous glacier in the middle of our marriage. If you've ever been married, you know that it wasn't one person or the other, but rather something we had both created and grown to accept. While we weren't paying attention (or maybe we were absorbing ourselves in raising our children and paying our mortgage), we'd grown completely apathetic toward one another.
Then what seemed like overnight, we reached that critical breaking point. Something had to give one way or the other—we could no longer ignore our sad state of affairs. Angry words were yelled, egos swelled, and we brought divorce right into our living room.
But the look of devastation on our four-year-old's face, when his dad told him he was moving out, made us ashamed of ourselves. The blame and anger softened to heartbreak.
And that's when I had the devastating realization, both of us were making sacrifices for a lifestyle that we had unconsciously created, and didn't reflect either one of our values.  We were slaves to a lifestyle that sparked joy for neither of us.
Before we met, we were both avid travelers. Our paths crossed while we were both living in the Spanish Pyrenees, he was working as a ski instructor, and I serving as an English teacher in a small Catalonian village above Barcelona. Both driven by adventure and the thrill of the unknown, we connected immediately over our sense of adventure and possibility.
If we were born adventurers, why then did we decide after getting married, to come set up the scripted "American Dream" complete with monthly bills and a mortgage?
But on this day that stands out in my memory so clearly, the afternoon sun streaming through the kitchen window, a pile of dirty dishes cluttering the sink, and a sobbing little boy, I was hit with a bolt of clarity. We could choose to completely redesign our lives around our family and our values.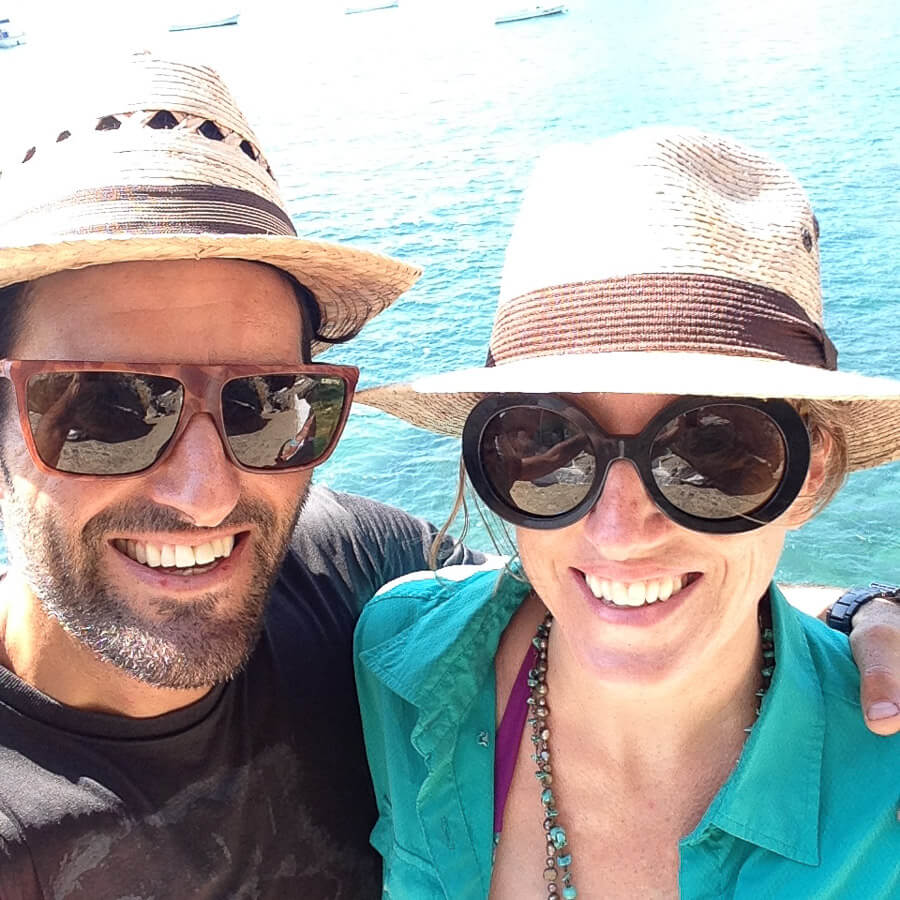 I realized I could choose to focus on my husband's shortcomings or I could cherish the way only he can make our two babes laugh — the sweetest melody my heart has ever heard — and remember the simple truth that we love each other. I could choose to align my actions every day with my the deepest values—which were adventure, exploration and connection with myself and nature. I could no longer go through the motions and live the life that was expected of me. I had to live the life my heart longed to live.
The scariest part was—I actually had no idea what that looked like, but I knew I could no longer ignore the pull to find out.
It took a mere six months for us to dismantle the life we'd created in California. We sold our house, all of our possessions and bought one way tickets to Spain. We talked of buying a sailboat to chase sunsets and never-ending adventures. But of course a life like that doesn't come cheap, so we opted to go for a more cost effective version of our dream and bought a Volkswagen Westfalia. It's been 18 months since we walked out on the life that was slowly strangling us.
Though we've had many adventures since this drastic shift, my husband and I still struggle. But we've realized that happiness (especially within a marriage) is a choice you make every day. And that we have to make one another's happiness a priority. And while happiness is a daily practice, that is some days are easier than others, I'm grateful for my husband who is willing to support my desire to chase my curiosity, to do the work with me and show up to our marriage armed with truth, love and most importantly an attitude of gratitude.
I don't really know what all the future holds, but I know that my power, whether in my marriage or in my life, comes from aligning my daily actions with my deepest truths. This one simple principle has changed everything for me, and enabled me to find adventures hidden inside every single day.
Tiffiney Lozano is a wild-hearted California mom based in the Sierra Nevada mountains, where she's committed to finding adventures in the everyday. She writes about seeing the world with child-like wonder and curiosity and learning to say yes to the things that make her happy- creating, exploring and dancing. She also writes satire about parenting, because raising humans is ridiculous, and she has to be funny, or she wants to give up.
Giveaway!
(Winners have been chosen!) Enter to win a copy of the beautiful book Mama Said by leaving a comment below. Tell us what the biggest surprise of motherhood was for you. One winner will receive a paperback copy of the book (winner of the paperback must be in the U.S.); the other winner will receive an electronic copy. Winners will be chosen randomly next week.
This beautifully illustrated text takes readers through the range of human emotions that come along with nurturing a tiny human. The stories invite mothers to join their hearts in the sacred sisterhood of creation and go beyond the personal choices of how one mothers, and instead unearth the universal themes of love, fear, humanity and humor all mothers experience.