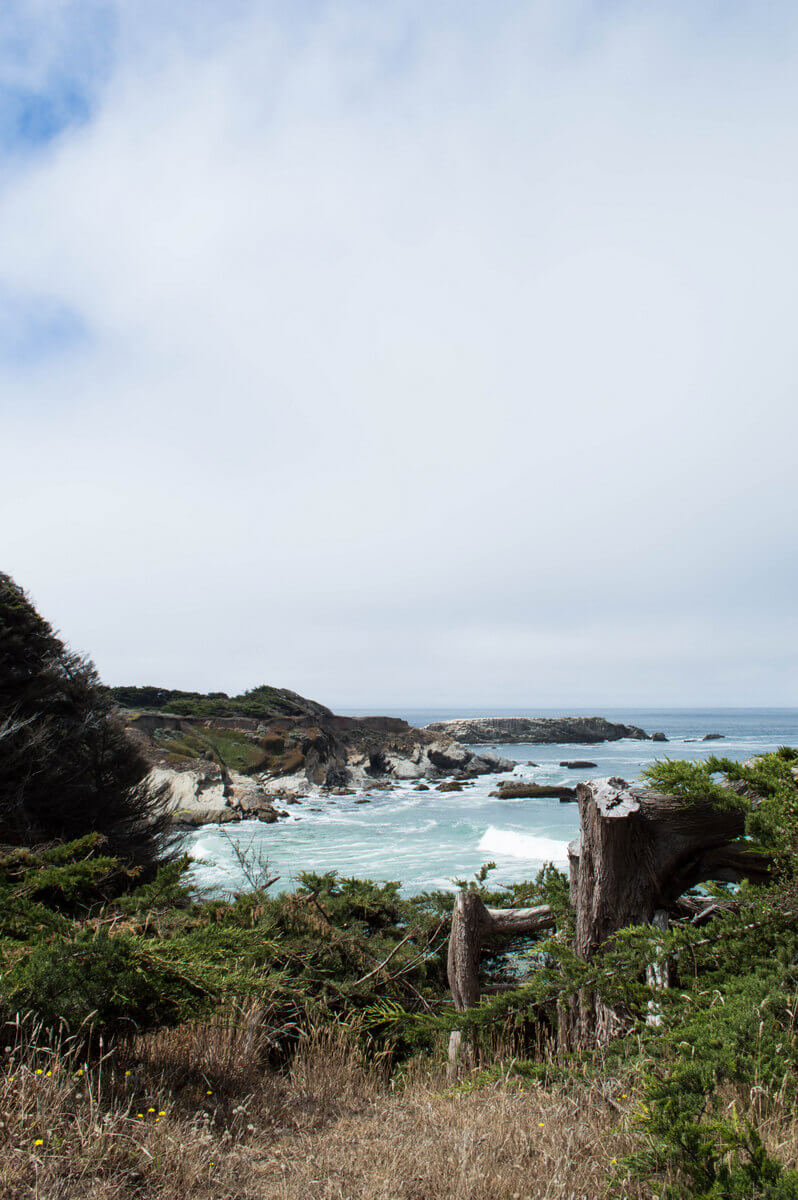 This summer marked 14 years since we moved to Sacramento. We've traveled a lot in this state, but in fact, we rarely go very far–we've stuck to the 3-hour radius around Sacramento (Monterey & Big Sur, Yosemite, Lake Tahoe, the Bay Area, Napa Valley and Sonoma County) partly because there's so much to do within a 2-3 hour drive from home. But that means that, until about 10 days ago, I'd never been to Mendocino County, which always caused people to gasp and then insist that I must go there, that I would love it.
A couple of weeks ago, as summer started to wind down, we realized we hadn't taken a trip with just the four of us for months. After no luck finding a last-minute vacation rental on the Mendocino coast, we found a beautiful vacation rental in the Sea Ranch on Airbnb, somewhere we'd never heard of (more info here). It's a rugged, sparsely-populated area just south of the Mendocino County line on one of the most beautiful stretches of coast on the West. We wanted a relaxing trip of hiking, biking, and animal watching, and that's exactly what we got.
(See more off-the-beaten-path ideas in my Secret California category.)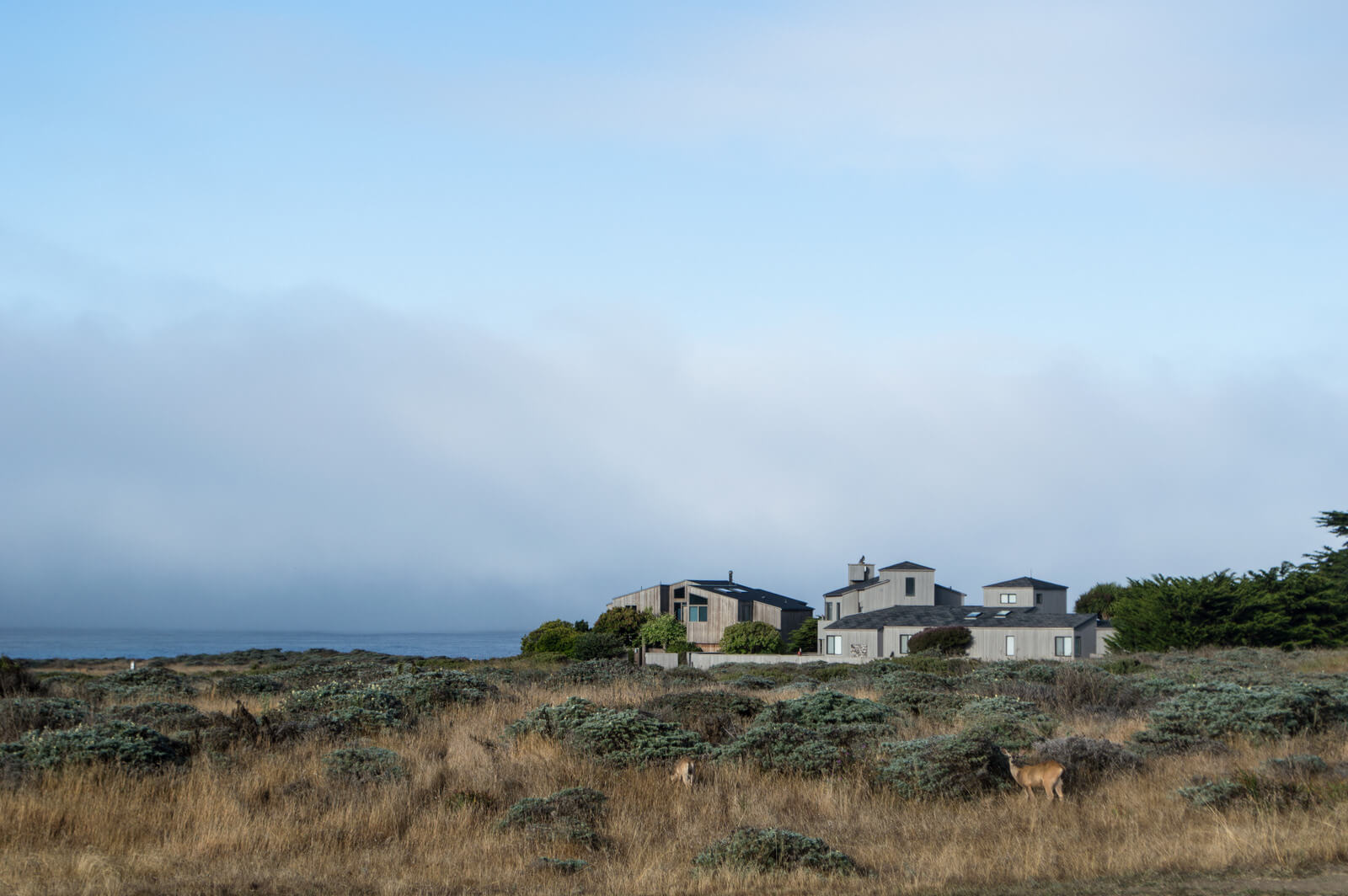 After posting photos on Instagram, I realized that this place is definitely not unknown! I heard from people who have loved to vacation there for years or even plan to relocate there. The Sea Ranch is a small community of about 1000 people at the northernmost part of the Sonoma County coast, just south of the small town of Gualala (pronounced "Wa-la-la").  The community sits on the meadows between Highway 1 and the ocean, so most houses have a sea view.
The houses are purposely simple, designed not to stand out against the nature. There's no landscaping or lawns; instead, the natural vegetation surrounds the houses (wildflowers, cypress trees, ice plant, and low-growing shrubs).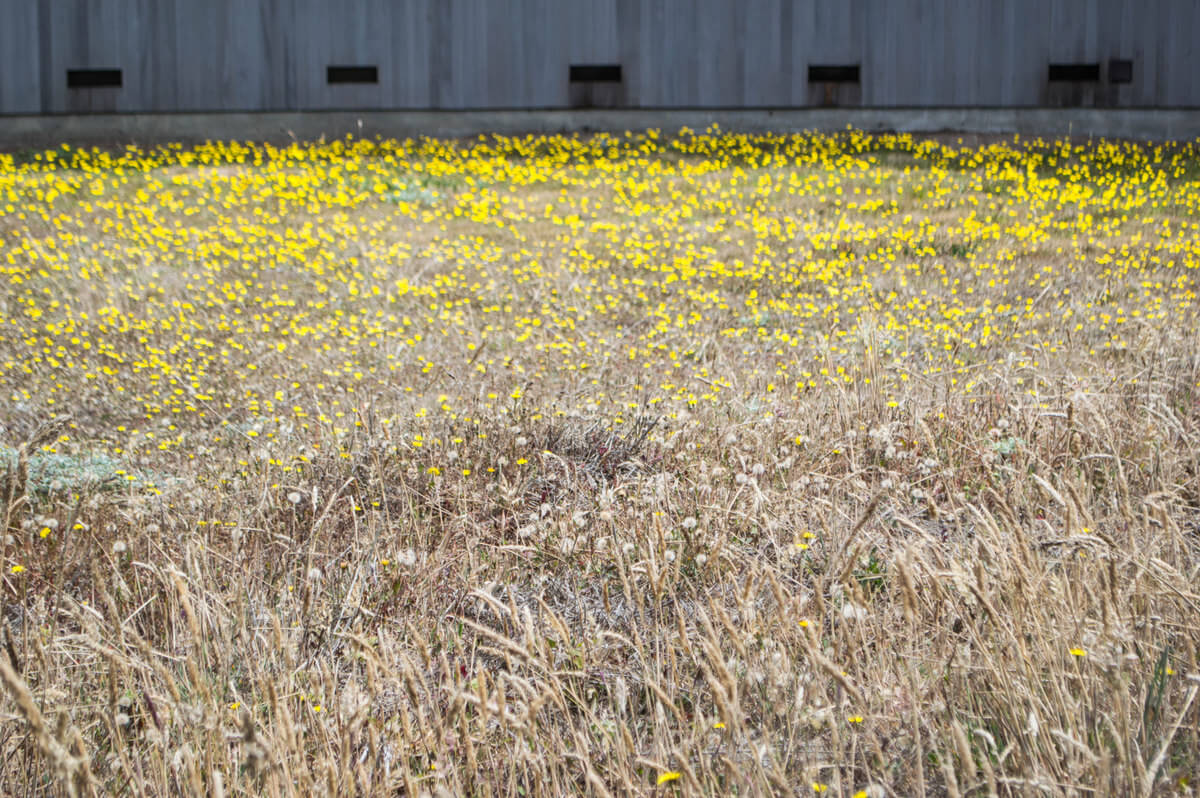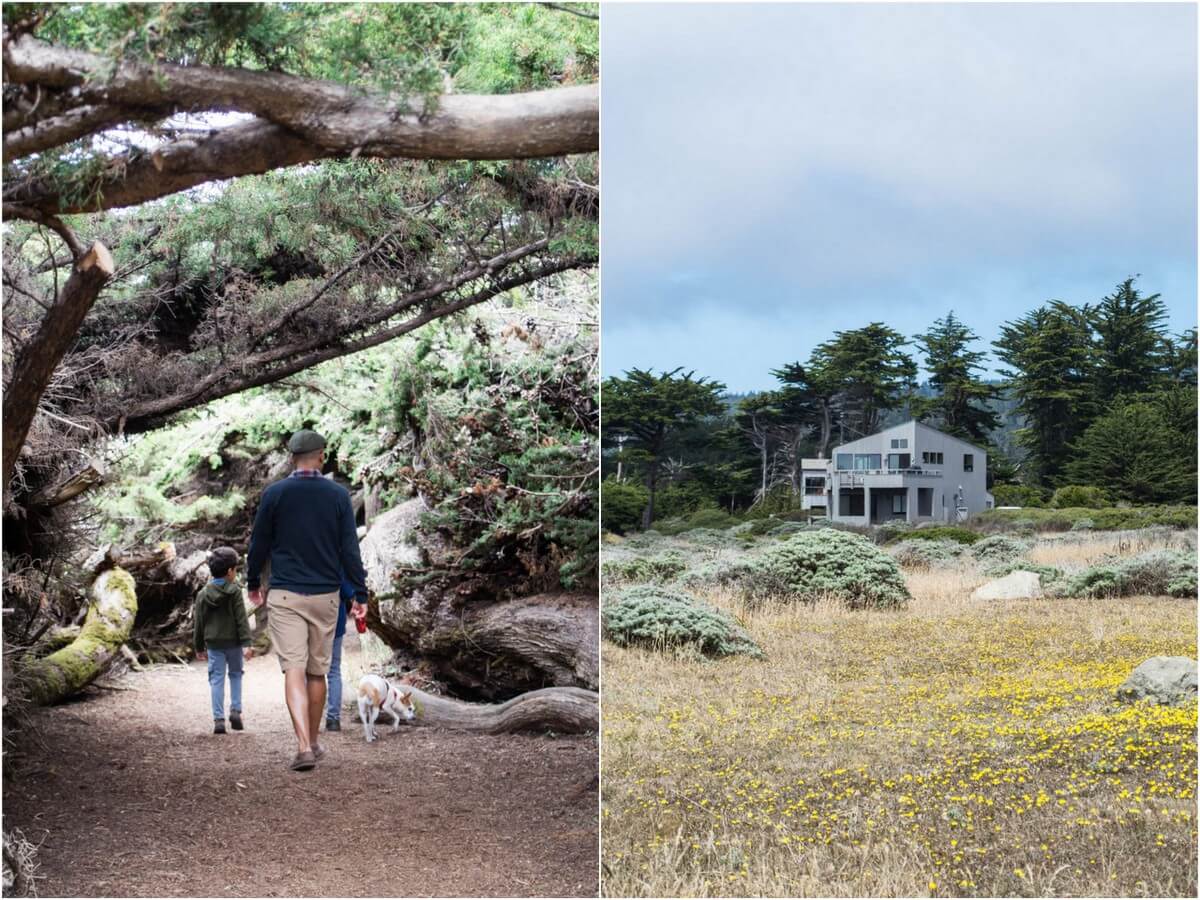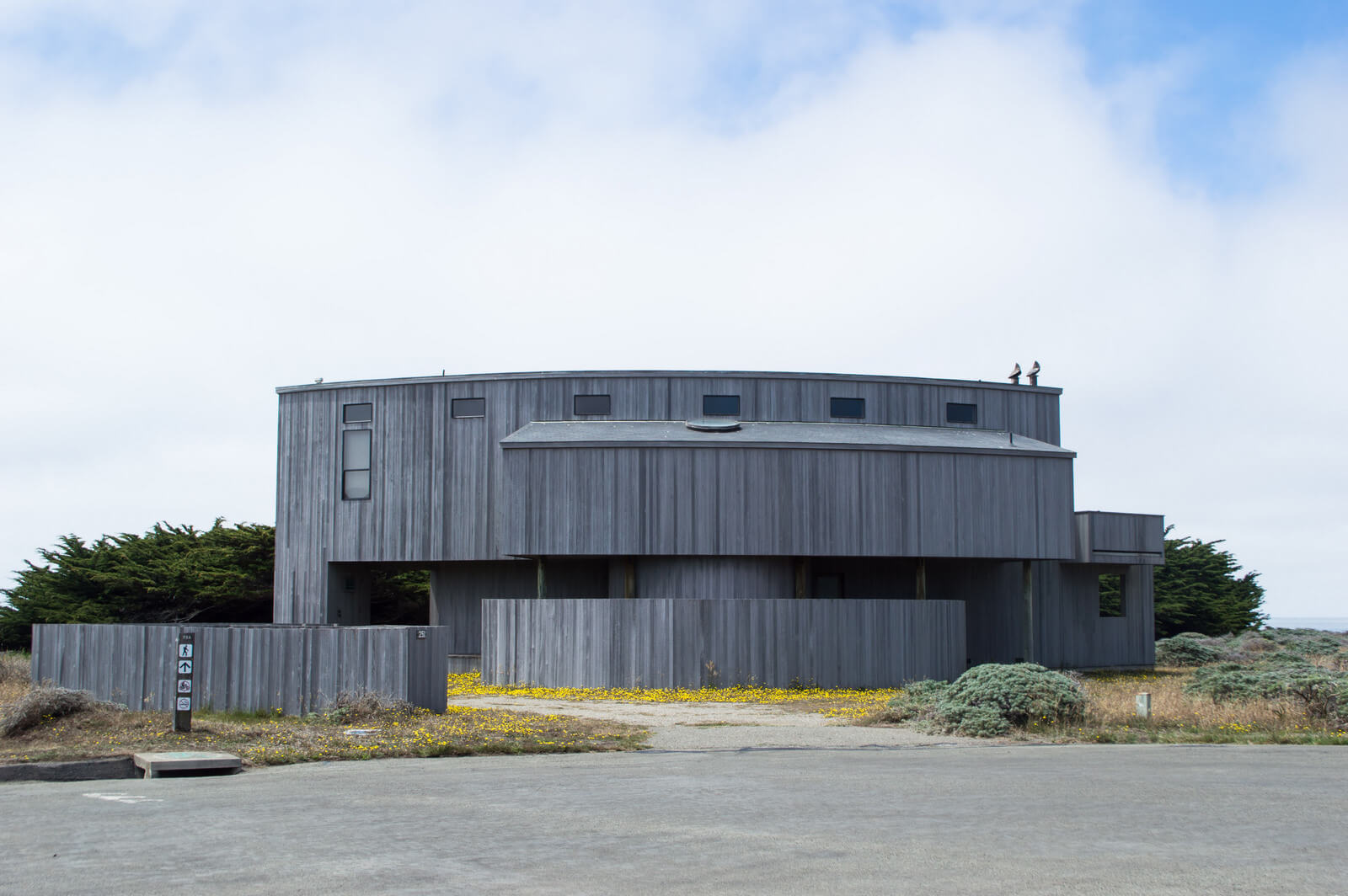 What attracted us to the Sea Ranch was the coastal trail system that connects miles and miles of bluffs and beaches. The coast allows public beach access for everyone, so even though the trails are part of the Sea Ranch community, the public can use the trails, too. There are even a few small parking lots with restrooms for the public to use. But we rarely saw anyone while walking! It was usually just us and a bunch of deer.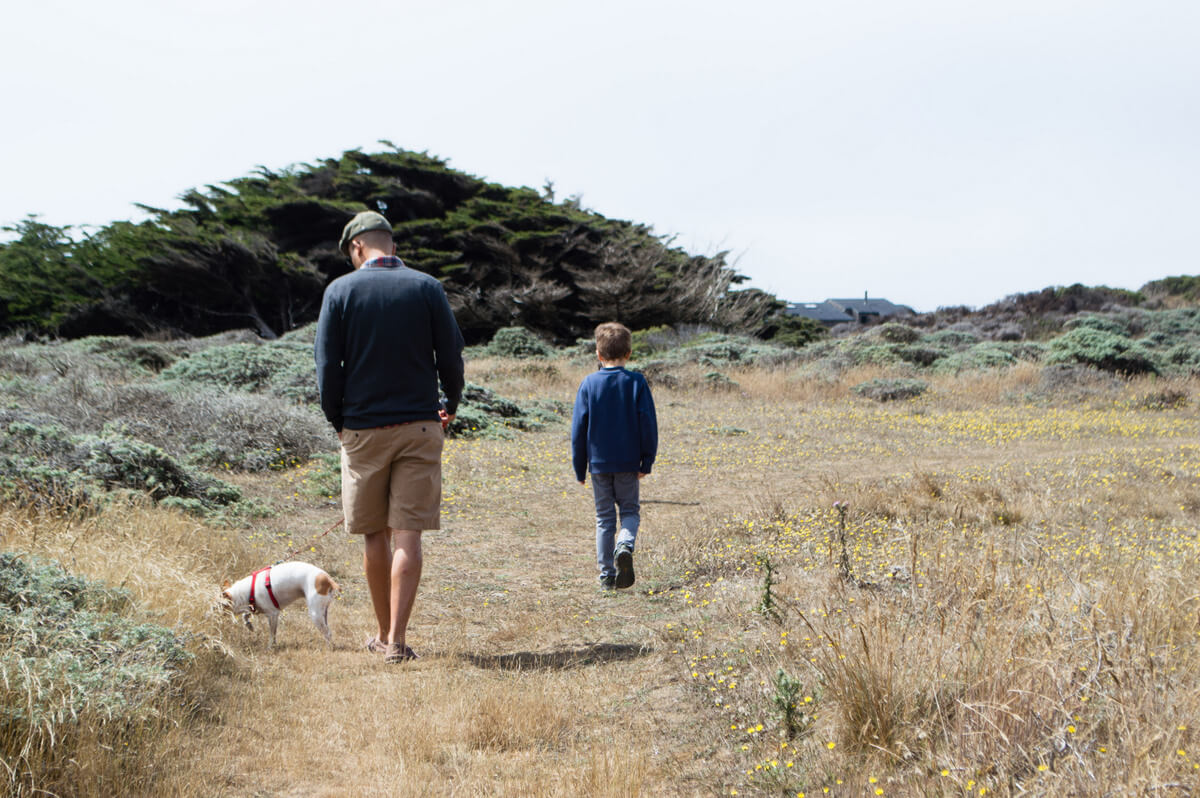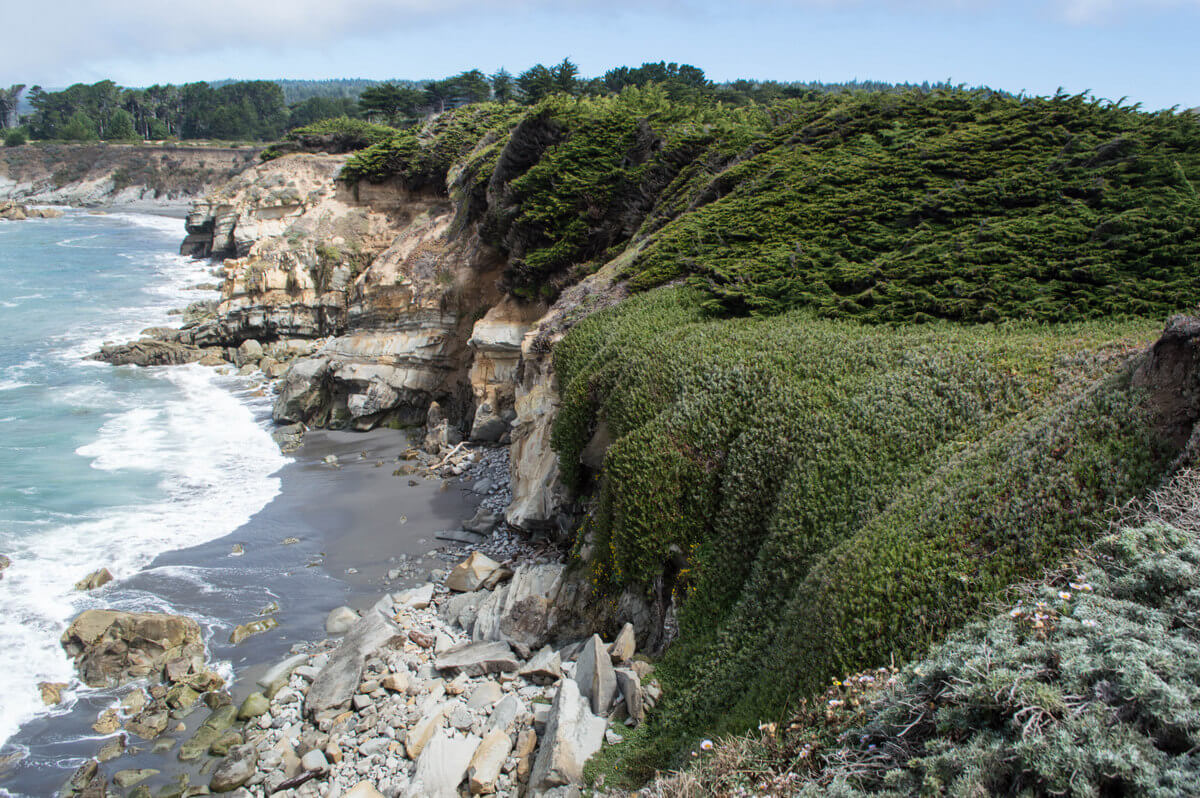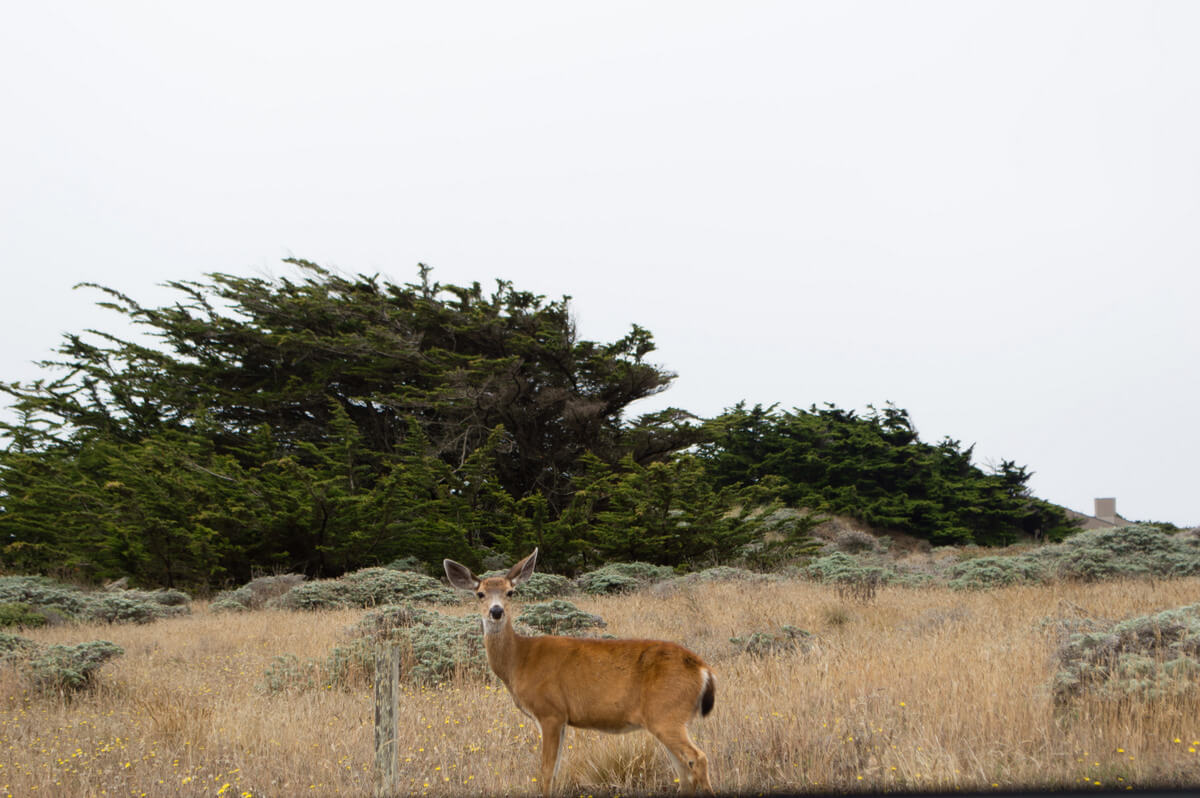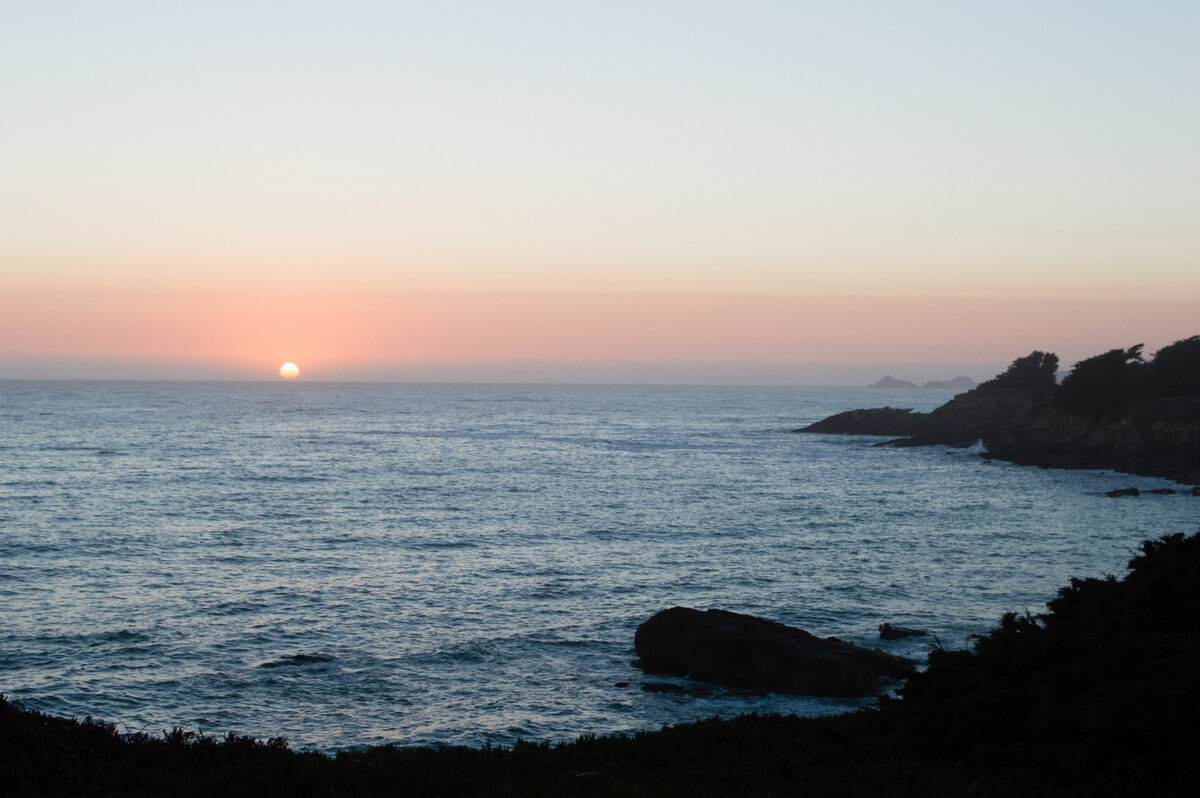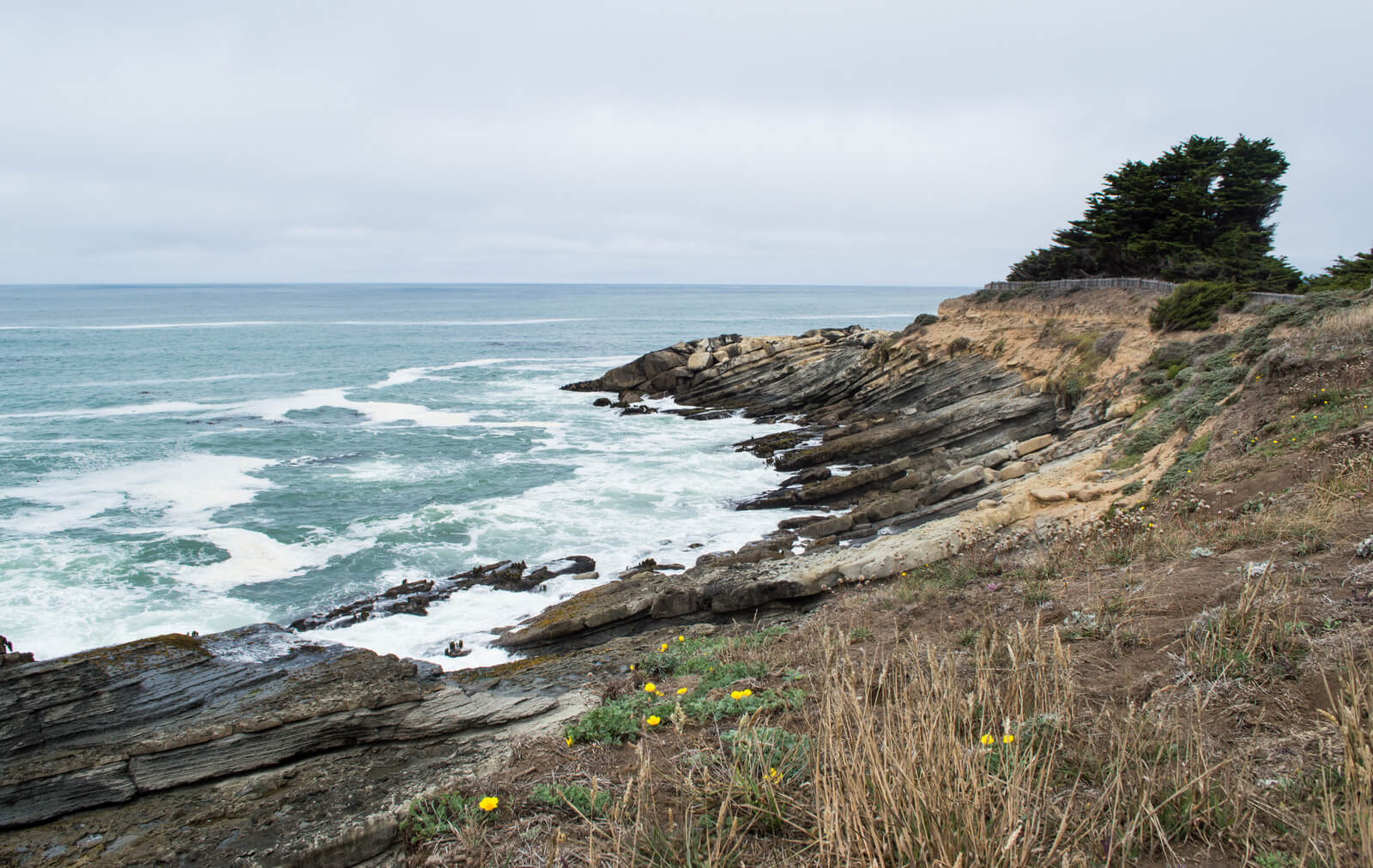 The coast here is rugged, and I find it fascinating to see how the ocean has shaped the nature, from cypress trees that mimic the wind's flow to cliffs like the one above that have been terraced by the constant force of the waves. And, like so many places along the Sonoma and Mendocino coasts, there are sea caves: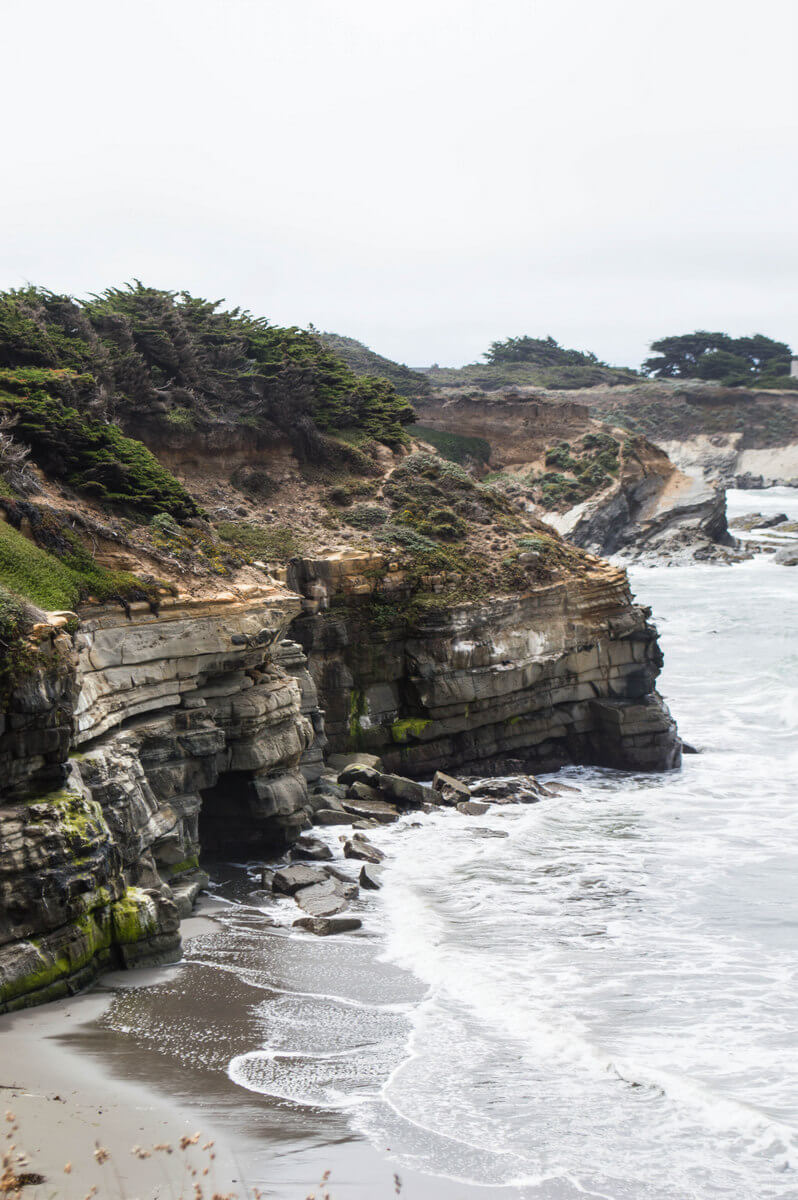 Just outside all the Sea Ranch homes are miles of trails. If you go north, the trails take you to Gualala Point Regional Park, a 195-acre park with coastal and inland hiking trails through meadows and forests, the Gualala River (for kayaking), and Gualala Beach, where we spent a fun morning. If you've spent much time on the beaches in Northern California, you know that the water is generally not safe, so we kept our distance from the crashing waves and instead played among the cliffs and driftwood.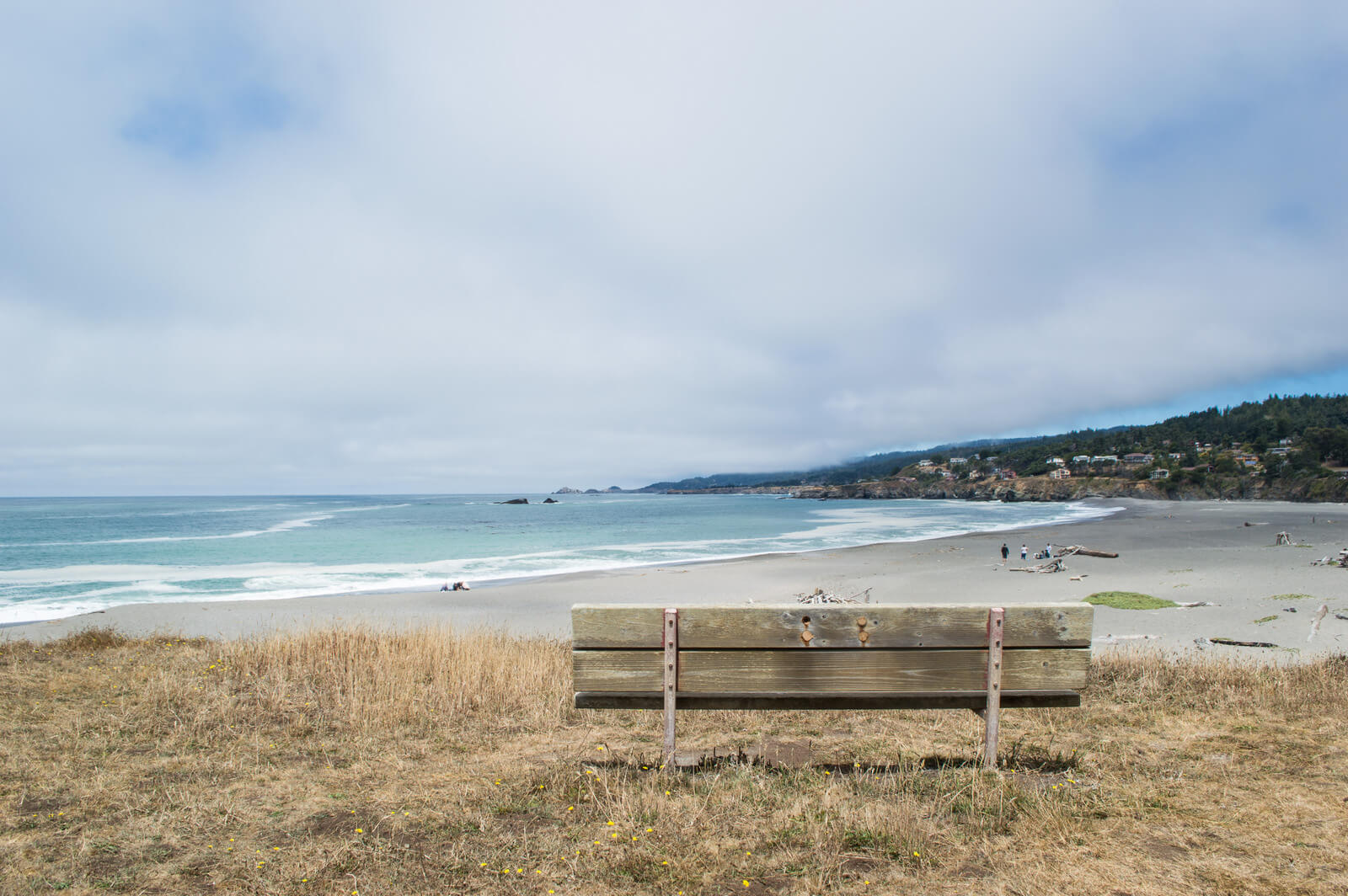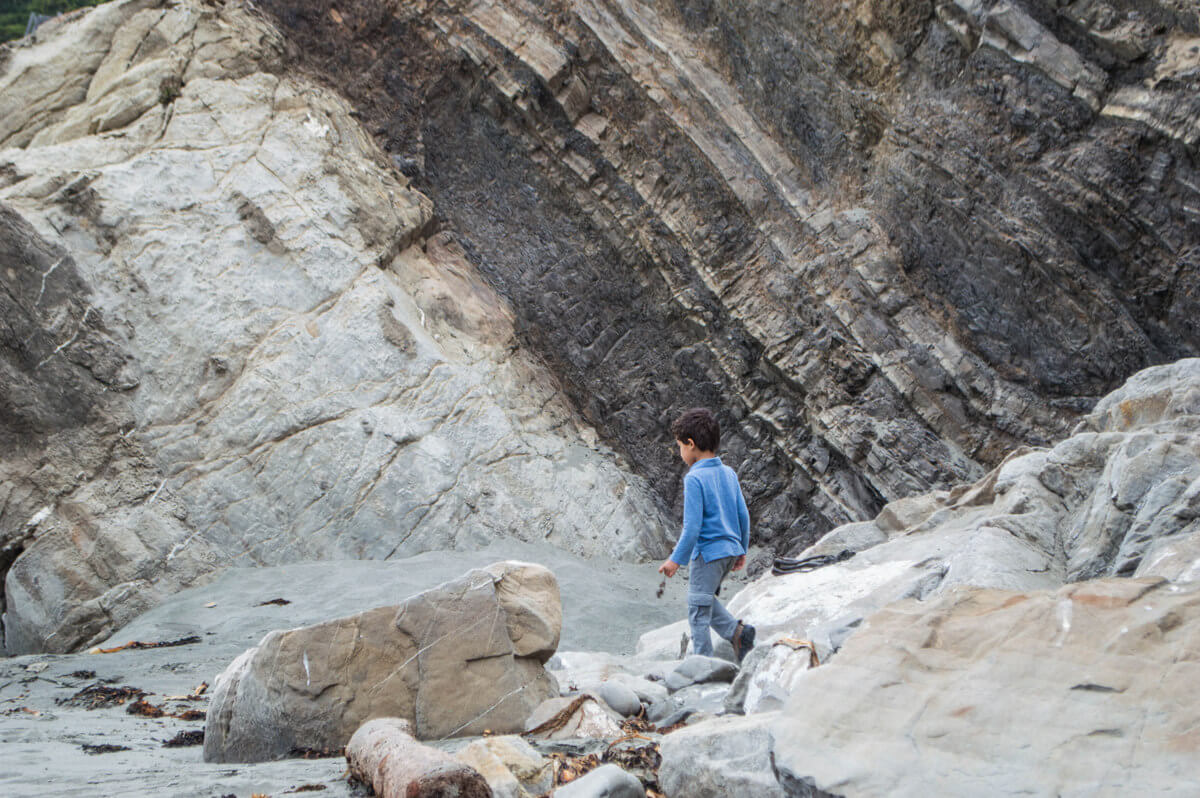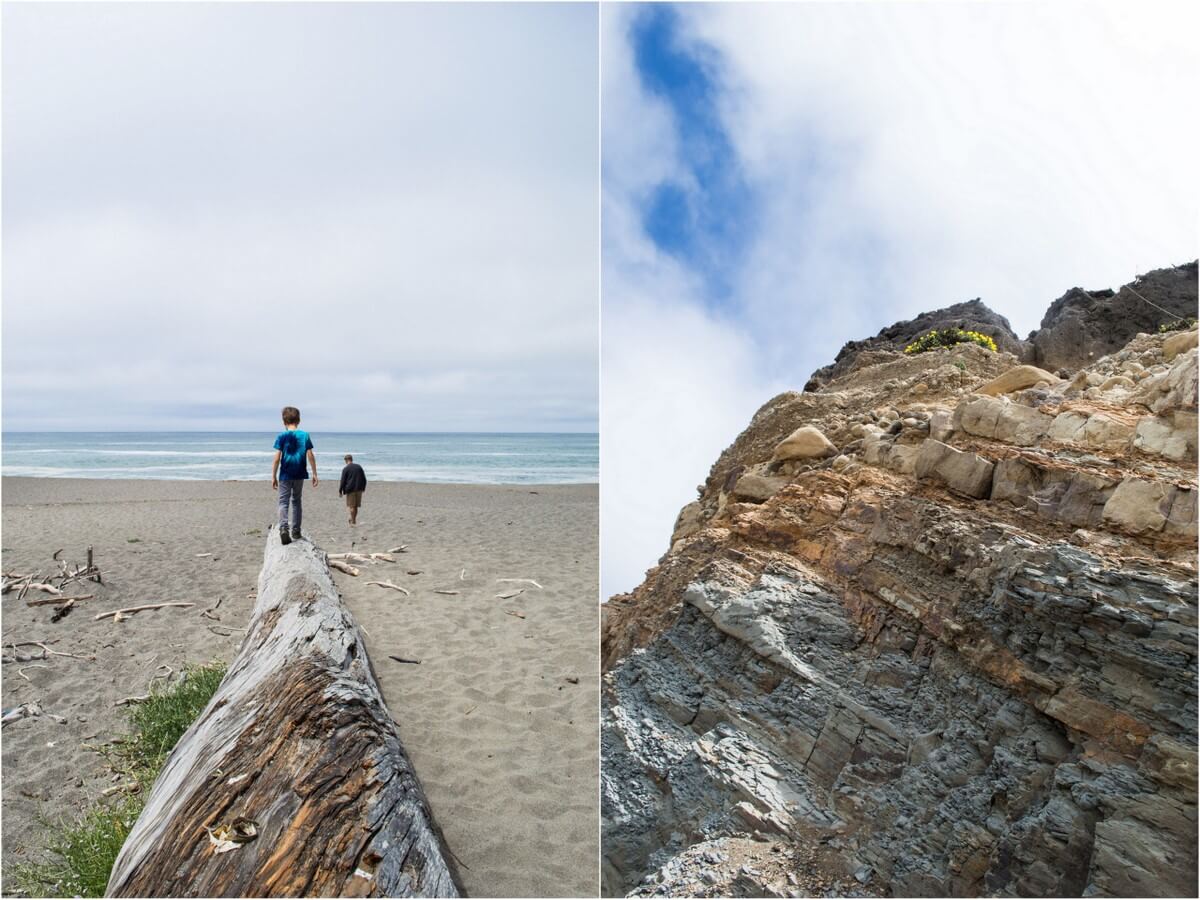 All along the Sea Ranch coast are beaches, some accessible (via trails and steep stairs), and some not so much. We visited Stengel Beach, which felt small and secluded, and Walk On Beach, which was bigger and a bit busier with local kids and their dogs having fun. My kids quickly slipped into their favorite activities: Gabriel found pieces of kelp to represent each member of the family and then played "family" with them on the rocks while Noah played frisbee and soccer with his dad.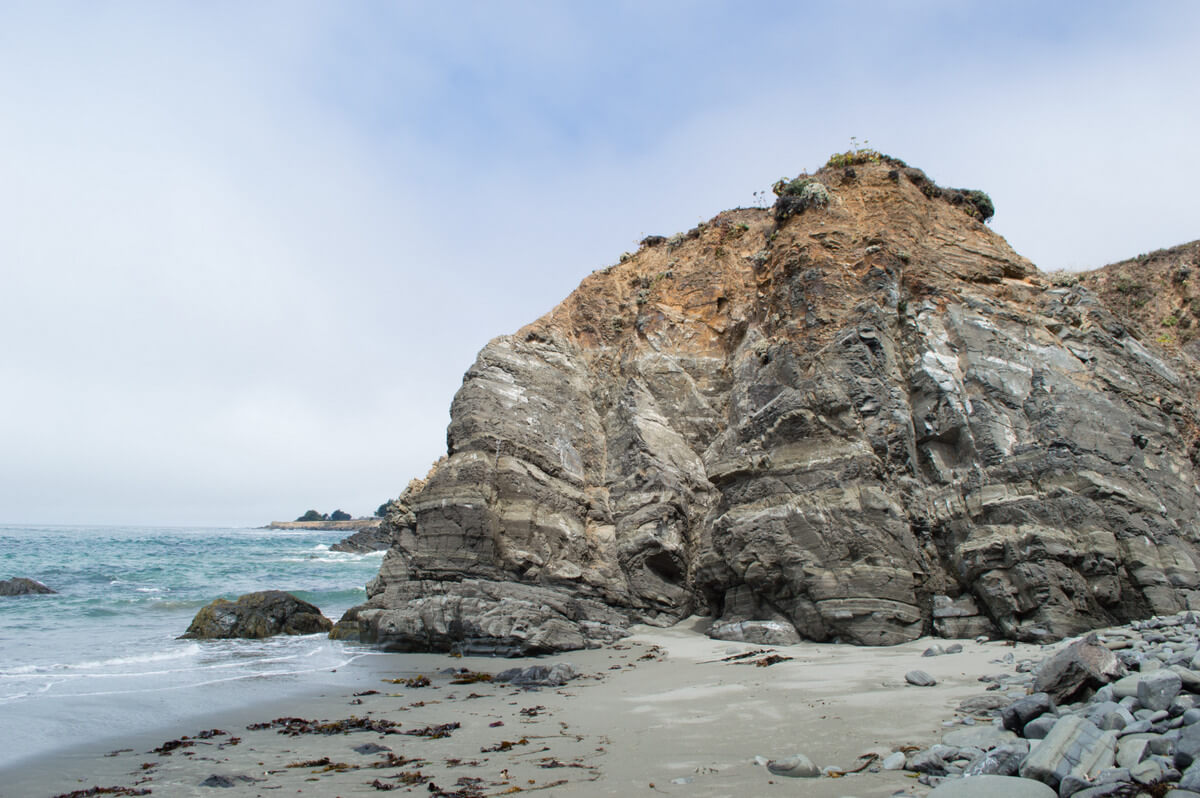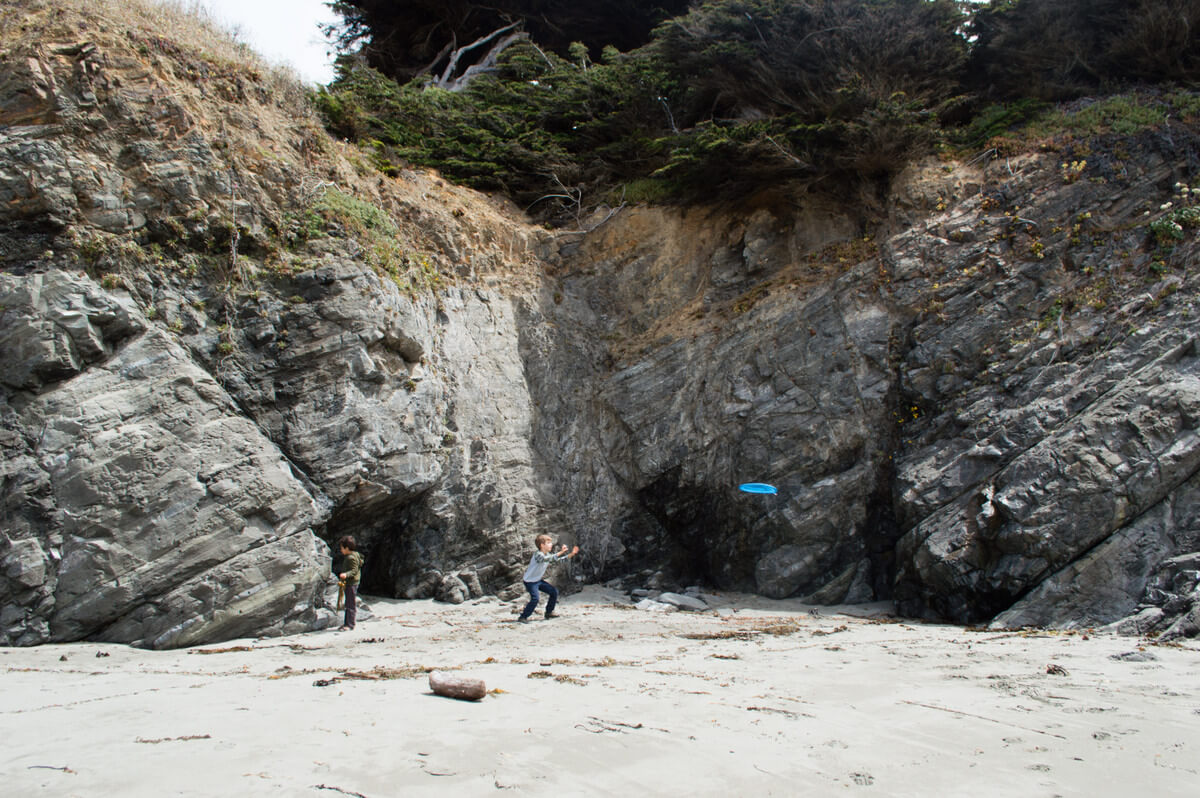 (The downside to visiting the beaches on most late afternoons in summer…overcast and cold!)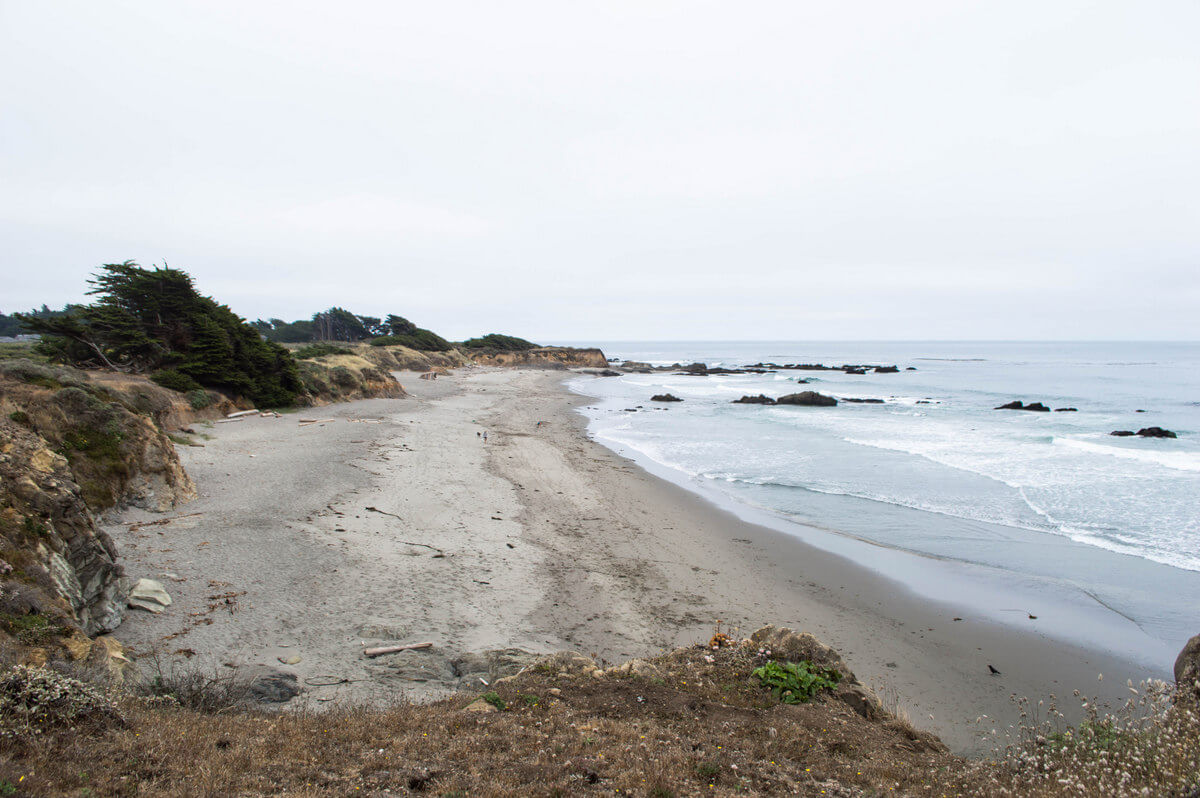 In case you're wondering about the scarves and long sleeves you see above, the weather was cool and mostly cloudy, with misty mornings and evenings–normal weather for summer on the coast. But we did get some clear weather toward the end of our stay, which made for spectacular star-gazing from the hot tub. We saw the Milky Way, planets, and several shooting stars! And being in such a remote place meant lots of animals to see right from the house windows: foxes (in fact, a fox family greeted us when we arrived!), raccoons, quail, vultures, and lots of deer around at all times of day.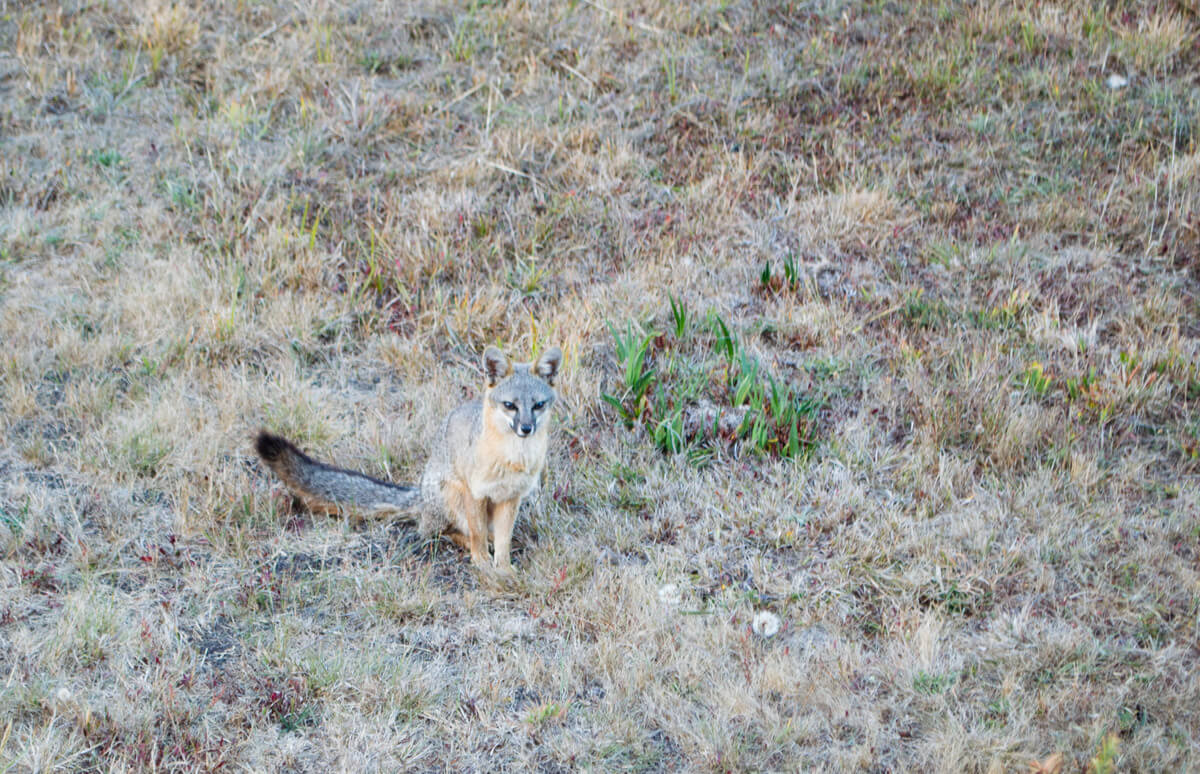 We loved staying at the Sea Ranch so much that we made plans to spend a week here next spring and wondered out loud what it would take to have a vacation home there. (More soon on the day we spent in Mendocino County and what to do in the Sea Ranch area.)
Have you been to the Sea Ranch or the Sonoma coast? I'd love to hear your suggestions for our next trip there!
(This is the Airbnb vacation rental we stayed at, in case you're interested. It was one of the nicest rentals we've stayed in.)