Have you ever been to Oxford or Cambridge, England? Like many who've visited, I was struck by the idyllic life in these beautiful university towns and always imagined they'd be the perfect place to live. In this next post in my living abroad series, one young U.S. couple talks about expat life in Cambridge, from studying at one of Europe's finest universities and acclimating to the town's historic traditions, to raising a baby in England and the U.K.'s healthcare/support system. Thanks, Kelly! (You can find them on Instagram, Facebook, and her blog No Man Before.)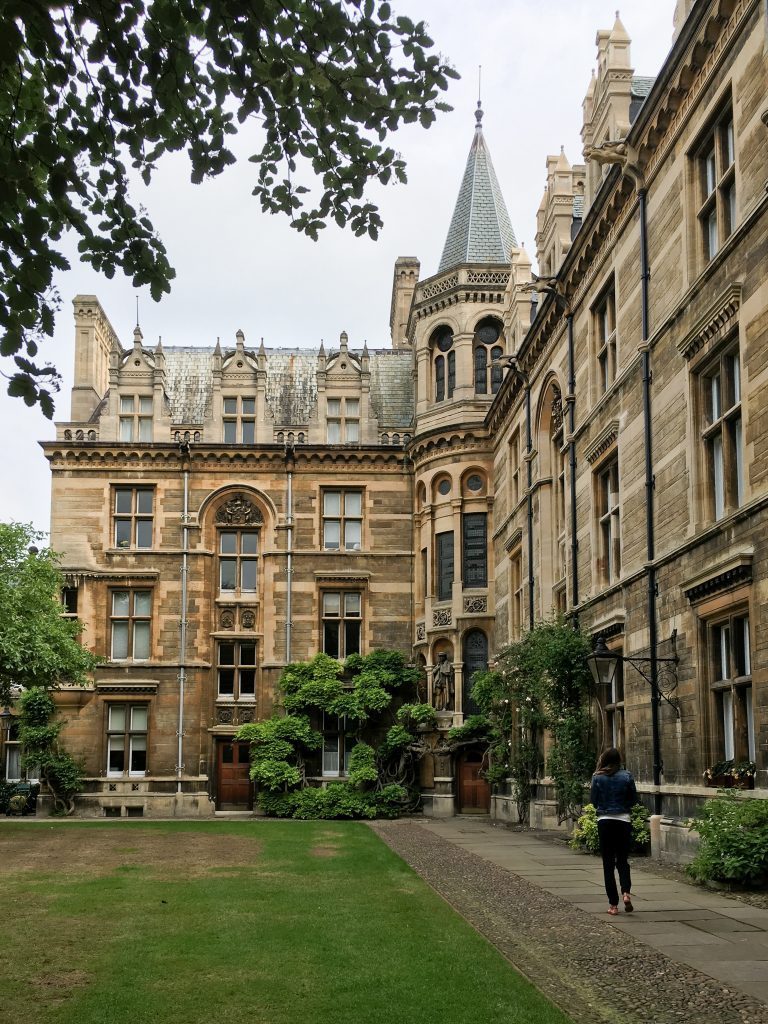 What's it like to live and study in Cambridge, England?
On the decision to move to Cambridge:
In September 2015, we packed up our duplex in sunny Los Angeles and moved to Cambridge, U.K. Our son was only six weeks old at the time, which sounds like it wouldn't be the ideal time to move, but it's been such an incredible learning experience. My husband Aaron started a graduate program at the University of Cambridge, so we were fortunate enough to not only experience life in England, but also be a part of one of the oldest universities in the world.
On university life in Cambridge:
Aaron's program was unique in that it was very globally diverse; of the 150 students, the majority were from outside the U.K. Through his program, we met a lot of amazing people and families from all over the world. It's been great to learn not only about England, but more about the daily life of where our new friends are from.
At Cambridge, university life is centered on life in specific colleges. The system is a bit different from back in the U.S., where you apply to the university and then get accepted into a specific college, like the business college or engineering college. At Cambridge, you apply to one of the 31 colleges, and your whole academic and social life is through that college.
Being a part of Jesus College & living on campus:
We were part of Jesus College. It's one of the older colleges, but it's known as being more relaxed and has a great sporting reputation. The school was founded in 1496 and started out as a twelfth-century Benedictine nunnery.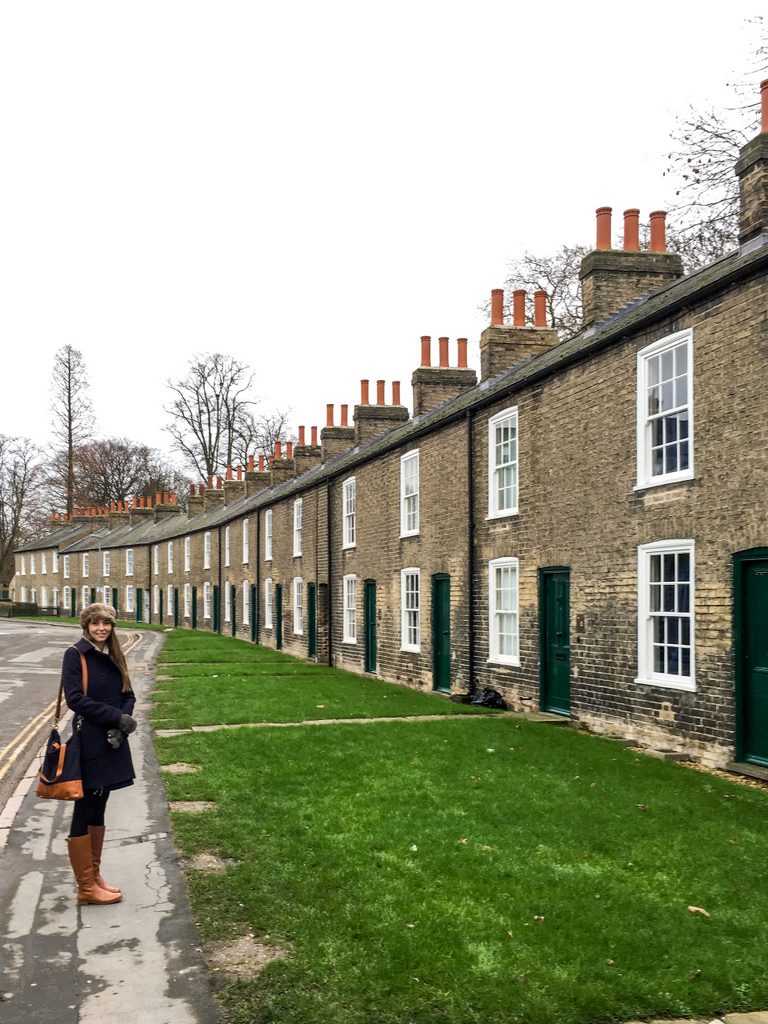 We lived in Jesus College housing, across the street from the Jesus College campus and just outside of Cambridge city center. We had the first two floors in a four-story row house. At first, I was a bit worried about living on a street entirely full of students and that it might be constantly noisy. We did have the occasional group of boys singing down our street past midnight, but most of the time it was pretty quiet and we really couldn't have asked for a better location.
Our flat is about a 5 minute walk to Market Square and King's Parade, the main thoroughfare in Cambridge. There's a funny story about Queen Elizabeth visiting the University in 1564, but not going to Jesus "because it stood far out of the way." We thought the location was perfect because we were off on a little side street, but we could walk everywhere and all of the beautiful buildings and history were just outside of our front door.
On adopting local traditions:
It was amazing to take part in college and university traditions like formal halls, where students don their university robes (called sub fusc) over tuxes and dresses and the meal starts with an invocation in Latin. Aaron tried his hand at rowing (which takes a lot of coordination), and we cheered on Jesus College during the freezing Lent bumps (rowing races where you bump the boat in front to move ahead) and lounged in the grass on the rare warm and sunny days during May bumps. Most sports are between the colleges, but there a few big events like rowing and rugby where Cambridge University competes against its main rival, Oxford.
Almost all the colleges have chapels where you can attend traditional services like Evensong. Punting down the college backs or down to Grantchester is a perfectly idyllic English country pastime. At the end of the academic year, everyone celebrates with Garden parties and May Balls, and the Jesus May Ball is by far the most extravagant and formal affair I've ever attended.
On the differences between the U.S. and the U.K.:
When we first moved, a lot of people asked me how it was different from our life in LA. At that point, I felt like everything had changed, so it was hard to separate what was different due to moving to a foreign country from everything else that had just completely flipped upside down. We went from two jobs to no job, no kids to one baby, a warm, sunny big city to a much colder, rainy historic British university town.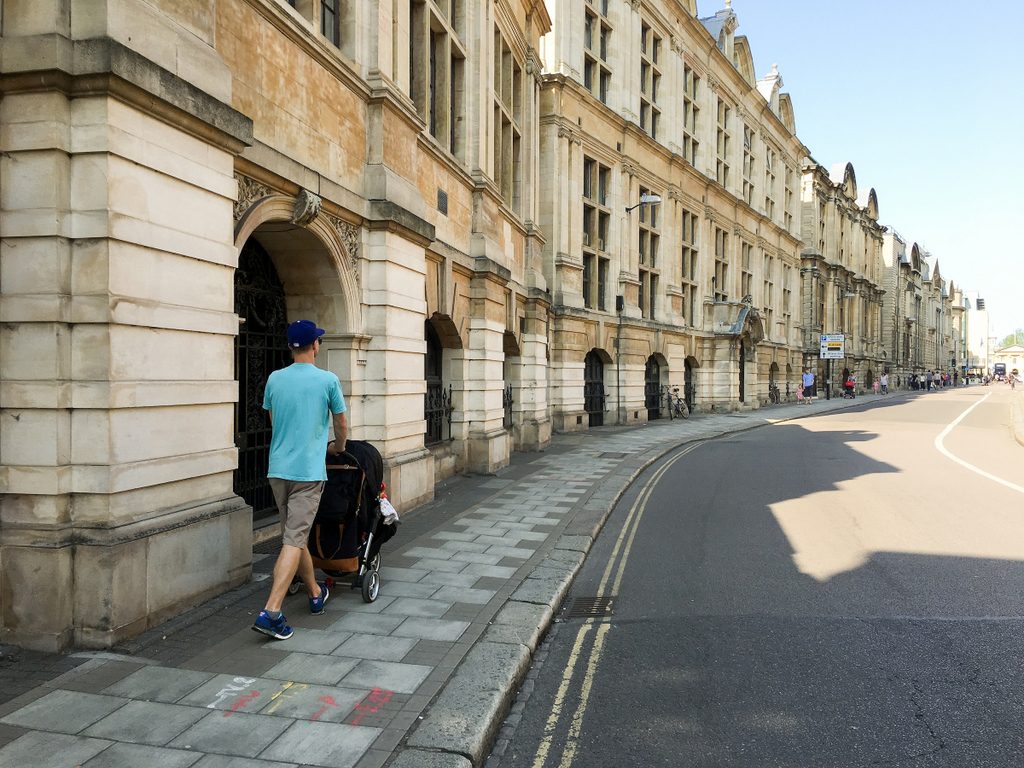 Because we share a common language with England, I think I initially thought it wouldn't feel that foreign. But soon I saw lots of little things that were different that I hadn't even thought of before. We didn't have a dryer (which I think plenty of people in the U.K. do, but just not as standard in the U.S.), all the heating is from wall unit radiators, our sinks had separate faucets for hot and cold, and there's a pull string to turn on the light in the bathroom.
While a lot of food is basically the same, there's still random things you can't find in a typical grocery store, like cornmeal or orange cheddar cheese. I love that grocery delivery service is pretty much standard, the quality of the dairy and eggs seem to be much better, and there are still local butchers in town.
On raising a baby in England:
Because we moved so soon after our baby was born, it was easy to adopt the English terminology for all things baby. For example, we pushed a pram, changed our baby's nappy, and placed him in his baby cot to sleep. While it may seem difficult to have a young child with no established support system, there was a great community in Cambridge that made it much easier to transition.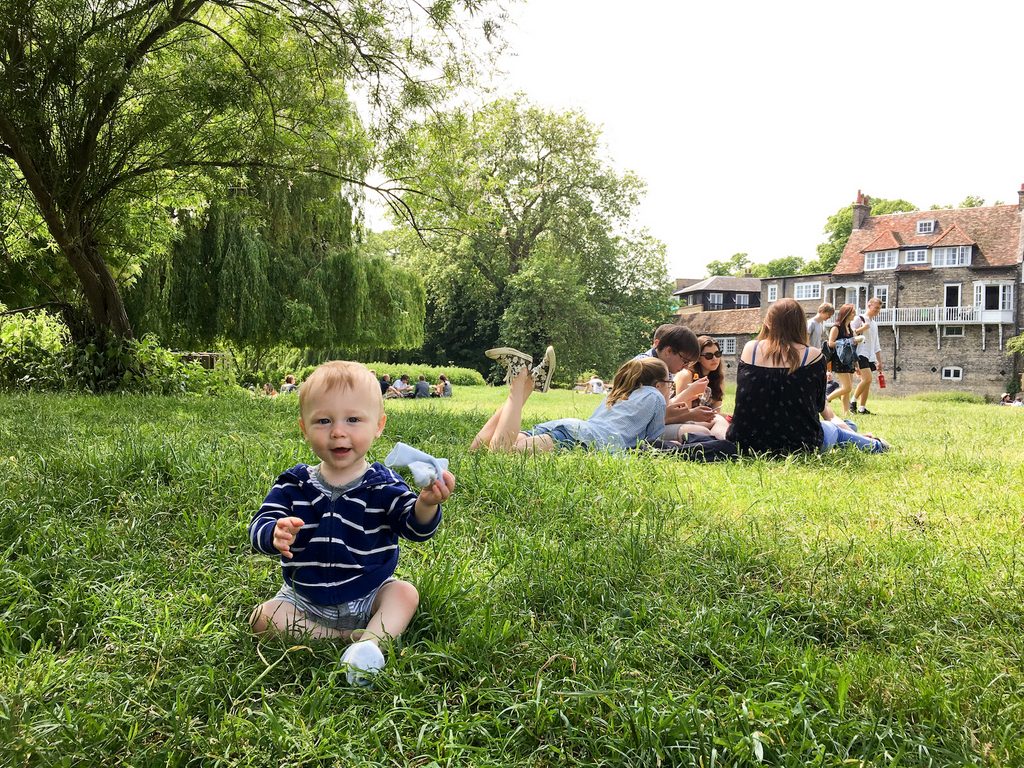 I had a really positive experience with the U.K.'s healthcare system and the support they offer to young babies and families. We paid a health fee as part of our visa, and after that everything was free. We had a great medical practice a few minutes walk away and it was always easy to make appointments. I also love that they have health visitors and hold clinic once a week where you can drop in and talk with a nurse.
I wish the U.S. had more of a built-in support system like this for new families. Though we didn't get to benefit from the much more generous maternity and paternity leave offered in the U.K. as we moved after our baby was born, I really hope the U.S. starts to adopt policies more supportive of families.
While walking around Cambridge, it seems like every other person is pushing a pram; there are tons of mommy and me classes which made for a fun time together with my son and a great way to meet new people. I took my son to rhyme time at the library, swimming classes, baby yoga and music classes.
On traveling in Europe:
One of our favorite things about Cambridge is its proximity to the London Stansted Airport and the low-cost carriers like Ryan Air that fly all over Europe. We took advantage of every school break to visit somewhere new, and started a blog to share our travels. Before our son turned one, he traveled to 12 countries!
Tips for visiting Cambridge:
If you're visiting England, you can't leave without spending some time in Cambridge! It's less than an hour train ride from London, and worth a day trip if that's all you have time for. Cambridge gets hordes of tourists, but most of them seem to be group tours, mainly staying on King's Parade and visiting the three most popular colleges of King's, St. John's and Trinity.
My recommendation is to get out and explore, especially other colleges. Each college has such beautiful grounds and buildings. After visiting all 31, I've shared my five favorites here. Punting down the backs on the River Cam is an experience you can't miss; I recommend hiring your own punt instead of going on a tour as learning how to punt is half of the fun! Evensong at King's College Chapel is pretty incredible too. There's so much history on every street, make sure you leave time just to wander!
Thanks again, Kelly, for this peek at what it's like to live in Cambridge!