As I'm sure you've heard, it has been a crazy winter here in California. After several years of severe drought, this winter surprised everyone with record rain and snow in many parts of the state. The upper third of the state is now drought-free (hooray!), and the southern two thirds of the state are at much better levels of drought than before. The state's drought level is now what it was in 2012 before things got so dry.
Just a couple of weeks ago, driving around Sacramento was mind-boggling. There was water everywhere! But that was just one tiny part of the story…vineyards flooded, mudslides, flooding in San Jose, closed highways, avalanches, and so, so much snow that California was called "the snowiest place on Earth" last month. This left me wondering…
So, how does the season's wild weather affect travel planning in California?
Overall, California is the same wonderful California. Spring still brings the bloom of flowers and trees, the birth of seal pups along the coast, and spring festivals and food events (see more spring travel in California ideas). This crazy winter weather had both good and bad effects on the state, and you'll likely notice both while traveling here, especially if you ask local people how the winter affected them.
Here are 5 ways that the winter storms have affected travel in California for 2017:
Highway 1 in Big Sur is closed
This is a big deal. A section of this beautiful stretch of coastal highway, part of the famous Highway 1 road trip, was closed in February due to mudslides, downed trees, and a failed bridge south of Carmel. This affected not only people planning to travel there, but also people living along the coast. Workers at Esalen had to be rescued by helicopter, and members of a Buddhist retreat asked for donations to cover their lost profits.
Just today, a big part of the closed section reopened, but Highway 1 near the Pfeiffer Canyon Bridge is still closed and will remain closed during the construction of a new bridge, which will take about a year. Those plans to travel down Highway 1 this summer? Time for Plan B.
Crazy amounts of snow means ski season is extended
I remember going to Donner State Memorial Park in January a couple of years ago and finding NO snow on the trails. In the middle of winter. That's what the mountains were like during the drought. Instead of snow-shoeing, we hiked in t-shirts and saw places where the lake had receded. This year, things are very, very different!
Most ski resorts have gotten more than 500 inches (40+ feet!) of snow this season and are therefore extending their ski seasons. Northstar at Tahoe has gotten 607 inches as of today and will be open through April. So this season will be unusual — you can enjoy spring weather at sea level but in two hours be skiing, snow-shoeing, or sledding on some of the country's finest mountain terrain.
The lakes and reservoirs are full(er)
Not long ago, traveling through California could be kind of depressing. It seemed like everything was so dry and brown. And the lakes and reservoirs were shockingly low. San Luis Reservoir was at 10% capacity just a year ago, and Folsom Lake was so low that it barely looked like a lake in some places. Now you can expect most lakes and reservoirs to be at much higher levels, making perfect conditions for some spring and summer fun on the water.
The central valley may still be flooded
The central valley, home to Sacramento and Lodi wine country, experienced widespread flooding, especially in agricultural areas, and much of that water has not yet receded. The vineyards around Lodi were so inundated with water that winery owners were using canoes to check on their vines. If you pay a visit to the wine country anywhere inland, you may want to ask how the water has affected the vines.
Extra wildflowers!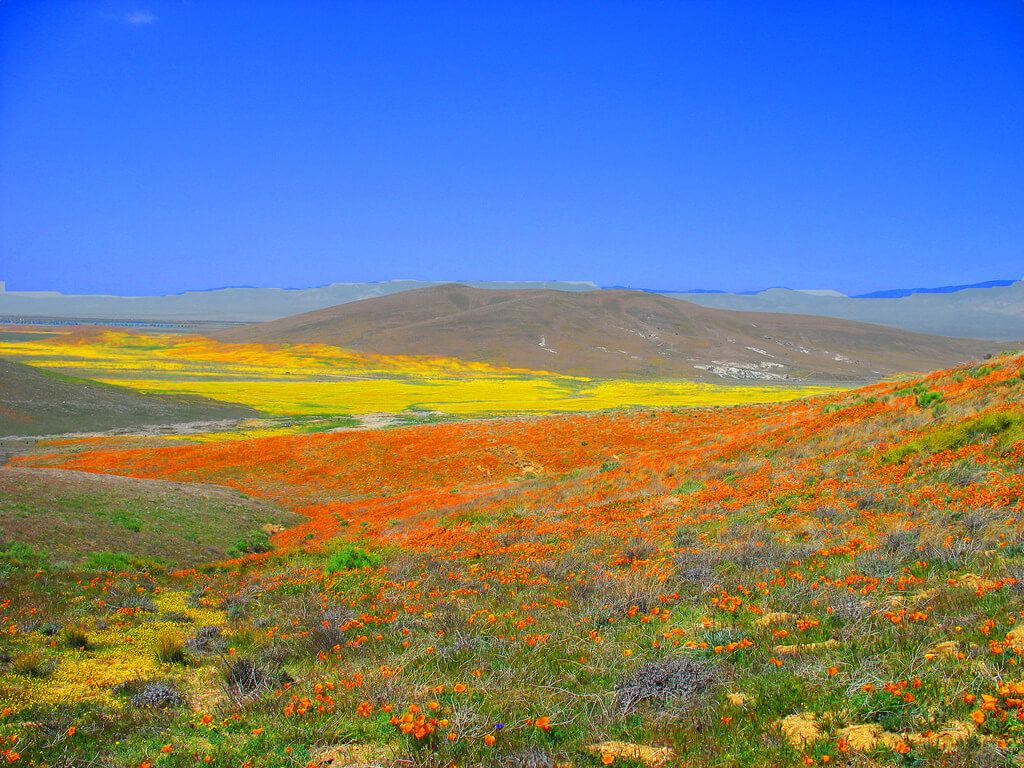 Spring seemed to start later than usual this year, so we're now enjoying a full-blown start to spring with trees in bloom everywhere you look. All the water also means that a "superbloom" of wildflowers is expected this spring. In Southern California, this has already begun; in higher elevations (like the Sierra Nevada), wildflowers bloom into the summer.
Do you know of any other ways in which the wild winter affects travel in California in 2017?
Here are additional resources if you'd like to see more:
California's Wildflower Superbloom in 9 Photos
Too Much Rain in the Wine Country?: from the LA Times
500 Inches and Counting: from the Washington Post
February Snow at Lake Tahoe in Photos
Highway 1 Closure: from the LA Times
Photo credits: river: Bob White on Flickr and flowers: Rennett Stowe on Flickr