When it comes to amusement parks, I can be a bit of a Scrooge. Despite living in California with its many excellent amusement/theme parks/state fairs, I've never taken my kids to one, not even to Disneyland. I find them crowded and overpriced, and my kids are not really into rides. So on our recent weekend in Santa Cruz, I hadn't planned to go to the Santa Cruz Beach Boardwalk — instead, I wanted to explore the redwood forest at Nisene Marks State Park, but we changed our plans, and I'm so glad we did!
Today I'm happy to share with you what makes the Santa Cruz Beach Boardwalk special and some tips for visiting the boardwalk.
Spending the day at the Santa Cruz Beach Boardwalk is an iconic California experience. An image of the boardwalk with the beach in the background is burned into my memory from my younger years: the colorful rides, the creaking of the old wooden rollercoaster, and the beach with its mix of surfers, skaters, students, and oddballs.
While chatting with Noah's 4th grade friends, I realized that the boardwalk is an important place for Northern California kids. As soon as I said that we were spending the weekend in Santa Cruz, they excitedly chimed in with, "Are you going to the boardwalk?!" "Oh, that's so fun! My mom took me there after I memorized my multiplication tables." "Are you going to ride the Giant Dipper?"
The Giant Dipper is an icon in itself. The 1924 wooden roller coaster is a National Historic Landmark! You can hear it before you see it — the screams of the riders and the creaking noises as the car ascends the wooden supports. It really feels like something from another time.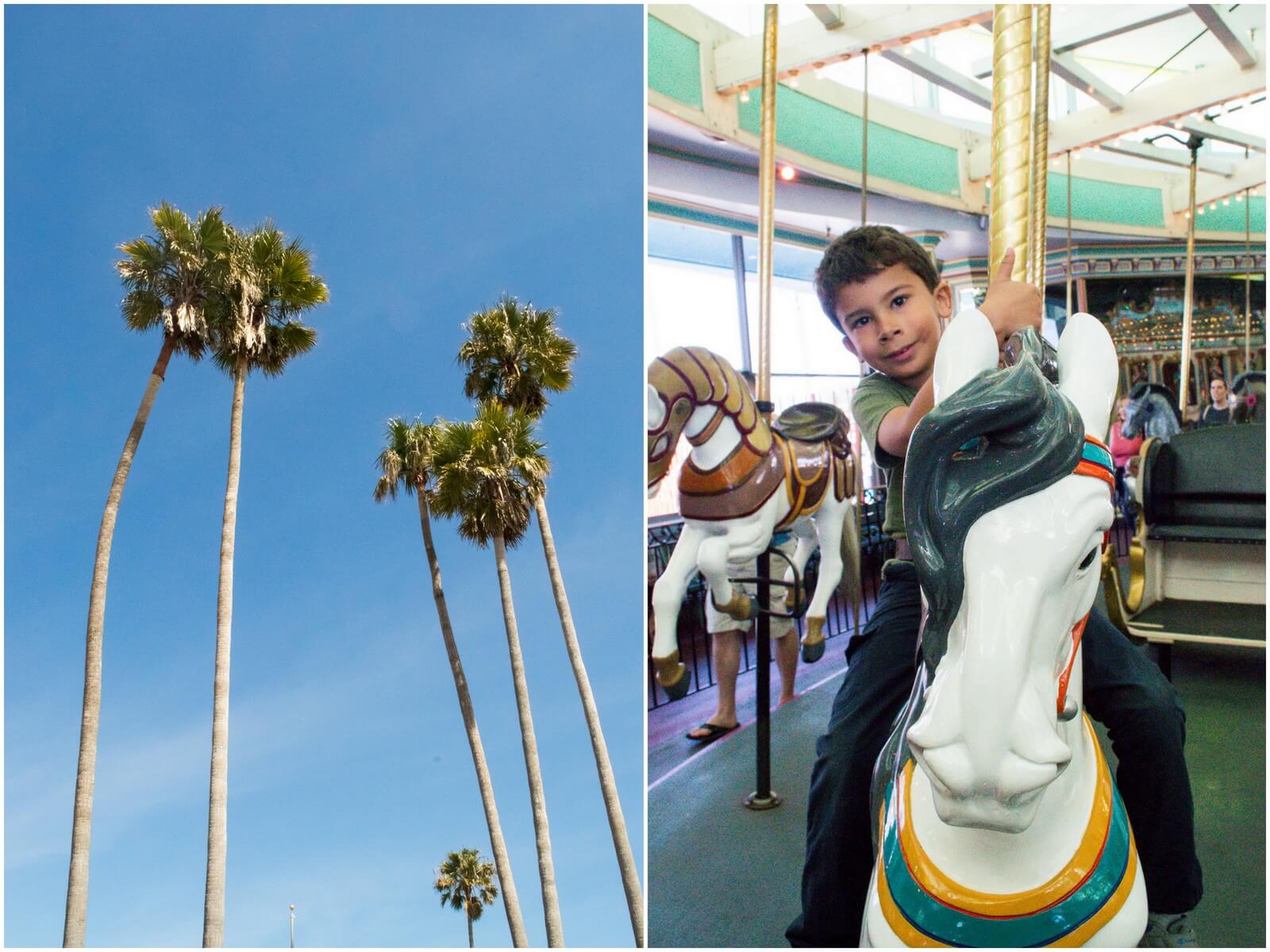 The park holds a second National Historic Landmark, the 106-year-old Looff Carousel. Gabe loves to ride on carousels, so we've gotten to know quite a few, but this one is unique! Something I'd never seen before is the ring-toss game for those who ride on the outermost ring of horses — riders can lean over and try to grab a ring and then throw it into a clown's mouth, all while the carousel quickly passes by. There are also three antique organs that add a boisterous, circus-like effect to the scene. The decoration on the organs is worth checking out:
I enjoyed watching the colorful Sky Glider chairs going overhead. Rodrigo and Noah rode it (you can see their dangling feet from the pink chair below), but you have to be 48″ to ride, so no little kids on this ride.
It's so interesting for me to watch our kids decide what kinds of risks they're willing to take. Noah is not a risk-taker — he doesn't like the idea of riding roller coasters or other rides that might make him feel sick. Gabe is a bit more adventurous, but at age 6, he's too small for most rides. When I was a kid, I was up for just about anything, so I'm curious to see how they grow into more thrill-seeking behavior (or not).
Tips for the Santa Cruz Beach Boardwalk: 
Rides and tickets:
Rides are $4-7 per person, and a few rides allow smaller children to ride free with an adult.
You can buy tickets from one of the few ticket stands scattered throughout the boardwalk. Either stand in line to be helped by a person or stand in what seems to be much shorter lines for the automated machine. We found a machine to purchase tickets right next to the ticket stand, and there was no line. We just inserted a credit card, chose how much we wanted to spend, and received a ticket card that can be reloaded later.
There are rides for little kids through adults. The Giant Dipper, Haunted Castle, and Cave Train are three of the most popular. If you want views of the water/beach, try the Ferris Wheel and Sky Glider. You can check their website for height restrictions.
Where to eat at the Santa Cruz Boardwalk:
The Boardwalk serves what you'd expect from such a place: hotdogs, fried Twinkies, cotton candy, soft pretzels, etc. There's also a gyro stand serving falafel wraps and the like. The website has more information about where to eat at the boardwalk.
Thanks to our friend Garrick's tip, we found a tasty vegetarian snack on the boardwalk: fresh veggie corndog on a stick with freshly-squeezed lemonade, and my kids had cotton candy. These stands are located next to the round tables in the center of the boardwalk, in front of the Giant Dipper. It was fun to watch the roller coaster while we ate.
For lunch, we again took Garrick's advice and headed for a healthier choice. Just down the street from the boardwalk is the Picnic Basket, a small cafe where you can sit outside across from the beach. The menu consists of the usual lunch suspects in California: kale and quinoa salads, sandwiches piled high with veggies, and local tap beer. Seasonal ingredients come from local farms, which are listed on a chalkboard next to the cashier for those who really want to know where their food comes from.
The Picnic Basket is run by the same owners as Penny Ice Creamery, which makes ice cream completely from scratch using local organic ingredients. The cafe has several ice cream flavors, so save room for a scoop or two in one of their homemade waffle cones.
When to go:
Weekdays are best because they're less crowded. If you go on a weekend, try to go first thing in the morning before the crowds get too big. We went on a beautiful Saturday morning and it was easy — easy to park, easy to walk around, easy to find a place to sit and eat. But by the time we left around 1:00, the park was getting pretty packed. Even so, the lines for most rides weren't long (some had no line at all!), and the traffic getting out of the boardwalk area added only about 15 minutes to our drive.
Where to park at the boardwalk:
Parking is easy. There's a large lot located right across from the boardwalk. parking is a $15 flat fee — you can pay before you leave or with a credit card on the way out, but try to leave on one of the streets that goes away from the boardwalk so that you don't get stuck in the boardwalk traffic like we did. If you don't want to pay the $15, you can try the metered street parking.
Have you been to the Santa Cruz Beach Boardwalk? Any tips or favorite memories?