Sometimes we need to give places a second chance. I'd been to Santa Cruz/Capitola a few times before and always felt kind of ho-hum about the area. When it comes time for a family getaway to the coast, I usually choose Bodega Bay, Point Reyes, or the Monterey area, but overlook the stretch of coast that runs from San Francisco south to Santa Cruz. But on a recent weekend, Noah had a field trip there, which gave us the perfect opportunity to check it out for ourselves. And we loved it!
Today I'm sharing Santa Cruz travel tips: things to do if you have two full days in the Santa Cruz area, plus my recommendations for where to stay and where to eat and drink in Santa Cruz/Capitola. They're all family-friendly but not focused on kids, so if you are traveling just with adults, you could still do these things.
Take Highway 1 from San Francisco to Santa Cruz
I've driven on Highway 1 many times before, so the winding road and its coastal views are nothing new to me. But this stretch of Highway 1 was a pleasant surprise. Here the highway hugs the coast with enough hills and twists to make for gorgeous views but is much tamer than, say, the Sonoma Coast stretch (ugh). In other words, we could actually enjoy the drive without the kids' car sickness updates.
Along the way, you'll see cliffs and coves like Shark Fin Cove (!), lighthouses, and hillside farms. We had to pick up Noah from his field trip so couldn't make many unplanned stops. After seeing how beautiful it is, I promised myself to return and stay in the Half Moon Bay area. On my list are Pigeon Point Lighthouse, Harley Farms, Pie Ranch, Swanton Berry Farm, Slow Coast, and Bonny Doon Vineyard.
The Elephant Seal Tour at Año Nuevo State Park
About 30 minutes outside of Santa Cruz on Highway 1, Año Nuevo State Park is known for the 10,000 elephant seals that come there every year. In order to view the seals, you have to take a 3-ish mile hike across dunes, along wooden walkways, and to the beaches where the seals hang out.
The seals are up to different things each month, so you can visit more than once and see something completely different. When we were there, the males and females had already left to feed in the ocean, but the babies and juveniles were there.
If you visit from December through March, you must take a guided tour (which was great — the docent taught us so much about the seals!), but you can do a self-guided walk at other times of the year. Cost: $10 per vehicle to enter the park, $7 per person for the guided tour. Reservations for the guided tour are recommended. (A detailed post on the elephant seal tour is coming soon.)
The Santa Cruz Beach Boardwalk
The Santa Cruz Beach Boardwalk is an iconic attraction in California thanks to its seaside location, colorful rides, and history. The park dates from 1907 and contains two national historic landmarks, the Giant Dipper (a 1924 wooden roller coaster) and the 1911 Looff Carousel with its unique ring toss game. There are also a bunch of fun events happening throughout the year, including free concerts and beach soccer tournaments this summer. Check out my tips for visiting the Santa Cruz boardwalk.
And when you get hungry at the Boardwalk, head down to The Picnic Basket, located across from the beach about a block past the arcade building. After a healthy meal prepared with locally sourced ingredients, try a scoop or two of their ice creams or sorbets from the Penny Ice Creamery in a homemade waffle cone. It's the only place in Santa Cruz making ice cream completely from scratch in small batches; like a good California food producer, they use seasonal, local, organic ingredients.
Capitola Beach & the Esplanade
I remember coming to Capitola Beach when I was a teenager. Images of the surfers and the bright colors of the Capitola Venetian — an unusual beachfront hotel which is also on the National Register of Historic Places — are burned into my memories from adolescence in Northern California.
It's not a big beach, but the water here is pretty calm, making it a good place for families to enjoy some beach time along the coast. You can also rent kayaks and stand-up paddleboards or take surfing lessons from this beach.
Arrive early to avoid the traffic and to find a nearby place to park, and save time to walk the wharf and village streets and to check out the shops, art galleries, and restaurants. Or come back just before sunset when most visitors are leaving. Cost: Free but expect to pay for street parking until 8:00 p.m.
Beer Thirty Bottle Shop & Pour House in Soquel
Love a good craft beer? Then put this beer garden on your list. Beer Thirty has, you guessed it, 30 rotating taps pouring a carefully curated selection of beers from California and beyond. If you're new to the California beer scene, be sure to try the highly regarded Fieldwork beers from Berkeley, the trendy Northeast-style IPAs and sour beers as well as something from local breweries like Discretion and Alvarado Street. Beer Thirty also has a nice, if small, menu of food, so feel free to stay for a meal. Kids and dogs are welcome.
Other places to eat and drink in Santa Cruz and Capitola:
Thanks to my friend Garrick's endless knowledge of the area, I have a list of recommended places to eat and drink in Santa Cruz and Capitola:
Gayle's: Garrick says, "This is a local institution and perfect spot for breakfast and lunch with kids. In fact, I go there by myself it's so good. It's a bustling deli & bakery where you take a number and order at the counter from an endless selection of hot and cold dishes, salads, sandwiches, and the most pastries and baked goods you've ever seen."
Mijo's: A new taqueria on one of the streets next to Capitola Beach.
Discretion Brewing: Good food, good beer, plus a family-and-dog-friendly beer garden
East End Gastropub: Good pizzas, burgers and beer in this stylish yet casual pub.
Sotola: Farm-to-fork food in the perfect location in Capitola directly over Soquel Creek and Capitola Beach.
Point Market: Garrick says, "The best breakfast burritos in town that you order from corner market and take to a nearby mini-park and seaside promenade that overlooks surfers at famous Pleasure Point. Quintessential Santa Cruz experience."
Where to stay in Santa Cruz
Beach House Rentals has an amazing selection of beautiful properties that will make a getaway extraordinary. I was fortunate to stay in their Opal Cliff Oasis house in Capitola and can tell you that it's the perfect place to stay if you're looking for a peaceful family vacation in the Santa Cruz area. The house has three bedrooms and sleeps eight, so it's a good option for a large family, a three-generation trip, girls' getaway, or even two families (two couples with their kids, for example). Here's what we loved about it:
The view: Imagine sitting on the deck or in that hot tub (above) with that view of the water. In the morning, we enjoyed coffee and breakfast while watching the surfers and otters. In the late afternoon, we had a glass of wine and watched the light change over the water. At night, we sat in the hot tub and listened to the waves. From inside, we could ooh and aah over the view from the kitchen, dining area, living room, and master bedroom. For us, this was the highlight of the trip.
Comfort: The house was luxurious and very comfortable, from the beds and sitting areas to the beautiful kitchen and deck. It's small enough that we never felt too spread out, yet the house is so nice that we felt like royalty!
The location: The house is located on a quiet street just minutes from Capitola Beach. We could walk down to the village or beach or hop in the car for a short drive to the commercial areas for restaurants and shopping.
Beach House Rentals has many other houses to rent, including this modern one with a to-die-for view of Capitola Beach from the living room and master bedroom balconies.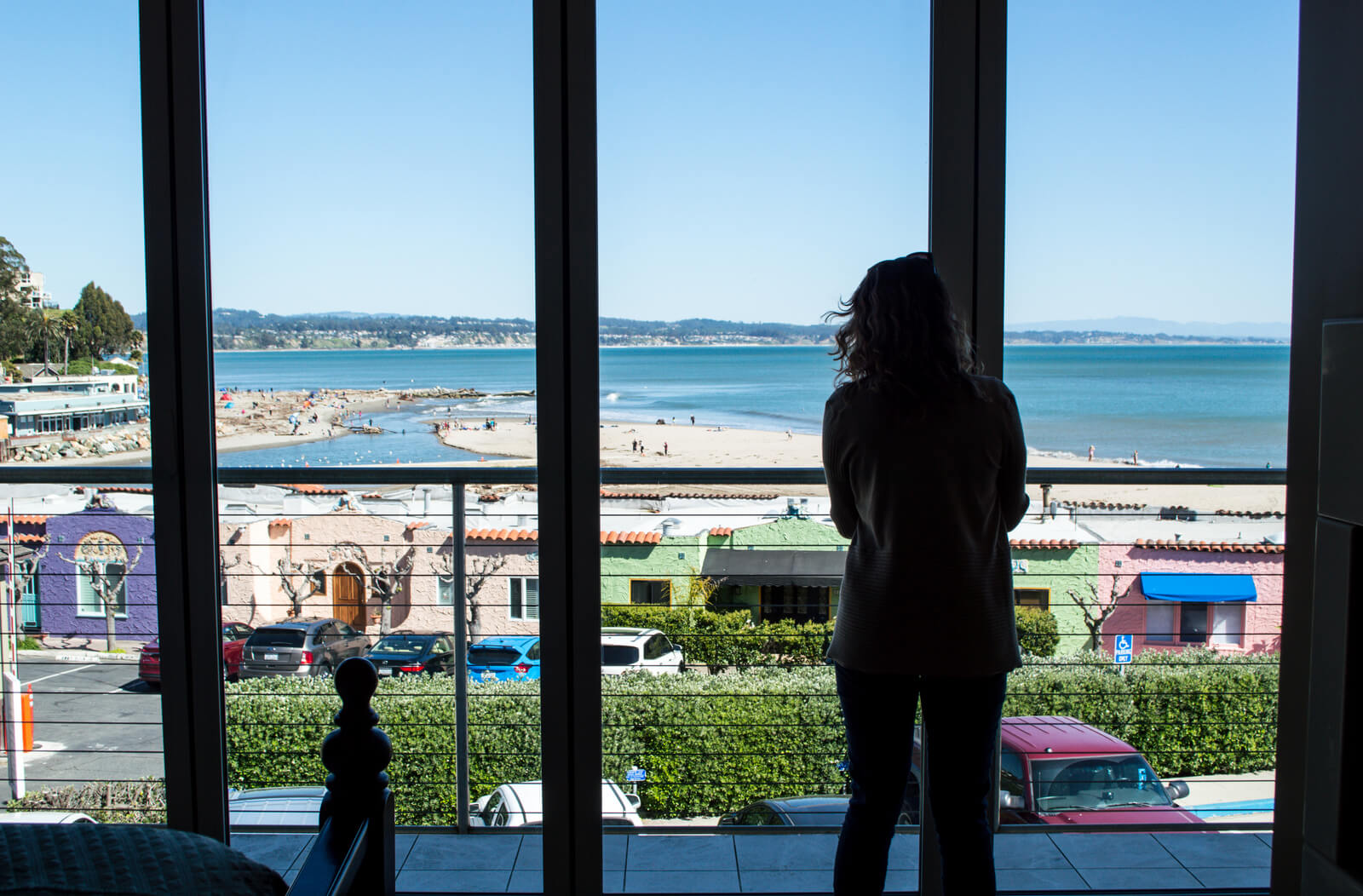 We plan to go back this summer, perhaps to spend more time off Highway 1 closer to Half Moon Bay, or for some good old-fashioned beach time in Capitola. Any questions or suggestions for summer travel in California? I'm all ears!
Any Santa Cruz travel tips you can share?
Disclosure: we stayed in the Opal Cliff Oasis as a guest of Beach House Rentals. All opinions are my own.
Pin it for later: