What are your plans for the weekend? We're going to Scotland! I'd love to tell you a bit about our plans and, if you've been there, to hear your tips. This is a three-generation trip: my kids, my husband and me, and my mom and her husband. We'll be there for 2 1/2 weeks.
First, we'll spend 6 days in the small town of Falkland, about 45 minutes outside of Edinburgh. If you've seen "Outlander", then you know this town — it's the town where Claire and Frank stay when she disappears (in the series, it's supposed to be Inverness).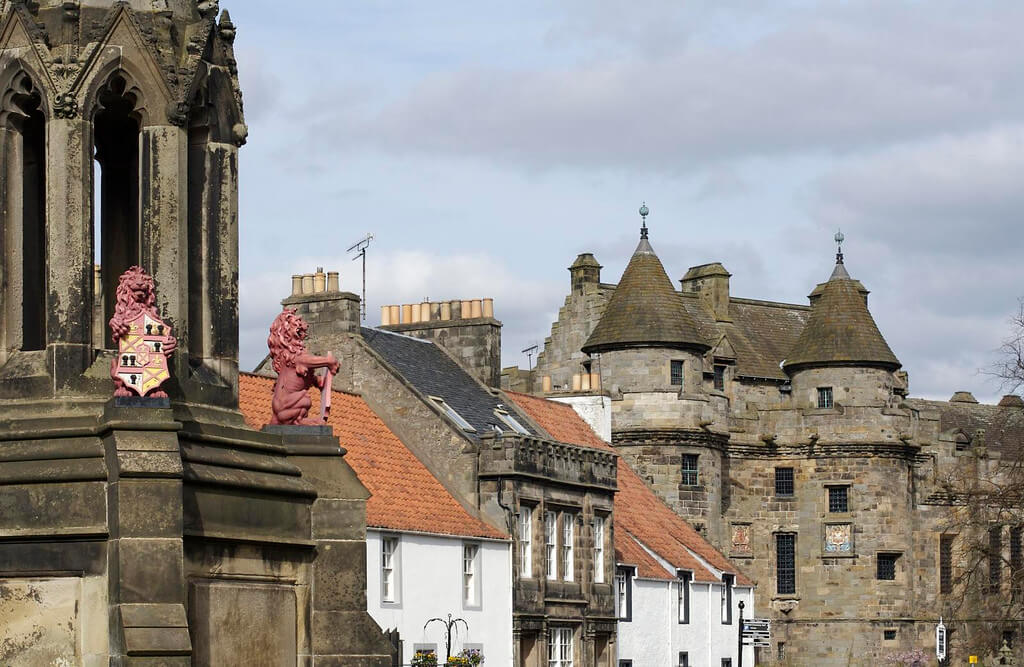 We're renting a house through Airbnb right on the main square. We want to get a good feeling for local life while also exploring the surrounding countryside, including Falkland Palace, Stirling Castle, and a day trip into Edinburgh. Like most of Scotland, the surrounding area has many well-maintained walking trails, so we hope to take lots of walks/runs/hikes and spend as much time outdoors as possible. We're even packing water-resistant pants so the rain won't slow us down!
From there, we'll drive northwest through the Highlands and on to the Isle of Skye. We're renting another house there, in a village just outside the island's main town of Portree. The Old Man of Storr is supposed to be visible from the house (see the view in the first photo above). The island seems to have a mystical feel to it that I think my kids will love — they already want to visit the Fairy Pools!
While on the Isle of Skye, we plan to do a lot of hiking. The kids may stay with my mom and stepdad while we tackle some of the longer hikes, but we'll bring them along sometimes, too. Noah is old enough to appreciate the geological details of the island, like the basalt pillars and the unusual shapes of the Quiraing (below).
Although the island is packed with sights, including a couple of stunning castles, it's pretty small, so I hope to have time for a day trip to the Isle of Lewis to visit the 4000-year-old Callanish Standing Stones.
Finally, we'll say goodbye to my mom and Al and head to Edinburgh for the last three days. We'll be staying at the Radisson Blu on the Royal Mile, the main street that connects Edinburgh Castle to Palace of Holyroodhouse in Edinburgh's Old Town.
I'm extremely excited to learn about the unique culture and history of Scotland and experience its dramatically beautiful countryside. Follow along on Instagram for photos and videos (on IG Stories). In the meantime, I've collected my favorite links from the past week. Oh, and I'm looking for a good page-turner for the airplane in case you have any suggestions (let me know in the comments below or join the conversation on Facebook). Goodbye for now!
37 great books so far in 2017
18 ways to make salmon
How to raise a feminist son (via the New York Times)
Yum: Rosé Sangria for those hot summer days
I love this: how a trip to Spain changed the way I eat forever
How much sleep do you really need?
The best flea markets in the U.S. and Europe
Beautiful travel inspiration: where to go instead of the overcrowded Cinque Terre
The 25 best films of the 21st century so far (via the New York Times)
"Why I'm eating 90 grams of protein a day" (What do you think?)
How to help a child when they lose a pet (also on the New York Times)
Just ordered this comfortable, inexpensive summer dress from Everlane and love it!!
Photo credits: Isle of Skye road: Y Nakanishi, Callanish stones: Andrew Bennett, Falkland: Tom Parnell, Isle of Skye: Christopher Martin, Edinburgh: Patrick Franzis on Flickr